This was a part of the
blog earlier which is now
VWO Engage
Learn more here
.
Who Uses Web Push Notifications, and How?
You can read the updated information on how Push Notifications are used, here.
Selected excerpts from The State of Web Push Notifications 2016 – a Report by PushCrew.
Web or browser push notifications are clickable messages, sent by a website to their subscribers' browsers. They work just like mobile app push notifications (notifications sent by a mobile app that land in your notification tray) except that they work on websites instead of apps. They can be accessed on desktop, mobile, tablet, etc. It is one of the simplest ways to engage your users even when they are not on your website.
Small-sized organizations (up to 25 members) comprise the bulk of web push notification users. Almost 60% of users fall under this category. Large organizations (with 1000+ employees) make up 9.5% of push notification users. This percentage looks set to grow as website push notification becomes a more widespread technology in the online world and becomes more accepted among large MNCs.
The Early Adopters
The eCommerce industry takes the lead when it comes to website push notification usage. More than 21% of push notification users belong to this domain. Web push notifications are commonly used for sending promotional messages – when there is a limited period offer or a surprise sale. Websites can also create segments by tracking user behaviour and purchase patterns. These segments help in sending notifications that are tailored for each subscriber.
The Media and Blogging industry also reports high usage with more than 17% users coming from this domain. While content distribution is the use case that pops up in everyone's mind, what really makes push notifications suitable for this industry is their real time nature. They are immediately delivered to the users' devices. Also, the sender can choose an expiry time for the notifications. This makes web push notifications perfectly suited for sending across breaking news and other time-bound announcements.
As you can see below, 14.70% of push notification users coming from the Software as a Service (SaaS) space. Here's a break-up of how web push notifications are used across various industries: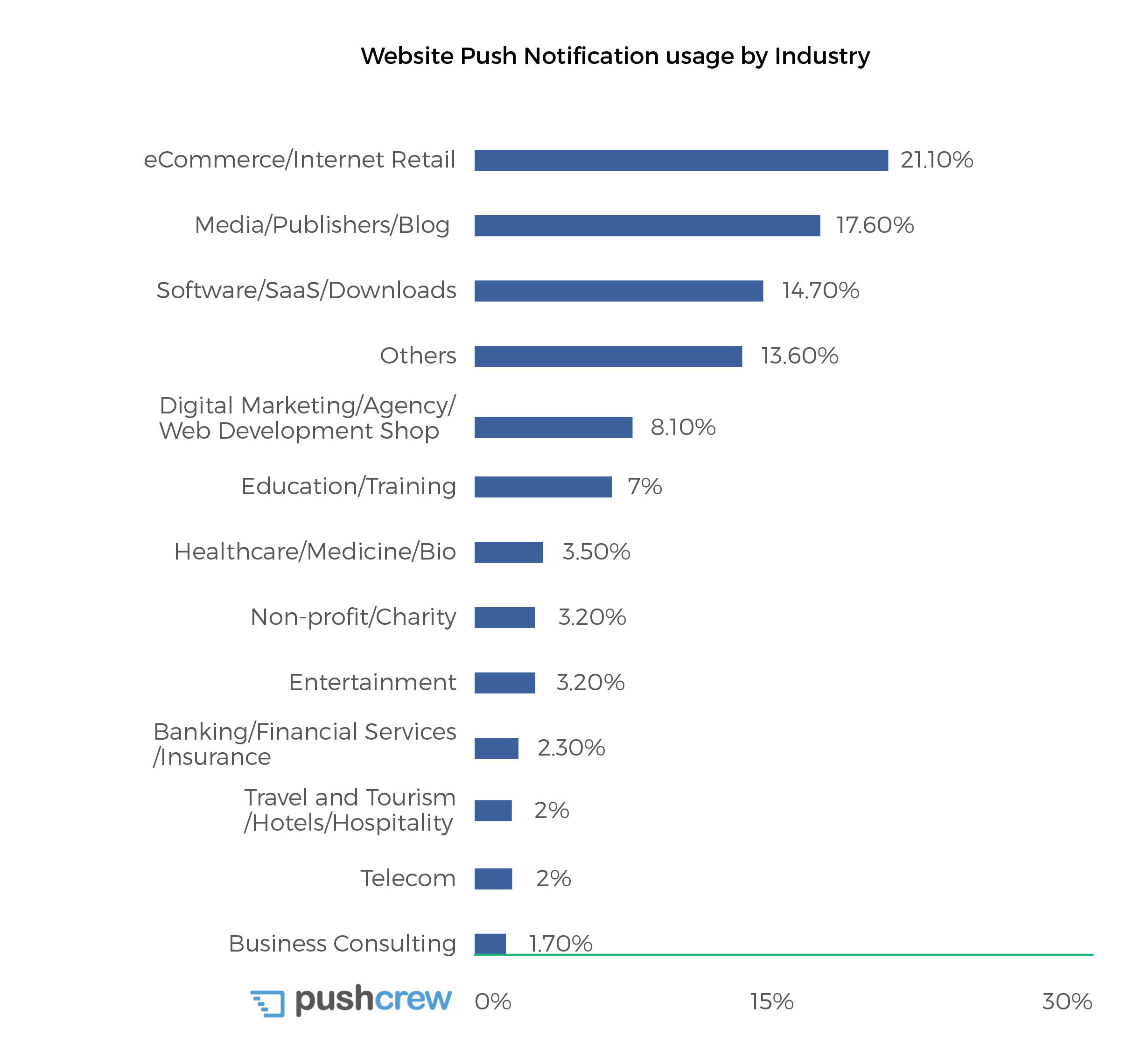 Domains like education and training are using push notifications to connect with their students online. Notifications are sent out with information on new certifications related to what they've already signed up for, course materials, and even reminders for quizzes. This opens up an ongoing dialogue between the user and the website.
The travel industry thrives on notifications, be it on mobile or web. Reminders for check-ins or announcements about change in schedule – push notifications allow businesses to keep the customer updated with crucial information on time.
Similarly, the opportunities across all the domains are limitless.
Our Sources
PushCrew is one of the leading web push notification service providers. For this study, we collected data from three distinct sources. First, PushCrew surveyed 500 of our own customers; second, we undertook a consumer survey among SMBs as well as general website audiences in the USA; lastly, we tracked our product's usage across 1000+ websites. Apart from usage patterns, we have also derived insights on awareness levels, click-through rates (CTR), best practices, and future expectations.