12 Free Push Notification Templates To Reduce Cart Abandonment 🛒
People come to your website, browse through your products, may add a few products to their cart or wishlist but leave without making a purchase. Dang! 🙁
Shopping cart abandonment is painful.
But there's good news—recovering abandoned carts is relatively easy with web push notifications, and it's definitely worth the effort.
In this post, we'll share action-oriented insights accompanied by ready-to-use push templates to retarget abandoned carts and nudge customers towards completing their purchases.
Let's dive in.
1) Personalization
Today, customers demand personalization at every stage of their buyer's journey. Using personalized details such as their first name, last name, location, etc., helps build a connection with the user and potentially results in higher sales.
2) Drive sales with emotions
Everyone needs a little reassurance every once in a while. A great way to convert users is by telling them that the product would look great on them! Encourage them to add the product to their wardrobe. Assure them that the product deserves to be a part of their collection.
Make them feel that the product would be their best buy ever! Nudge them with emotions to click on the buy button.
3) Attract with discounts
Discounts may take away a chunk of your total revenues, but they are a great way to capture price-sensitive buyers. Offering a 10% discount on price elastic products may work brilliantly for your business.
You can notch-it up with a level of personalization and watch your sales grow.
4) Boost sales with FOMO
Nobody likes missing out on a steal-deal! Create urgency by telling your customers that the product they're interested in is fast running out of stock.
You could also run a time-bound sale on that product to persuade users to complete their purchase. Use FOMO to make users convert faster.
5) Convert with affection
Show some love! Tell them that you're saving the product that they left in their cart, especially if it's about to run out of stock. Make your customers feel special.
Do things for them that a great friend would. Build a stronger connection with them to increase your conversions.
6) Show some support
Sometimes people (especially the ones on the fence) just need an extra nudge to make a decision. Make them feel like they're making the right choice. Tell them that they have a brilliant knack for beauty.
Appreciate their choice, make them believe that their purchase is going to make heads turn or make people stand up and notice.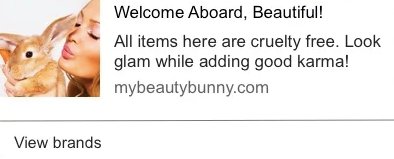 7) Rekindle their purchase intent
8 out of 10 times, people browse through products on your website, add them to their cart and forget about them later. It's quite common for customers to have high purchase intent and leave the website, hoping to come back later and buy the product.
This subset of customers needs a reminder of what they loved on your website. Awaken their lost desire and persuade them to complete their purchase.
8) Price slash 📉
Who doesn't love an occasional price drop? Extend a special discount on the product they've left in their cart. Your customers will be delighted with this surprise.
Nudge them with a discounted offer and persuade them to come back and complete their purchase. Use words such as 'Just for you,' 'Exclusively,' 'Special,' etc., to entice them to take action.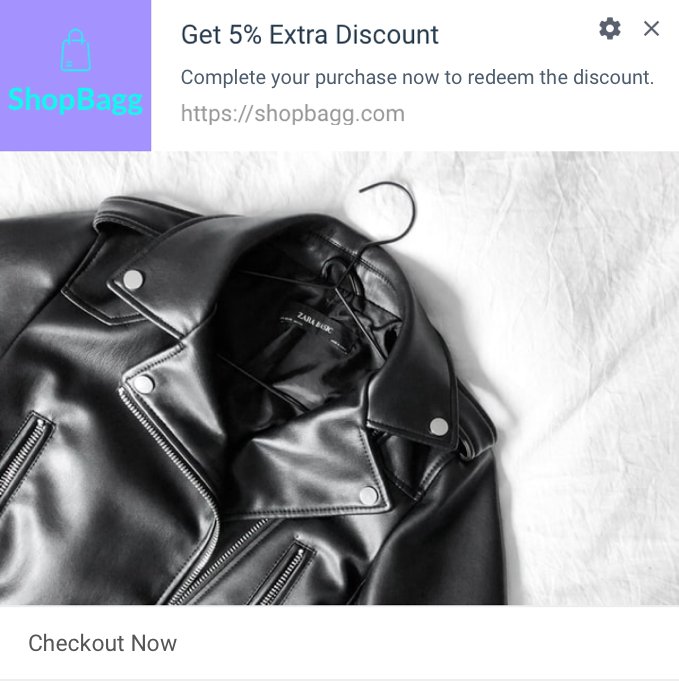 9) Free shipping
Did you know, 56% of customers abandon their cart due to high shipping costs? One of the best ways to convert abandoned carts into sales is by providing free shipping! Surprise your customers with a free delivery option.
Keep it time-bound to ensure a higher success rate.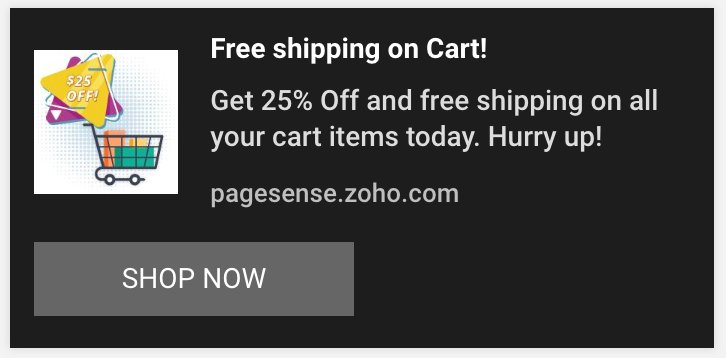 10) Drive sales with BOGO
Entice customers by giving one item free with their purchase—give them a choice to select what they'd like to avail, for free.
You can also add a mystery gift or a special offer to the product left in their cart and entice shoppers to complete their purchase.
11) Lure them with hope
Like Alexander Pope once said, "Hope springs eternal." Most people who leave products in their cart plan to come back later and buy them. Evoke their desire to purchase by showing them what it would be like to own the product.
Make them feel that it would be crazy on their part to miss out on such a sweet deal. Create urgency. Awaken the feeling that if they don't buy the product now, they may lose the product forever.
12) Cross-sell
Show them products that will go with the product they've left in their cart. Create a product deal and give them a discount. Make them see how it would be a valuable purchase and potentially trigger purchase intent.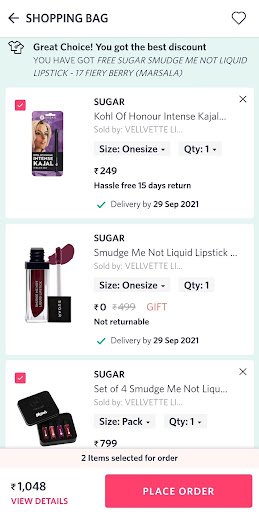 BONUS section
Always remember, abandonment doesn't necessarily have to involve customers adding products to their cart and abandoning them later. There are other types of cart abandonment too.
Here are two BONUS templates to persuade customers that abandon your website while browsing it or from a product page.
Browse abandonment
Most often, customers may leave your website because of a variety of reasons. For example, they may bounce off because the website crashed or the UI/ UX was broken, the checkout process was complicated, or maybe the site timed out.
However, the fact that these customers came to your website and browsed through your collections is enough for you to persuade them back to your website.
Product abandonment
People process images much faster than text. Showing users the product they've left in their cart arouses interest and increases their intent to complete the purchase.
Using product images in your push notifications triggers a higher response. It's simple, the more you show them the abandoned product, the higher the chances of them returning to your website to check out.
Final thoughts
With an average online shopping cart abandonment rate of 88.05%, web and mobile push notifications are a remarkably effective sales recovery strategy. We're hoping these ready-to-use templates help you reduce card abandonment rate, get lost revenue, and build lasting relationships with your customers.