Mobile Push Notifications: An Absolute Necessity for Mobile App Marketing
With an oversaturated mobile apps market, it has been challenging for app developers to establish their products. Besides, it is common for marketers to fall often short of novel and creative options to promote their apps across channels. However, one avenue that marketers can leverage to promote their mobile app right on their users' devices is push notifications.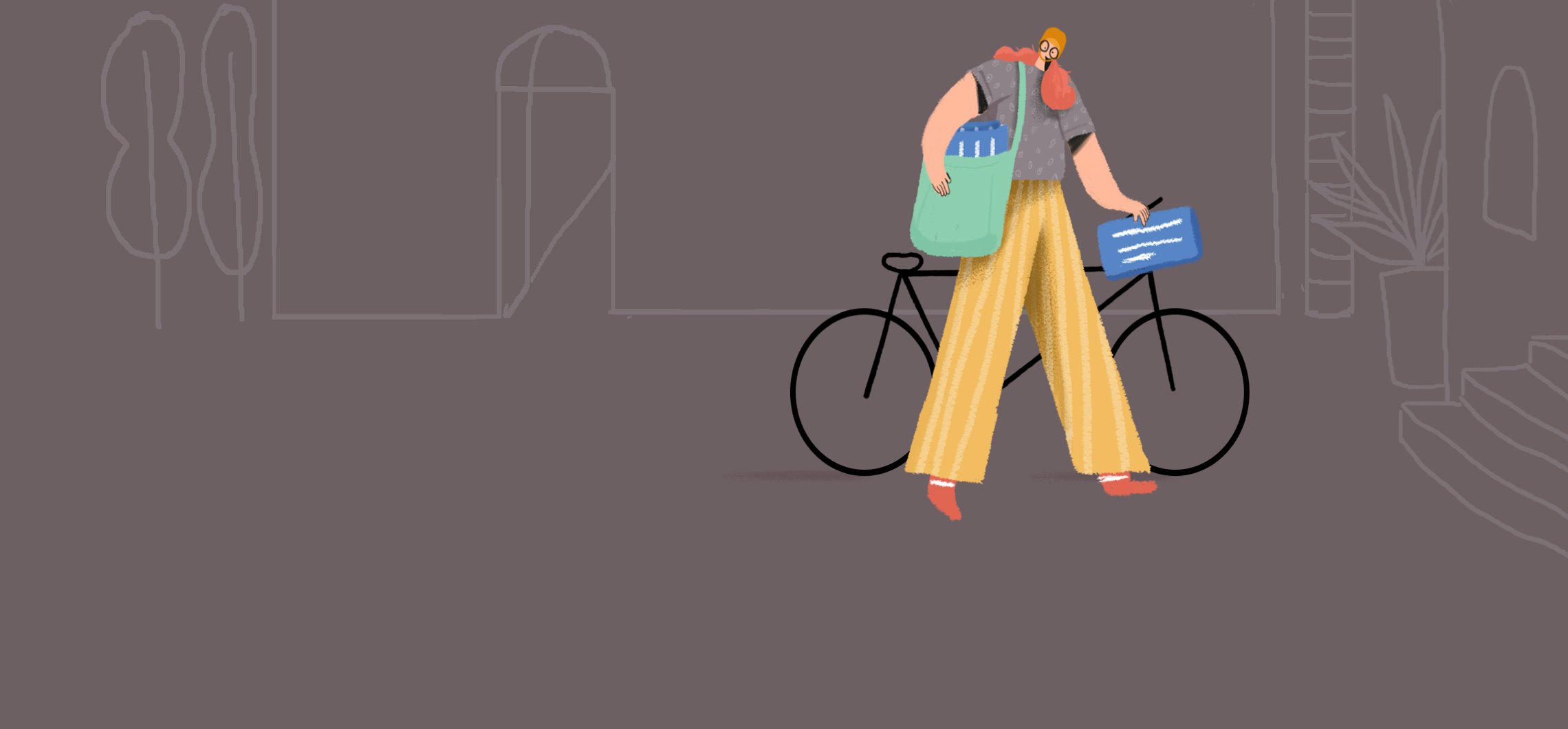 Mobile push notifications are handy marketing tools that can incentivize and intrigue a customers' attention, thus increasing an app's engagement rate. They can also help to grow as well as improve your brand's awareness in the market, which, in turn, can positively impact your lead generation process.
Mobile push messages are highly affordable, which serve as a critical point specifically for startup companies who lack financial backing or those who've just entered the mobile app arena. They're also faster and an easier alternative to text messages and a heavy competitor to SMS marketing.
Having said that, let's understand what exactly push notifications are and why they are an absolute necessity for mobile app marketing in today's age and day.
Defining mobile push notifications
Mobile App Push notifications are clickable pop-up messages sent by an application to a user's mobile device. You can easily send a push notification to a user who has either installed your mobile app on their phone and has opted-in to receive such messages.
Furthermore, mobile app push notifications are generally used to deliver product updates, breaking news updates, personalized offers, reminder messages about an event, a pending payment, or any other information that's integral to an app's functionality and needs to be actioned upon quickly.
Here are a couple of reasons why push notifications have become an absolute necessity for mobile app marketing today:
1. Boost engagement rates
One of the primary benefits of sending marketing messages through push notifications is that they are hard to ignore. Sometimes, push notifications may not even require any action from the user but convey a promotional message instead. Their prominence and catchy content can encourage users to take the desired action(s), further boosting the app engagement rate. For example, as an eCommerce company, you can use push notifications to send personalized offers to your target audience, inform them about the new items you've introduced, an upcoming sale they'd be interested in, and so forth.
Tiendeo increased their engagement by 30% using push notifications on their mobile app.
2. Massive outreach
According to Statista, around 3.8 billion people around the world will own and operate a smartphone by the end of 2021. Smartphones, apparently, rely heavily on mobile apps. The abundance of smartphones implies that companies across the globe will have a higher audience base to capture, cater to, and engage through their mobile apps.
But, to effectively do so and stay ahead in the thriving competition, these companies need push notifications by their side. They promise a massive outreach and help businesses understand how users behave, further enabling them to create tailored messages matching every customer persona and focus their energies on targeted marketing communications.
3. More affordable pricing
For years, companies have extensively invested in conventional online advertising mediums to generate consumer interest, promote a call to action, and increase sales. Push notifications are the most affordable marketing tool of today's era. They're easy to use, give the flexibility to create tailored messages, time deployment, and drive more engagement.
But, to significantly benefit from push messages, you must know and understand the following dynamics:
Frequent push notifications can become very annoying, prompting a user to uninstall the app.
Push notifications come with a character limit. So, you have to be smarter with your messaging strategy.
Every message pushed through the platform must contain some value to engage users and compel them to take action truly.
Mobile push notifications best practices
On average, 16 mobile apps are released every day globally. There's massive competition in the mobile app space. Also, mobile apps lose thousands of users simply because the notifications push through the app turn out to be too annoying or irrelevant to their users. According to reported figures, an app is used only once by 21% of its users, while 71% of users don't use an app for more than 90 days. So, being smart, vigilant, and cashing on the right opportunity at the right time with push notification is crucial.
Companies can only retain users (to use an app) for an indefinite amount of time if they implement a thoroughly thought-through and effective push notification marketing strategy at hand. For example, a weather app providing daily weather updates through push notifications has a greater chance of being used over a longer period by a user as compared to a weather app that only presents information once opened.
If you are struggling with the retention of your mobile app audience, then perhaps adhering to the following best practices can improve your app's retention score and engagement rate.
1) Define your audience's needs
As a marketer, knowing what your target audience needs and expects from your brand is crucial. Here, visitor segmentation can help streamline a lot of things. Bucket your target audience based on their geography, demographics, psychographics, and behavior. Build the right permutations and combinations, and start pushing your notifications. The biggest advantage of defining your audience is that it helps strike the right balance (visitor needs and business goals) every time.
2) Carefully consider timing
There are many aspects to this story. To start with, if you're catering to a global audience belonging to different time zones and have different hobbies, sending everyone a push notification at the same time is not less than a blunder. Instead, segment your audience on the basis of their geography and time your push notification in a way that increases the chances of each of your catered audience engaging with your push notifications and taking action. 
On the off chance, if you're a media and broadcasting company or belong to the travel domain, sending immediate high-value push notifications makes more sense. Irrespective of the time zone, if there's breaking news or an urgent update regarding cancellation or rescheduling of a flight, bus, or any other mode of transportation, urgently notifying people is important.
Understanding the importance of timing your push notifications is pivotal to a high engagement rate. It not only makes your target audience get hooked to your impromptu services but add to your brand's value in the market as well.
3) Include appealing visuals
Over the years, the technology behind mobile app push notifications has undergone a serious change. Today, you're not just restricted to using words to make a compelling statement, but add rich media like images, gifs, and even emojis to draw the impact. Although the room for such visuals is relatively small, strategically using them cannot only make your push messages attractive but compelling enough to drive actions.

4) Personalization is the key to conversion
Undoubtedly, brands that personalize their push notifications can expect up to an 800% increase in open rates. The reason being, incorporating personalization into push messages not only allows your brand to build a more personalized relationship with your users but develops a rapport while sending targeted notifications that appeal to them and fosters engagement.
To quote an example here, Medium uses personalization extensively. It extends this to its push notification arena as well. The online publishing platform assesses a user's past activity on its app to understand what new posts can interest this particular person and pushes content recommendations accordingly. The image given below is a testimony to our claim.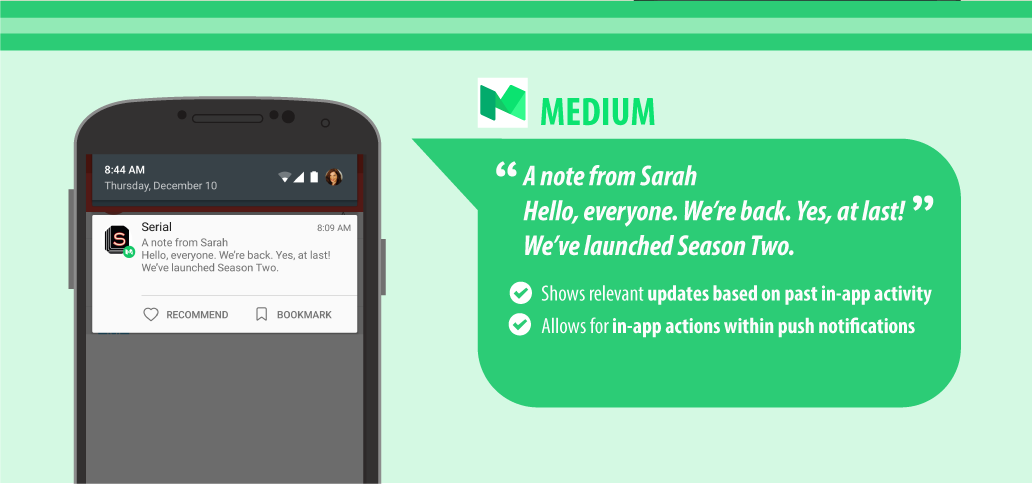 Medium also takes its push messaging strategy to the next level by embedding in-app actions. Platform users can easily choose to "recommend" posts or "bookmark" them to read later.
5) Make sure to A/B test
Let's say that you've done all your homework. You've looked into your extensive user data and analyzed that, by all indications, your push notification strategy should be successful. But that's not enough. Simply rolling out a plan based on your gut feeling or peer review will not always give you the results you'd expect. Instead, A/B test your hypothesis. The reason being, A/B testing is a powerful tool that enables you to test the reactions of your audience and understand what would best work to your benefit.
Analyze the results and make amendments to your strategy to ensure you reap maximum benefits from your planned strategy.
For instance, create two notifications. While Notification A has its own title, message, and image. Let Notification B have a different image with the title and message being the same. Now test the two variations against each other. Analyze the results obtained and see how two different images with the same messaging impact your engagement (can take the help of a mobile app heatmap) and conversion rate.
Final thoughts on mobile push notifications
With the mobile app market being valued at USD311 billion today, app marketers are heavily engaged in looking for marketing channels that will help improve their brand's engagement rate with customers and push notifications prove to be an excellent channel in this regard.
However, poorly worded or incorrectly-timed messages delivered through push notifications can have the opposite effect, resulting in users uninstalling the app due to annoyance. Hence, marketers must focus on the timing and the wording of the messages they deliver through push notifications, ensuring they are presenting valuable information and when it would not bother the users.
Additionally, setting a limit on the number of times a push notification is sent to a user's phone, usually once a day, is a good safeguard to ensure users don't disable push notifications for your app.