How to Optimize Your Conversion Funnel With Push Notifications
Your conversion funnel is simply a roadmap that you create for potential customers. It is visualized as a funnel because people churn out at every stage. As a marketer, it is your duty to guide prospects through this conversion funnel, and increase the number of customers that progress through to the end of the funnel to purchase.
However, if you think about it, it can also be understood as a Conversion Pretzel. With the abundance of easily accessible content, consumers can go from unaware to purchase in a very short time, or others can linger over purchases while collecting lots of information and making comparisons. . There is no real chronological flow, and people can jump back and forth between stages. Since every customer thinks differently, it is important to loop every stage together, and a pretzel-shaped customer roadmap can make more sense.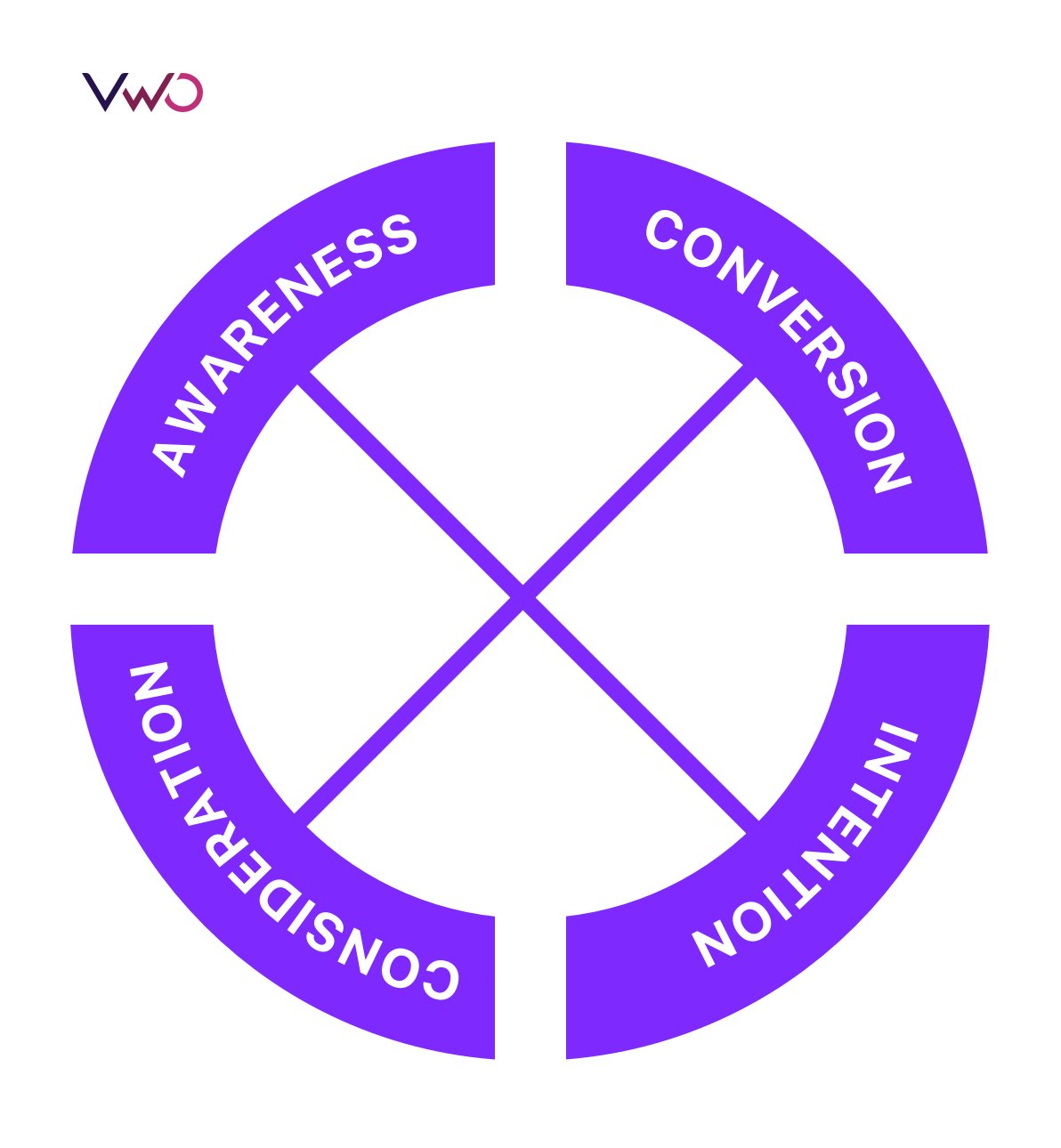 In this article, you will learn about how you can incorporate web push notifications to the various stages of your conversion funnel (or conversion pretzel, if you may). There are multiple stages to account for in a proper marketing strategy:

1. Acquisition
2. Engagement
3. Retention
4. Monetization
5. Delight
But, why push notifications in particular?
There are plenty of marketing channels out there, most of which marketers are using in the same way—to acquire customers . So how can you set yourself apart from the masses and interact with users in real-time and tailor each conversation? How can you automate engagement with your audience through every stage of the conversion funnel? The answer is through web push notifications.
Web push notifications are tiny clickable prompts with snackable information, which appear at a corner of your browser. These notifications are sent in real-time and have a high delivery rate. With push notifications, you can interact with users who aren't even on your website, but just on their browsers. It is an ideal medium to make sure your users keep coming back to your website. In fact, you don't even need their contact details to communicate with them. All you need is their permission or 'opt-in'.
Google Chrome has over

2.6 billion installs

globally among active users across desktop and mobile.
Everybody uses a browser, on their desktops as well as phones; this is where push notifications come in handy. It is an incredible marketing automation tool with a wide reach. Unfortunately though, people can find push notifications spammy and annoying. This is because mass broadcasting a notification is grossly ineffective and irrelevant. But there is a way to make push notifications highly effective for you. Success is based on delivering contextually relevant content to the right audience at the right time, without spamming the user.
Perfect push notification strategy = Personalization + Optimum timing + Acceptable frequency + Crisp content and copy
With this article, you will be able to use push notifications to its full potential, through every stage of the conversion funnel, and increase your conversion rate significantly. Let's begin.
Acquisition: turning visitors into subscribers with push notifications
Web push notifications can work seamlessly with your overall marketing strategy, and also help you reduce your Customer Acquisition Cost. With Push Notifications, you can easily establish a connection with potential customers once they are on your page.
But, push notifications don't work in a vacuum. Your other mediums of marketing are important too, since they have a direct impact on the performance of your notifications. The prerequisite to any push notification strategy is to get visitors to your webpage, and this is where you require the help of other marketing channels.
The rudiments of a good push notification strategy
Work on your content. Make sure you write the content with an understanding of your target audience. Know what questions they are asking, and put out content that answers them. Use visuals to make content more comprehensible. Any amount of advertising won't deliver results if the content is not effective.

Work on your website and make it search engine friendly. Delve deep into Search Engine Optimization, and improve your Page Rank. Although it will definitely take you months to get this right, this is essential to drive more traffic to your page organically.

Leverage an email marketing strategy. If you have a good number of email subscribers, you can embed a link of your triggered webpage in your email newsletters, and redirect your email subscribers to a page where they can opt-in to receive push notifications.

Be present on multiple social media platforms, and build engaged audiences. You can then provide a link to your page with the opt-in trigger in your profile's bio, as well as run other marketing campaigns and advertisements.

Once the potential customers are actually flowing through to your webpage, you can trigger a perfectly placed opt-in.
Getting that opt-in
If a potential customer visits your website, that means you have built up their interest in your product, service, or content. This is the key opportunity and the goal is for the users to allow push notifications. Users are spoilt for choice, so you need to make sure that you keep their interests as the key consideration. Provide them with something valuable, like guides, offers, freebies, etc., to maximize the chance they will accept. You can't expect to monetize anytime soon, so work hard towards building their trust.
Now, set an opt-in trigger that provides a clear value proposition. Unfortunately, you can't really play around with your opt-in prompt much, but you can experiment with its placement and trigger intent. Make sure you don't spam the visitor by setting off the trigger the second they land on your page. Give them a minute or two to look around after the page loads, and convince them to convert from a visitor to a subscriber.
Related: Get More Subscribers with the Right Push Notification Opt-in Strategy
Engagement: keep your subscribers engaged with push notifications
Push notifications boost your engagement and help you improve your conversion rates. Once the visitor has opted in to be a subscriber, you can send them real-time notifications with new content, offers, discounts, and more. Push notifications can make customer engagement completely frictionless since every component contributes to increasing engagement rates.
Call-to-action buttons
Once you add a CTA button(s), it will naturally increase the click rate, and consequently boost user engagement. A CTA button nudges the user to take a particular action. But with VWO Engage, you can give your subscribers much more choice. You can add not one, but two CTA buttons, and redirect the user to three different pages, with one single notification. Learn more about VWO Engage or start a free trial now.
Welcome drip push notifications
Welcome notifications are the first set of automated notifications that you send to new subscribers. It's a way to build rapport, and give them a reason to remember your brand. Plus, it can be a very efficient way to communicate with subscribers—set welcome messages in the form of notifications, and automate the whole onboarding process. Sign up now, give it a try, and nail user engagement with Welcome Drip Push Notifications.
Big hero images and thumbnails
Notifications used to be text-only, but now they support images to enrich and make them more clickable. With visuals, you can not only add context but also build emotional connections with subscribers. The psychological power of visuals to communicate your message and heighten meaning will help you improve engagement, and boost retention. Use banner images and logos to tell stories, increase brand recall, convey messages, encourage clicks, and more.
Segment your audience with segment creator
Push notifications perform much better if you personalize the communication for each user. A single marketing campaign cannot work for the masses, so you can use the Segment Creator to categorize your audience according to their demographics, behaviour, activities, devices, etc., and make your push notifications much more engaging on a personal level.
Triggered campaigns
With this feature, you can now create predefined campaigns, and each campaign can have multiple notifications working towards a single goal. It is practically impossible to send out notifications to each subscriber manually. Now, with every user action, you can provoke a set of notifications using audience segmentation, and create campaigns to send contextually relevant push notifications to all your subscribers.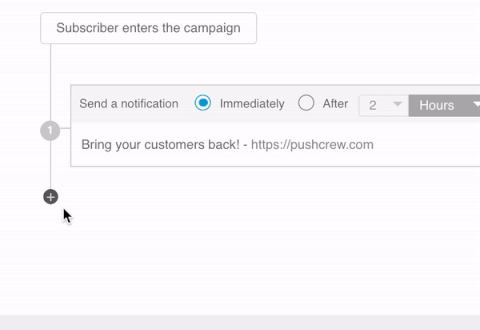 Retention: retarget and re-engage your subscribers with push notifications
Engaging users the first time is comparatively easy, but keeping them engaged throughout the user journey really requires a good strategy. Once the subscriber has read your article, bought a product, or taken a trial of your software, they might have no reason to come back to your page again. With the plethora of apps and programs available, they may even forget they subscribed to your product or service.
This is where push notifications can assist by re-engaging and retaining your subscribers. Since users bounce off from any website sooner or later, push notifications help in keeping them active. Push notifications can work for every industry, and here are some ways in which they can be used.
Re-engage users after their first purchase (for the eCommerce industry)
Spoilt for choice, the subscriber can look for what every website has to offer, and then make a purchasing choice. But, with Segment Creator, you can bring the subscriber back with a simple message, by sending price drop alerts or recommending them products with the help of their wish list, browsing history, or purchase history. Now that you know what the users prefer, it's easy to win them back.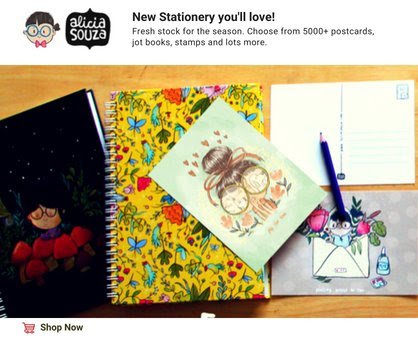 Share new articles with subscribers (for bloggers, news and media websites)
Once the visitor reads any of your articles, you can serve them similar content or popular content to keep them coming back to your website. This prevents losing the reader to competitors or other platforms, and develops loyalty.
Retain your students using gamification and engagement (for online learning industry)
Gamification is an effective technique to engage and retain your customers in Online Learning.
It can also be used to improve the learning experience. With gamified push notifications, you can reduce the student churn rate, helping them to continue their learning journey and achieve their goals. VWO customer MyEnglishTeacher increased conversion rates by nearly 20% by using web push notifications across the student learning journey.
Monetization: making and saving money with push notifications
Monetization is basically converting your sales and marketing efforts into revenue. You have been working towards this throughout the whole conversion funnel. It works hand-in-hand with customer engagement and retention, and push notifications are an ideal vehicle for monetization. By sending out relevant push notifications, you can leverage your existing subscriber base for revenue, and further, enhance the lifetime value of each subscriber.
Upselling
Upselling is any effort made to drive your current customers towards upgrades, or add-on features, to derive more revenue per customer. This increases Average Order Value (AOV) and profitability. The key is to make recommendations that are most likely to be accepted by the customer.
For example, in terms of SaaS products, you could add to your revenue by recommending higher plans at discounts. A/B test your plans to find the high-performing variation.
Cross-selling
You can send push notifications to the existing user base, and with the data you have collected, you can promote new products, apps, or services. Convincing users from one product to try another product is comparatively easier than finding entirely new customers. Naturally, these users are also easier to retain in the long-run. Cross-selling gives your users more value, and helps maximise your relationship with them.
For instance, Amazon boosts its AOV with their recommendation system by encouraging customers to purchase more, and recommending other products which are frequently bought together.

Save more with VWO Engage
Did you know that VWO Engage charges you for fewer subscribers than you actually have? It doesn't charge you for
Did you know that VWO Engage charges you for fewer subscribers than you actually have? It doesn't charge you for the dormant subscribers, and we call this ghosting. Using data, we predict which subscribers will never receive notifications and mark them as ghosts, treating them as unsubscribes. These are the subscribers you don't pay for.
Despite being marked as ghosts, VWO Engage constantly attempts to deliver a message to these subscribers. As soon as the message is delivered, we un-ghost the subscriber, and you won't pay for them until there is an impression or a click.
Delight your customers with push notifications
It isn't all about monetization. It's also about creating a memorable experience for your customers, and delighting them with small gestures. Every push notification doesn't need to be sent with a quid pro quo, in fact most shouldn't be aimed to get something from them, but you can keep the existing customers happy by establishing a stronger bond with them.
Thank your customers by sending them exclusive content or special discounts. Make them feel special and create a holistic customer-centric strategy which includes post-monetization interactions. This will improve your brand image, thanks to word of mouth—happy customers are the best advocates for your product or service.
Also, ask them for feedback and testimonials. Once you show these testimonials on your website, it helps build trust for potential customers helping you in acquisition and benefitting your entire conversion funnel.
How to win? Just keep experimenting
It isn't necessary that the potential customer has to go through all the stages in a linear flow. Some customers might just convert within the first step, and some might just churn out to never come back. It is only sensible to be prepared for every possible reaction, precisely why it is less of a conversion funnel, and more of a conversion pretzel. Just keep experimenting with push notifications, and better your overall marketing strategy.