Nail User Engagement With Welcome Drip Push Notifications
They say that one doesn't get a second chance to make a first impression. Identifying the importance of this led us to create the Welcome Drip feature for your push notifications. This feature is available for VWO Engage's Enterprise customers and works on mobiles and desktops.
With this feature, you can set up a drip or automated series of welcome push notifications for your new subscribers. It can either help them navigate your website or nudge them to take a specific user journey.
When it comes to email subscription, 74.4% of new subscribers expect a welcome email. Welcome emails generate 320% more revenue per email when compared to other promotional mails.
Interestingly, push notifications have a 50% higher click rate compared to emails, according to this survey. And web push notifications give you a better ROI and reach.
So, what is a Welcome Drip Campaign?
A drip campaign is a set of automated communication messages sent to subscribers, be it in the form of emails or web push notifications. These messages are to be scheduled in advance in your push notification tool and set to launch when a predefined trigger sets off.
A welcome drip campaign is launched when a website visitor subscribes to your mailers or browser push notifications. In this blog, we'll be talking about Welcome Drip Push Notifications and best ways of using them to get optimum results.
Welcome Drip Push Notifications
Customized welcome drip push notifications help in creating memorable user experiences. With this, you can automate a series of marketing push messages right after a visitors opts in to your website push notifications. You can set specific intervals after which each notification is sent out.
There are many ways you can use this feature to turn first time subscribers into loyal fans of your website. In case you are wondering about the benefits of this feature with a few examples, keep reading.
Benefits of using Welcome Drip Push Notifications
1. Boost your click rate
Push Notifications are popular among marketers as a medium that boosts click rate enormously. When you send a personalized set of welcome notifications, you'll see more people clicking on them. These could be a tutorial of your website or a gift voucher for the new subscribers. Here's an example to understand this better.
Example: For an eCommerce website, when automated push notifications are sent to new subscribers in the following order at predefined intervals, there'll be a tremendous increase in click rates!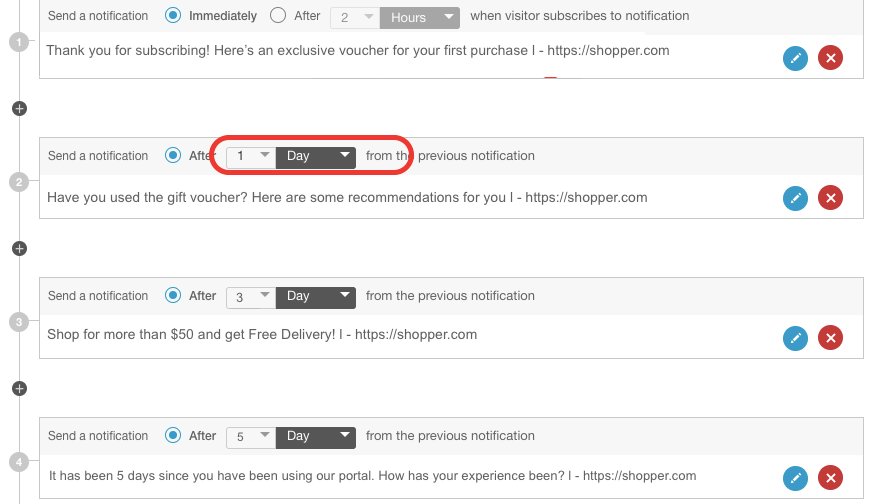 With these notifications, your customers are likely to be curious and would click on the notifications. This also indicates that their feedback is valuable to you and that you want to improve your website's user experience. You'll see more people becoming your loyalists.
2. Increase your revenue
Welcome drip push notifications help your users have a great first time user experience. Without them, the user might flounder when attempting to find their way around your website and what it has to offer. Combine this with CTA buttons and banner images for achieving better results.
CTA buttons are user actionables that you can add to your push notifications. When clicked upon, they redirect a user to a page that you've linked to that button. You can use them to make your notifications more effective in guiding your website visitors through the buyer's journey. 
Example: Suppose you have a travel related website. You can set up different drip campaigns based on geographical segmentation, for instance. If the person resides in India or has booked a ticket to India, send them drip notifications that tell them about the best places to visit, festivals to experience (based on the date from which the user subscribes to your notifications), summer/winter destination packages for popular destinations, and the like. Add CTA buttons that guide them to take an action that suits their needs along with a banner image to create visual impact.
Here's what a notification with a banner Image and one CTA button looks like.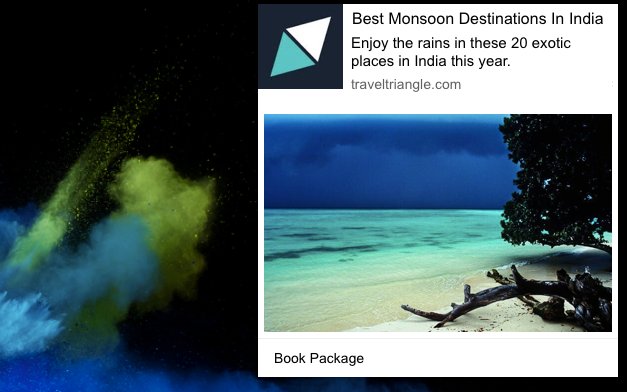 3. Build strong relationship with subscribers
Subscribers are potential leads who may become customers in the future by making a purchase. And the best way to get more subscribers is through clever opt-in requests of your push notifications.
For subscribers to turn into leads, you need to nurture them, making them stick around at least until they are ready to purchase your product or service. You can do this through educative content, helping them make use of a few features, or even by incentivizing them.
Whichever may be your way of nurturing subscribers, welcome drip push notifications amplify your efforts by instantly alerting them at regular intervals. Once they turn into leads, nurture them strategically to have them make up to 47% larger purchases.
You can also use welcome drip campaigns to create a great on-boarding experience. Engage new subscribers through relevant push notifications and keep them retained through clever communication.
Example: For a SaaS company that is content intensive, nurturing can be done effectively by implementing welcome drip push messages that can offer push notifications about use cases, a new feature announcement or even a new blog post. This way, the most valuable push content can be provided in the initial days since a visitor has become a subscriber.
4. Give handpicked recommendations
Customers are always looking out for what's best for them. To stay on top of the game, it is important to understand what customers want. That is why segmentation should be your top priority, before sending out push notifications.
Once your segments are in place, you'll be adept at recommending what your subscribers like. Send personalized series of drip push messages with recommendations. They can be about products and services, deals and discounts, popular blog posts or other marketing tactics. This will urge your subscribers to make purchases from your website.  
Example: For an eCommerce website, if a subscriber has purchased a kettle before, a drip notification series can be sent about recommendations of various tea flavors, coupons, and more! We recommend you to use Google Analytics to see what users are searching for on your portal and deliver them recommendations. You are sure to notice more purchases happening this way!
5. Promote a new product, service, feature or an upcoming event
A noteworthy method to announce a new product launch, service or feature is by sending push notifications. They grab attention instantly. Send a series of push notifications about the promotion to immediately see more clicks and increase returning traffic to your website. This can be a start to building a strong rapport with your new subscribers.
Example: Let us suppose that you have an upcoming webinar or an event. Send drip push notifications with an invite, what the webinar or event is about, who the hosts or speakers are, and the benefits of participating with strategic set intervals.
Set an expiry to your welcome drip to ensure that the notifications aren't sent post the event. With this, you'll see participation in large numbers! Post the event, set up a drip of push notifications about how the event went, press coverage and key takeaways. You'll see a high engagement rate with this method.
6. Create a wonderful on-boarding user experience
So, you've done a brilliant job of getting more subscribers for your push notifications through a clever opt-in strategy. Now, it's time to educate them about your portal, what to expect, the products and services you offer, how to opt out, why it stands out and then send the content promised in the opt-in request or the first notification. You can even send a drip of success stories of how other people are using your product or service or certain features.
Example: For eLearning websites, set up welcome drip notifications that welcome the students, lists recommended online courses, details various classes/lectures, or modules with timings and reminders. After the course ends, send them a push notification that leads to a page with a feedback form. 
You now have a fair idea about welcome drip push notifications and how to effectively use them. However, we still recommend you to test and see what works best for you. Remember to segment your subscribers and personalize your notifications for optimum results. If you're a VWO Engage Enterprise user, you can take the feature out for a spin right away from your dashboard. If you aren't one, reach out to us and we can help you get started.