Say Hello To Rich Push Notifications With Big Image Support
We recently teamed up with John Clark, founder of Yo! Free Samples, for a case study on how push notifications keep his content fresh and timely.
One of the key things John told us is, "Notifications featuring photos of actual samples always drive up click rates." The images not only grab attention but also give a teaser of what is on offer.
Earlier, images were displayed as thumbnails or icons in web push notifications. Now, with the all-new Big Image feature, we are one step closer to sending richer notifications that go beyond clever copywriting. This feature is currently supported from Chrome 56 onward on both Desktop and Android. However, it will not be displayed to your subscribers on MacOS when they update to Chrome 59.
If you're wondering how to make use of this feature in your push notification tool and also what are the things to avoid, read on. We are going to take a look at the following domains where Big Image Support makes a huge difference and the lessons we can take away from them.
– Coupons and Free Samples
– eCommerce
– Blogging and Publishing
– News and Media
1) Coupons and Free Samples
Freeflys is yet another popular website that offers coupons and samples from leading brands. Push Notifications work really well in this domain because the offers run out fast and content has to be real-time, always. Here's a notification that worked wonders for the website back in the time when notifications had to fall back only on catchy titles and tempting body copy.

Now, imagine this notification coupled with an image of some sinful Salted Caramel Banana Fruit Truffles. That's the thing with Big Image Feature. You don't have to leave anything to imagination anymore. If you send this notification to your subscribers at a time of the day when cravings are hitting the roof, they'll immediately get a taste of what's in store and are more likely click on it.
In this case, the CTA button is also used to reemphasize your message. Clicking on 'Get it NOW!' leads to the same landing page with the Banana Fruit Truffle on offer. You can also link your CTA button to any other page of your choice, as long as it is relevant to your notification or meets an objective like driving traffic to other offers on your site.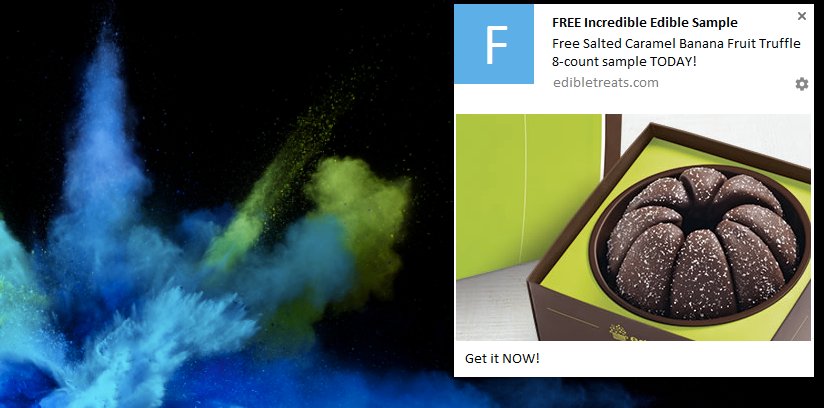 The Dos and Don'ts
– Don't go for notification overkill by sending too many notifications. Look into your data and find out a frequency that works best with your audience.
– There are notifications that work well even without visuals. Understand how your audience responds to both, and then decide how many you'll be sending out with the rich features, and how often.
– Also, don't forget to use the Notification Expiry feature to make sure that your subscribers don't click through after the offer has expired.
2) eCommerce
Buy Whole Foods Online is an online retail store that specializes in organic produce and whole foods. What you see here is one of their best-performing notifications. It received a click rate of 15.2%. Out of the 97 people that reached the product page after clicking on the notification, 71 actually made a purchase. They were able to generate a 3-figure revenue from this notification alone.
Now what can you do to get an even better click rate from this notification? Most of us are in the midst of an unforgiving summer. Refreshing imagery and a well-timed discount are probably what we need right now to beat the heat. Also, see how the icon image is used to highlight the discount while the Big Image takes care of communicating the product that's on offer.
Along with it, the CTA button gives the additional option of viewing 'Other OFFERS' on your website, to your subscribers.
The Dos and Don'ts
– Use the combined power of icon image and Big Image to reinforce your message.
– Make sure that you use images that do not clutter your notifications.
– Use the Scheduling feature to send notifications according to the time zones of your users. No one wants to wake up in the middle of the night and buy coconut water.
3) Blogging and Publishing
If you're a food or lifestyle blogger, you probably understand the importance of visuals better than the rest of us. What better way to tell your subscribers about a new recipe or a new brand of meal replacement product that's catching on! However, the use cases aren't limited to these. Any blogger or content publishing site can use it to,
– Promote new posts
– Share well performing content from the past to both your new and old readers
– Promote content related to what they're reading right now on your website
The best thing is, this feature is available on Android too! Unlike email, web push notifications do not require any personal information or even email id from the subscriber. Once they opt in, you can send them a notification whenever something new gets published on your blog. See how SEO Hacker used push notifications to promote their latest posts and increase return visits[1].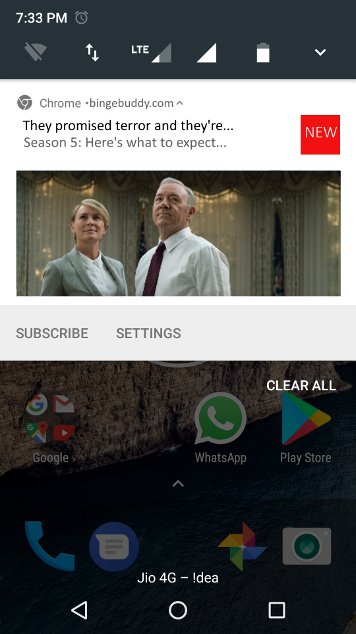 4) News and Media
Notifications have become a way readers connect with your brand. It carries your values to your audience, as Sam Dolnick of NYTimes puts it. Be it breaking news or an editorial piece, notifications deliver them to your subscribers instantly.
Photojournalism has given us many powerful images that moved the whole world. This is particularly why news websites should use the Big Image feature prudently.
In this instance, the big image supports the main article that's being shared. Clicking on the notification will lead to the article on the Turkish resistance. The CTA buttons below lets the subscriber explore 'More News' as well as provides an option to see and subscribe to an email newsletter.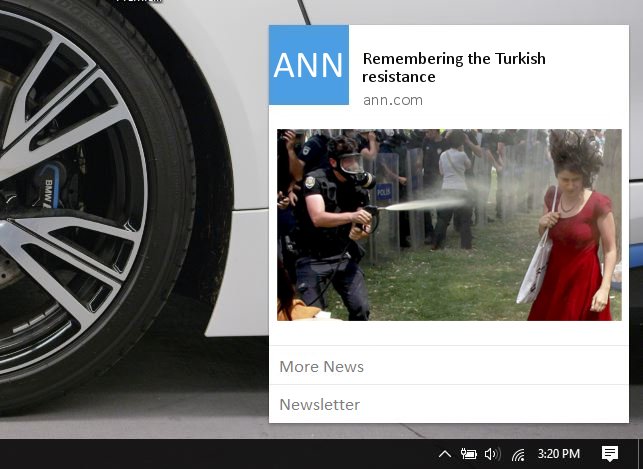 The Dos and Don'ts
– News stories can be shocking or disturbing a lot of the times. So, make sure that the images you share do not make anyone uncomfortable and hit unsubscribe.
– Web Push Notifications are accessed frequently on desktops or laptops. Be careful not to share NSFW content in the Big Image. In Chrome Notifications for web browsers, the notification is fully displayed even when there are multiple notifications in the tray. You do not want to catch your subscribers off guard.
– Now, something that's important to everyone, not just news outlets, who is sending out rich notifications: The recommended dimensions of the image are 600 px by 400 px. It shouldn't exceed a size of 5MB. If the dimensions aren't exactly 600×400, Chrome automatically provides a white margin for the image.
Together with CTA buttons, the Big Image feature is the next step in the evolution of Chrome Notifications. If you are a VWO Engage user on a Business or Enterprise plan, this feature is at your disposal to wield and impress. Or if you want to give it a spin, you can sign up for a Free Trial right here.