Web Push Notifications: Build Targeted Campaigns
Do bland, uninteresting, and spam-like push messages nag your users, resulting in poor click-throughs? Well, let's accept the fact that generic messages are spammy as they don't mean anything to the end-users, unless they are personalized. Poor messaging leads to poor CTR, lower conversions, and bad performance—a nightmare that hits all marketers alike.
However, push notifications are hard to ignore as they catch at least a moment's chance to grab or lose your user's attention. Well-tailored, personalized, relevant, and perfectly timed web push notifications are more likely to grab users' attention on your website than their generic "buy now" or "subscribe now" counterparts.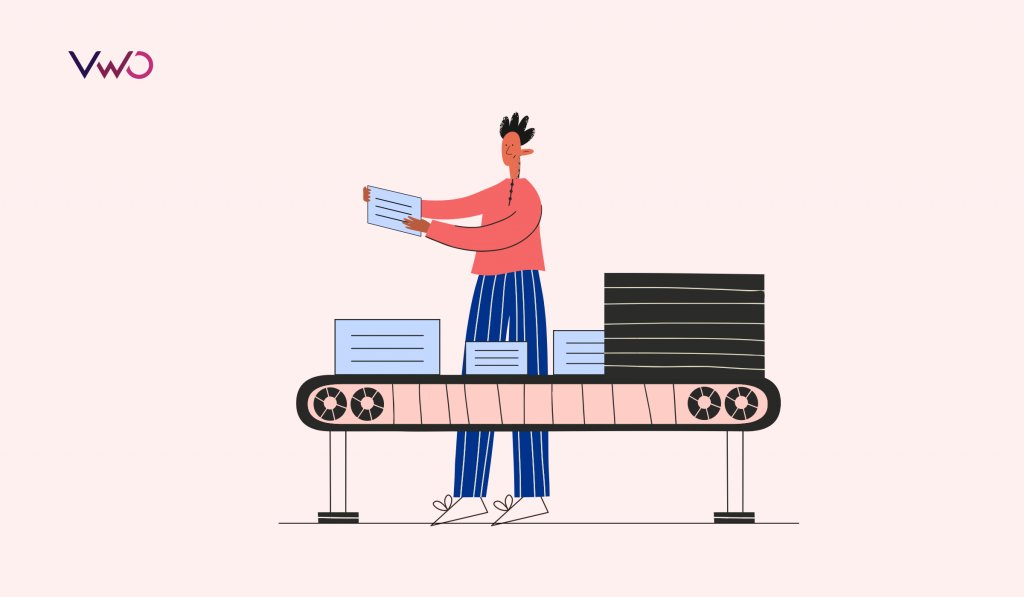 With granular segmentation and personalization of your push notifications, you take a step towards improving your average CTR with effective messaging as you invite users, let's say, addressing them by their names, to your sales cycle.
What is segmentation?
Segmentation is grouping your heterogeneous user data based on user attributes, which we'll discuss in the following sections. It is about making sense of your visitors' data and establishing a solid data-backed marketing plan to achieve specific conversion goals that contribute to your business's bottom line. In other words, segmentation is a connecting link between your analytical and marketing endeavors by pushing personalized messages to specific segmented user groups.
So, let's dive in to know more about segmentation and how you can build targeted campaigns using push notifications to improve your conversion rates.
Types of web push notification segmentation
Segmentation allows you to create micro-conversion goals for specific user groups based on their on-site activity and behavior, such as reading a blog post, checking out a product on your eCommerce store, etc. This activity can be tracked in your analytics tool like Google Analytics, which allows you to create and discern when to push your message. This enables not only multiple micro-conversions contributing to the business goals but also nurtures your relationship with the users. Let's look at the different types of segmentation groups:

Demographic
This segment includes user profile information such as their age, gender, location, nationality, device, etc. It plays a crucial role in gauging users' purchasing intent and behavior. You can create targeted campaigns for your users based on demographic data.
Social
Social data entails information about user qualifications, income, purchasing capacity, marital status, etc., for creating campaigns. For example, eCommerce companies often use segmented campaigns based on users' wedding anniversaries for married users.
Geographic
This is pretty straightforward. User location can be utilized to target your website visitors in a specific country or region to target or retarget them.
Behavioral
Behavioral segmentation entails user behavior on your website. This includes their interest in specific products, how many times they have purchased from you, what they do in the sales journey, etc.
How does segmentation work for web push notifications?
Creating segmented campaigns is beneficial but super easy to increase conversions of your marketing campaigns centering on your user's interests. Your push message can look like the one below if you segment your users based on their interests and behavior as a part of your targeted campaign.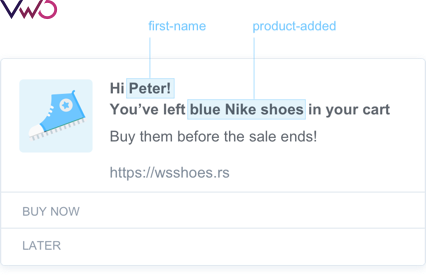 VWO Engage allows you to slice and dice your website traffic to understand user behavior and enables you to visualize user activity on your website. It supports two types of segmentation, one for data collection called pre-segmentation and another for interpreting reports called post-segmentation.
Pre-segmentation
To create the desired campaign, you can bucket your users into different segments, as discussed in the previous sections. For example, you may want to create a marketing campaign segment and test the push message conversions for US-based female users who browse your website on their iPhone devices from 8 pm to 1 am on weekends.
Post-segmentation
This is an afterparty chore. When your campaign has been run and user data collected, you can dig down deeper to understand which segment interacted with your push messaging campaign. For example, you can create a report to gauge user engagement from Southeast Asia on desktop devices through the segments you created before running the campaign.

Web push notification segmentation in VWO
VWO Engage allows you to create multiple segments on its dashboard. They are broadly based on subscriber properties, page visits, click events, geolocation, and JS/API cookie.
Segmentation based on subscriber properties
The five types of subscriber properties that you can segment your users into are Operating System, platform, browser, user agent, location. You can also use custom dimensions to create personalized and targeted messages that are mapped to your users' IDs.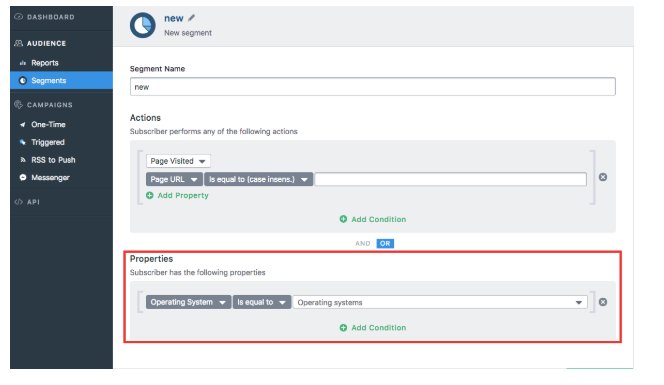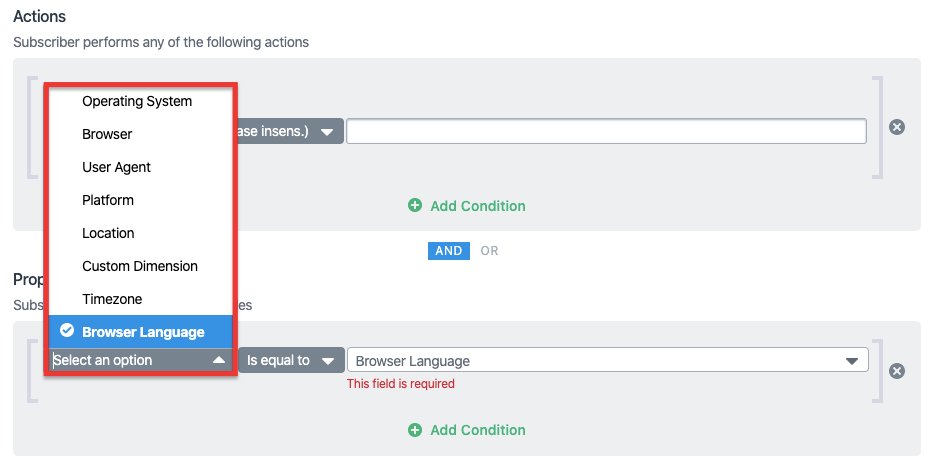 Segmentation based on page visits
Analyze visitors' behavior on your website to gauge their intent. You may categorize them on the basis of the actions they have performed while visiting your site. You can create multiple types of segmentation based on the URLs your users are visiting.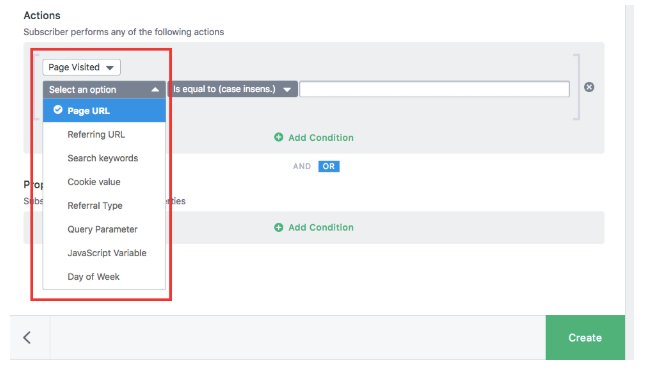 LA Tourism utilized VWO Engage's segmentation feature and reduced their bounce rate by 43%. They created buckets based on the category of pages visited by the website users, which helped them understand their users' interests to effectively send targeted web push notifications.
Segmentation based on click events
You can segment your users based on click elements to understand where your users are actually clicking. In this segment, you can create subscriber groups based on elements such as CTA buttons, text, images, videos, etc., clicked on by your user.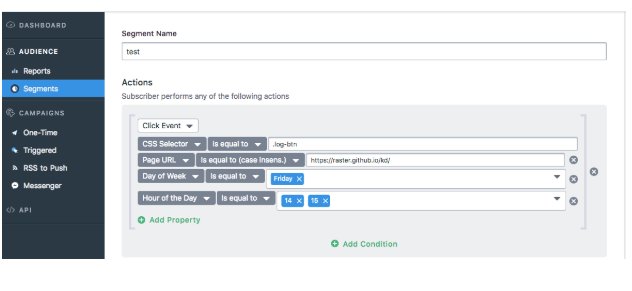 Segmentation based on geolocation
Geolocation segmentation makes your task easier by segmenting your audience based on specific countries, and even further by region. It's easy to include or exclude any country or region, based on your business requirements. Start creating segments and trigger notifications according to your business time zone and region, just the way you want.
Segmentation based on JavaScript and API cookie
Functional and effective push notification tools like VWO give you the option of creating your own customized segmentation. With the help of a developing team, you can segment your subscribers based on the JS/ API variables in your code. Not just that, you can also manage it based on the Cookie key and value pair stored by your website on the user's browser.
Impegio is a job hunting website based out in Italy. Primarily driven to generate leads and boost engagement on their website, they used VWO Engage's audience segmentation feature, which resulted in 15% hike in their CTR. Start your 30-day free trial to make the best out of VWO Engage's segmentation features and achieve skyrocketing conversions.
A/B test your web push notifications
With VWO Visual Editor, you can rigorously test your segmented push notifications campaign for conversions. You may optimize multiple elements, such as images, heading copy, emojis, etc to determine your users' interests and devise further segmentation to pursue your conversion goal in a matter of a few clicks. A/B testing is an iterative process, so consistent experimentation can uplift the quality of your campaigns and also help you better your subsequent optimization efforts.
Conclusion
While generic push messages are akin to broadcasting media, segmentation brings a more focused approach to delivering a message relevant to a specific group based on their interest. This strategy for your marketing campaign lies in user behavior and personalization. In the era of hyper-personalization, make the best out of tools like push messages and invest in the smart way to get increased click rates and enhanced relationships with your customers.