A Practical Guide to Building a CRO Roadmap
If you've recently embarked on your CRO journey, here's a couple of questions for you: How do you prioritize your experimentation ideas? Do you work in silos, or do you see benefit in opening up experimentation to collaboration? If you do see benefit, how do you plan to go about achieving it? How do you plan to address resource issues in your testing plan? The answer to all these questions points to one strategic move that differentiates CRO experts from beginners – building a CRO roadmap.
Building a sustainable CRO roadmap guides your efforts and ensures it systematically contributes towards your business goals at large. Whether you are an agency handling CRO for hundreds of clients or someone who manages CRO for your company, a roadmap will streamline your efforts and maximize throughput by avoiding redundancies and providing a clear step-by-step approach towards optimizing your site.
Similar to a calendar, a CRO roadmap is essentially a detailed schedule that entails which experiment will be launched when, the time and resources it requires, and the expected outcome. A roadmap ensures that each tweak, change, test, and insight adds value to the next step and accordingly strengthens it to deliver improved results. With a dedicated roadmap to consult, you don't rely on hope to get results from a few poorly planned and ill-executed experiments scattered across months.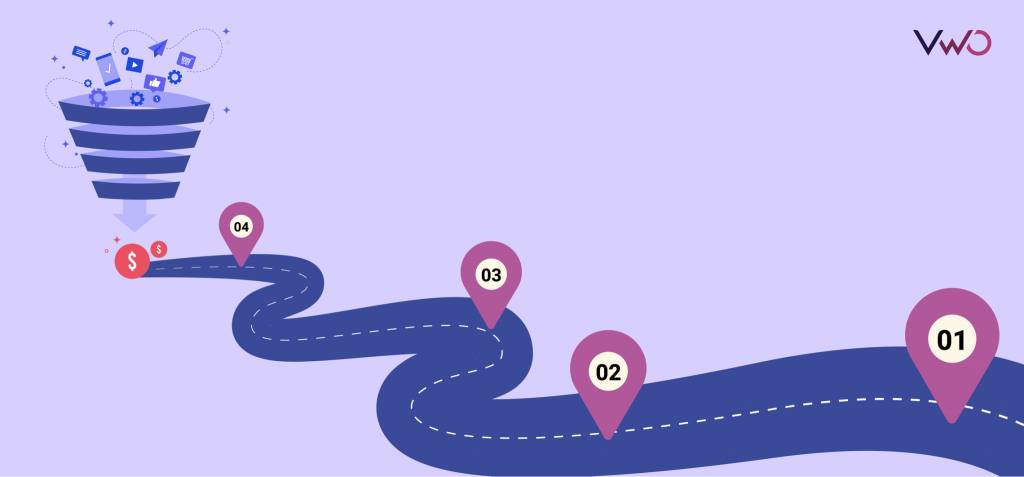 Why do you need a CRO roadmap?
You can think of a CRO roadmap as a step-by-step framework that you refer to for prioritization, test planning, and allocation of resources for all your CRO efforts, without which you would be completely shooting in the dark. Here are some of the major reasons you need a CRO roadmap to get started.
To switch from a fragmented to a strategic approach
If you randomly run a survey on your homepage this month and conduct a couple of tests on your product page the next month (and so on), you are not going to be able to make the most of the insights gathered or leverage the full potential of the results. To do so, you need a roadmap that dictates every process so you can feed every insight and learning into your pipeline and use it judiciously to drive more substantial results from your program as opposed to some scattered wins or losses.
Let's say you want to improve your online store's checkout rate. Needless to say, there are tonnes of tests you can run to optimize for the same. For instance, you could optimize the number of steps in the checkout flow, add social proof and trust badges, avoid the addition of surprise costs at the last step, and so on. Now, without a roadmap, you wouldn't know which one to prioritize and you might just end up spending too much time running each one of them without getting the expected outcome. On the other hand, if you follow a roadmap, prioritize tests, plan and scope them out over a calendar month/quarter, you can be assured of more promising results.
To get a better hold of resource planning
Again, if you have a systemic approach to optimization, you can always plan your resources in advance, delegate projects, and overall function smoothly with little or no friction as opposed to facing a mini resource crisis every time you decide you want to run an ad-hoc test.
Moreover, you can always learn from experience and incorporate your learnings of how you can allocate resources better to drive more significant results, efficiently. This is not possible if you follow a haphazard outlook towards optimization and don't depend on any set framework to guide decisions.
To improve the speed and efficiency of your CRO program
Needless to say, optimizing your digital properties methodically will only improve the efficiency of your efforts as you would be incorporating previous learnings and doubling down on what works well. Having an overarching roadmap also ensures your processes and tasks are aligned with the overall business goals, so there is minimum iteration, faster delivery, and more promising results.
For instance, if you follow a roadmap, you will know which tests you have to run in the coming month and have the liberty to start laying the groundwork (analyzing data, getting variations created, etc.) and plan your resources accordingly. On the other hand, if you are running sporadic tests, you will end up wasting time in deciding what to test next, ensuring it doesn't overlap with another test, and planning your resources for it.
How to develop a successful CRO roadmap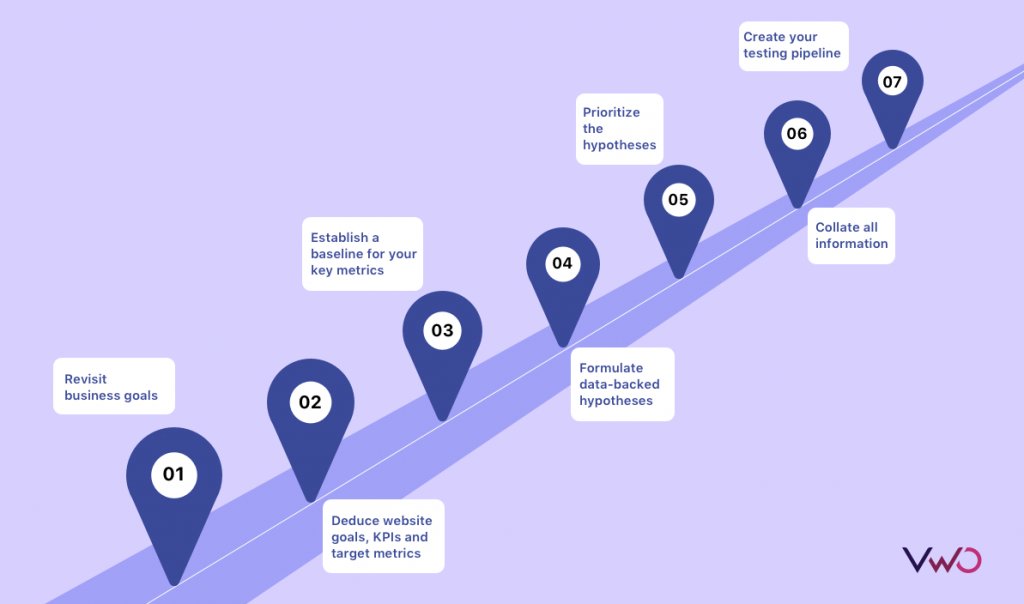 Revisit your business goals
Take a step back to revisit your most pressing and current business goals so you can understand how CRO can help you achieve them. These goals will anchor your CRO program and ensure your efforts are not aimless or applied in the wrong direction.
For example, an eCommerce company could have a business goal to increase the average order value, while for a media company, the goal could be to uplift the content consumption on their site. These will then help you deduce what your optimization goals (and their corresponding metrics) need to be.
Deduce corresponding website goals, KPIs, and target metrics from your business goals
Use your business goals to drill down upon what are some of the more tactical website goals you want your CRO program to achieve, what are the performance indicators you need to watch out for, and what would be the target metrics you need to measure corresponding to them. For instance, if increasing the average order value is your business goal, you can break it down further into:
Increasing upsell & cross-sell
Increasing visits to product pages
Increasing checkout and 'Add to cart' rate
Now, these could be your optimization goals, each of which you can tackle using specific strategies and tests. The metrics to be measured could be revenue per customer, conversion rates, and so on.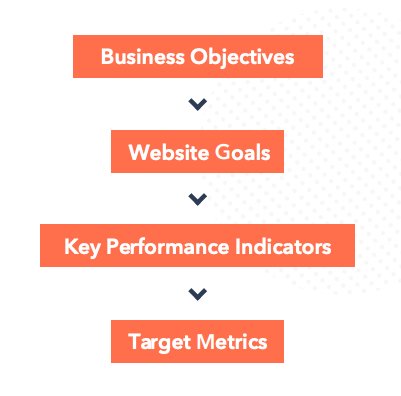 Understand where you currently stand and establish a baseline for your key metrics
Before commencing, you will need to perform a CRO audit of your site to establish a starting point for your optimization program against which your progress can be assessed. Therefore, for all your key metrics, be sure to analyze your historical data so you can condense it into a baseline basis the trends and patterns it shows. Make sure the date range you select for this is not less than 30 days, as you would need a substantial amount of data to be able to gauge your business' past performance against these metrics.
Formulate data-backed hypotheses taking insights from visitor behavior data
Use the data you have been gathering through various tools like heatmaps, session recordings, surveys, Google Analytics, and other user research tools to glean insights that you can turn into optimization opportunities. For instance, if you noticed high drop-offs at category pages, you could consider revamping them to highlight the CTA, reduce clutter, and make product details more appealing and apparent to customers.

Next, craft your hypotheses based on these insights that can move your key metrics and solve for these visitor pain points. Here's how you can formulate a solid hypothesis: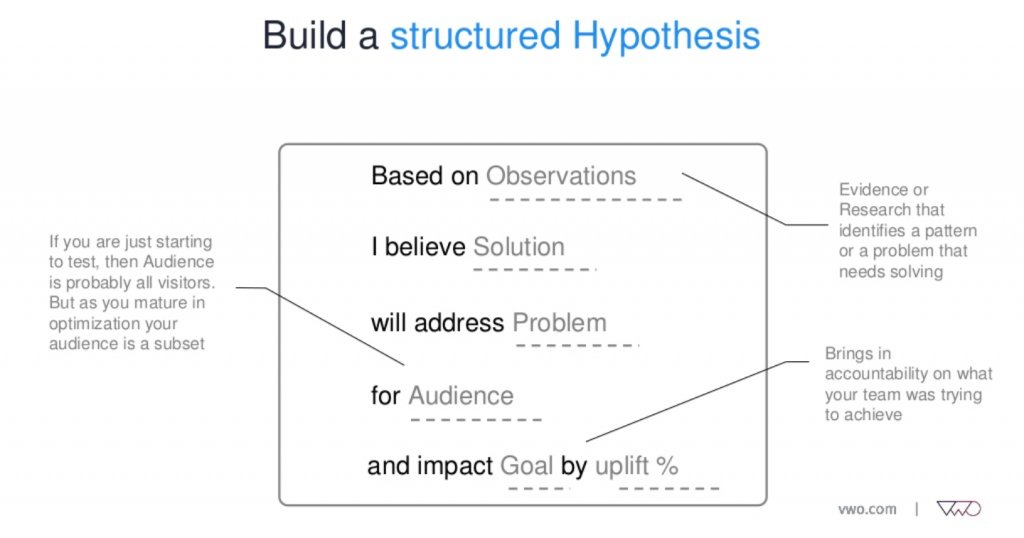 Prioritize these hypotheses
Optimizing the optimization process is often just as important as the tests themselves. Prioritizing where you invest energy will give you better returns by emphasizing pages that are more important to the business

Chris Goward – Founder, WiderFunnel
Now that you have a bunch of different test hypotheses at your disposal, prioritize them so you can populate your pipeline in a way that you tackle issues that are more likely to yield maximum results first. There are several different prioritization frameworks you can follow for the same: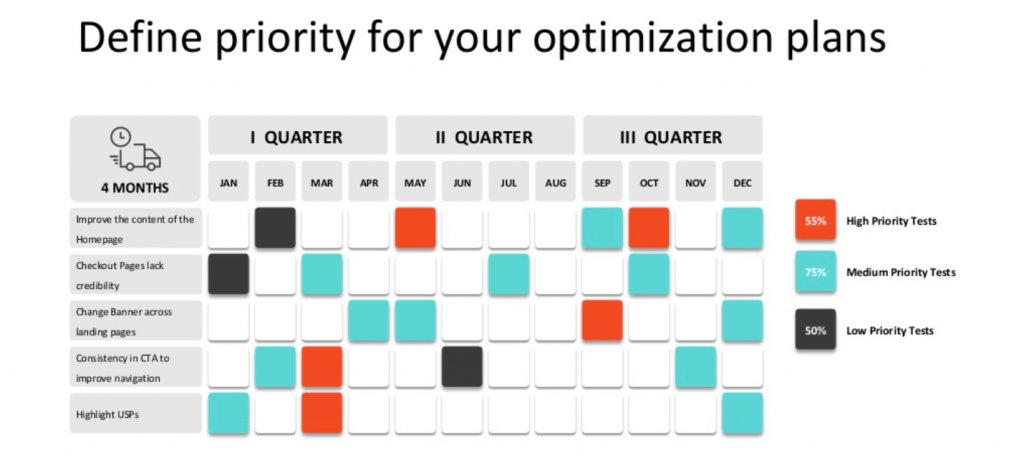 P.I.E. Framework [By Chris Goward]
As per this model, each hypothesis is given a score of 1-10 on three factors – Potential, Importance, and Ease. This translates to the amount of potential a particular hypothesis has in improving the performance of a page, how important is it to optimize a particular page, and how easily the task can be accomplished. Once assigned scores for each of these factors, you just add them up for every hypothesis and prioritize them basis their total scores.
T.I.R. Model [By Bryan Eisenberg]
As per this framework, a score of 1-5 is assigned based on Time, Impact, and Resources. This means that a test that requires minimal time, has the most impact, and requires the least amount of readily available resources would be given a 5 under every factor. Once done, individual scores of each factor are multiplied, and the highest priority is given to one with the largest score.
I.C.E. Framework [By Sean Ellis]
As per this model, a score of 1-5 (with 5 being the highest) is assigned to each hypothesis based on the likely Impact it would have, the level of Confidence you have in the hypothesis, and what is the level of Ease with which it can be implemented. Once all 3 scores are added, the hypothesis with the highest score is given the highest priority, and so on.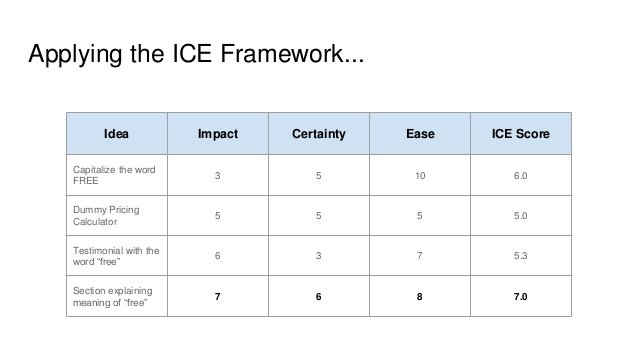 While these were a couple of the most popular frameworks, there are others you can consult to prioritize your tests so they can be picked in the descending order and fed into your pipeline. But, that's not all. You should also categorize your hypotheses basis the final goals (the ones discussed above) they accomplish.
Collate all the information collected so far
Now that you have drilled down your business goals to tactical conversion goals you plan to achieve with CRO, and also used visitor behavior insights to craft hypotheses that can help you achieve them, you can start breaking each test down into its specific details.
This would include your test name, description, hypothesis, observation, target page, and goal it is expected to accomplish. Share this spreadsheet with all stakeholders so that it can be enriched and evolved as your progress in your program.
Create your testing pipeline
Create a proper schedule to plan out your experiments considering their priority order, resource bandwidth, and time required for implementation. Assign owners to each test and make sure you keep track of the progress and the results obtained so you can use your learnings constructively to enrich your pipeline. Here's an example template you can refer to for creating a weekly A/B testing plan:

Creating one such calendar would especially be useful for agencies so you can always use a standardized template for all your clients and deliver promised results systematically.
Challenges to roadmapping
Miscalculation of time and resources required
Creating a CRO and testing roadmap requires you to carefully plan your schedules and resources well in advance, which can sometimes be a challenge for teams that are new to experimentation. You might not be able to accurately estimate your requirements before actually getting into the process. Very often, running experiments can take extra time, and it's not in your control to wrap them up sooner. For instance, if a test takes longer (than you had anticipated) to reach statistical significance, you couldn't have accounted for it, and now you have to hold off the next one to ensure they do not overlap.
The best way out of this is to always keep a buffer or stick to a conservative estimate, both for time and resources, and any other requirement you might have, to accommodate for unexpected changes that occur during experiments.
Inaccuracy, inconsistency, or unavailability of data to inform your CRO roadmap
If you haven't been relying heavily on data for all decision-making, you might struggle at first with creating a data-backed roadmap. This is largely because you will most likely discover inconsistencies or inaccuracies that don't add up, you would have data stored in silos, or you wouldn't have comprehensive data for the entire time range and critical metrics you want to look at.
To overcome this, use only data you know for sure is accurate and enough to inform your hypotheses and eliminate what you feel is only corrupting your roadmap. You can also prioritize your hypotheses in such a manner that those already backed by sufficient data are ones you test first and collect more data for those that need to be strengthened.
Not evolving your strategy with changing times and scenarios
After you have spent a whole lot of time and effort building your roadmap from scratch, it is quite natural to want to just stick to it. However, committing to one strategy with all your heart and soul and not being open to evolving it with the changing dynamics of your business or the industry will do you more harm than good.
To stay ahead of the curve, you need to keep evolving your roadmap so you can accommodate for these changes. For example, if the festive season is coming up and it's time for your annual sale, you would want to run a test or two catered specifically to the sale, and hence it's important you have provision to take that decision quickly and incorporate it into your plan.
Tools you need to build and maintain a CRO roadmap
VWO Plan
VWO Plan allows teams to collaborate and create experimentation pipelines seamlessly and efficiently. It's an all-in-one platform that empowers you to record observations, generate hypotheses, save ideas, and create and manage your experimentation program via a centralized dashboard. You can forget about data/idea silos and maintaining multiple documents, sheets, presentations, whiteboards, or dashboards, and rely on a single platform to ideate, run experiments, and measure their impact.
Let's delve into a real-world example that vividly illustrates how the VWO Plan streamlines the CRO roadmap.
e-hoi.de, an online ocean and river cruise aggregator, wanted to re-organize the CRO efforts to improve productivity and collaboration within the team. The CRO team had a pretty ad hoc process of collating data from multiple sources like Google Analytics, heatmaps, and website surveys to brainstorm ideas for A/B testing. Thus, the team wanted to structure the observation logging to derive insights and prioritize hypotheses accordingly. Here, the VWO Plan proved useful with two key features:
It has a single platform to log all the research insights, no longer requiring the need for multiple project management tools.
It has the ability to add labels, which helped the team with organizing and categorizing its observations.
With this ability to structure the observation, it was now easy for the team to come up with data-backed hypotheses. The platform allowed the team to create a hypothesis just by answering two questions: i. What do I expect? ii. What will I address?
Also, the VWO Plan has a built-in framework CIE, which allows for easy calculation of a priority score for the hypothesis based on confidence, importance, and ease. It allowed the CRO team at e-hoi to prioritize and view them on a single dashboard with their priority score.
With the VWO Plan, the team came up with 32 hypotheses from 38 observations in a matter of months. The planning was more centralized, and the team had more control over the complete process. It was able to speed up the overall process, better collaborate with other team members, and improve its productivity by over 70%. Ferdinand von Seggern, the conversion specialist at e-hoi, expressed his satisfaction with the VWO Plan, saying, "We required a solution that could up our game to implement an optimization program that goes further than just some ad hoc A/B testing."
Watch this video for a quick overview of VWO Plan
Jira
From the house of Atlassian, Jira is an agile project management and tracking software you can use to manage your CRO pipeline. You can easily plan and track your workflows over a kanban board to the most minute detail and collaborate with various teams to ensure you conduct your experiments efficiently and drive faster results.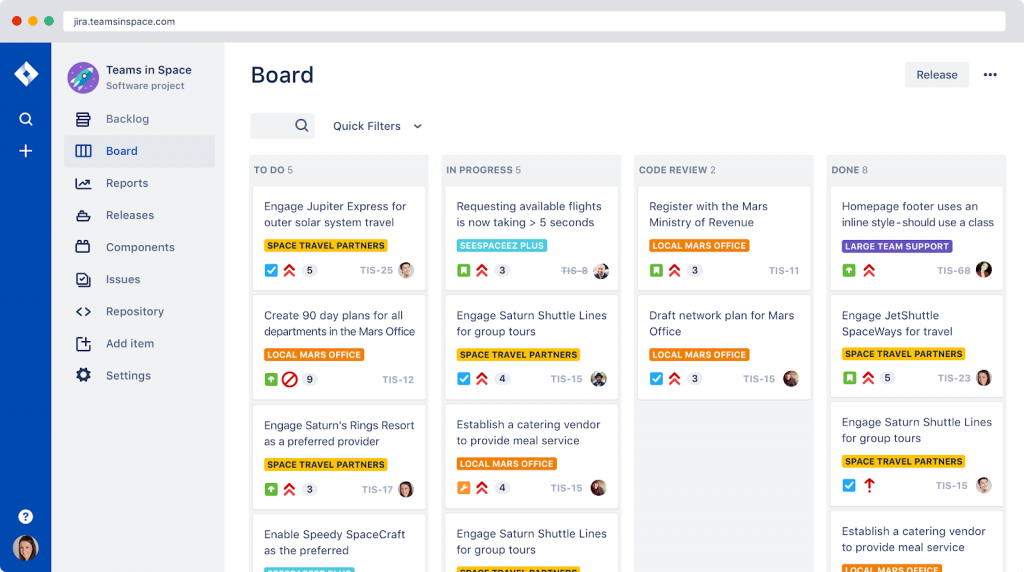 Trello
Trello is another project management software that allows you to track and manage your CRO roadmap and work collaboratively and efficiently. Apart from organizing, prioritizing, and managing your pipeline, Trello enables you to boost productivity by automating redundant and manual tasks such as due date and calendar commands.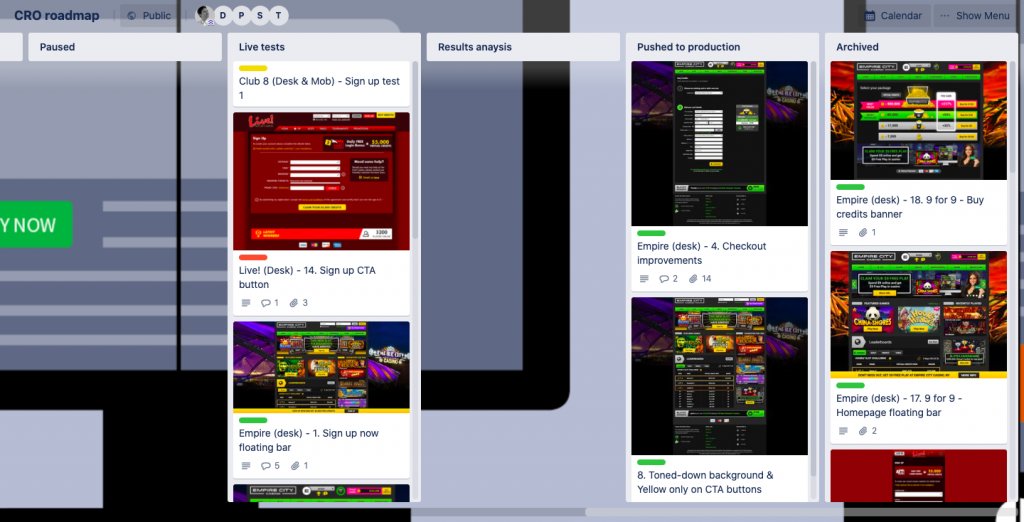 Asana
Asana is an easy-to-use project management software that provides a timeline view of your CRO pipeline and allows you to track its progress. It offers integration with all major tools such as Salesforce, Tableau, and Adobe Cloud and customizes your workflows as per your specific requirements.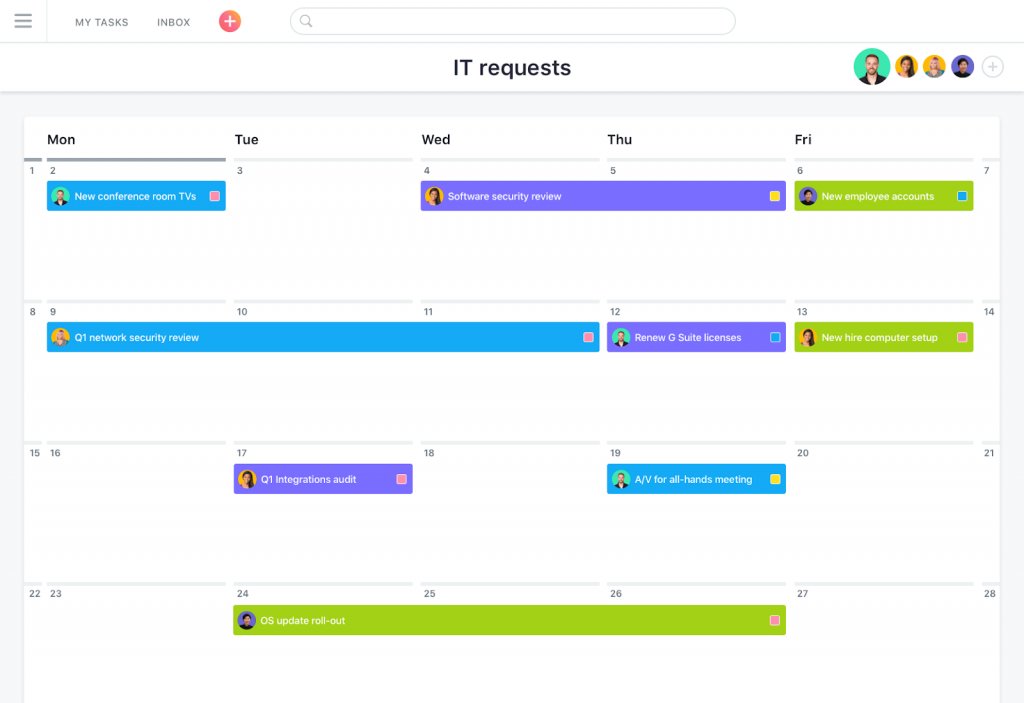 Conclusion
Approaching CRO with a strategic roadmap ensures that every effort is tied to your overall business goal. Without one, you are most likely to rely on disintegrated efforts, which may or may not show significant results. Therefore, roadmapping is the way to go to achieve success with CRO and drive noteworthy business growth. It's time to put your knowledge to test and embark on a strategic CRO journey by creating a roadmap for your program. On that note, Happy Optimizing!