Testimonials: How to Squeeze the Very Last Ounce of Conversions Out of Them
Adding testimonials to your site is a no-brainer.
But do you ever stop to think how much business do they bring in? After all, they do influence your prospects' decision-making to an extent. And what if you can do something to improve how they impact your bottom line?
We all know that coming from your existing customers (who share the same pain points and buying objectives as your prospects), testimonials add credibility to your product/service claims. They have an unbiased air about them, which makes them so persuasive.
But adding just any positive testimonial on your website is not done. Not when you want to squeeze their potential to get you more business. Here's what you need to do to optimize your testimonials for better conversions.
Your Choice of Testimonials Matter
Let them unravel a story or a pain point that your business solves
Compare this:
"I love VWO. It's an incredible testing tool. I highly recommend it"
with this….
"The sales we have seen since changing and experimenting with our buy button have proven VWO invaluable. I had some issues setting it up due to our shopping cart system and the team at VWO walked me through step by step in order to set it up correctly. "
Let your testimonial sketch a picture for them. Wonder how to get detailed testimonials for your business?
Request testimonials from people you've helped overcome an important pain point. Or the ones who were skeptical about trying your product/services earlier. Ask them to express their before and after story in a crisp testimonial.
Find a testimonial that is in-line with your value proposition
Turbo-charge your offer with a testimonial that highlights your value proposition. Be sure to use it on the top for maximum visibility.
Numbers are your shining jewels
Specifics help but when you back results with numbers, there's nothing like it. See this testimonial about an eBook by Copy Hackers: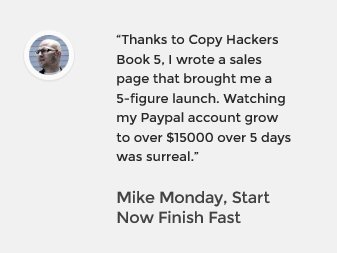 A word of caution: Don't round off numbers in your testimonials. In a research by Dan Schley, he asked participants which of the two statements they think are more believable: 60.37% of American households recycled, or 60% of American households recycled.
Majority of participants chose the precise 60.37%. When those who chose 60.37% were asked the reason for their choice, 78% people said because the precise number implied accuracy.
Charm with testimonials from relevant industry influencers
It's smart to display testimonials from people your ideal customer identifies with. But showing off testimonials from someone your target audience aspire to be can be even more impressive.
Neil Patel mentions in his blog post how his target audience is mid-sized businesses, yet when he added testimonials from big brands like TechCrunch to his website, his conversion rate shot up.
Haven't gotten the big break yet? Neil suggests that you lose some money upfront and reap the rewards later.
While scaling up his SEO agency, he approached Technorati 100 companies and offered them his free SEO services. Companies like Gawker Media and TechCrunch took the bait and in exchange they only had to add a "SEO by…" badge on their site, which linked to Neil's site and got him steady leads.
Authority of big brands does rub off on your success, sooner rather than later.
Focus on different features for every testimonial
Don't aim to select one testimonial that goes on and on about how great your product/service is, and covers all its features. It can be overwhelming for your visitors. Plus, it might even come across as a fake testimonial.
Instead, pick 2-3 small testimonials that talk about different aspects of your product/service. This will give your prospects a complete overview and will address any specific objections they might have.
For easy scanning, add a one-line excerpt as a header to each testimonial that summarizes the main issue for your visitors. Ramit Sethi pulls this off nicely for his course, Find Your First Profitable Idea:

Link your testimonial with a detailed review
Testimonials are often short and might not cover objections in too much detail. This is okay in most cases, except a few when your prospects are too apprehensive about the offer. In that case, you might consider linking those testimonials to a detailed review of the customer.
Weight loss is one of the most crowded niches online that is full of scams. Their prospects usually have many objections before buying a weight loss diet/product. Standing out as a trustworthy seller in this market is thus not an easy job. But Matthew Papaconstantinou of Weightlosstriumph.com pulls this off pretty well. He redirects prospects from small testimonial clips to detailed reviews on his site for those interested in knowing more about the product.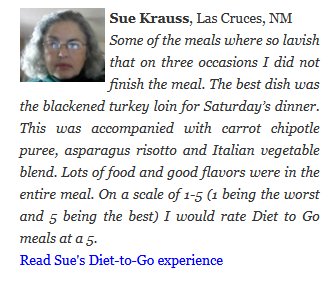 Now that you have selected testimonials for your site, it's time you leverage their power for maximum conversions.
Using Testimonials for Maximum Conversions
Place them where they are not missed in the natural eye flow
For your testimonial(s) to affect your prospects' decision-making, they must be noticed on the page. If your visitors have to scroll the page to read them, many might miss them. Don't get me wrong — people do scroll. But that depends a lot on the design subtleties of the page.
When Conversion Expert, Michael Aagaard, switched two of his testimonials above the fold on his eBook landing page, his conversions increased by 64.53%.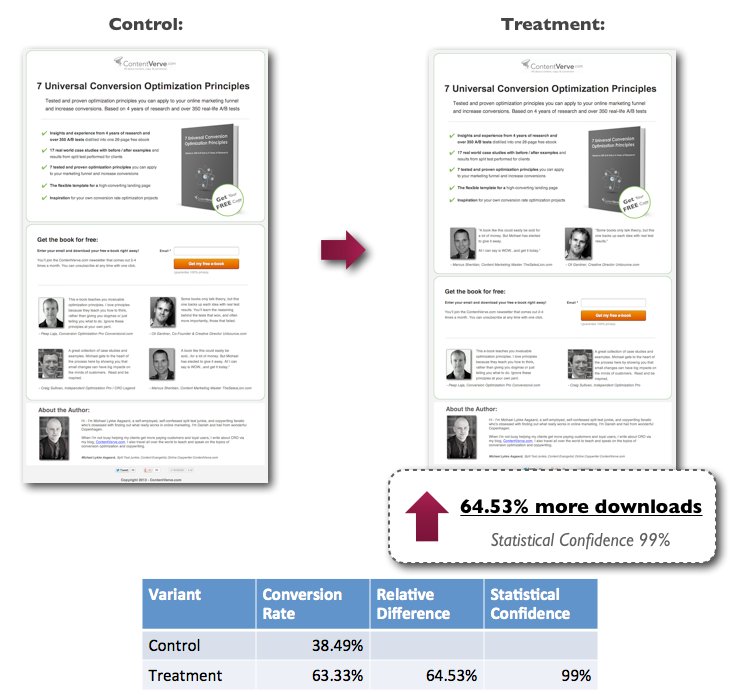 But another argument for this case study can be that since the testimonials were now noticed before the call-to-action, it improved conversions. This takes me to my next point — consider placing testimonials where they are noticed before call-to-action.
Our customer, Underwater Audio, A/B tested the placement of a testimonial on their page. As their testimonial was now noticed before the call-to-action in the F-shaped reading pattern of web visitors, their sales increased by 35.6%.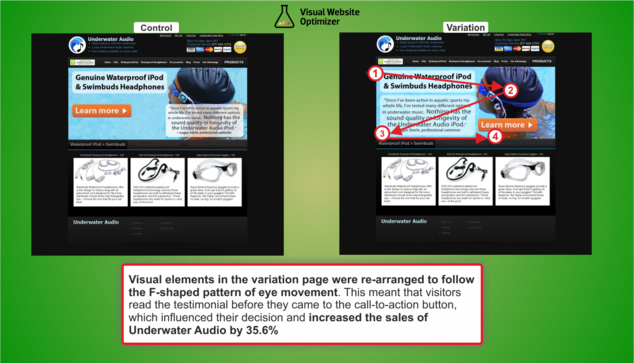 Use testimonials as your headline
Using your customers' vocab can give you a great conversion boost. Steal your customers' words for your copy to describe your business or a pain point it solves. And testimonials are one of the easiest spots to get those key copy ideas.
Our customer, LKR Social Media, swapped some words from a testimonial for their homepage headline. This AB test increased their newsletter signups by 24.31%.
This is their winning variation that used words from a testimonial as the headline copy: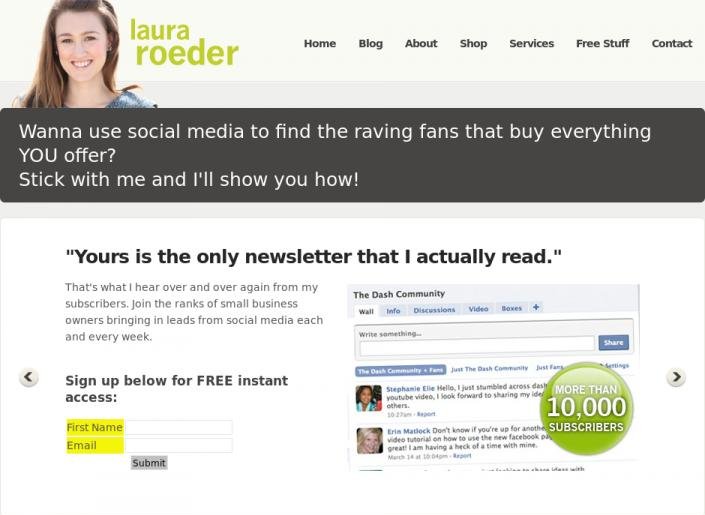 Joanna Wiebe of Copy Hackers ran a similar A/B test on her client's website and got a conversion lift of 103%.
Use Third-Party Widgets to Validate Your Testimonials
Fake testimonials are everywhere. Testimonials shared via third-party widgets help you up your credibility quotient.
Embed twitter testimonials widget – Concise and written in a moment of enthusiasm, tweets make for great trustworthy testimonials. Although you can embed individual tweets wherever you want, using a twitter widget that lists only the Twitter testimonials can be a nice add-on to your site. This widget basically lists all tweets that you mark as 'favorite.' So the trick is to mark only your Twitter testimonials as your favorite.
To know how to create your Twitter testimonials widget, read this article.
Trust pilot widget – When our eCommerce customer added the Trust Pilot Widget to its website, their sales increased by 58.29%.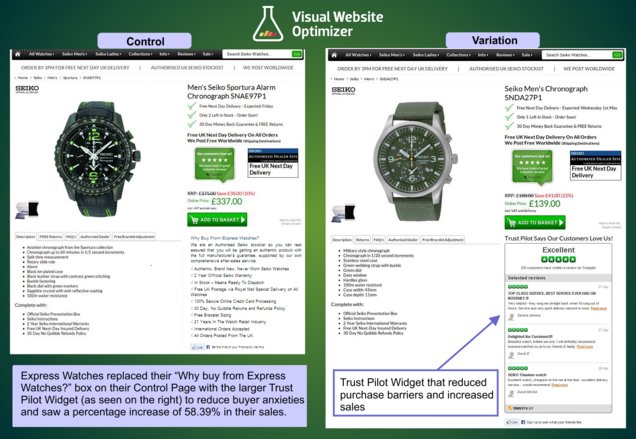 To add a Trust Pilot Widget on your website, you can visit this link.
Trip advisor widget – Those in the hotel industry can add this widget to make it easy for their prospects to make purchase decisions without having to leave the site to search for testimonials.
Adding these widgets to your site is quite easy as it only requires you to add a small code snippet into your site's HTML, much like you add the VWO code.
Use Audio/Video Testimonials
Okay, of course you know that they have a better conversion potential than testimonials in plain text. But consider adding a written transcript with them, if possible. This way the content will be easily crawlable for search engines. And will also be useful for people with loading problems due to slow Internet connection. See how Market Motive accomplishes this:

I particularly love this video testimonial from Groove HQ:
I like how they have inserted some parts of their product in action in the video without taking attention away from the customer.
A quick bonus tip from Search and Conversion Expert, Angie Schottmuller:
#VIDEO: Include #SEO keywords super close to embedded videos. -@turnerup15 << Google finds video captions SEXY! #MnSearch

— Angie Schottmuller (@aschottmuller) January 30, 2014
The above examples and case studies might be inspiring, but don't get too carried away and implement their takeaways wisely on your site. Just because they worked for others, don't mean you will have the same results. Be it the placement of testimonials, type of testimonials, or anything else, run an A/B test to see how it works on your website.

I need not mention this but as a gentle reminder, I must point out that you must use pictures, full names, and credentials of your customers with testimonials.
Finally, avoid making a separate page for testimonials and instead try inserting them at important pages in the conversion funnel. On a separate page, only 1-2 testimonials are read, rest are ignored. So be more pragmatic about it and handpick the best testimonials for your site instead of adding them all on one page.