Behavior Analytics
VWO Insights
Session Recordings
Record and playback visitor sessions
Use session recordings to look over the shoulders of your visitors as they interact with your website.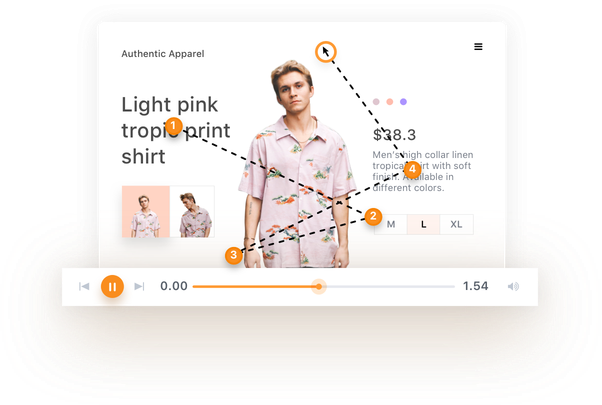 Interactive visual player
VWO's interactive player offers a host of features that let you go through visitor behavior at your own pace.
Mouse trails and clicks
VWO records actual mouse movements as visitors move across pages on your website. You can also see where they clicked (both left and right clicks) and how often they moved up and down on a page.
Adjustable speed
Perform fast-forward to see how hundreds of people sign up or go slow and focus on every mouse movement and click.
Skip pauses
Skip the time frame during which visitors didn't perform any action.
Add observations
See a visitor confused filling up one of your forms? Add an observation right at the stage where the visitor got confused, and VWO will save it with the same time-stamp.
Mine actual behavior for insights
VWO lets you filter recordings on a wide set of parameters to look for insights from a unique set of visitors.
Visitor segments
Filter your recordings by creating your own advanced custom segments using complex and/or bracketing logic conditions or choose from VWO's 20 predefined segments including:
New vs. returning visitors
Mobile, desktop, and tablet traffic
Browser
Query parameter
Read More
Visitor profile
Don't watch individual sessions, look at journies instead
Historically, analyzing session recordings meant looking at individual sessions. Since 1 conversion is scattered across multiple sessions, optimizers should look at the collective journey, instead. With VWO Visitor Profiles, teams can analyze cumulative journies across segments of choice (converters from USA on iOS, non-converters from UK and many others)
Dig deeper
Want to see recordings of visitors who dropped off at the last step of the funnel? VWO lets you filter recordings of visitors who:
Converted for a goal
Didn't convert for a goal
Dropped off at a step in the funnel
Became part of an A/B test
Custom tagging
Use your unique criteria to filter a certain set of recordings. For example, see recordings of visitors who came from an Adwords campaign and added a particular product to cart. VWO captures this data with the help of custom tags defined by you.
Advanced filters
Filter your recordings by the number of pages visited and see what's making people leave your website. You can also see recordings of visitors who:
Dropped off a page
Visited a page
Visited a certain number of pages
Entered/exited a page
Stayed on the page for a certain time
Be performance-driven
VWO takes utmost care of your data security and also ensures that recording behavior doesn't impact the experience of your website.
Data security
By default, VWO anonymizes key presses such that no confidential data of your customers is saved with us. You can also choose to exclude sensitive pages from VWO tracking.
Performance
VWO ensures that while recording behavioral data of your visitors, we don't slow down your website or impact the visitor experience in any manner.
Deliver great experiences. Grow faster, starting today.