Success Story
250-Year-Old Encyclopedia Britannica Thrives in the Digital Age with VWO
About Encyclopedia Britannica
The Encyclopedia Britannica Group is a global knowledge leader whose products inspire curiosity and enthusiasm for learning across multiple platforms and devices. The organization celebrated its 250th anniversary in 2018.
Encyclopedia Britannica became a pioneer in digital learning starting in the 1980s. Today, the company serves 150 million students, lifelong learners, and professionals in 83 countries and 16 languages. 
"We're excited to continue sharing all of the knowledge we have and being a part of people's lives, even though it's no longer through printed books," says Elizabeth.
Over the five years, Elizabeth has spent with Encyclopedia Britannica, her role has evolved to oversee consumer subscriptions, marketing, analytics, and research. When she identified an opportunity to increase Encyclopedia Britannica's user base and subscriptions, as well as improve its website, the company's journey to a partnership with VWO began.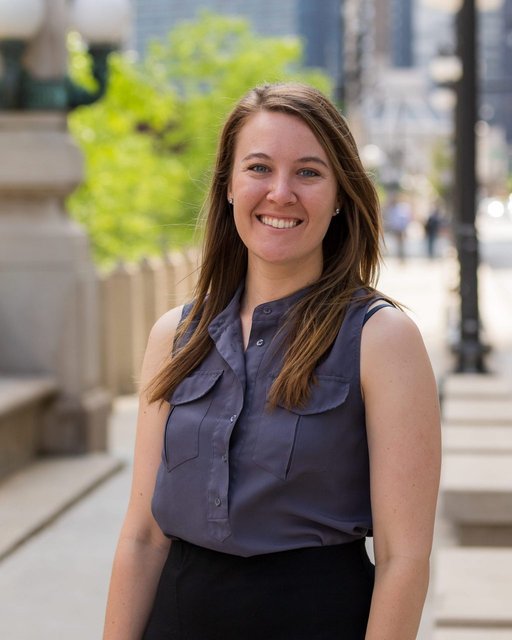 Elizabeth Romanski, Consumer Marketing and Analytics Manager at Encyclopedia Britannica
Observations
1. The shift to digital—innovating to keep pace with EdTech's rapid evolution
Although the success of its digital products prompted Encyclopedia Britannica to cease
publication of its printed encyclopedias in 2012, the organization had to continue to innovate,
knowing the next logical step was to shift to a purely digital platform. Transitioning from its role as a well-known print publisher to a digital platform was a challenge for Encyclopaedia
Britannica. Encyclopaedia Britannica needed to align its digital strategy with users' frequently
evolving needs and ensure that it outperformed the competition. The organization needed the
capability to test new initiatives to continue to remain a knowledge leader, this time in the
digital age.
2. Tools and system limitations, as well as dependency on external teams
Encyclopedia Britannica experimented with A/B testing over the past decade and used a few different products; however, the products didn't provide enough flexibility. The products were difficult to implement and use, and the company couldn't run new tests outside of a software release. Therefore, it was still relying heavily on in-house developers. This made work cumbersome, and testing became an afterthought because the process was clunky and time-consuming.
3. Going beyond just A/B testing
To transition smoothly to a digital landscape, the organization needed a solution that would allow it to build stellar user experiences, and easily create and run tests without coding or IT's involvement. Encyclopedia Britannica needed a technology partner that could provide insight into its users' behaviors and needs, and support it in the long term with flexible testing capabilities and powerful analytics.
"Nowadays, you have to establish loyalty with your customers and use data to drive innovations that will deliver an excellent user experience. You have to test things to see what works for your audience—even things as simple as changing a button color." Elizabeth says. 
Tests run:
Implementing a user-friendly, data-driven solution
Encyclopedia Britannica did a lot of research before contacting VWO, and ultimately determined that the solution's intuitive user interface and the ability to make changes and gather insights quickly made it the right fit.
"You don't need a website development background to make VWO work for you—and you don't need to wait on release cycles" 

Elizabeth Romanski

Manager of Consumer Marketing and Analytics
When Encyclopedia Britannica implemented VWO, the organization took advantage of its learning resources and training sessions. The company started conducting small tests to give its marketing team insight into how they could use the solution. Now, Encyclopedia Britannica consistently uses VWO to test and improve its digital products.
Gathering insights to drive strategy
After nearly three years of using VWO, Encyclopedia Britannica has gained greater visibility into its users' behaviors and needs. Here are a few of the ways Encyclopedia Britannica used VWO to test and discover the best performing versions of its website, diagnose problem areas, improve user experience, and drive conversions and revenue.
Test 1: Figuring out which color is best for links
Hypothesis

: Users are more likely to identify a link if the link text is in blue.

Rationale

: Blue is a universal color that people associate with links. Presenting clickable text in blue eliminates confusion and allows users to find the information they are looking for quickly.

Implementation

: Encyclopaedia Britannica used VWO Testing to easily create and run tests to compare the results of the three CTA options. The company tested different popups with Encyclopaedia Britannica using VWO Insights to watch session recordings. The team noticed that many users tried to click on words that were blue, but these words weren't actual links. This led the organization to want to understand if blue needed to be the only color used for links. Encyclopaedia Britannica created a few tests on a select number of articles and experimented with three colors for in-line article links: red, orange, and blue (control). With the calls to action to see which one worked better.

Results

: The hypothesis turned out to be true. The other colors reduced engagement by an average of 10%. As a result, Encyclopedia Britannica continued using blue for all of its links, and made sure no non-link text was blue.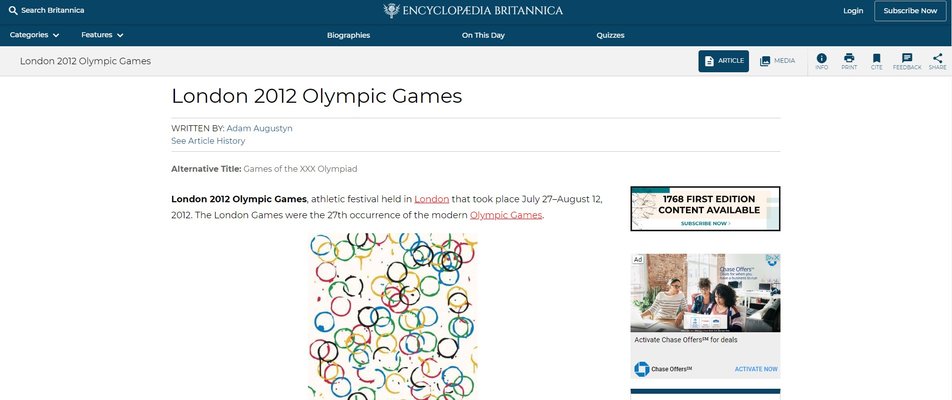 Variation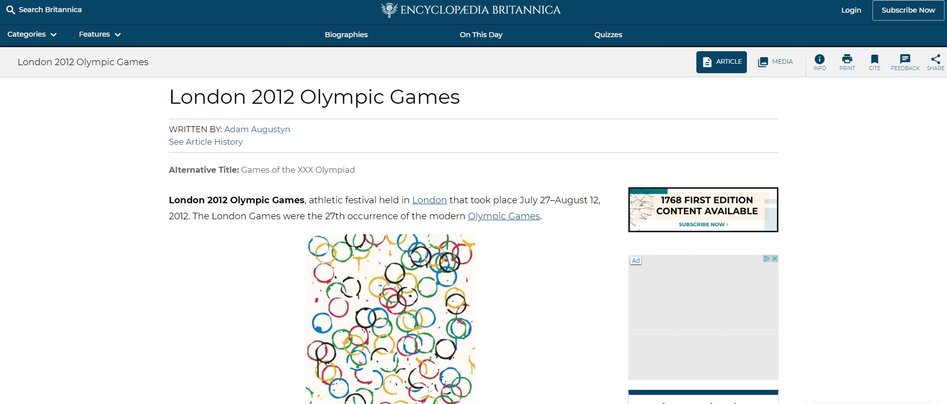 Control
Test 2: Comparing call-to-action (CTA) variables
Hypothesis

: The CTAs "Become a subscriber" or "Become a member" will yield higher conversion rates than the control: "Start your free trial".

Rationale

: The words "subscriber" and "member" imply that someone is part of a community so these words will have more impact than "free trial."

Implementation

: Encyclopedia Britannica used VWO Testing to easily create and run tests to compare the results of the three CTA options. The company tested different popups with the calls to action to see which one worked better.

Results

: Surprisingly, all variations performed worse than the control ("Start your free trial"). In some cases, the click-through rate on the CTA dropped by 20%. Based on this data, Encyclopedia Britannica knew its control language was best and stuck with it.
With VWO, you can easily test which CTA works best for you. Take a free trial to see how!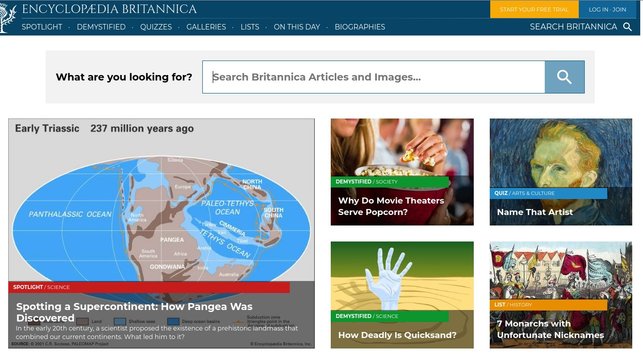 Control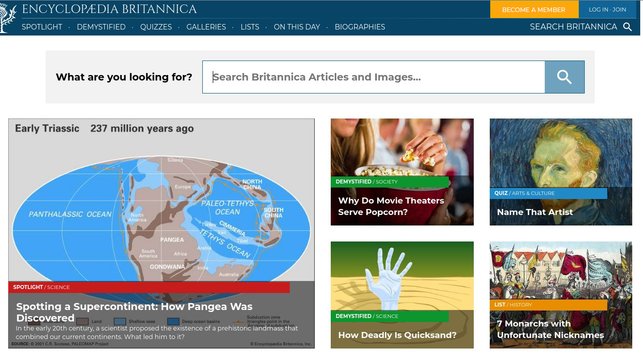 Variation 1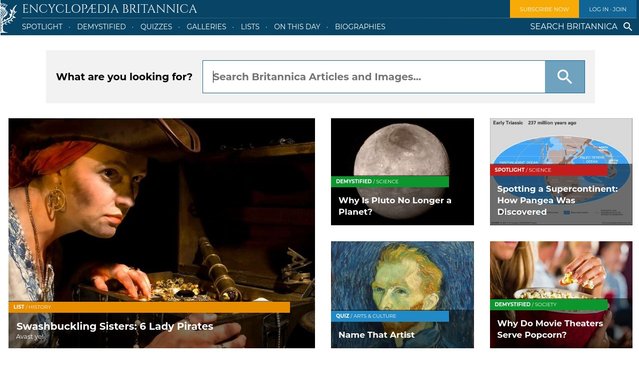 Variation 2
Test 3: Evaluating new product feature effectiveness
Hypothesis

: Q&A accordions will prevent users from leaving a webpage and going to Google for answers. 

Rationale

: The accordions will provide related information that users are interested in while they're reading an article.

Implementation

: Encyclopedia Britannica identified high-traffic articles, then used VWO's on-page survey capability to discover what people wanted to know most in relation to the topic. Next, the company designed an accordion feature on its website with the top Q&As for each article.

Results

: Over 23% of users tested clicked the accordion to see answers to the questions and click through to read more of the article or other related content.
Discover a goldmine of insights on your visitor's peculiar behavior with VWO Insights. Take a free trial today to explore more of its features.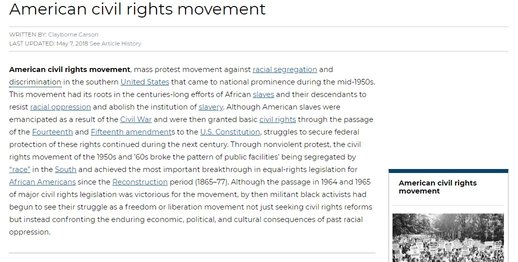 Control

Variation
Conclusion:
Empowering and connecting a team dedicated to user experience
With the data it has gained from VWO, Encyclopaedia Britannica has now become well versed in testing and has more insight into who its users are, what they like and dislike about the company's products and how the products need to evolve as a result. The organization no longer needs to rely so heavily on its developers either because VWO provides 24×7 support.
"The VWO support team is amazing," Elizabeth says. 
VWO has empowered Encyclopaedia Britannica to give more of its staff a say in decision making. The VWO solution provides the freedom to try new initiatives because when someone has an idea, Encyclopaedia Britannica can easily test it to see if it resonates with users—the organization isn't bound to one approach. The company also uses VWO to break down internal silos. Now, staff from different teams work together using the solution and sharing their results.
VWO enables you to easily discover insights, build an experimentation roadmap, test ideas, and engage visitors, all within a single platform. Start your free trial today!
What's next for Encyclopedia Britannica and VWO
In the future, Encyclopedia Britannica intends for VWO to become a standard part of its workflow when considering product changes. So far, the organization has used VWO to improve its Britannica website, and plans to test its Britannica Kids website next. The company is also testing other potential consumer products with VWO, and hopes to involve its sister company Merriam-Webster.

Location
Chicago, Illinois, U.S.A.
Experiment goals
Increase CTR on main CTA
Impact
10% increase in Click-through rate
Explore Our Other Success Stories
Start and scale your A/B testing with VWO