Keep running experiments to outrun conversion rates
VWO Testing helps you run powerful A/B, multi-variate, split, multi-device, and multi-page tests on your website to turn your visitors into paying customers. Set up your first experiment right away.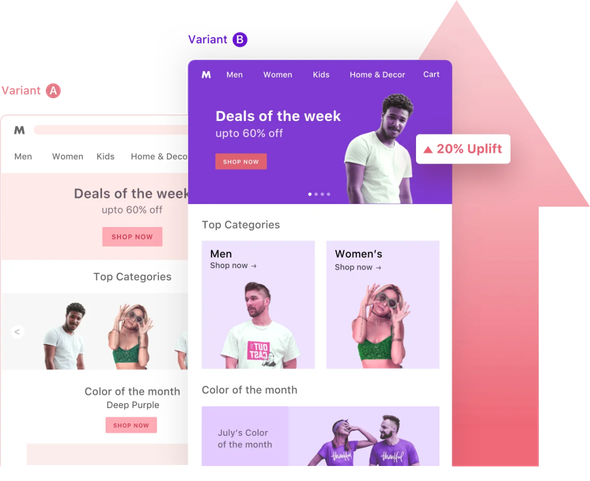 Empower all teams to experiment in a wink
For more than a decade, 1000s of growth leaders and CRO Experts have trusted VWO Editor to create and test experiences across millions of users, without ever involving a developer.
Point-and-click Visual Editor
You don't need to depend on your IT team's availability to tweak your pages for testing. Nor do you need to know how to code! Use in-built capabilities of VWO's powerful Visual Editor to:
Edit any element (text, images, shapes, background, etc.) including Shadow DOM elements on your webpage
Personalize experience using dynamic texts on the webpage
Copy and paste web element styles to create test variations quickly
Embed videos from YouTube and Vimeo with just one click
Undo, redo, or save your progress, and even build your personal change library
Get campaign page preview in specific device types
Also, we are compatible with any website architecture (even Jamstack, Single Page Applications, and Headless websites)
Learn more
Use out-of-the-box widgets to entice visitors
The VWO visual editor also comes loaded with a variety of ready-to-use widgets that you can deploy and test on your website. Whether you want to nudge a visitor to read the next article or create FOMO for the end-of-season sale, we got you covered.
Get an entire library of widgets to test and find out their impact on improving conversions
Create triggers based on visitor properties or their on-page behaviors to decide when the widget is shown
Use segments to personalize the widget messaging for each set of visitors
Integrate form widgets with any lead collection platform to capture leads and drive conversions



Want to make changes in the code? Use the code editor
Distraction-free "code only" mode that developers love
Make sophisticated changes directly in HTML/CSS/JS using our advanced code editor
Easily include external JS/CSS or define JS/CSS at the test level to build complex and sophisticated A/B tests
Short on developer bandwidth in-house?
Make use of VWO Services and let our developers code the most complex of tests for you.
Need copy alternatives? Let AI do it for you
Don't let other priorities or lack of test ideas hamper your A/B testing regime. Inbuilt within the Visual Editor, the GPT3 powered AI copy generator enables you to create variations for your website copy to test against your existing copy. Imagine AI dishing out coherent and crisp copy alternatives at the click of a button!
Drastic reduction of the time you spend to generate effective alternatives for headlines, product descriptions, CTAs, and more
AI is able to generate alternate copy suggestions in any language
Ability to test the AI-generated copy against the original human-written copy on your website (Our contest saw AI win 75% of the time)
Get higher conversions by quickly deploying the copy that works best for your audience
Create an agile growth organization with the capacity to run dozens of tests at a time
As a hands-on user of VWO, I've personally experienced how quickly it allows prototyping and testing of new ideas, features and content. The ability to push changes, without having to involve multiple teams to relaunch areas of the site can't be praised highly enough, and the ability to reverse those same changes instantaneously is equally as useful.

Rob Marfleet

UX Specialist, Jagex
Increase your testing velocity, without worrying about how it impacts visitor experience
Target the right customer, run multiple experiments without overlaps, and attribute the impact across the funnel.
Segment & run tests based on your visitor's behavior
You can target your audiences in tests by using pre-defined audience cohorts, attribute based uploaded audiences, or behavioral audiences from third-party tools.
Let's say you have learned that when visitors spend more than a minute looking at the list of flights, they end up closing the page.
Your hypothesis is that they could not find a suitable flight, so they just gave up. A solution you would want to test here is to bring their attention to the filtering options.
With VWO Testing, you can easily do this by running tests only for people who spend more than a minute on the page. The behavioral targeting options include:
Click on an element
Time spent on page
Page scroll %
Exit intent
Or you can set up your own custom trigger as per your unique business need.
Keep your data clean even with multiple tests on the same page
Want to run multiple tests on the same page but are afraid visitors will overlap across tests, and the results will get skewed?
VWO Testing allows you to allocate visitors exclusively for each test, so there is no overlap, and your test results do not interfere with each other.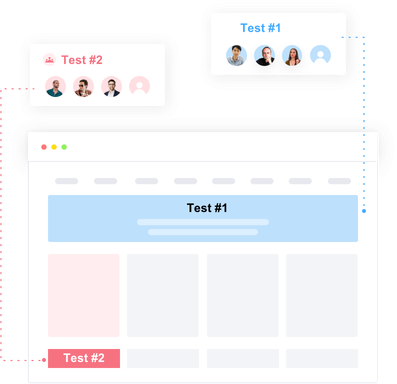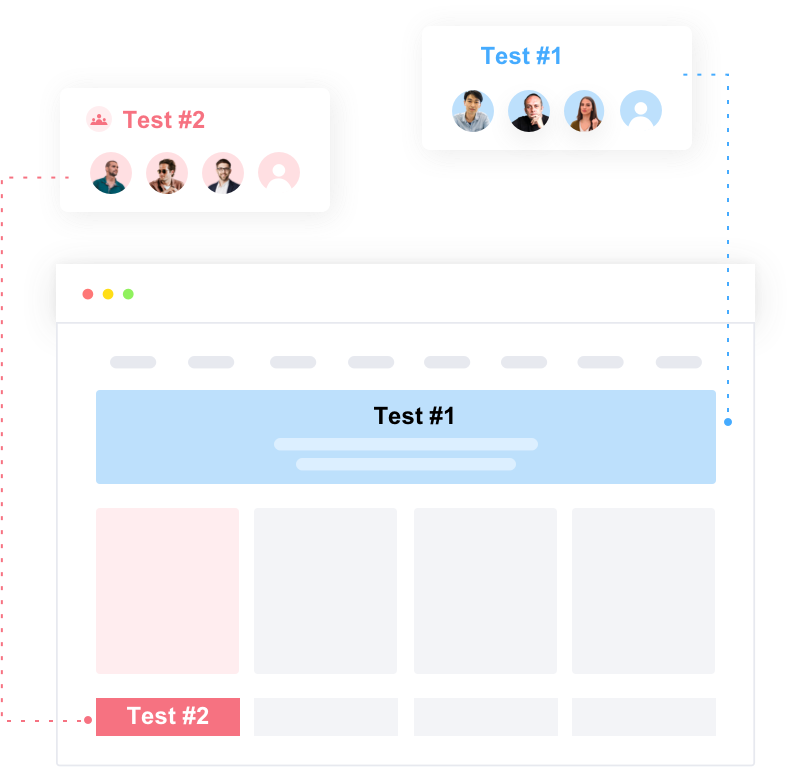 Track the impact of an A/B test across the entire funnel
Worried that the test you are running might be increasing button clicks but decreasing revenue down the line?
With VWO Testing, you can track multiple metrics for an A/B test to measure its impact across the entire funnel and make informed business decisions.
Reduce page load time with asynchronous code
The VWO Asynchronous SmartCode loads in parallel to your webpage, thereby reducing the page load time during a test.
You can also create customized timeout parameters for the VWO SmartCode. If the VWO SmartCode fails to execute within a specified time, it stops and then loads the original content of the page.
Learn more about VWO SmartCode
Make impactful decisions with powerful reporting
Take accurate business decisions that are backed by SmartStats Bayesian Engine. Gather actionable insights by finding interesting segments and visualising what they do, across variations. All within VWO Testing reports.
Slice & dice test results to uncover hidden winners in a test
Even if your variation lost out to the control in the test, find out if specific segments of visitors did better in the variation than the average case.
You can segment your reports by choosing from VWO's 20+ predefined segments, including:
New vs. returning visitors
Traffic by device type like mobile, desktop, and tablet traffic
Traffic by source like paid search, email, social, etc.
Browser, location, time of the day
Query parameter's value in URL
In addition, you can also create your own custom segments by using complex AND/OR and bracketing logic conditions from browser-based visitor's attributes or behavior cohorts from third-party data tools.
You can also compare the behavior of visitors between two segments. For instance, you can compare conversions of logged-in visitors vs guests, or visitors who saw a special promotion vs those who didn't. You can then save segments in a library to use later.
Make smart decisions with SmartStats, VWO's Bayesian-powered statistical engine
SmartStats gives you intelligent results to help you make smart business decisions from your tests without having to look up the definition of p-value or verify statistical significance. We do all the statistical heavy lifting for you.
Unlike most of the competitors who just test for statistical significance, with SmartStats, VWO directly addresses your real question—what is the probability of a variation A beating variation B, and by how much. This reduces your testing time by half, giving you time to run more tests and increase your conversions faster.
You get intelligent answers quickly so that you get more time to increase your conversions and more time to test new ideas.
Learn more about SmartStats
Understand how visitors interact with your variations using heatmaps and recordings
Testing a new mega menu on your website? Want to know how visitors who saw the new menu on the website are navigating the website vs. the ones who saw the previous one?
Ran a test with a new hero image on the homepage which you expected to increase clickthrough but it didn't?
Understand exactly how visitors are interacting with your variations, and why they are behaving the way they are with the help of heatmaps and recordings for all the different variations you have created when you combine the power of VWO Testing with VWO Insights.
Learn more about VWO Insights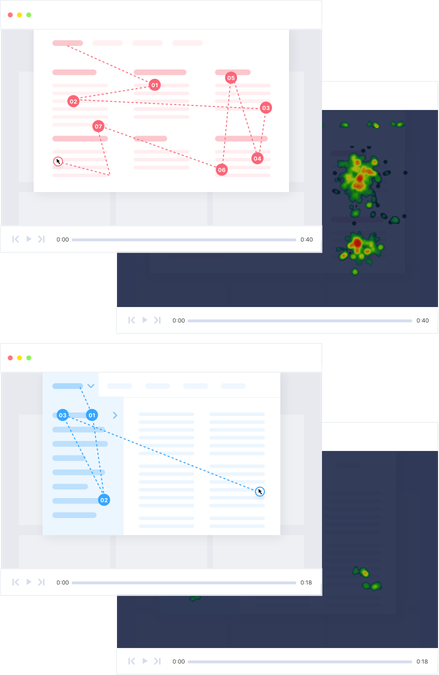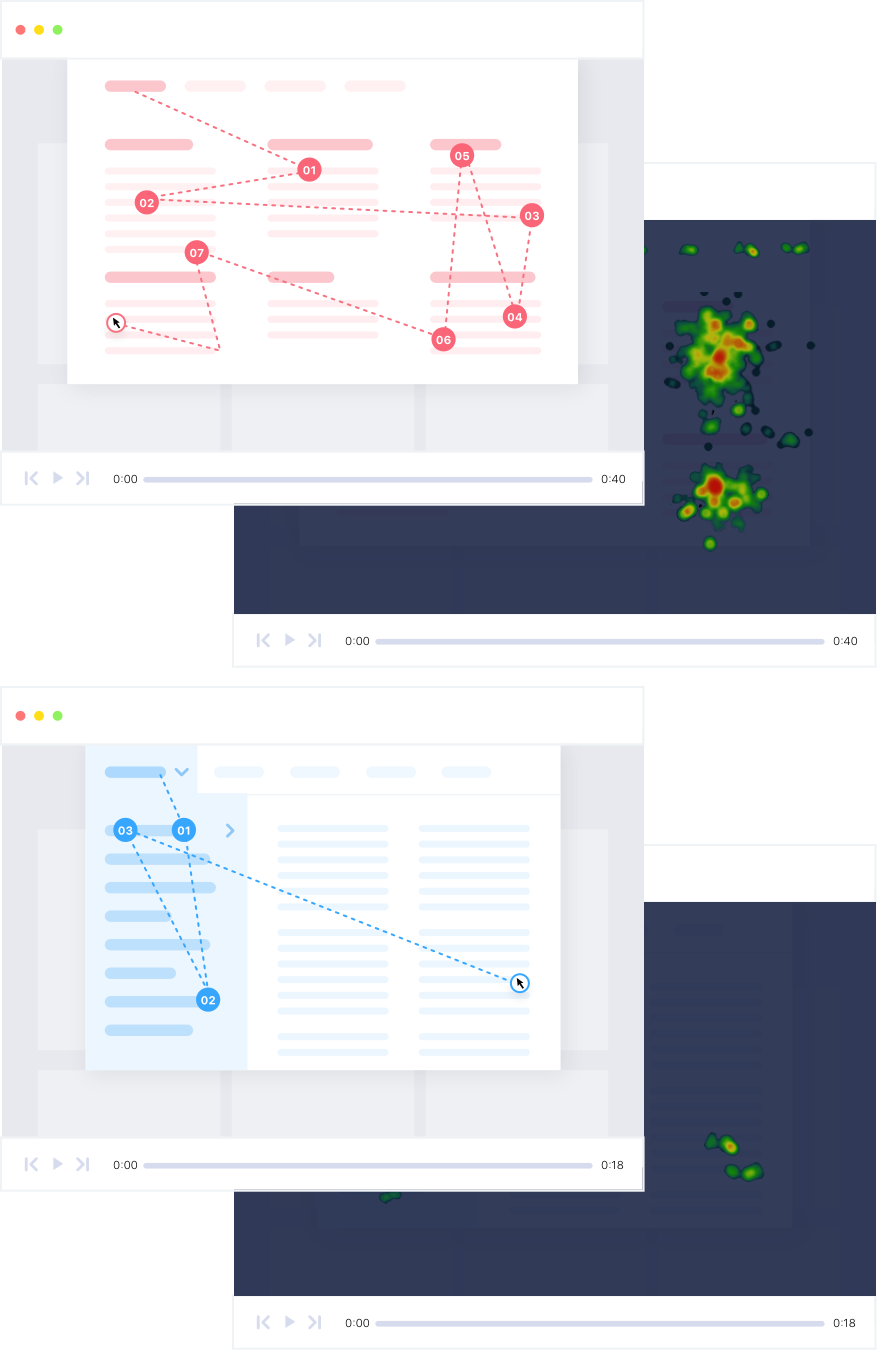 Collaborate better. Scale faster.
Enable your team to discover growth opportunities in your buyer's journey, build a pipeline of high-impact experimentation ideas, and map the entire journey with VWO Plan.
Add your insights with a click via the Chrome extension
Have everyone on your team install the Google Chrome extension. Then whenever an idea comes to mind - like when you're watching UserTesting.com videos or diving through Google Analytics - you can add it to the central repository with just a click. And, you can be sure no winning insight or observation goes undocumented again.
Checkout the VWO Chrome Plugin
Keep everyone in sync with a repository of learning from tests
Testing is iterative, and every test - whether it outperforms the control or not - is a learning experience.
But, how do your newest team members get access to learnings from past experiments? And, what happens when your senior CRO executives leave the team, taking their historical knowledge along?
Use VWO Program Management Capability to record all the key learnings and results from these tests. So all your teams can look at the past and build better testing hypotheses for the future.
Learn more about VWO Plan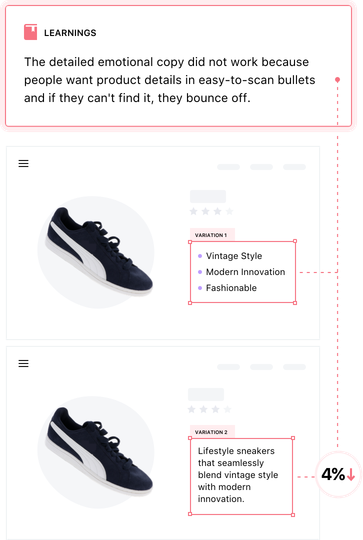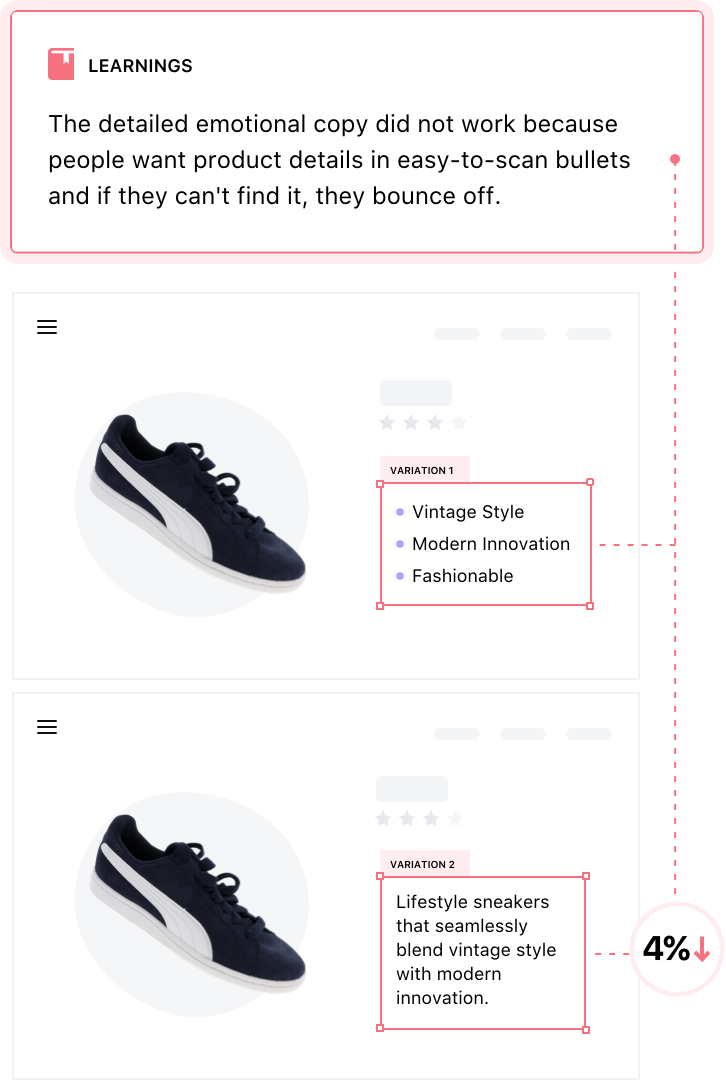 Manage tests through the entire lifecycle with Kanban board
The Kanban board gives you a bird's eye view of your entire hypotheses pipeline. This makes your entire experimentation program more accessible and transparent to anyone interested in it.
At a glance, you'll be able to track:
A backlog of test opportunities
What's next in the testing pipeline
Which tests you have completed
You can automate your workflow to have hypotheses move from testing to completed to archived as they move across these stages in VWO Testing. You can also customize the Kanban board as per your workflow.
Learn more about VWO Plan
Success Story

Warner Music Group Increases Its A/B Testing Velocity by 3X
Read Success Story
In my role at Warner Music Group, I aim to promote a culture of data-driven creative design. We design, build and maintain hundreds of artists' websites. VWO helps me quickly and easily find conversion optimization wins that I can standardize across the whole enterprise. I don't like to use the phrase "best practice" unless I can prove it, and my proof is in the data provided by VWO.

Brandon Gentry

Director, User Experience, WMG
See More Success Stories
Amplify the power of VWO Testing
VWO Testing is a part of the VWO Platform which helps you discover conversion leaks, understand visitor behavior, conduct surveys, run experiments, log your learnings, and engage with visitors.
Deliver great experiences. Grow faster, starting today.