There Should Be No Limits on Your Growth. Our Technology is Built to Scale with You.
With more than half the company made up of engineers and founders who speak code, technology forms the bedrock of our product offerings. As a company, we invest time and resources in research and development to solve technology issues with innovative solutions.
You can leave the heavy lifting to us while you fuel growth at your organization.
The world's only connected platform of conversion products for optimizing digital experiences
The VWO Experience Optimization & Growth Platform helps you create superior digital experiences for your customers and maximize conversions through one connected platform. This ensures similar definitions for your data across the entire platform and you can forget juggling between multiple disconnected tools.
With VWO Platform, you can understand visitor behavior, run experiments, and re-engage your visitors to become lifelong customers and advocates of your brand.
We optimize billions of digital experiences every year
In our quest to enable our customers to create delightful digital experiences on their websites, we have built technology with the purpose of not only being reliable in the present but ready for the future. Effortlessly scale with our thoughtful technology. Our private and dynamic CDN ensures a seamless experience for your visitors each time.
15

Global Data Centers

Peace of mind with a data center in every continent to ensure that there is no impact on your site load speed.
2.9 billion
Digital Experiences Optimized
Zero impact on website load time
Nobody likes websites that take time to load. While building VWO, our endeavor has been to help you fastrack on your growth path, and hence, our code never slows down your website loading time. The VWO Asynchronous SmartCode loads in parallel with your website, thereby having zero impact on your website load time.
With VWO Asynchronous SmartCode, you can customize time-out parameters for the VWO SmartCode to execute and make sure that your visitors do not experience any inconsistent behavior while using the website. If the VWO SmartCode fails to execute within a specified time, it stops and then loads the original content of the page.
We will never let you down, quite literally!
With our constant uptime record of 100% for the past few years, you can bank on us to never let you down.
To add an extra layer of assurance, the way we have built our technology ensures zero impact on your website in case we don't meet our highest standard.
Learn more About VWO SmartCode
Accurate results in half the time=Predictable growth at a faster pace
We understand that 'speed-to-market' is the new competitive advantage, but at the same time, we believe in 'getting it right' so that our customers can see conversion uplifts predictably.
Keeping this in mind, we developed SmartStats, our all-new Bayesian-powered statistics engine for A/B testing, which produces results much faster than before and gives you more control over your testing.
Learn more About VWO SmartStats
Integrates easily with your existing tech stack
VWO includes out-of-the-box integrations with a host of third-party applications to offer your growth teams flexibility in your experiments. You can integrate with your choice of application across web analytics, eCommerce platforms, and Content Management Systems.
See All Integrations
Growth teams can deploy changes without help from developers
Don't let bandwidth issues and interdependencies within your organization derail conversion optimization projects. The DIY interface of VWO WYSIWYG editor makes it easier than ever for your growth and marketing teams to build experiments and better experiences for your users. No coding or IT required.
For mature CRO teams with dedicated developers, we have a powerful code editor specially built for developers to make sophisticated changes directly in HTML/CSS/JS.
Security-first approach
We are a security-first company. At VWO, we honor the users' right to data privacy and protection. Through regular security audits, penetration testing, and data backups to secure servers across the world, we ensure a secure experience with VWO. Our enterprise-grade platform has been designed keeping in mind the high level of security expected by world-class businesses.
Our technology helps you to comply with all security and compliance standards with minimum effort at your end. With certifications such as ISO 27701:2019 & ISO 27001:2013, VWO complies with various provisions of GDPR.
Learn More About Enterprise Security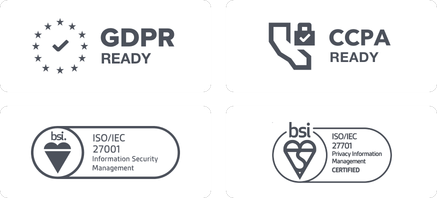 Deliver great experiences. Grow faster, starting today.