19 Must-Have Tools To Begin Your CRO Journey
Conversion rate optimization (CRO) is incomplete without the right tools. To aid you in your optimization journey, a curated list of essential CRO tools has been provided in this blog. But before delving into the list, let's first explore what CRO tools are and when you need them.
What are CRO tools?
Conversion rate optimization tools are software apps or platforms that marketers, developers, and UI/UX designers use to dig into user behavior, spot any roadblocks, and experiment with the user experience in the hopes of boosting their conversion rates.
CRO tools come with a range of useful features, either as standalone options or bundled together. The features usually allow heat mapping, session recording, form analytics, A/B testing, personalization, and feedback tools that allow to create of opt-in forms and deploy surveys.
CRO tools help to overcome leaky bucket syndrome and improve the returns on business efforts.
When do you need CRO tools?
A website is a home to many actions. Button clicks, form fills, purchases, and many more events collectively constitute engagement and conversions. Experience managers tend to look at these actions from both macro (site-wide) and micro (visitor-level) lenses to understand their visitors and map their business's overall conversion rate. A CRO tool helps them in analyzing and optimizing the conversion rate.
But there's a problem.
Even though experienced managers make sure to take every bit of information into account to analyze customer behavior and optimize their business performance, many often don't use the right conversion rate optimization tools, leaving room for flaws and glitches to breed. To avoid such hiccups, we highly recommend following CRO tools based on each conversion rate optimization stage to effectively enhance your website and business's performance.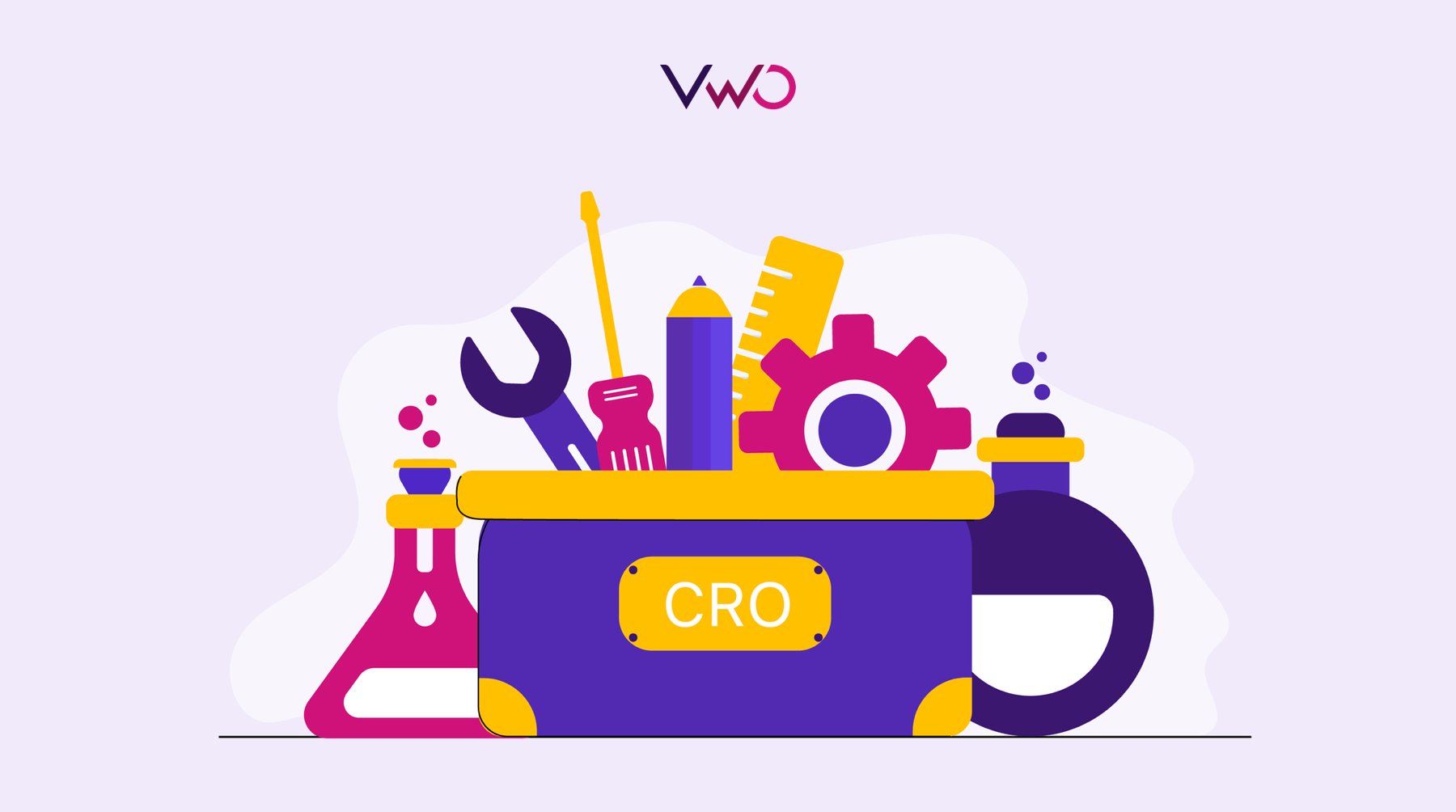 Before you add any CRO tools to your arsenal, evaluate whether you can build them yourself or buy them after going through the following carefully.
How to choose the right CRO tools?
GDPR Compliance
Since you're engaging with visitor data at each stage, it's essential to ensure that your data collection tools must be GDPR compliant.
Integrations
To avoid data silos when using multiple data analytics tools, ensure that the tool has 'integrations' with other tools you use or open APIs to build custom integrations. This helps prevent data duplication, confusion, and related uncertainties.
Security
If you plan to install supporting CRO software on your website, ensure the tool doesn't get breached, especially when running experiments. Your CRO tools must be safe and secure to use. Single sign-ons, multi-step logins, etc. help ensure security. Check your CRO tool under consideration for these critical features.
A multi-user-friendly dashboard
When selecting a CRO tool, make sure it offers an integrated dashboard where mapping your experiments and other activities is easy. A user-friendly dashboard also allows cross-team collaboration, which is a building block in CRO.
After evaluating the tools, let's now look at some must-have CRO tools based on different conversion rate optimization stages.
Top CRO tools for different testing stages
The research stage
When it comes to conducting research, multiple CRO tools exist that help map both quantitative and qualitative data. Quantitative data tools, such as web analytics, offer insights into what's happening on your site. Qualitative tools such as heatmaps, scroll maps, surveys, and the like give context to why it's happening.
Mentioned below are some of the best CRO analyzer and research tools you can use to collect necessary visitor data to form data-backed hypotheses for your CRO test campaigns.
Google Analytics
Google Analytics is one of the best web analytics tools that track website traffic and user activities, such as session duration, pages per session, bounce rate, and more in real-time, across various site pages. It also offers additional information such as traffic source(s), visitor location and demographics, page performance, and conversions. It is one of the free CRO tools that has a premium version, Google Analytics 360, to unlock more in-depth insights.
Cost/month – Free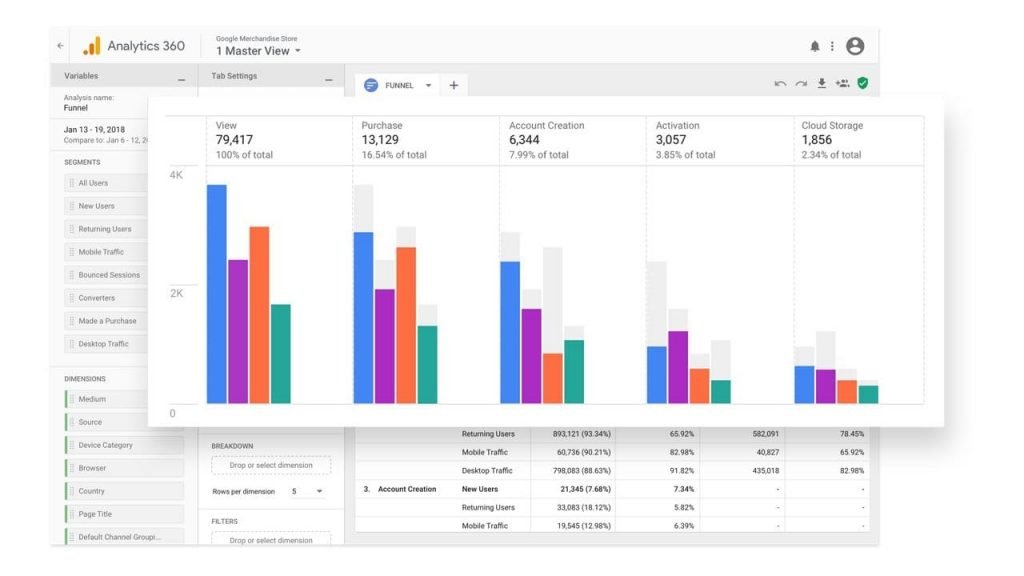 VWO Insights
VWO Insights is a popular and must-have user behavior research product for CRO professionals. It helps understand customer behavior through heat mapping tools, session recordings, on-page surveys, funnel analytics, and more. The qualitative user behavioral data you get from VWO Insights helps form thorough hypotheses for your CRO roadmap.
Cost/month: Free plan – for 5000 monthly tracked users, while the cost for three paid plans (Growth, Pro, and Enterprise) varies with the number of monthly plan users. Visit plans and pricing to know more.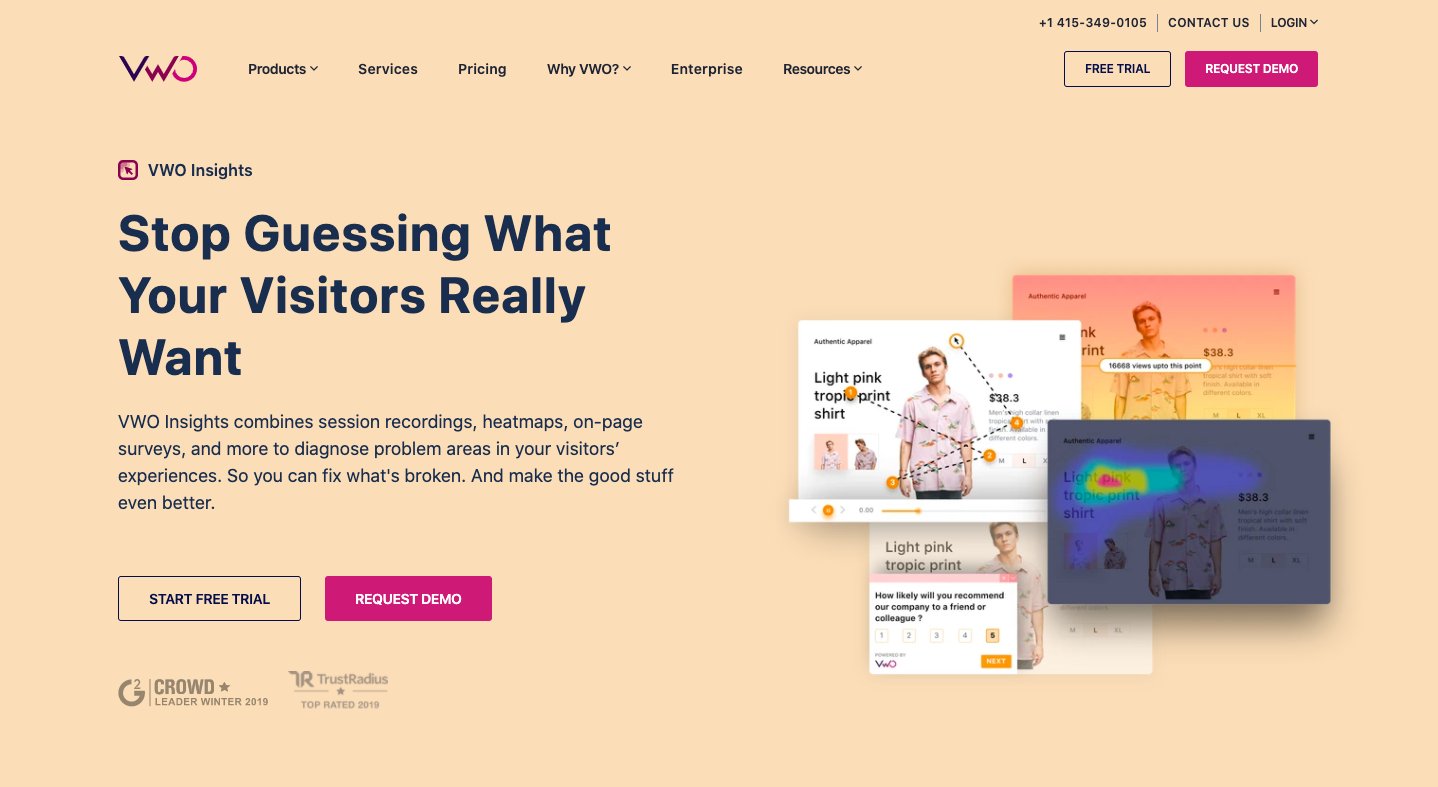 Heap Analytics
Heap Analytics is one of the conversion optimization tools that captures visitor interactions, including clicks, form submits, and transactions, and helps identify behaviors, and marketing channels that convert the most. Heap also has a clean data analytics dashboard that's handy and easy to use. When using the tool, you don't have to create additional 'events' to track basic website interactions, as in Google Analytics.
Cost/month: Four comprehensive plans, including Free, Growth, Pro, and Premium. Only custom pricing is available.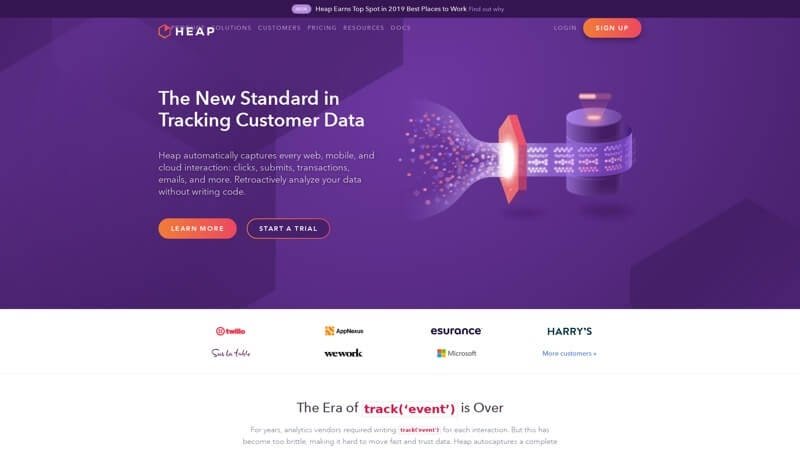 Mixpanel
If a popular web analytics tool like Google Analytics sheds light on what's exactly happening on your website, Mixpanel helps you see who did what. With visitor behavior tracking, you also get the advantage of viewing specific insights into which set of website visitors have entered your sales funnel, which ones are bouncing off, and so on.
Mixpanel also offers an additional second data channel to compare numbers against Google, as it's never a good idea to trust one tool for all analytical data blindly.
Cost/month: Free plan, Growth – $20+/month, Enterprise – $833+/month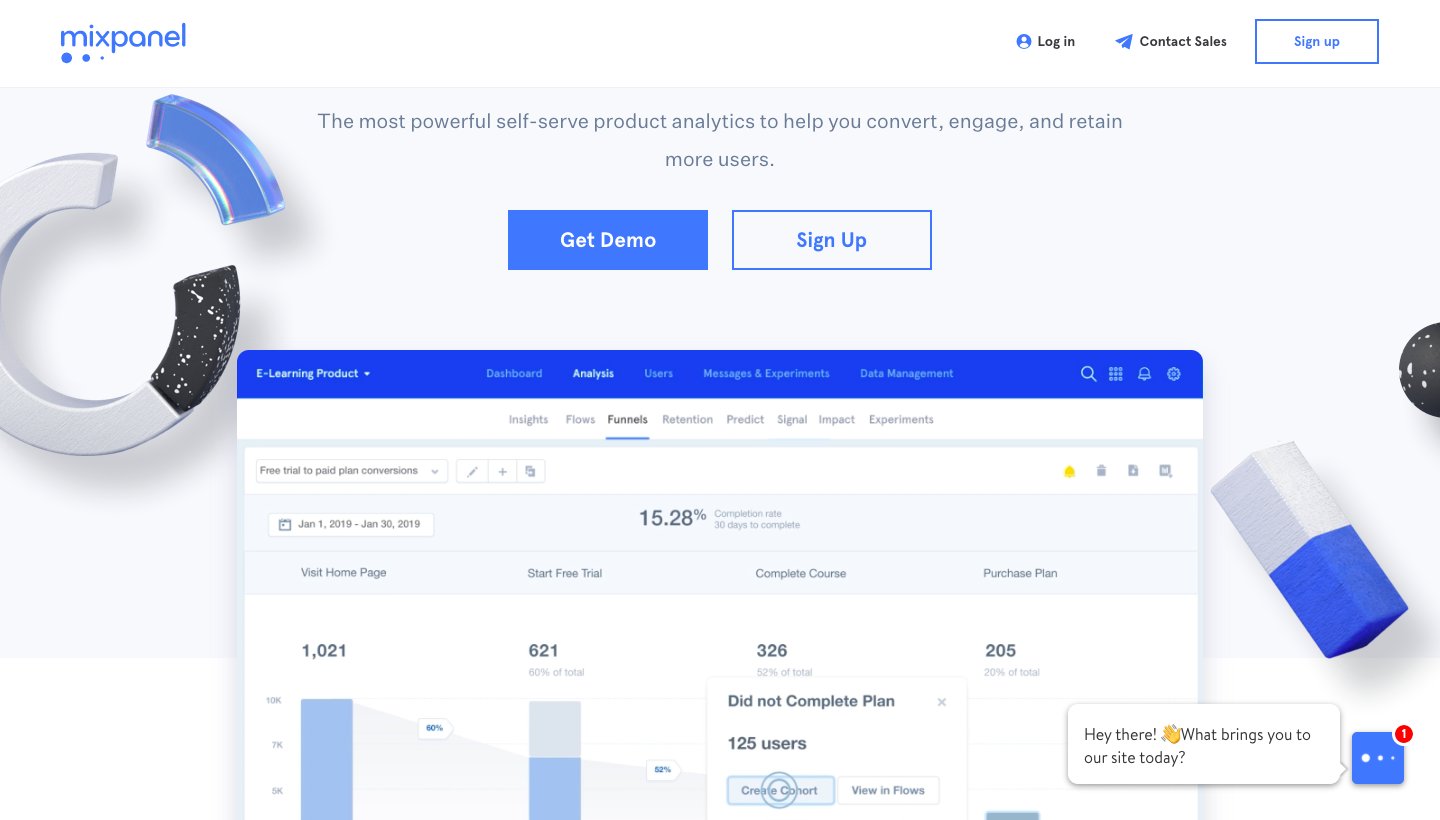 UsabilityHub
One of the biggest advantages of having UsabilityHub in your conversion tool kit is that it eliminates the guesswork out of design decisions by validating them with real users. In other words, it's an opinion-gathering tool that enables you to sample responses from real users and make necessary design decisions.
UsabilityHub comes packed with capabilities, including design survey tools, first-click tests, five-second tests, and preference tests to uncover useful user insights.
Cost/month: It offers a free plan, an $89/month basic plan, a $199/month pro plan, and Custom pricing for enterprise services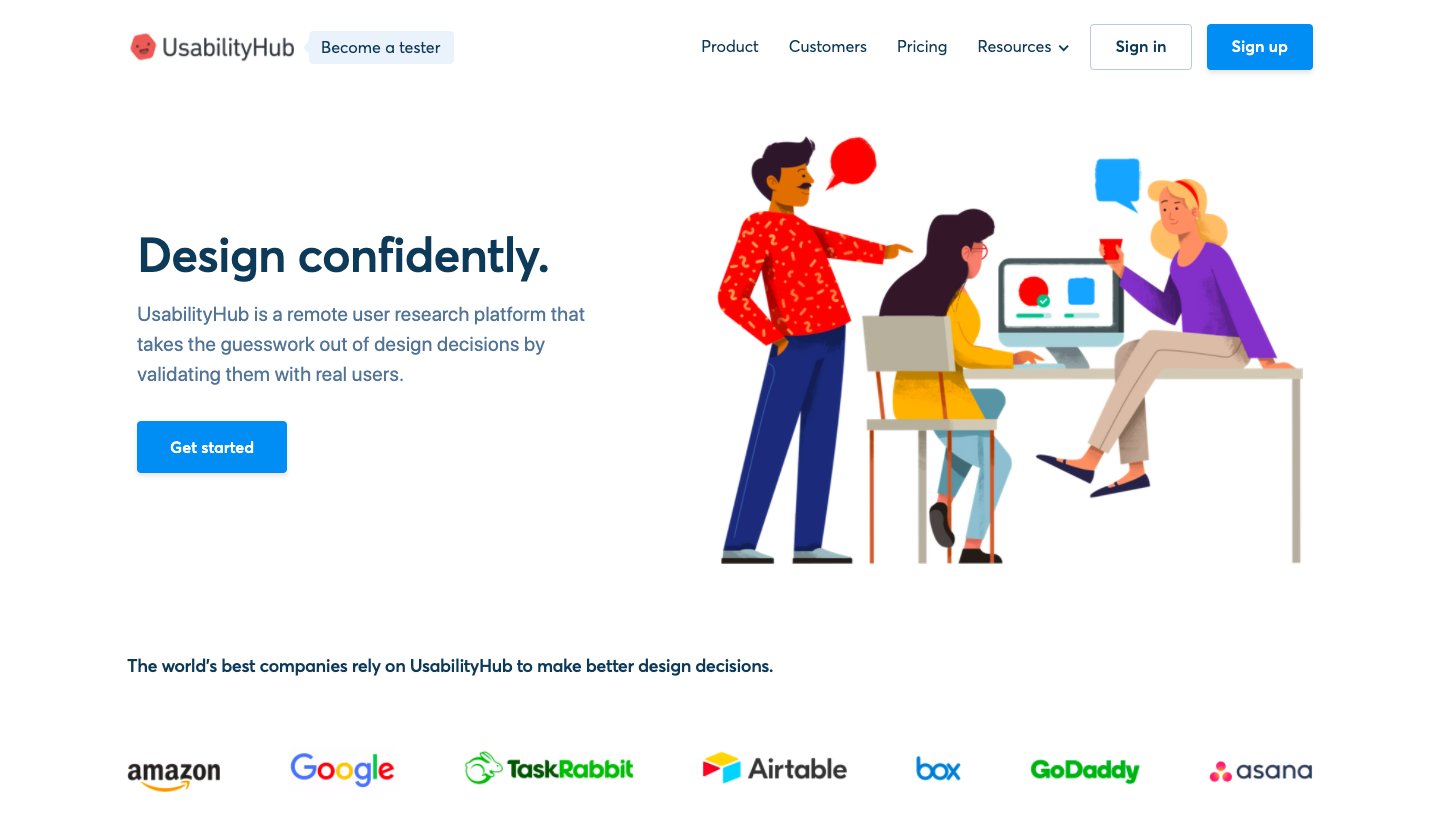 Intercom
Besides the above-mentioned user behavior research tools, having Intercom in your CRO arsenal is also a must. The tool helps fetch immense valuable data. Intercom enables experienced managers and optimizers to analyze chat logs, call recordings, and customer support threads to discover any patterns. Recurring questions can serve as useful insights to uncover problematic areas on the website and subsequently fix them to offer a better user experience. Such insights also prove beneficial while drafting testing ideas for your CRO program.
Cost/month: Three plans– Starter ($74/month) and custom plans and pricing for Pro and Premium plan.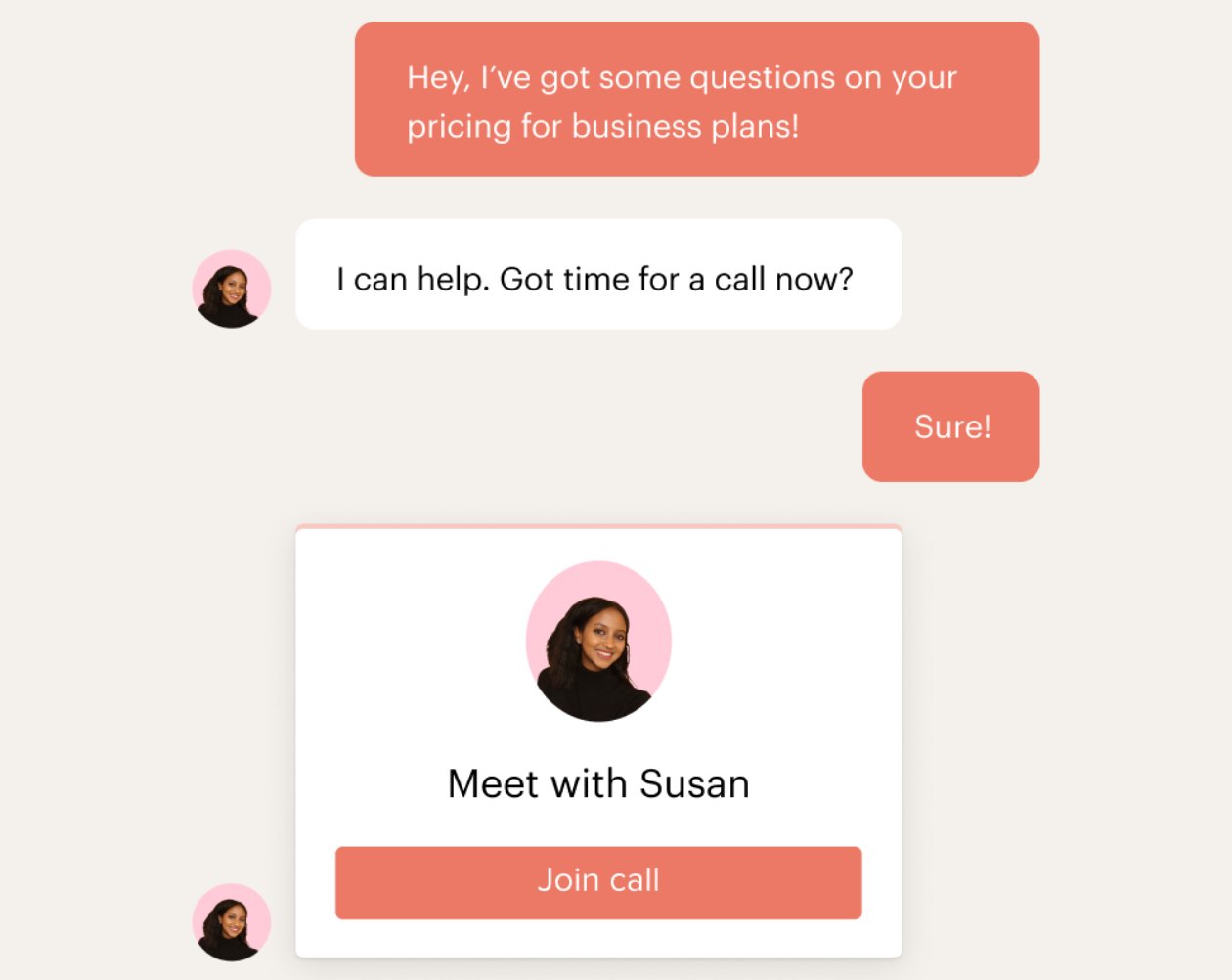 Userpeek
Although Userpeek is not an A/B testing tool, the CRO software surely helps understand how users interact with your website. It enables you to test your site for ideas, hypotheses, and prototypes, and map the performance of existing site assets with real users in the shortest possible time with minimal effort and budget. The tool can give you a clear insight into which direction to follow when it comes to A/B testing.
Cost/month: Flex Plan – $55/test (pay per test); Pro Plan – $211/month. Custom pricing for Team Plan.
The Hypothesis stage
Once you've gathered and analyzed all the necessary website visitor data using the above-mentioned research tools, it's time to move to the next stage – create a hypothesis – for your (next) experiment(s).
A data-backed hypothesis is key to properly running a CRO experiment. Here are some must-have tools to use when crafting a hypothesis.
Craig Sullivan's hypothesis framework
Craig Sullivan is a CRO influencer who shares a handy kit with two options to write a good, data-backed hypothesis. Here take a look:
While each has its own meaning and relevance, we'd recommend using the Advanced Kit when running high-impact experiments.
Test hypothesis creator
This 7-step test hypothesis creator draws inspiration from Sullivan's 'legacy' hypothesis format. The tool allows you to easily create a hypothesis by filling in the empty form fields. However, we'd recommend you use one more hypothesis creator to validate your hypothesis.
Cost: Free
VWO Plan
VWO Plan enables you to manage and prioritize all your experimentation programs in one single place. It provides an expert-recommended framework that helps you build comprehensive hypotheses. You can also grant scores to each of these hypotheses, based on impact, confidence, and ease, to create a prioritization pipeline.
VWO Plan gives you the advantage of automating your workflow as well. You can quickly move hypotheses from testing to completion and archive stage as they move across various testing stages.
Cost: Free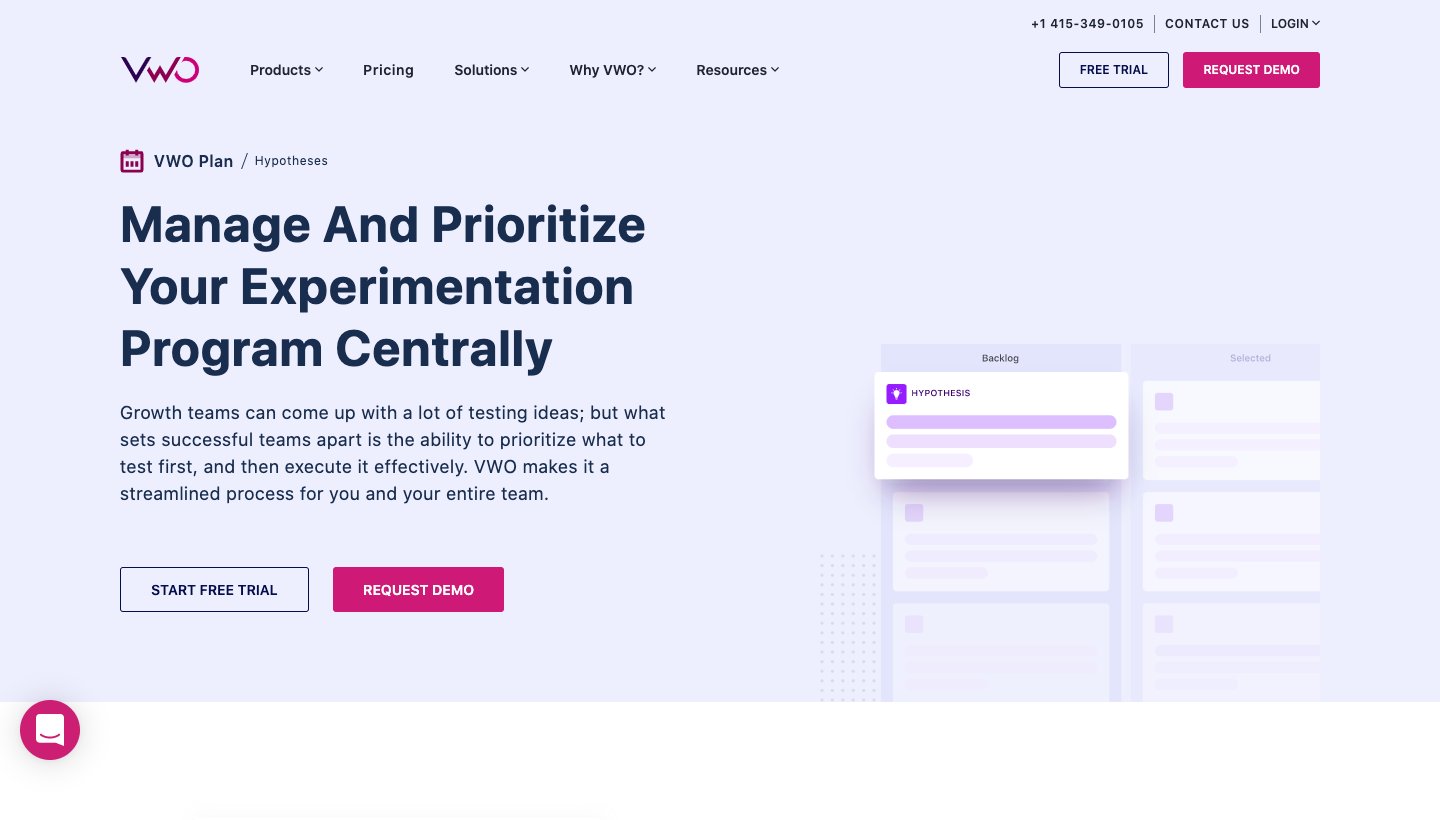 The prioritization stage
Once you've created your hypothesis, it's time to design, develop, and test the variations you're planning to run against the original versions. You can either hire a dedicated resource or a team to build A/B testing experiments or use the support provided by VWO.
Here are some must-have tools for this stage.
TestLodge
TestLodge is another test management tool that helps manage various project requirements, test plans, test cases, test runs, user testing, and related reporting. With a simple and easy-to-learn interface and no user limits, the tool allows you and your entire team to manage respective A/B testing plans, requirements, and test cases, all in one single place. Another feature that makes TestLodge stand out is that it's a web-based, cloud-hosted tool enabling you to access the tool anytime and anywhere you want.
Cost/month: Team – $99/month, Business – $299/month, and Enterprise – $499/month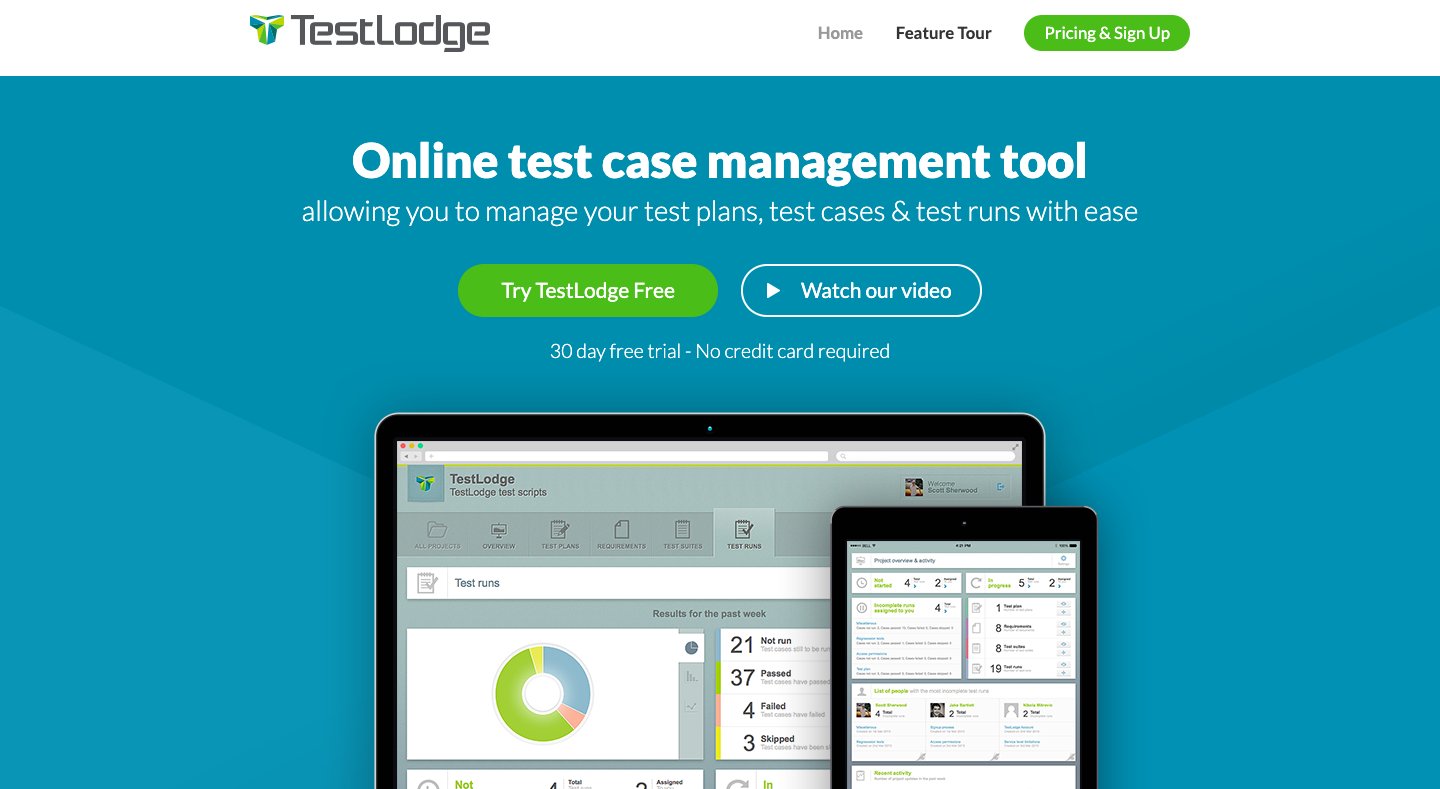 VWO Plan
Besides enabling you to build hypotheses, with the VWO Plan, you can prioritize multiple experimentation ideas. Each hypothesis can be scored on its winning likelihood, expected impact on macro goals, technical feasibility, and time investment. Additionally, you can manage hypotheses through their entire lifecycle with VWO's integrated custom workflows.
At a glance, you can track a backlog of test opportunities, what's next in the A/B testing pipeline, and which ones have completed their course.
Cost: Free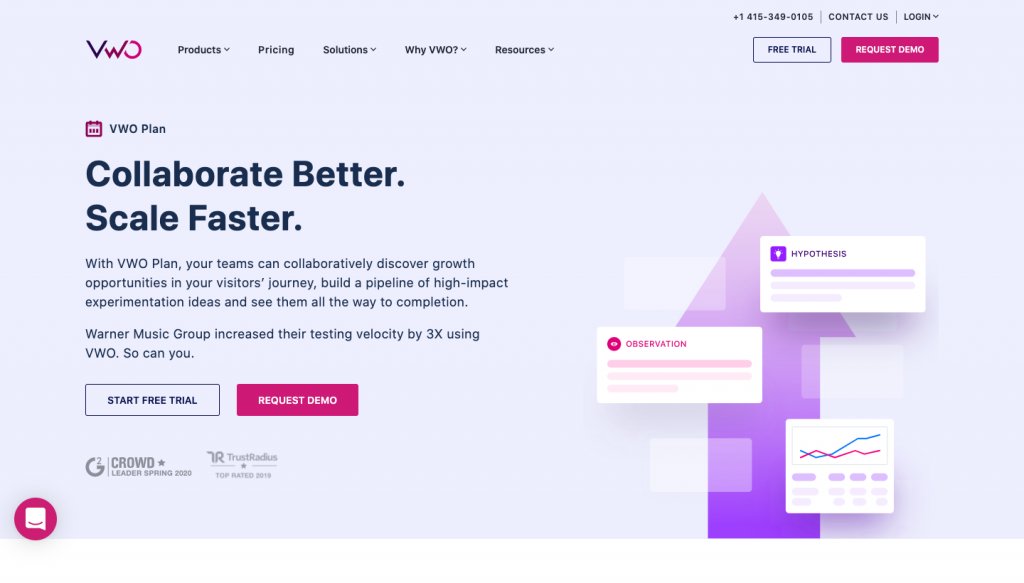 TestRail
TestRail is one of the leading test case and test management software tools. It enables you to easily manage and track your testing ideas and hypotheses. Its web-based user interface enables you to easily create test cases, manage different test suites, and even coordinate throughout the entire testing process with various stakeholders. The tool also provides real-time insights into your testing progress and even boosts productivity by personalizing your to-do lists, filters, and email notifications.
Cost/month: The pricing depends on the number of users and cloud and server management.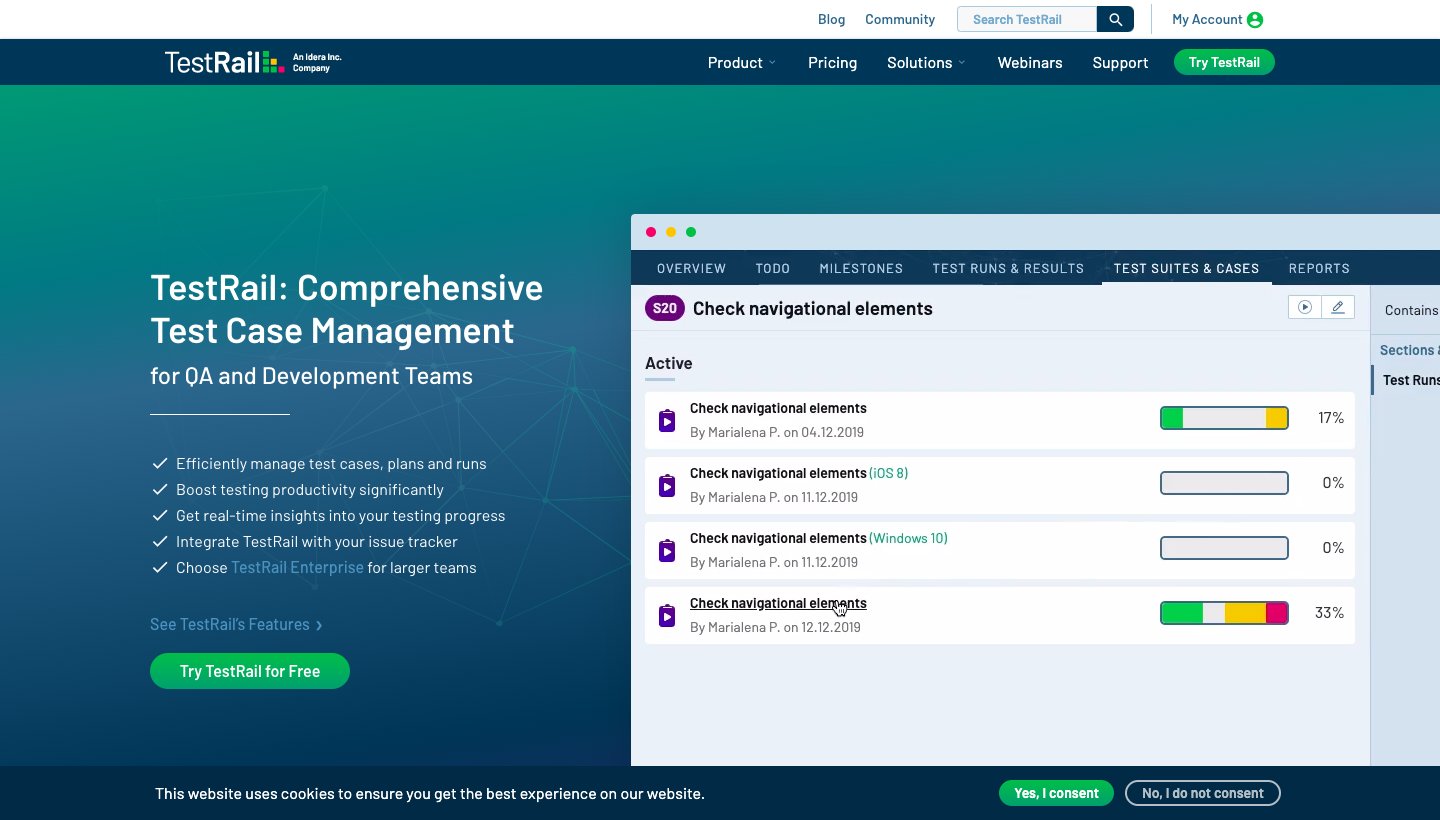 The testing stage
Now that the treatment is ready, it's time to run your planned CRO experiments. But before you jump in, ensure to get your sample size and test duration right as they're two crucial factors to running a meaningful CRO experiment. Here are some handy tools to help you at this stage.
Pre-testing stage tools
A/B test duration calculator
This handy A/B test duration calculator enables you to easily and quickly calculate how long a test should run to get a statistically significant result. It provides comprehensive insights about the test, optimizations, UI/UX, and more. Additionally, the A/B testing calculator uses the Bayesian test approach to eliminate the chances of implementing non-significant test variations, which may show negative results.
Cost/month: Free
A/B test significance calculator
An A/B test significance calculator is a simple calculator that shows if an A/B (or multivariate) test exhibits a statistically significant result.
Cost/month: Free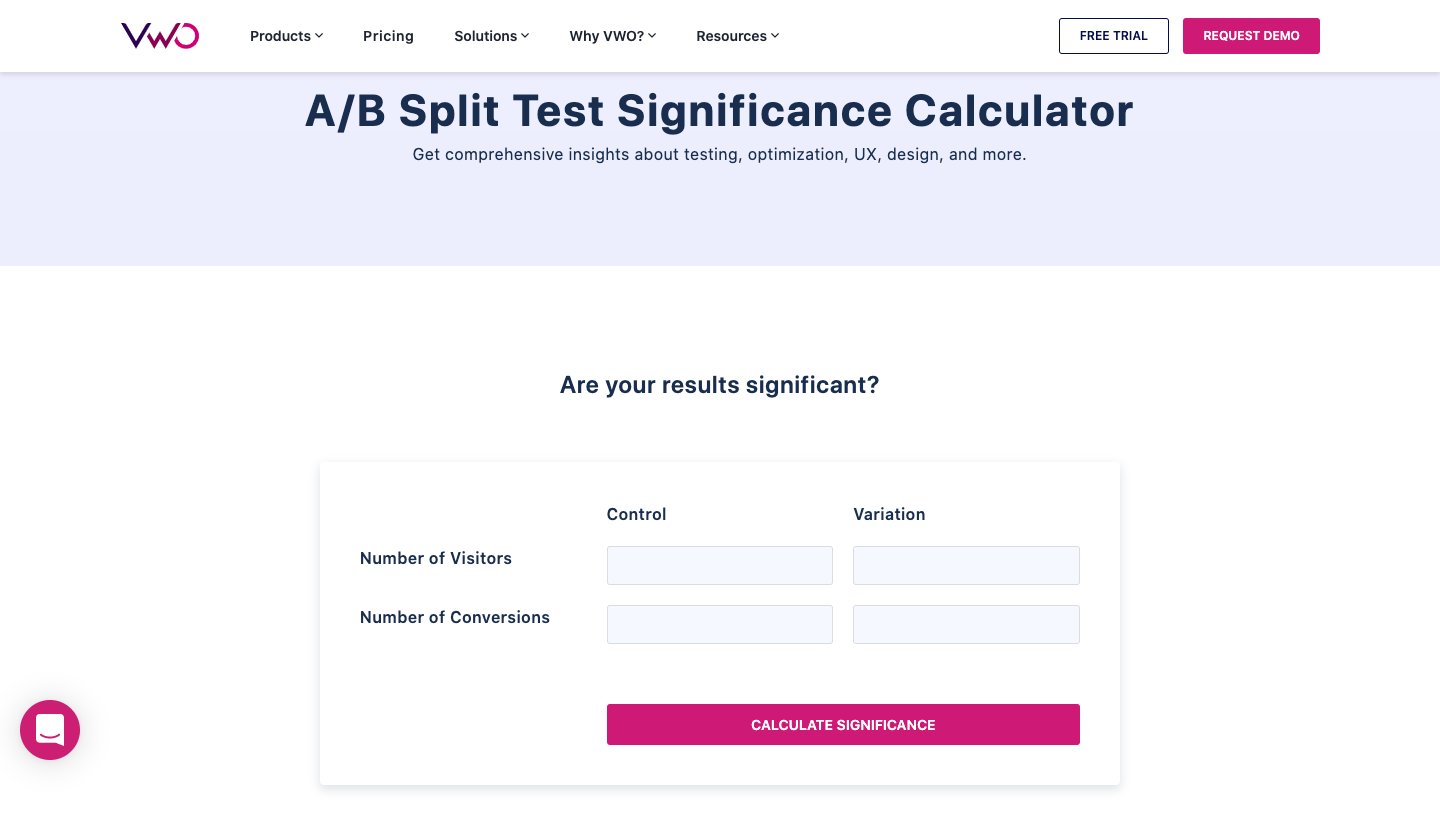 Sample size calculator
A sample size calculator helps calculate a sample size of customers that you must consider when running an A/B test to ensure statistical significance.
Cost/month: Free
The split test duration calculator
If you're planning to run a split test, then this is your go-to tool. A Split test duration calculator, as designed and offered by Michael Kjeldsen, shows how long your split test must run based on your current conversion rate and planned uplift, number of variations being tested, average daily traffic, and statistical confidence level.
Cost/month: Free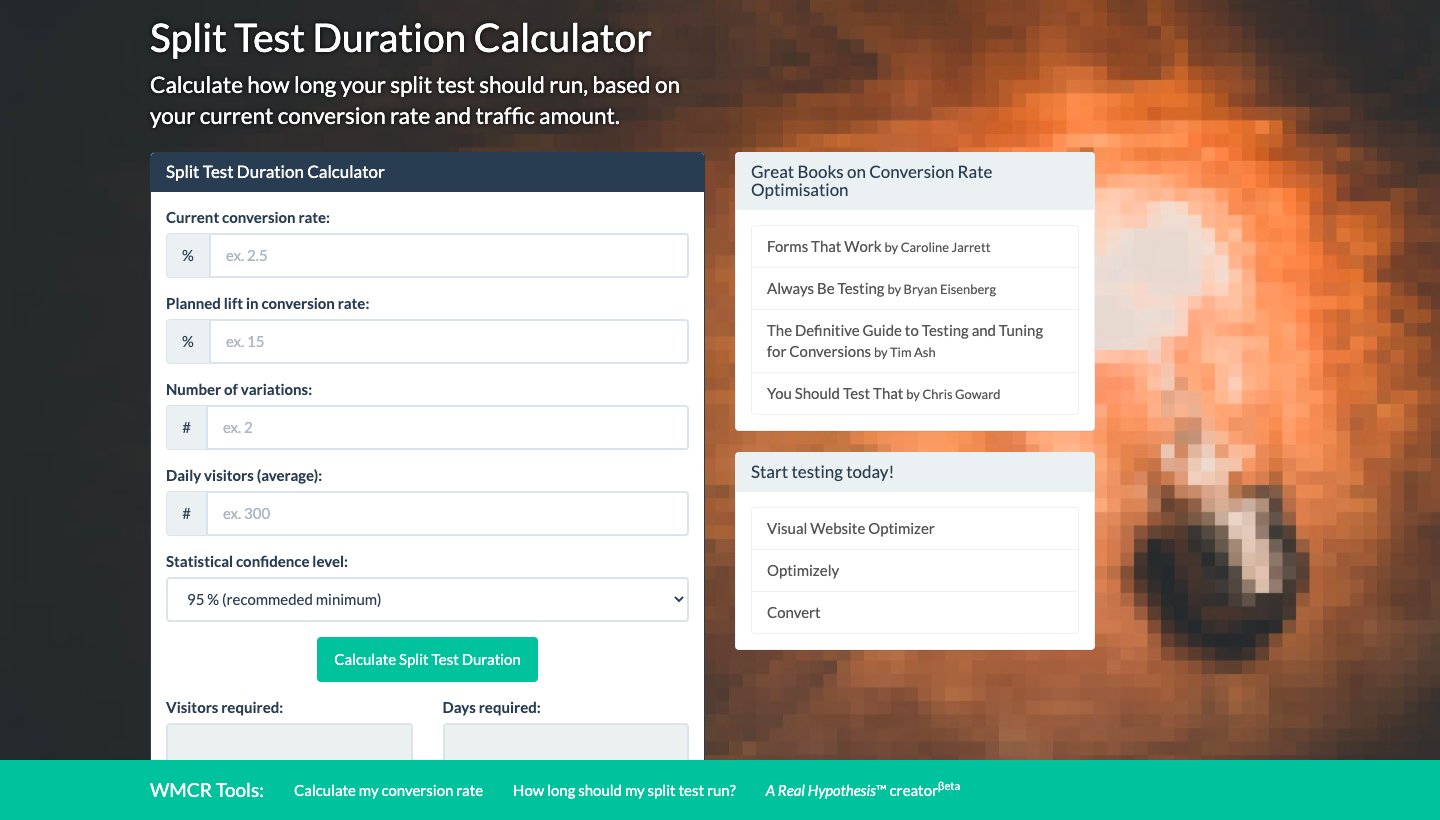 Testing stage tools
VWO Testing
VWO is one of the most comprehensive and popular testing tools for all types and sizes of businesses. With VWO Testing, you can easily do A/B testing, split testing, and multivariate testing using its code and visual editor. From A/B testing small changes such as changing the CTA button position on a product page to experimenting with multiple page elements, the possibilities of experimentation are endless. The design dashboard is also quite simple and easy to understand.
Cost/month: Free plan: for 5000 monthly tracked users, while the cost for three paid plans (Growth, Pro, and Enterprise) varies with the number of monthly plan users.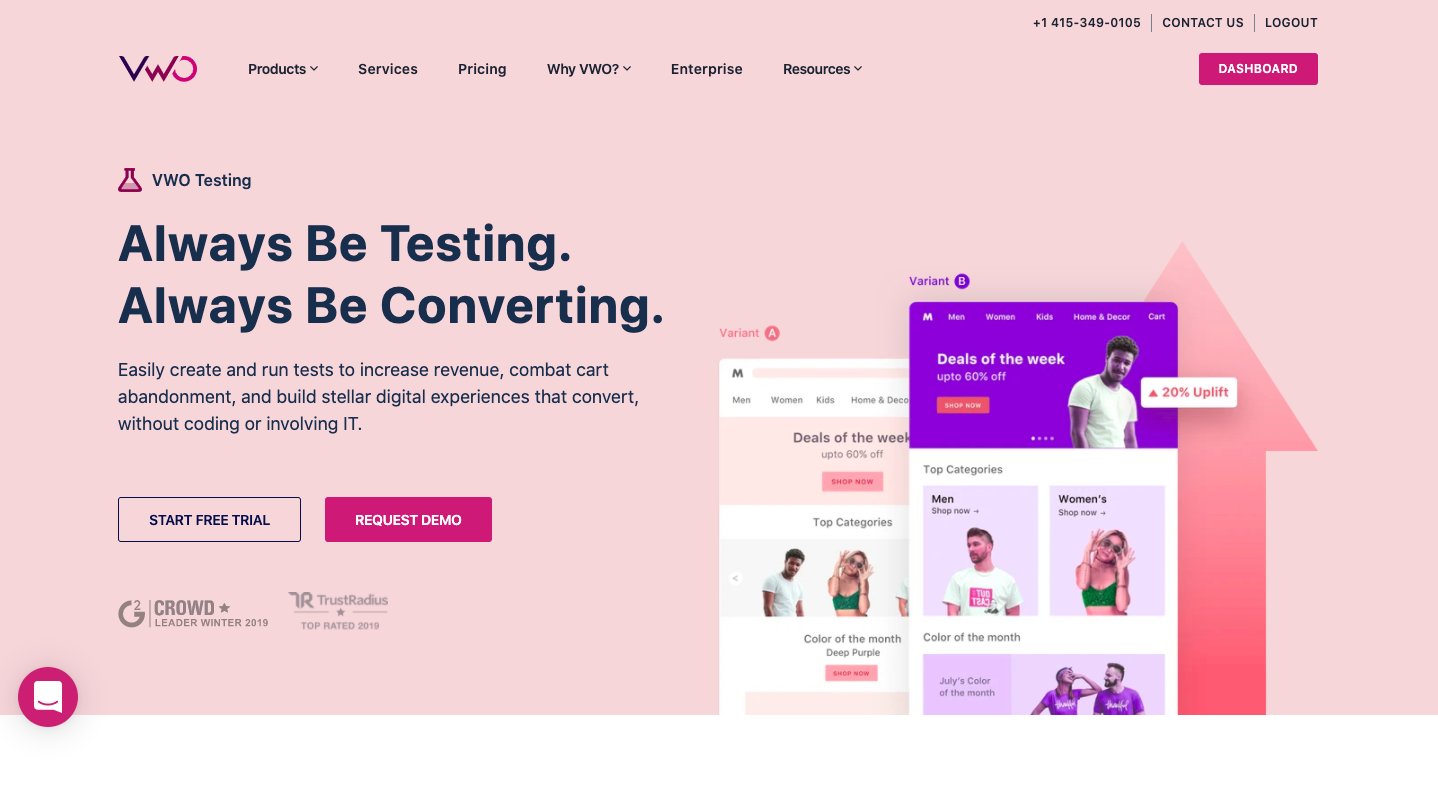 The Five-Second Test
The Five-Second Test tool has been designed on the lines that five seconds are enough for customers or visitors to interact with a website's design and grab the primary message. These five seconds can shed light on useful user insights such as their actions, first impressions about the brand, and more. Hence, the Five Second Test can be a valuable addition to your CRO tool kit.
Cost/month: It offers a free plan, an $89/month basic plan, a $199/month pro plan, and Custom pricing for enterprise services.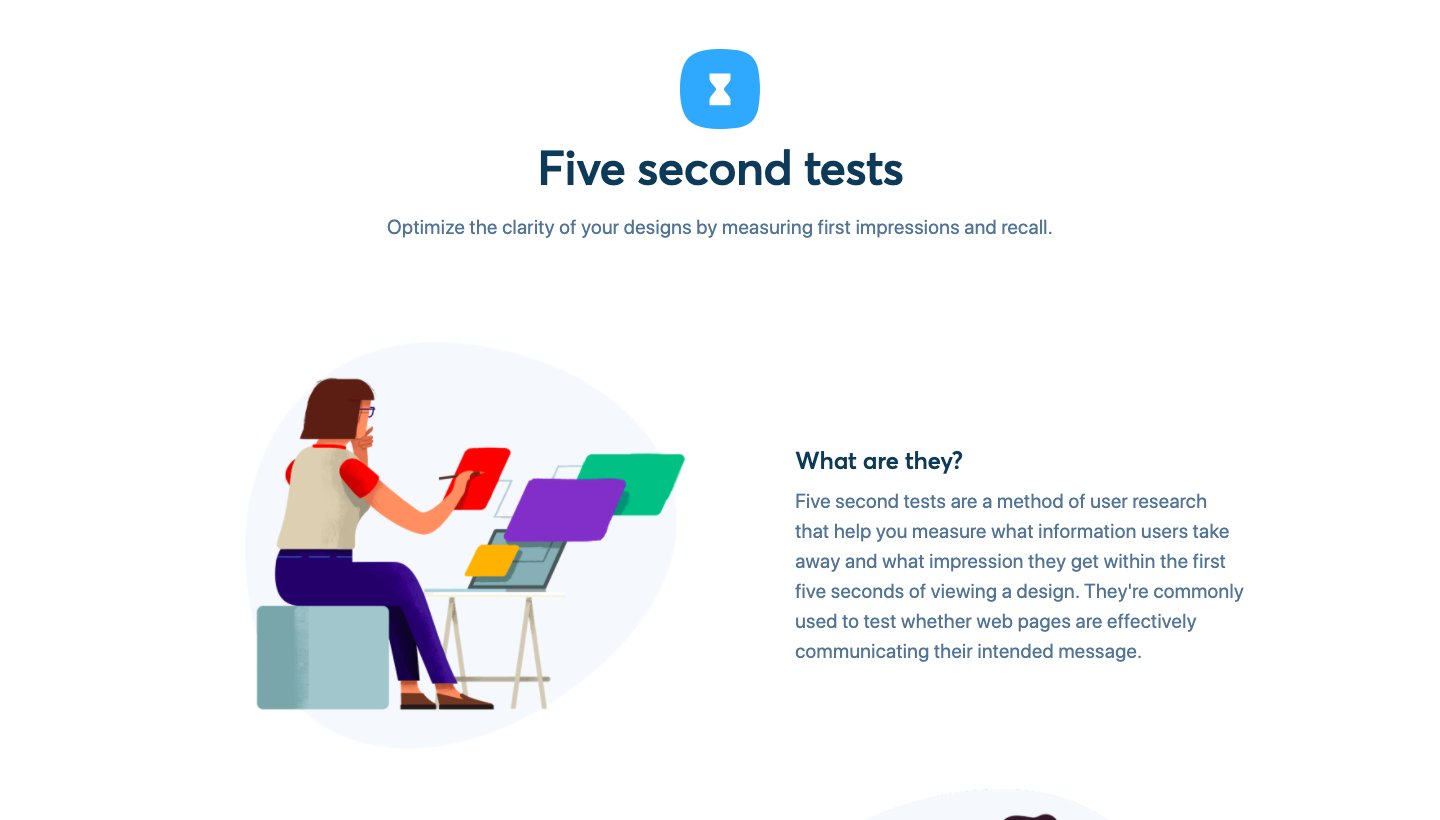 The learning stage
This is the stage where you conclude your tests, close the conversion rate optimization loop, and make a note of all the learnings. With a CRO solution like VWO, you get access to an in-built reporting system to analyze the performance of your tests and customer journeys and pen down learnings for the next set of experiments, irrespective of whether your test wins or doesn't.
Listen to our conversation with CRO expert Manuel Da Costa to learn how you can build an experimentation ecosystem.
Wrapping it up!
While this isn't an exhaustive list of all the CRO tools that you must have or use, but a glimpse of the most recommended tools across the entire conversion rate optimization domain. You can select a handful of these tools as per your optimization requirements and get started. If you're someone who prefers using only one single, integrated tool for all their optimization needs, then VWO is your go-to tool.
VWO gives you the advantage of collecting data using its sophisticated data-gathering capabilities and creating and penning down all hypotheses in one single place. You can also test priorities, quickly set and run A/B tests, and even map results through the entire optimization process using various other VWO capabilities.
Here's a quick glimpse into VWO's capabilities.
If you have any questions related to VWO or wish to learn more about its capabilities, sign up for a free trial or request a demo today!
What factors should you consider before selecting a CRO tool?
In today's time, we have shared four main factors for selecting a CRO tool.
– GDPR Compliance
– Friendly User Interface
– Integrations with other complementary tools
– Security

What are some of the CRO tools in the market?
It depends. The answer is directly related to different stages within a CRO program- Research, Hypothesis, Prioritization, Testing, and learning. We have covered some of the best conversion rate optimization tools, such as VWO (our own platform), Google Analytics, and TestRail, and categorized each of them into the respective different stages of a CRO program.