VWO
vs

Optimizely
Looking for the #1 Optimizely Alternative?
Customers choose VWO for its feature depth, all-in-one optimization capabilities, legacy in the CRO space, and amazing customer support.
Ease of Doing Business With
Product Direction (% Positive)
Source
Here are five reasons to consider VWO
Lowest Web Performance Impact
Experiment without compromising page performance
Running experiments could slow down your website. But with VWO, you get the fastest experimentation platform in the CRO industry.
0

Optimizely

0
milliseconds
Minimal impact on page load speed
Install VWO SmartCode once and run countless client-side experiments. Set up experiments easily, as VWO has just one code snippet to enable your entire experimentation cycle.
The speed of our server-side experimentation is exceptional because SDK API decisions are executed without requiring any external calls. As a result, you can conduct experiments on our SDKs with minimal latency across all your applications.
Reducing effort to set up test
Install VWO SmartCode once and run countless client-side experiments. Set up experiments easily, keep your website fast and SEO friendly, and access all VWO products.
While using Optimizely, to set up campaigns, you have to switch between snippets and mini snippets to access different product offerings. This reduces your overall ease of use.
Pioneers in CRO
Work with the Pioneers in CRO
We introduced several firsts in the CRO space, including the visual editor, dynamic CDN, asynchronous code, testing inside shadow DOM, and dimension-level reporting.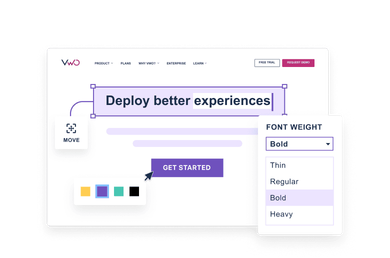 Drag-and-drop editor for creating A/B tests
VWO's innovative technologies allow real-time manipulation of web page content without affecting the underlying code. Their DOM parsing and modification tech changes web pages, while the reverse proxy enables dynamic insertion of JavaScript code for third-party scripts or tracking codes without affecting performance.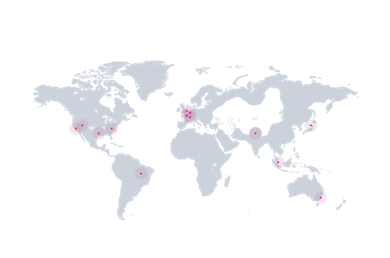 Optimized content delivery with dynamic CDN
VWO's Dynamic Content Distribution Network (CDN), developed using OpenResty + Lua, serves dynamic content at scale (over 30k requests per second) based on incoming traffic and A/B tests. This can be used to optimize personalized content delivery to users based on their location, device, behavior, or other contextual factors.
Non-slowing asynchronous code for A/B tests
VWO developed an asynchronous solution for A/B tests that can handle even blocking functions such as page modification. While traditional asynchronous JavaScript code worked for non-blocking functions like analytics, our solution can handle non-blocking and blocking functions. This enables A/B tests without slowing down the page.
Seamless testing inside a Shadow DOM
VWO developed an easy way to test elements inside a Shadow DOM, which has become a popular solution for web developers to create custom elements such as widgets. Testing these elements had been a challenge for experimentation teams, as they could not make changes to the Shadow DOM using JavaScript or CSS.
Advanced reporting for deeper insights
VWO's report breakdown by dimensions feature makes analyzing data for different traffic sources and devices easy. Users can define segments after data collection and use custom dimensions for targeted analysis, improving their website's performance insights.
Connected Platform
Measure your experiments continuously
Understand diverse customer journeys across control and variation within experiments. All this without integrating with a third-party tool such as FullStory or Hotjar, which you are required to do with Optimizely as it does not have in-built behavior analytics.
Integrations for your workflow
VWO is CMS agnostic and integrates with various platforms, including WordPress, Shopify, BigCommerce, Magento, Drupal, Contentful, etc. This integration allows you to test websites that are built on any CMS without the need to switch your CMS along with your testing platform. In addition, we have tight integrations with 40+ third-party tools such as Amplitude, Segment, Mixpanel, Heap, Google Analytics, and more.
SmartStats to up your testing game
The heart of VWO is SmartStats, a powerful statistical engine that lets you test for real business questions. With SmartStats, discover test results that you can rely on to make smarter business decisions.
24*7 Support
Get support whenever you run into a wall
VWO has a record-breaker response time (45 minutes) and a customer satisfaction score (99%). To help you in your experimentation journey, we have a detailed knowledge base, and our support team is available at your disposal 24*7.
We have been using VWO for almost 4 years now and the software still surprises us. It is very easy to work with and support is always available for help in case of development challenges. The extra features like heatmaps, session recordings and the surveys help us to easily monitor the entire CRO process and connect our qualitative insights with A/B tests.

Hans Breeuwsma

Conversion Specialist
VWO's multivariate testing feature supports testing on a larger scale along with understanding consumer behaviors and shopping habits. It is really useful for eCommerce clients as we can identify the highest converting combination of CTAs and messages from easily digestible data.

Mercedesz Molnar

Senior SEO Executive & Outreach Lead
VWO is hands down the best tool I have ever used for planning, execution, and reporting on website testing and results. When I needed help, the VWO support staff was ALWAYS there to work with me through the details and get it right, no waiting. Now I have positive results to report to the bosses.

Joe Segal

Digital Marketing Manager
Love that the team is so responsive and willing to help, especially on chat. It is a great feeling knowing we have support right there with us and can ask them a question at any point. Hands down the most responsive and helpful marketing software I have ever used.




Privacy Centric
Run experiments without compromising privacy
As data privacy regulations continue to evolve, we strive to keep your data protection practices up-to-date with the latest requirements. It's worth noting that Optimizely does not meet HIPAA compliance standards, while we constantly enhance our security controls to prioritize privacy long before any regulatory changes occur.
What makes VWO different from Optimizely?
Everything you need to manage your optimization efforts, in one place
Customer Data Platform
Optimizely
Custom Events and Properties

Configure any kind of user event and event properties

Cannot define event properties

Advanced Metrics

Create metrics based on events and their properties with complex aggregate functions such as first value, last value, average, sum, etc.
Campaign targeting
Optimizely
Advanced Targeting Logic

Use brackets to create logic of targeting with multiple conditions. For example - [Users in USA OR Users in India] AND [New Users OR iOS Device]

Behavioral targeting

Target based on user behavior and actions taken by the user. For example - user clicks a button, time spent on page, page scroll etc.

Custom event targeting

Target user groups based on custom events that occur on the website.
Campaign Triggers
Optimizely
Basic and Advanced Triggers

Granular control over when visitors become part of a campaign or see a survey, widget, modal, etc.
24x7 support
Optimizely
24x7 support

The availability of our support team to respond and resolve your queries irrespective of the timezone.

Enterprise plans

Only for priority support package
SSO
Optimizely
SSO

Enable single sign-on using any SAML 2.0 identity provider to authenticate members from your organization.
Self Hosting
Optimizely
Self Hosting

Host library and campaign setting files on your servers, easing your dependency on the platform's servers.
SPA
Optimizely
SPA

Single-page apps support
Re-usable Pages
Optimizely
Re-usable Pages

Classify your web pages into different categories to quickly create, manage and scale experiments specific to them.
API
Optimizely
API

Start and pause campaigns programmatically or pull test metrics into other dashboards.
Cross Domain Testing
Optimizely
Cross Domain Testing

Run tests on multiple domains within user journey, where user tracking and goals can be on one or more domains.

Unlimited

Limited & based on plan
Campaign Reports
Optimizely
Advanced Reporting Logic

Use brackets to create logic of filtering reports with multiple conditions. For example - [Users in USA OR Users in India] AND [New users OR iOS Device]

Bayesian reporting

Get accurate test reports powered by a Bayesian statistics engine

Heatmap of Variation

See how the users of a variation behaved with the help of heatmaps

Dimension Level Reporting

Make use of visitors' unique attributes to analyze test performance

Compare User Segments

Simultaneously visualize and compare two or more user segments in reports for far more comprehensive insights and decision-making.

Download Detailed CSV

Download detailed user reports in .csv format with complete segment data, goal completion and custom dimensions.

Intuitive reporting dashboard

See the results of your experiments on our Bayesian-powered reporting dashboard.

Data unavailable publicly
Editor
Optimizely
Elements Library

Library of customizable pre-designed UI elements like list item, content block, buttons, etc.

Save elements to library

Use the click-and-save feature to store UI elements, such as text blocks, buttons, banners, and pop-ups, in the library for future reuse.

Widget Triggers

Control when a widget appears, how often it appears, or does not appear when dismissed.

AI-Based Text Recommendations

Generate alternate text recommendations for the existing copy on your website.

Widgets library

Create customizable banners, pop-ups, and other web page elements with images and forms, directly within the visual editor, without coding.

Using code editor & extensions

Test inside Shadow DOM

Shadow DOM is a web API that can attach a hidden DOM to a DOM element.

Visual Editor

Utilize the powerful WYSIWYG point-and-click visual editor to create and edit variations with ease, eliminating the dependency on IT.

Code editor

Make advanced modifications to any aspect of your website using HTML, JavaScript, CSS, and jQuery.

Add / Edit elements

Add new or edit UI elements to your webpage.

Using code editor & extensions
Web testing
Optimizely
3rd party Integrations

Seamlessly integrate with third-party tools.

3rd party analytics, eCommerce platforms, CMS, tag manager

3rd party analytics, DMP, CRM, tag manager

A/B Testing

Build and compare variations of your website to analytically determine the better performing version.

Multivariate Testing

Simultaneously modify multiple variables to test a hypothesis and determine the best-performing combination of variations.

Split URL testing

Compare various versions of your website hosted on multiple URLs by distributing website traffic among them to determine the highest-performing variation.

Multi page testing

Easily apply the same experience to multiple pages with a single click, eliminating the need for manual duplication of changes across pages.

Mobile website testing

Run tests on mobile responsive sites

Multiple domain support

Run tests on multiple domains within user journey, where user tracking and goals can be on one or more domains.

No concurrent test limit

Total number of tests you can run on your account concurrently.
Previews
Optimizely
Cross browser screenshots

Conduct a quality review of the variations by previewing them to verify that all modifications have been applied to the website before going live.
Multi armed bandit testing
Optimizely
Multi armed bandit testing

Expose the better performing variation to more users long before the test reaches statistical significance thus reducing the opportunity cost.
Mutually exclusive campaigns
Optimizely
Mutually exclusive campaigns

Ensure that a user doesn't participate in two or more running tests to eliminate result noise, bias, and test inter-play.
Form Analytics
Optimizely
Conversion Report

Track user drop-offs at different stages of form submission, from landing to interaction to submission.

Dropped Field Report

Percentage of users who dropped off on a field without submitting the form.

Interaction time

Understand how long users spend on a specific field while actively interacting with it.

Hesitation time

Understand how long users spend on a specific field without actively interacting with it.

Refilled Field

Percentage of users who refilled a field on the form.

Ignored Field

Percentage of users who did not interact with a form field and submitted the form.

Dropped Field

Percentage of users who dropped off on a field without submitting the form.
On-page surveys
Optimizely
Survey Logic

Make your surveys smarter by asking subsequent questions based on the responses given.

Question bank

Choose from a repository of frequently asked questions to select an appropriate question.

Variation targeted surveys

Trigger survey to users when they see a specific A/B test variation.

Custom triggers

Write custom triggers using JavaScript to fire a survey based on an event or a specific user action.

NPS

Run an NPS survey to gauge the likelihood of users recommending the website to others.

Recordings of respondents

Watch recordings of user sessions in which they responded to a survey to understand why they gave specific responses.

Themes and customisation

Add custom CSS to restyle and resize the surveys per your branding guidelines.
Funnels
Optimizely
Drop-off analysis

Filter reports based on users who dropped off from a funnel.
Heatmaps and Scrollmaps
Optimizely
Browsable heatmaps

View heatmaps of different pages, interactive elements(such as popups, modals, and menus), and pages behind logins as you navigate your website.

Heatmap of test variations

View the heatmap of a particular A/B test variation.

Heatmap views

Create a heatmap view and quickly access heatmap data for specific pages and user segments without repeating the heatmap configuration.

Clickmaps and area stats

Track clicks on specific elements and compare them to total clicks on a page or area.

Element list

Displays a list of both visible and hidden elements with their types and show clicks on each from highest to lowest.
Visitor Recordings
Optimizely
Recordings of variations

Filter recordings based on users who were part of a test campaign or saw a particular test variation.

Page Filters

Filter recordings based on parameters like entry page, exit page, visited page, etc.

Recording views

Create a recording view and quickly access recordings for specific pages and user segments without repeating the recording configuration.

Save recordings

The number of recordings you can store for later viewing.

Funnel Drop-off Filters

Filter recordings based on users who dropped off from a funnel.

Download

Download recordings for offline sharing and viewing.
Server Side Testing
Optimizely
Multiple Environments Supported

Configure multiple environments under each project to run tests in simulated environments. Ensure your changes are of production-ready quality and roll out changes confidently

3rd party Integrations

Seamlessly integrate with third-party tools.

Web analytics, CRM, DMS, CMS, eCommerce

User Whitelisting

Ensure certain users are always served a specific variation by whitelisting the users based on their userID

Scheduling

Schedule tests at specific time/date or create recurring schedules to run tests
Feature Test
Optimizely
Feature Test

Test multiple variable values for a feature to determine the most optimal value
Observations
Optimizely
Plugin

Make quick observations and audit webpages while on them, all with a handy browser plug-in.

Observations with Automatic Snapshot

Automatically capture snapshots of the reports as you log observations.
Hypothesis
Optimizely
Hypotheses Prioritization + Custom Workflows

Prioritize ideas based on importance, complexity and ease of implementation and customize your workflow to visualize progress.
Idea factory
Optimizely
Idea factory

Take inspiration from hundreds of ideas, case studies, and other resources to develop your own strategy.
Better ROI
See why customers use VWO over Optimizely to create experiences
Patxi Gadanon
Senior Web Manager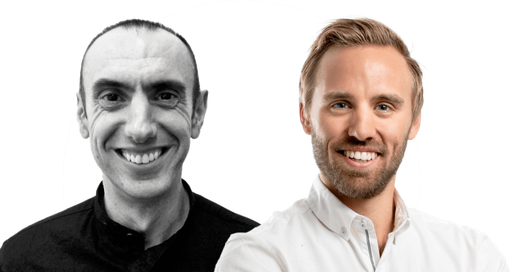 Christoffer Kjellberg
CRO Manager
Colart chose VWO over Optimizely
While evaluating between VWO, Optimizely, and other A/B testing tools, Colart, one of the leading art brands in the world, found VWO was the right web testing and conversion optimization solution for their business.
Read Now
Ideal of Sweden chose VWO over Optimizely
As compared to Optimizely, VWO was more in line with their company's CRO budget, and after a thorough evaluation they felt that VWO addressed their experimentation needs better.
Read Now
Frequently Asked Questions
Whether VWO is better for you than Optimizely depends on many factors and, most importantly, your core requirement from the platform. If you need an experimentation product that has minimal impact on page load speed, or if you want a testing product tightly integrated with a built-in behavioral analytics product to understand the buying journey of your users within your experiments, then VWO is for you. VWO provides everything Optimizely does and, in addition, gives you a complimentary program management product to enable you to build and manage your experimentation roadmap. VWO also offers best-in-class support infrastructure with a 98% customer satisfaction rate, so you get all the support to get started with Testing.
Optimizely is priced on the higher side. You cannot access Optimizely for free because they do not offer a free trial, nor do they have a free starter plan. VWO, on the other hand, provides a 30-day free trial and starter plans for Web Testing and Behavioral Insights.
VWO offers a suite of products for experience optimization, including Testing ( web, server-side, mobile app), Behavioral Insights (web and mobile app), rollout (web and feature), and program management. You also get a dedicated success manager from VWO to guide you with your CRO program with each product plan you purchase. Learn more about VWO's plans.
No, Optimizely does not have the functionality that allows you to track and understand visitor behavior insights. VWO, on the other hand, has an in-built behavioral analytics capability built specifically for this, which is tightly integrated with its testing product.

VWO Insights offers heatmaps, session recordings, on-page surveys, and form analytics to step into your visitors' shoes and understand their pain points. You can then use the insights you discover to optimize your digital experiences accordingly.
VWO is a comprehensive CRO platform and the only one you need for all your optimization needs. Right from tracking your key metrics and gathering visitor behavior insights to running front-end, back-end, and feature tests, VWO allows you to do it all via a single connected platform. You can also plan and manage your optimization pipeline in VWO. Optimizely only offers testing and personalization vs. the whole suite of experience optimization products that VWO offers. VWO also has an exceptional customer support and complies with the most important internet laws like HIPAA.
Self-hosting is a very niche feature, which VWO has also been focusing on. But how we go about it differs slightly from Optimizely and is tailored to suit our customers' needs. We don't have integrated setups for various CDNs like Optimizely. VWO has 10 dynamic CDNs in various geographies that help reduce load time and ensure data security while complying with critical internet laws.
To get started with VWO, you only need to implement the VWO SmartCode (implementation snippet). VWO's SmartCode is the best in the industry in terms of size and ease of usage.

The various integrations with popular CMSes like WordPress, Joomla, etc., help you set up the VWO SmartCode quickly and with robustness.
VWO is #1 when it comes to Optimizely alternatives