A customer's journey to buying products or services is not always straightforward. The reality is that most internet buyers go in a zigzag pattern between an eCommerce website, a blog, product listings on a platform, and a storefront. The big question is – how can businesses stay on top of all these client touchpoints, including Google, Google Shopping, Amazon, social media, eCommerce websites, and even, the physical store?
Introducing the customer data platform (CDP). In a world where there are a million different consumer interactions and transactions, CDPs offer a singular, unified picture of the preferences and behavioural patterns of your customers. Do not know what CDPs are? Continue reading!
What is a customer data platform (CDP)?
A Customer Data Platform (CDP) is a type of database software that builds permanent, consolidated records of all of your customers, their characteristics, and their data. A CDP creates a detailed profile of each of your consumers. It gathers first-party consumer information (transactional, behavioural, and demographic) from multiple sources and platforms and connects that data to the original customer.
This generates a 360-degree customer profile, often known as a single customer view, that may be used by integrated marketing automation solutions or third-party technologies to carry out marketing activities and evaluate their effectiveness. 
An effective CDP should make it simple to retrieve the data it retains as well as to combine it with your existing information.
CDP vs. CRM vs. DMP
The most effective use of a customer data platform is in combination with other marketing tools. It is compatible with existing customer relationship management (CRM) and data management platform (DMP) systems.
Although they are occasionally confused with each other, the distinctions between CDPs, data management platforms (DMPs), and CRM systems should be recognized to create an effective program that increases sales and enhances client retention. The major differences are below:
| | | |
| --- | --- | --- |
| CDP | DMP | CRM |
| Designed for marketing | Built for advertising | Designed for sales |
| Provides a unified customer database to the marketers | Provides data collected from cookies to support web display advertisements | Provides a data-based solution for managing customer relationships |
The below infographic further showcases the difference between the three: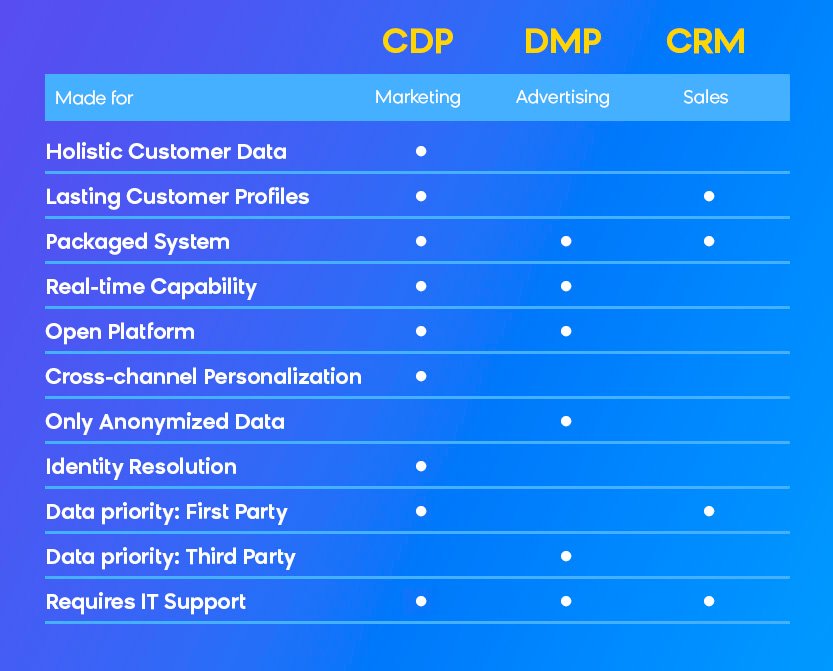 Types of data collected by CDPs
Various type of data collected from multiple sources is below:
Behavioural information such as the quantity, duration, and frequency of interactions with a website, app, live chat, or digital assistant.
Transactional data collected from eCommerce or point-of-sale systems regarding customer purchases and returns.
Customers' demographic information, such as their name, age, gender, location, contact information, social handles, etc.
Insights into campaigns such as engagement, reach, and impressions.
Characteristics of a CDP
Some essential characteristics that an effective CDP brings along are::
Comprehensive solution: The customer data is meticulously organized and readily accessible. The CDP requires some technical skills to set up, but not as much as traditional data warehouses.
Individual customer view: A CDP allows all customer data to be stored in one central place that can be visualized through individual data profiles for each individual.
Data unification: A CDP creates a single view of a customer by combining data from multiple online and offline sources.
Easily accessible data: CDPs provide data that is ready to be used by third-party platforms that run tech campaigns and offer advertising services.
Key benefits of an effective CDP
CDPs strengthen your business, boost customer interactions through improved customer experience (CX), and supplement your current software and marketing initiatives; especially those related to personalization, by bringing all forms of data (structured, unstructured, online, offline) together for a centralized view. Here are a few of the main advantages of having a CDP.
Prevent data silos
Data that is accessible to one department but kept separate from the rest of an organization is referred to as a data silo. Silos are bad to have since they hinder collaboration, slow down organizational progress and productivity, and jeopardize the accuracy of your consumer profile data.
By unifying customer data and employees' information, CDPs can help organizations avoid data silos and make sure that all data is accurate and accessible for everyone.
Data directly from your audience
The primary goal of CDPs is to gather first-party data via pixels and other tracking devices. In this manner, you can be sure that your CDP always displays the most up-to-date audience data. Since this information is directly from your target market, it is the greatest kind of information to gather and use as the basis for marketing decisions.
Get to know your customers better
You must understand your customers to practice customer-centred marketing. Fortunately, CDPs provide customer profiles that enable your business to get to know every individual. The program can assist in building identification graphs and informing customer behavioural analyses.
CDPs give you the tools you need to efficiently handle your relationship with customers and advertise with your target audience in mind.
Unified cross-channel marketing strategies
Your company may be now engaged in several marketing initiatives where trying to exchange, discuss, and educate one another on the data you use for and gather from these initiatives might require a lot of time and work. CDPs are useful in this situation. By providing aggregated, precise data, CDPs streamline cross- and multi-channel marketing initiatives. Additionally, they serve to gather and arrange fresh data that can motivate ongoing marketing initiatives.
Some more scenarios where a CDP can help your business, include:
Better connection between online to offline
User segmentation
Retargeting and similar advertising
Product suggestions
Automation across channels
Enhanced email deliverability
Excellent and increased reviews online
Improved customer lifetime value (CLV)
Get a 360-degree perspective of all your consumers with VWO Data360, which helps consolidate your data to create a comprehensive picture of your clients. Ensure data quality by collecting, aggregating, and enhancing customer data in real-time. Enforce data governance across all channels to optimize trials, customize consumer purchasing journeys, and improve marketing campaigns. VWO Data360 gives each piece of granular consumer data considerably greater meaning, accessibility, usability, and actionability. You can try it out with an all-inclusive free trial or request a demo from our product experts.