What is Marketing Automation? How Does It Help?
The amount of accumulated data in the digital universe is on the surge, and it will continue to only grow in the years to come. So, what do we do with this ever-increasing pile of data? As marketers, how do we leverage it to our benefit? Questions such as that have led to the rise of marketing automation.
What is marketing automation?
Simply put, marketing automation refers to the practice of utilizing software to automate repetitive marketing tasks. This is done for two primary reasons—to enhance marketing and sales teams' efficiency and output, and enrich customer experience through efficient engagement.
Today, our machines can sift through billions and trillions of bits of data within seconds. Marketing automation platforms and technologies have an almost infinite ability to comprehend information and target customers with automated messages across email, web, and social media.
What is marketing automation used for?
From email marketing and social media marketing to ad campaigns and push notifications; marketing automation is increasingly being used to automate and streamline everyday marketing processes. Other than that, marketing automation also tracks and analyzes customers' online behavior and buying patterns. This can then be used to segment target audiences and then deliver personalized messaging.
Benefits of marketing automation
Personalized customer experience:
By capturing the right data from your marketing channels that help you analyze your customer behavior, marketing automation aids you in delivering tailored content to each buyer at the right time.
Enhanced efficiency and creativity:
Your team doesn't have to focus on mundane tasks that are already scheduled to be executed by a marketing automation platform. They can direct all their attention to coming up with more creative marketing ideas which, in turn, boosts your team's efficiency and delivers better output.
Improved customer retention:
You can trust marketing automation tools to provide a seamless customer experience by connecting with buyers via multiple channels throughout their buying journey and keeping them engaged with meaningful content. And if a customer has a great experience buying from you, they are more likely to stick around and turn into brand loyalists.
Today, the marketing automation industry is growing at 8.55% and is estimated to unlock a market capitalization of US$ 5.5 billion by this year. But let's take a step back and understand how it all started.
The rise of CRM, SaaS, and email marketing
In 1987, a customer management company 'ACT!' developed one of the first CRM platforms as a database marketing software. Soon after, customer support, servicing, and sales management became important features; but this software was expensive and therefore was limited to just a few enterprises.
3 MIT graduates founded Unica in 1992 and built a web analytics marketing software that simplified understanding data. Towards the late 1990s, Hotmail offered free email services to anyone with an internet connection. And somewhere in between all this, we saw the birth of Search Engines and the rapid evolution of the Internet.
Soon after, Marc Benioff rented out a CRM software at a monthly fee instead of selling it. He launched Salesforce.com in 1999 with a subscription model, and other players of the industry followed his lead. As a result, marketing and customer management platforms became substantially cheaper. Salesforce reinvented the industry with a more perceptive business model, and this resulted in the emergence of SaaS—Software as a Service.
The birth of SEO
We saw the launch of Yahoo! Search in 1995, and back then, search results were organized in alphabetical order. The term 'Search Engine Optimization' was popularized in 1997 when Google Engine was introduced. Google also went out with 'PageRank' as a ranking metric.
Then, search engines started ranking by page views, which marked the beginning of a new spamming epidemic. Since SEO was in its primitive stage, people started taking undue advantage of keyword stuffing, putting out spammy backlinks to get higher search rankings.
In 2005, Google Analytics arrived, and things started changing. SEO practices also became more complicated. At the same time, Google started considering past search history and began with personalized search results.
There was a massive change in the 2010s when Google forced strict regulations on the quality of search results, eliminating over-optimization. This had a great impact on how search results are indexed now.
There was another significant push to the evolution of SEO—the growth of social media marketing. It took social results in search into account, and SEO changed. Now content was shared across multiple channels. Meanwhile, Rank Fishkin started building an SEO empire in the form of Moz, and many other SEO platforms came in the running.
The emergence of social media marketing
The first social networking website, Geocities, was created in 1994. It allowed users to create their websites, customize them, and group them into cities based on the content on the site. In 1997, the social media website, 'Six Degrees' was launched, where people could create their profiles and keep in touch with their friends. Then we entered the realm of instant messaging. AQL instant messenger was released in 1997, soon followed by Yahoo Messenger in 1999.
Facebook (earlier called Facemash) was launched in 2004, and soon after, we were introduced to social media gems like YouTube (launched in 2005), Twitter (2006), Tumblr (2007), Instagram (2010) and Snapchat (2011).
Now multiple marketing campaigns could be scheduled across different platforms using a single dashboard, and advertising could be automated through Google Adwords, Bing, Yahoo, and Facebook Manager.
And what about inbound marketing?
Inbound marketing is a marketing strategy that combines all the above. It includes SEO, social media, applications, CRM platforms, email marketing, and blogging. To make things easier, platforms started streamlining the entire marketing process by centralizing all of these on a single dashboard. And to simplify these tasks, marketing automation came into being. Through this, businesses started collating huge data sets, marketing channels, and advertising sources into one central pool.
Marketing automation today revolves around optimizing and perfecting customer experience by holistically automating each and every task that can improve efficiency. It is focused around reducing friction points in your customers' interaction with your business and constantly staying in touch with them throughout their buying journey.
What can you do with marketing automation?
Let's look at a few tasks that you can automate and maximize your marketing efforts:
• Welcome messages
So, a visitor has just opted for your product/service. What do you do next? How do you keep the communication going? Sending an automated yet personalized "Welcome on board" message/email is a great way to immediately engage with a visitor who has just converted to a customer or subscriber. The welcome message could ask them about their interests to give them relevant updates, talk about what you as a business have on offer, or simply help them get started.
For instance, let's look at the email you receive from Netflix as soon as you purchase a plan: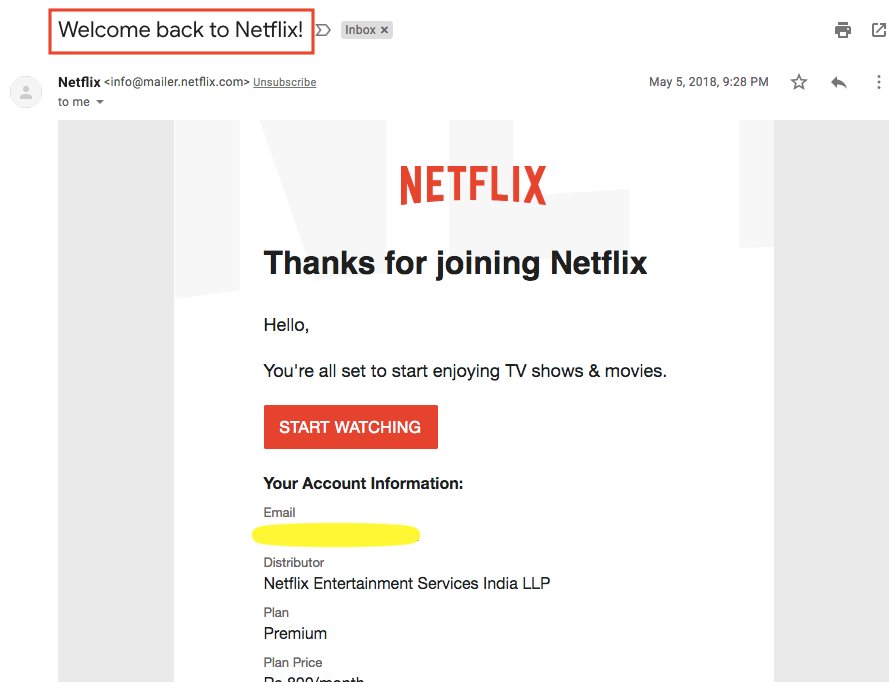 • Offers on special occasions
As a marketer, you need to stay relevant in your customers' lives, and a great way to do that is by leveraging birthdays, anniversaries, and local festivals to offer special discounts and deals. Moreover, with the help of such campaigns, you also get to build better customer relationships.
One great way to do this is by scheduling notifications for later so you never miss out on an opportunity. On the date set beforehand, your message will be delivered to your customer. By doing this, not only will you observe increased customer engagement with your business, but also better brand awareness and recall.

Take a look at the push notification sent by Macy's for Black Friday sale: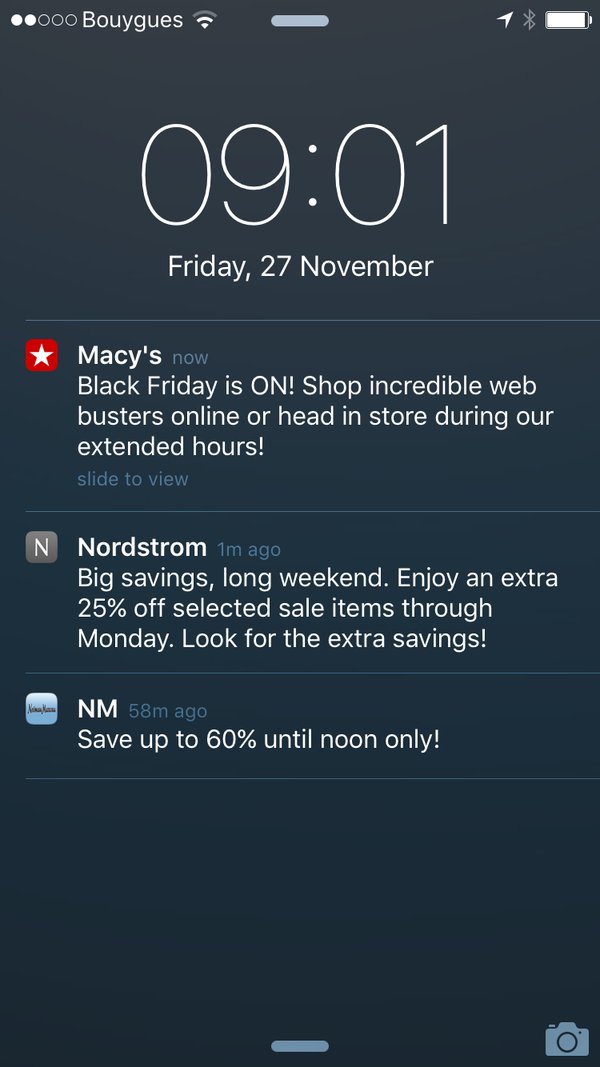 • Notifications
To ensure your subscribers are always up-to-date with your blog and also keen to find out what's new, you can automate new post updates to subscribers. This can be implemented in two ways:
RSS-to-Push:
RSS-to-Push sends a push notification to your blog subscribers the moment it detects a new post. The blog title is taken as the heading of the notification, and the first 48 characters of the body become the notification message. You can, of course, edit the details and schedule the notification for later. This method is effective as the push message appears on your users' device screens as clickable messages, tempting them to click on it. This way, you'll find more engaged readers.
Here's an example of the same:

Automate emails:
You can automate sending blog post updates via email to your readers, similar to RSS-to-Push. But the results will vary here as emails are not as agile as Push Messages. They could lay unopened for a long duration or land in spam folders in subscribers' inboxes. Whereas, pushes appear instantly on device screens.
Here's an example of an automated email from Adweek: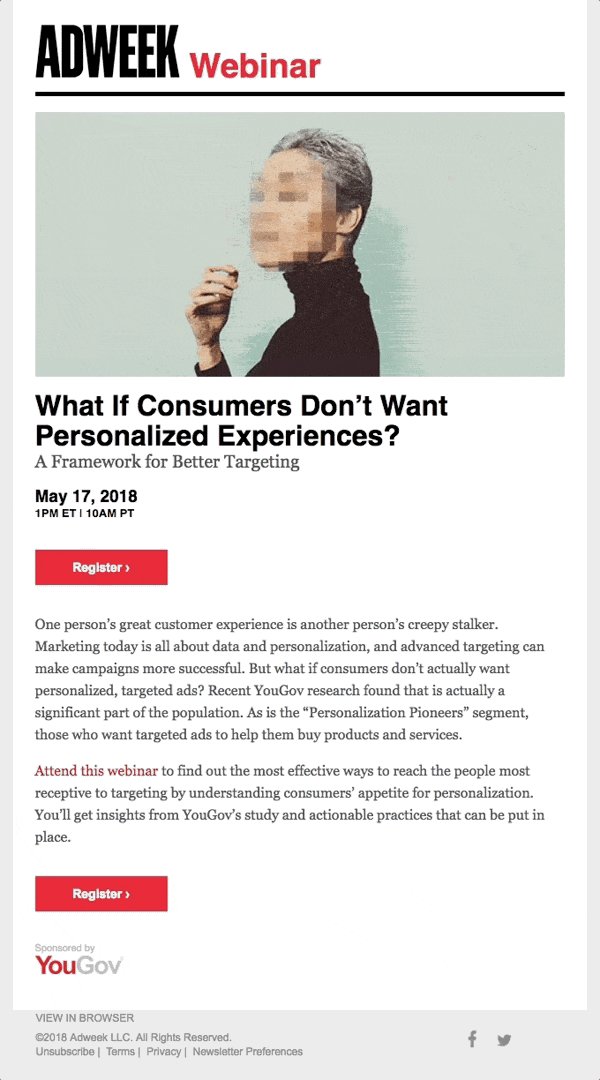 • Reminder messages
If your business attends, organizes, hosts, or even informs users about events, it would be beneficial to automate reminder messages instead of doing it manually. Be it an invitation, pre-event, or post-event message; sending reminders at the right time is a great way to engage with them. You could plan in advance how you'd want to go about these messages.
For instance, you can schedule an invitation, giving brief details about the event, followed by a reminder message and then a confirmation request. Based on those who did finally attend the event, you can then schedule a post-event message, a survey, or even arrange a call with your sales team.
Here's an example of an automated survey email sent by Content Marketing Institute post their annual event.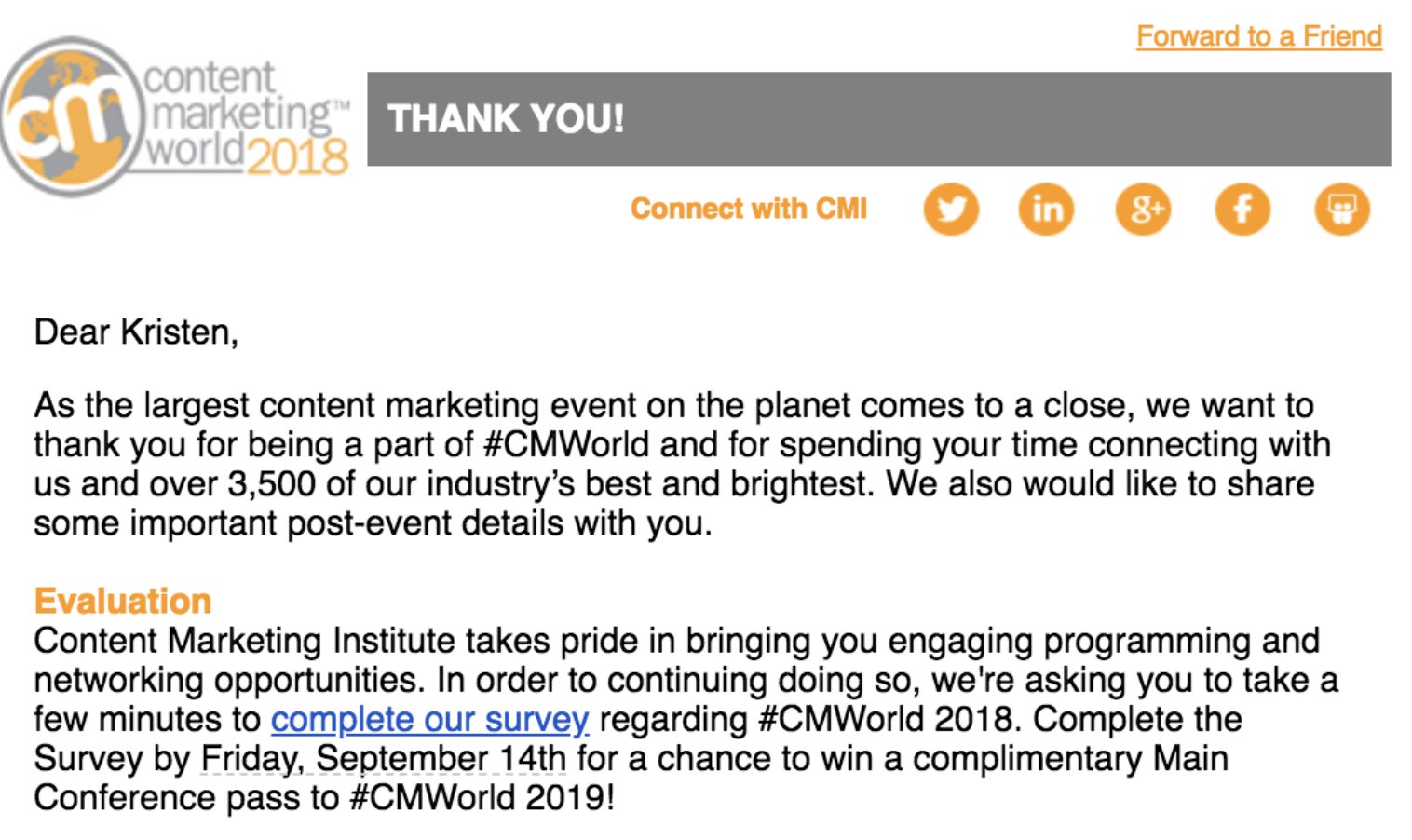 • Customer support
In today's day and age, one of the biggest ways you can disappoint your customer is by making them wait. Be it customer service, shopping, or navigation; chatbots have revolutionized the way brands communicate with users but minimizing their wait time. Chatbots save time and give better results. Because robots don't get exhausted or irritated with never-ending queries, they can meticulously look at what's being asked of them and respond accordingly.
Marketers and customer service agents can be relieved of having to look at their overflowing inboxes or having to perform daunting tasks. This is a great medium to communicate effortlessly.
Here's a look at Sephora's chatbot and how it assists visitors: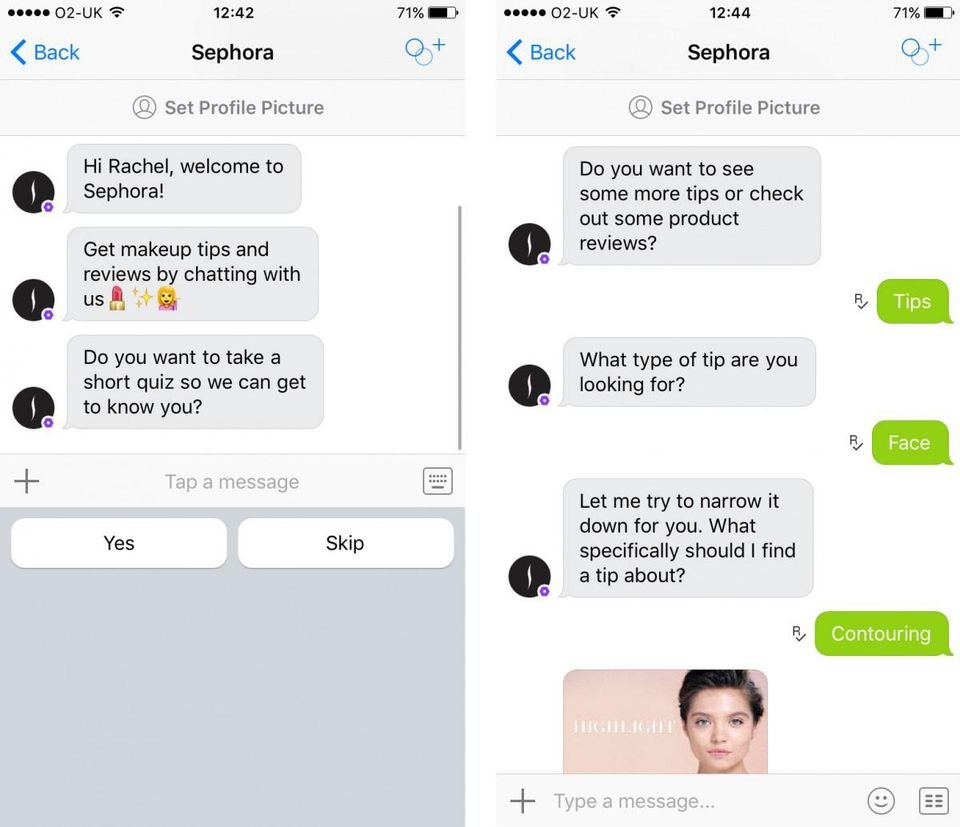 These were just a few of the abundant tasks being automated by marketers these days. However, the rapid rise of marketing automation begs the question—Will marketing automation replace human creativity?
Every time you upload a post, picture, or a tweet, a machine is memorizing them and inferring your personality and characteristics!
The pace at which marketing automation is making use of technologies such as artificial intelligence and machine learning to build businesses of the future is truly fascinating. From offering customized content and delivering personalized recommendations to providing human-like assistance via chatbots; AI happens to be one of the key pillars in defining a solid marketing automation strategy. And why wouldn't it?
Combining artificial intelligence with marketing automation helps marketers truly supercharge their marketing efforts by providing a better customer experience, increasing their efficiency, putting out more relevant content, and driving business growth.
However, doesn't it make you wonder about the endless possibilities that come with technology? With all the advancements, one daunting concern is that technology will take over jobs and potentially win in the hypothetical "human vs. machine" battle.
Finding the right balance
We have established that marketing automation has reached unexplored tangents. However, we need to admit that this automation doesn't market for you; it only helps you maximize your efforts. It is the utility knife of really cool things. But like any utility knife, it is only helpful if you know how to use it.
Marketing automation is here to enhance our performance with minimal effort, and do the dull and complicated work for us, allowing us to focus on marketing as an art.
Since data sets are rapidly expanding, with machine intelligence, we can act upon them instantaneously. Today we're incapacitated by the extensiveness of data, which is humanly impossible to process without technology. Although many consider the technological evolution as an existential threat, and the 'AI Apocalypse' is a hot subject of debate, with extensive data comes great power. What humans do with this power will change the face of marketing.