Leverage Data-driven Experimentation To Win In The Subscription Economy
Run research-backed A/B tests across your prospects and users' lifecycle to optimize metrics that matter: from free trial to purchase, and beyond.

Trusted by 100s of high growth SaaS companies globally





Create Predictable Revenue Growth For Your SaaS Business
Turn more visitors into qualified leads, and paid users into raving fans
Know Where Your Prospects And Users Are Getting Stuck
Step directly into their shoes
Use qualitative research to deep dive into how prospects experience your website, and uncover actionable insights for improving their experience.
Take advantage of first-hand feedback
Collect feedback from your website visitors and app users using scalable on-page surveys to remove the friction points in their journey.
Learn how you can conduct qualitative user research using VWO
A/B Test To Discover What Moves The Conversion Needle
Perfect your brand positioning and messaging
Ace critical elements of your marketing strategy such as positioning and messaging by testing what works, doing away with HiPPO decision-making.
Leverage data to optimize your website funnel
Your testing data is like a gold mine. Use it for every decision you make - from perfecting your value proposition to improving your on-boarding process.
Experiment Deep Within Your Products And Apps
Build world-class software products
Incorporate experimentation into your product strategy to create software products your customers can't live without, make your product sell itself.
Minimize impact on performance, even at scale
Run high-stakes tests that go deep within your products with minimal impact on performance by implementing them using the server-side approach.
Influence Existing Traffic To Drive Up Conversions
Deploy customizable widgets on the fly
Add hello bars, modals, pop-ups, and more on your website to promote time-sensitive offers, share important updates, and more, with zero involvement from IT.
See how you can add pop-ups and modals
Bring lost opportunities back without retargeting ads
Reach out to lost prospects with relevant, contextual messaging using push notifications to bring them back into your sales funnel.
We understand what makes a SaaS business successful
Here's how we can help you achieve your goals

Rigorous A/B Testing Increases Free Trial
Sign-Ups by 12.5%
Teamleader is a SaaS company headquartered in Ghent, Belgium, which develops a unified CRM, invoicing, and project planning platform for SMEs. While primarily focused in Europe, Teamleader serves over 40,000 customers globally.
---
Their primary objective was to increase the number of free trial sign-ups generated on a recurrent basis.
Test I
Test: Adding "No Credit Card Required"
Hypothesis: Stating explicitly to users that they would not be required to use their credit cards will reduce friction
Winner: Variation
12.5% Improved Conversions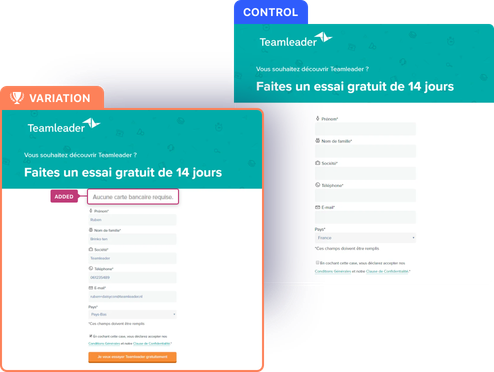 Test II
Test: Optimizing Forms
Hypothesis: Modifying the CTA, font size, number of form fields, and adding the asterisk sign for compulsory form fields will make forms perform better
Winner: Variation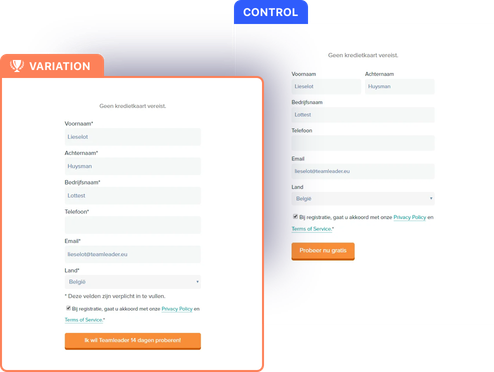 Test III
Test: Introducing Social Proof
Hypothesis: Including customer logos will build trust with the prospect(s)
Winner: Variation II
12% Increased Conversions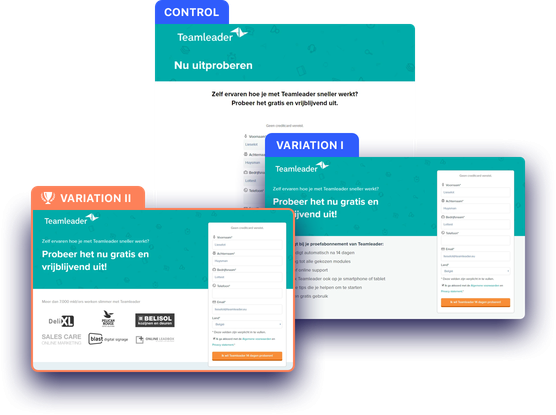 Test IV
Test: Introducing Icons in Form Fields
Hypothesis: Adding icons will improve form fills
Winner: Variation
13.1% Improved Conversions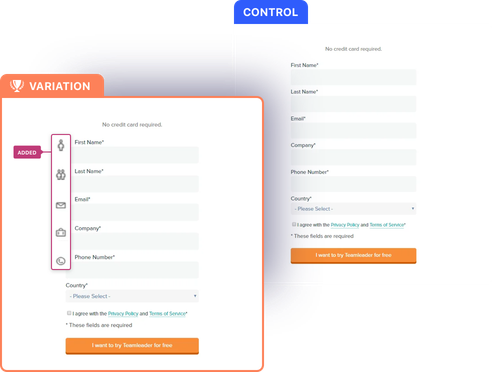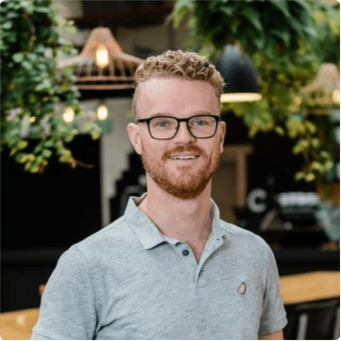 VWO allowed us to refocus on our Experience Optimization with a fresh lens. The connectedness of the platform made it very easy for me and my team to ramp up our efforts.

Ruben Ten Brinke

Marketing Operations Coordinator
Here's what makes VWO the right conversion optimization platform for your SaaS
Your entire org's concerns about using an A/B testing tool, thoroughly addressed
How do you ensure the code doesn't slow down my website?
VWO Smartcode has been thoughtfully crafted and drastically evolved over the years. With just one asynchronous code to run all of our capabilities, it loads in parallel with your website, thereby reducing the page load time during any campaign.
You can be rest assured that even with high load, your website speed will have zero impact while loading ensuring a delightful experience for your users, each time.
Learn more about zero-impact loading
Will VWO connect with my existing tools and systems?
VWO provides hassle free integration with your existing tech stack. You can choose to use an available out of the box integration with leading web analytics, eCommerce, CMS, Sales intelligence, and ABM platforms among others, or simply build your own integration by using the VWO Rest API.
Integrating VWO with a third-party tool allows you to push your VWO test data into the external tool, and also allows the data made available by these tools to target testing campaigns on your properties.
See all available integrations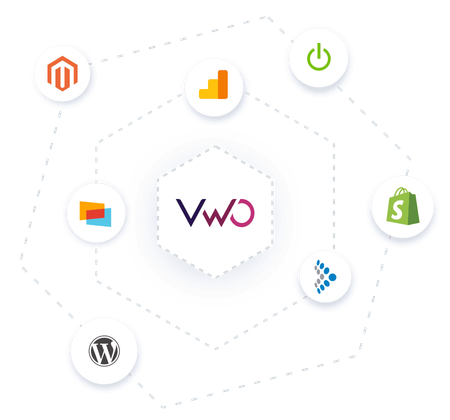 I'm not sure if I can trust another tool with my web properties' data, how can you reassure me?
We understand the importance of data in today's ever-evolving digital landscape and its significance to our customers' operations and thus, keeping it confidential and compliant is paramount to us.
At VWO, security is top priority, and is at the heart of how we build our products, policies and processes with the aim to provide high resilience against data security threats.
Learn more about VWO's data security, and compliance
Explore Our SaaS Resources
Learn the ins and outs of Experience Optimization for the SaaS industry
Deliver unparalleled online experiences for your SaaS, starting today