Grasp buying journeys to build converting experiences
Our powerful and precise behavior analytics engine, VWO Insights, helps you identify bottlenecks and opportunities in your website visitors' purchase journeys. These behavioral insights are tightly integrated with experimentation, showing you how your users are interacting with your experiments.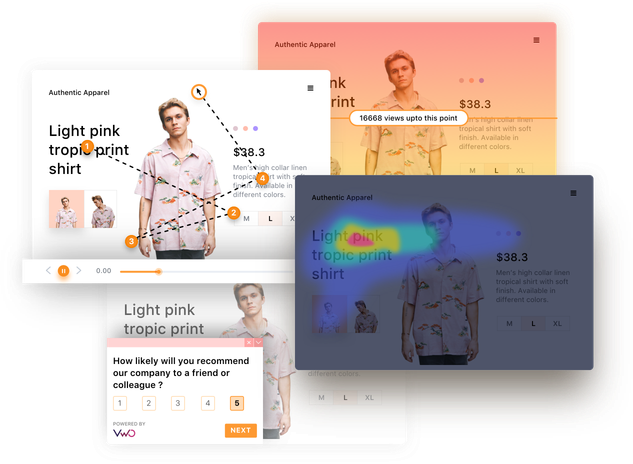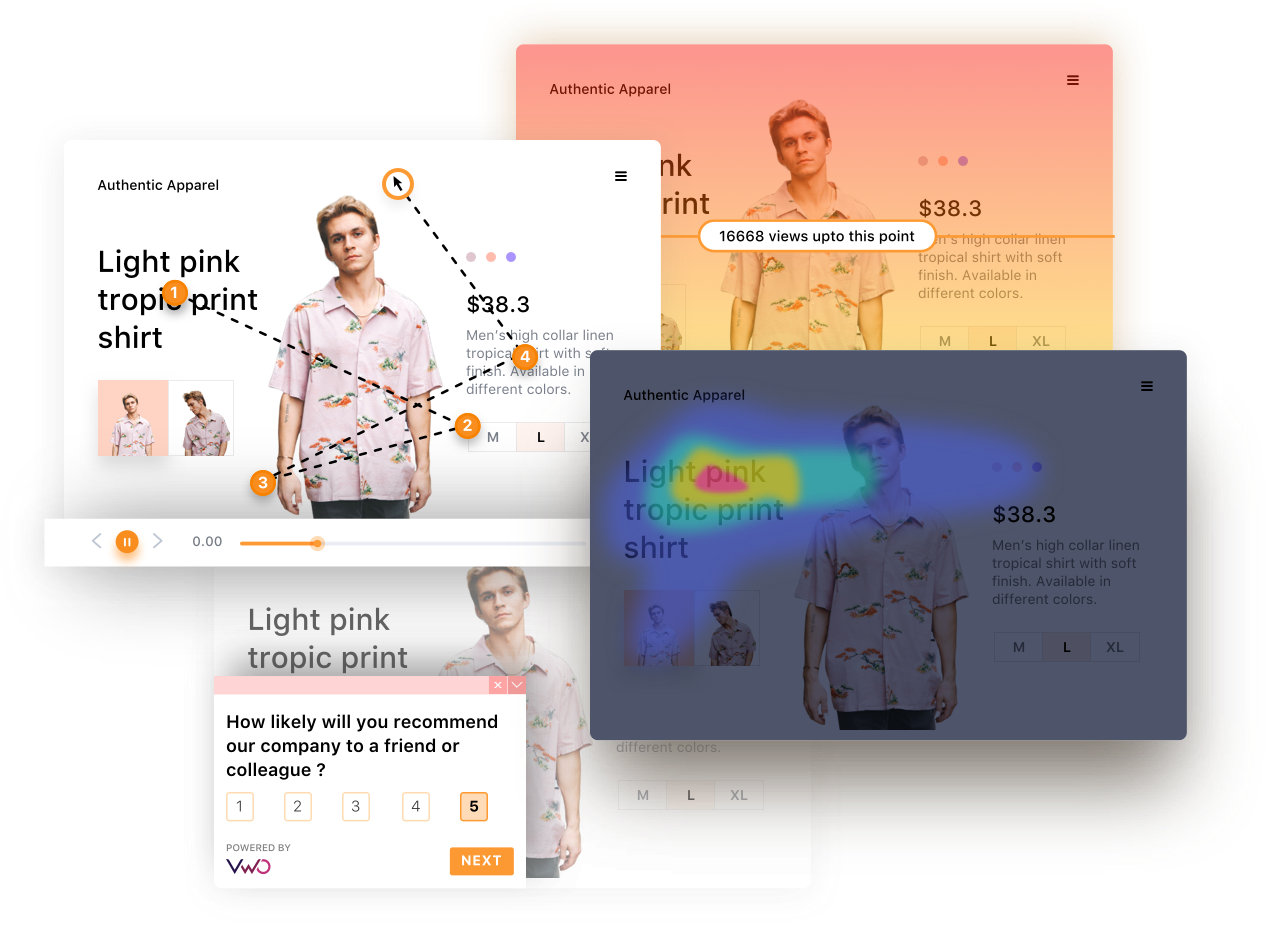 Use Funnels to figure out where visitors drop & why
Funnels help you uncover conversion leaks and deep-dive into the reasons for visitor drop off using heatmaps and recordings. With advanced segmentation capabilities, you can create complex segments and use bracketing logic to further filter your funnel reports and discover new visitor segments.
Learn more about Funnels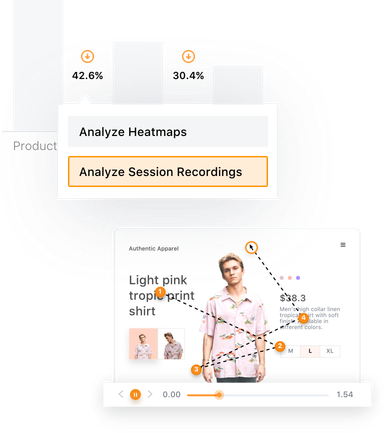 Step into visitors' shoes with Session Recordings
Notice a high drop-off from one stage of the funnel to the next? Want to know why the visitor did not submit the form? You can view session recordings for only those visitors who dropped off at a particular stage with a single click. VWO recordings are always on. This helps you understand friction points in a specific buyer, avatar, or persona journey. And easily identify opportunities for growth and testing with that segment.
Learn more about Session Recordings
Visualize visitor behavior with Heatmaps
VWO heatmaps help you understand visitor movement on your website: what elements catch their attention the most and what distracts them on critical decision pages from your CTAs. They are always on and collect and display real-time behavioral data. VWO also allows you to slice and dice data using your preferred segments. You can even download and share heatmap reports with different stakeholders.
Learn more about Heatmaps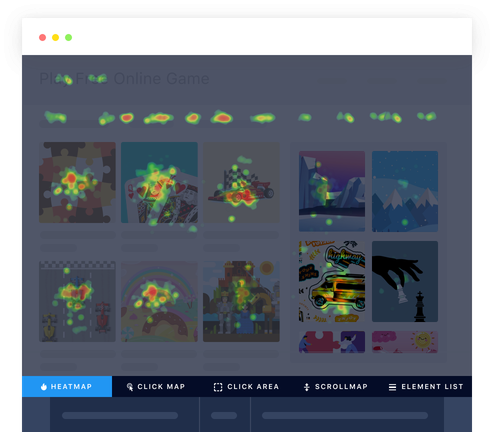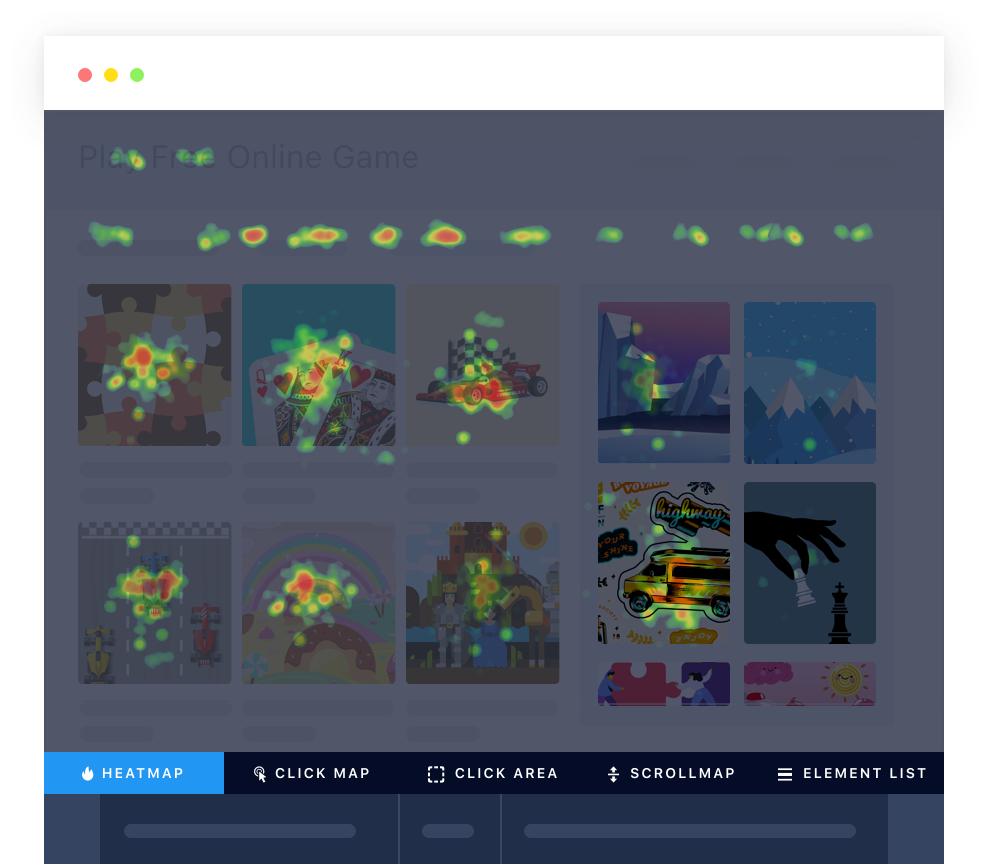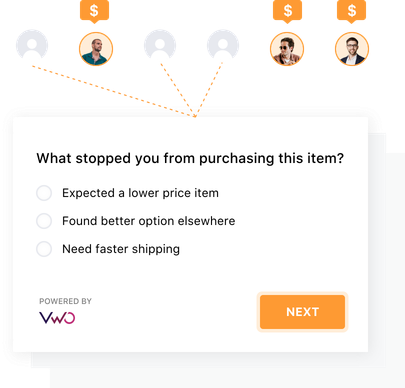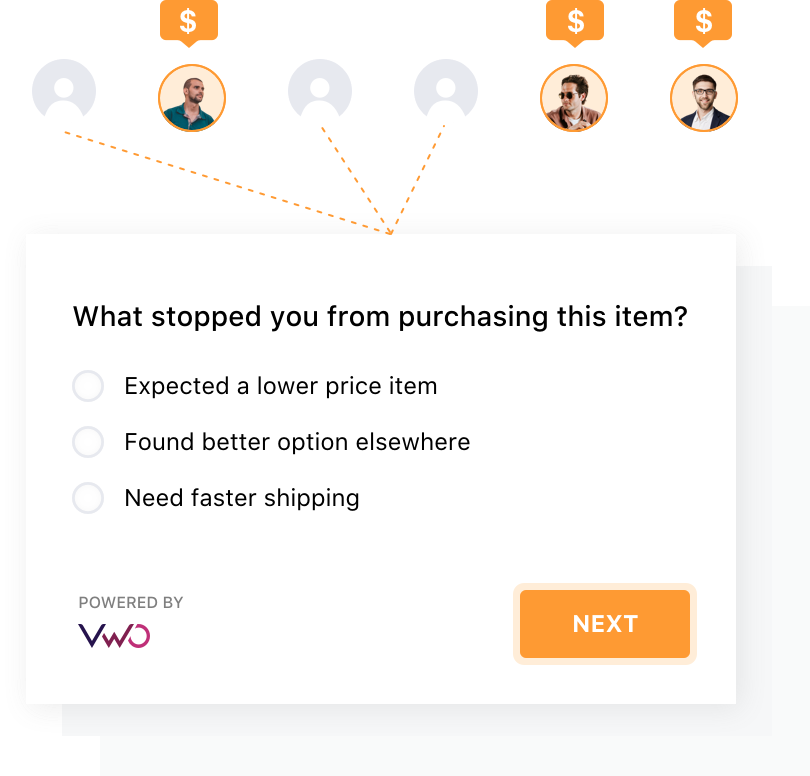 Ask your visitors about their hesitations with
On-Page Surveys
Observing visitors tells you what's happening, but not why it is happening. You can understand visitor hesitation by asking them directly using on-page surveys. Decide who you want to show the survey to, and when.
You can watch the recording of a visitor who says on a survey that she is not likely to recommend your services or gives you a low NPS score, or ask follow up questions to dig deeper using conditional branching logic.
Learn more about on-page surveys
Know why visitors abandon forms using Form Analytics
Find out how visitors interact with your forms and what causes them to drop-off with form analytics. You can also see which fields caused them the most confusion, took them the most time, or needed the most refills.
You can watch recordings of visitors who did not submit the form or struggled with a field for a long time to really understand what's causing them the confusion.
Learn more about Form Analytics
Turn insights into a data-driven testing roadmap using VWO Plan
Collect insights for your most important business segments, across their entire customer journey. Build and prioritize a testing roadmap, backed by the insights you've collected.
Learn more about VWO Plan
Use VWO Testing to execute your testing roadmap, without involving your development team
For more than a decade, thousands of growth leaders and CRO Experts have trusted VWO to create and test experiences across millions of users. With VWO Testing, target the right customer, run multiple experiments without overlap, and attribute the impact across the funnel.
Learn more about VWO Testing
Learn why your experiments worked or failed by visualizing your visitors' behavior
Use VWO Insights to figure out why your visitors are behaving differently across variations in a test. Complete the optimization cycle by using these insights to build better hypotheses & effective tests.
Success Story

How Ubisoft used VWO Insights to run tests and increase leads by 12%
Read Success Story
We ran a series of A/B tests based on the data we gathered by using Heatmaps, Scrollmaps, and Surveys available on the VWO Platform. It helped us to identify key elements on our websites that needed a deeper look.

Jenny Hughes

Digital Marketer, Ubisoft
See More Success Stories
Webinar
Speaker

Jon MacDonald
Founder and President, The Good

Vipul Bansal
Co-Marketing Manager, VWO
Watch Now
Blog
Understanding how heatmaps, as a qualitative research tool, can help marketers map the performance of their website in an effective and efficient manner.
Read Now
Amplify the power of VWO Insights
VWO Insights is a part of the VWO Platform, which helps you discover conversion leaks, understand visitor behavior, conduct surveys, run experiments, log your learnings, and engage with visitors.
Deliver great experiences. Grow faster, starting today.