VWO for Agencies
A thoughtfully crafted offering enabling you to deliver sustainable wins for your clients and in turn accelerate your own growth.
You are in "good hands". VWO will be a partner to help your business scale and win within the optimization marketplace.

Craig Smith, CEO
Since working with VWO, the partnership has flourished. They provide a robust platform, competitive pricing and strong partner support, which makes our job of developing services to our mutual clients easier.

Simon Gripton, Commercial Director
Agencies that grow their CRO practice with VWO











How can you supercharge your business with VWO?
With a host of specially curated features* & perks for agencies
Easy onboarding, offboarding and customer management
Tag multiple customer accounts to your agency account & access multiple accounts simultaneously
Easily add or remove customer accounts as per your needs
Ability to pre-select plan and quota for every linked customer account based on your requirements
Unified dashboard to easily navigate & view all customer data
View all campaigns across all your customers in a single view
View consolidated changelog across all your client accounts
View notifications across all your client accounts
Extend free trial duration for POC directly from your agency account
Easy campaign management & best in class features
Unlimited tests with no cap on test duration
Copy or move tests between linked customers accounts under your management
Ability to add and save widgets to use them across all customer accounts
Ability to save or modify segments and use them across all customer accounts
API access and integrations with other tech platforms
Use advanced features like campaign scheduling, cross domain and cross device testing, multipage campaigns, behavioral targeting among others
Zero upfront cost for tagging and managing unlimited accounts
Get a one time 10,000 quota at no cost for every new customer account to run a POC
Billing for linked customer accounts only starts after the consumption of the one time quota
Pay as you go pricing model option available with revenue commitment discounts
Monthly, quarterly, bi-annual and annual billing frequency options available
Support for conducting demos and POCs
Free full featured VWO enterprise account of all products for self use
Free account will get access to 50,000 quota per year, a $15,000 value
Access to dedicated partner manager to help with RFPs, demos & POCs
Support flexibility
24*5 dedicated chat, phone, email and Slack support
A dedicated account manager to act as your single point of contact
1:1 training for the team during onboarding and when new users are onboarded
* Some of the listed features are under development and will be available soon
We'll closely accompany you through your journey with VWO
Onboarding
Dedicated partner manager to help you set up and get started.
Product Enablement
As many sessions as you need to understand the value VWO brings to the table.
Sales Enablement
Access to marketing asset library to showcase VWO's value props and deliver winning pitches.
Use case Analysis
Access to dedicated help or documents you need on a deal by deal basis to help you close.
Go-to-market
Access to any help you need to run webinars, AMAs, specific campaigns to excite clients.
Closing Deals
Use VWO as your extended sales team. Support with pricing, contracts & POCs.
What are the other key benefits of choosing VWO?
Get VWO Certification to Showcase
Get access to an on-demand training module with built in assessment. Once completed, you will receive a VWO certificate to flaunt. Use it on your LinkedIn profile or website!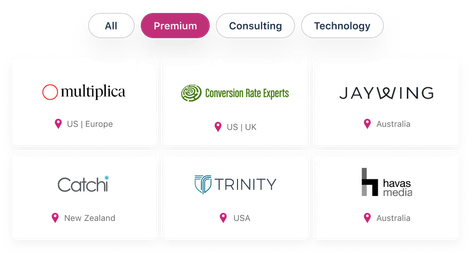 Get listed on the VWO Partner Network
Depending on the tier of partnership, get listed as either a VWO premium or a consulting partner here: https://vwo.com/partners/ecosystem/
Get Early Access to Well, Everything
Be it new features in beta, new product launch, key updates or news - you will be the first one to know. Get preferential access to be a beta tester or an early adopter.
Shape the product future with us
Selected agencies are invited to be a part of the VWO product advisory group. Along with other industry experts, you will get a chance to construct the future of VWO.
Use VWO dev team to scale
We have a skilled team of designers, developers & coders to act as your extended team. Use them during a resource or skill crunch or to meet an aggressive deadline.
Get Help with migration from any platform
Don't worry about the effort in moving all your campaigns, data and settings from any platform to VWO. Our dedicated migration support team will take care of it for you.
You'll even get cool badges to use on your website, marketing material and emails
Don't take our word for it.
Here's what some agencies that use VWO have to say.
Beyond all the great perks, VWO is a world class partner to be in business with
VWO offers a ton of options for agencies to gain from this partnership
Referral Incentives
What do you need to do?
Introduce prospects, customers, peers & friends who are looking for a CRO platform to VWO.
Why should you do this?
There may be prospects or customers who would like you to manage their CRO process but contract directly with the CRO platform provider. You can refer them to VWO.
What happens next?
VWO will engage with them, give them a demo and leave no stone unturned to win their business.
What do you get when they become paying VWO customers?
You earn 15% commission on the first year revenue and then continue to earn 5%, 3%, and 1% commission, respectively, for three years on renewal.
Will you be able to track your referrals?
Absolutely. VWO uses an industry leading platform which you will use to refer leads and will be able to track them in real time.
Affiliate Program
Demand Generation
Co-marketing
Partner with VWO to run co-marketing initiatives like webinars, ebooks, whitepapers, email campaigns etc. Select campaigns make it to VWO subscriber base of 150,000+
Joint GTM plan
Engage with VWO marketing team to pick a targeted territory, persona, vertical or a combination of these and build a customized go to market plan. Think of ABM initiatives, joint physical events, co-branded trade show participation or even joint paid advertising/branding campaigns.
Lead Sharing
In select markets and depending on the tier of partnership with an agency, VWO also shares leads with partners. Here's how:
Need for an agency identified during sales cycle
All VWO sales executives have access to VWO preferred partners to include them in the conversion when such a need is identified.
Inbound demand
Agencies that are exclusive to VWO, are highly engaged and have a proven track record of co-selling, qualify to receive a part of inbound demand that VWO receives.
Agencies of all sizes prefer VWO to run their CRO practice
Let's walk you through the power of VWO as a CRO platform
Power #1
[Exclusive to VWO] A Truly Connected Platform
VWO is the only platform that enables you to connect customer behavior tightly with experimentation using built in program management to manage the entire testing process.
Power #2
Depth of Experimentation Capabilities
The VWO platform offers capabilities that cover every spectrum of your and your client needs. Along with the flagship A/B testing, split URL testing and multivariate testing, VWO also offers multi armed bandit (MAB), Single page applications (SPA) support, shadow DOM support & mutually exclusive tests. Coupled with a robust Bayesian powered stats engine that powers the reporting, you can depend on VWO to run experiments at scale for every use case.
Power #3
Easy, User friendly everything
Right from the time you get started to set up your first test to utilizing the full potential of VWO running 100s of complex tests - you'll find the platform super easy to understand & use. This power is sure to save you a lot of resources and efforts, creating efficiency. Ultimately, ease of use leads to faster execution which in turn means higher velocity of experiments, eventually driving higher ROI for you and your customers.
Power #4
Tight-Knit Integration with the Ecosystem
VWO seamlessly integrates with 40+ technology platforms. You can easily integrate with your existing ecosystem of analytics tools, CRMs, CMSs, CDPs, etc. Along with integrations, VWO also provides plugins for WordPress or ecommerce platforms like Shopify, which makes it very easy to install the VWO code and start optimizing quickly.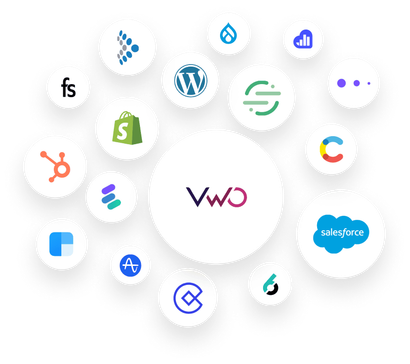 Power #5
Growth opportunities beyond testing
Along with an industry leading testing product, VWO also offers a personalization product, a customer data platform, a web rollout product and has a very innovative roadmap of products. This will ensure that your agency is always ahead of the curve in leveraging optimization tech stack to enable you and your customers to beat the competition every single time!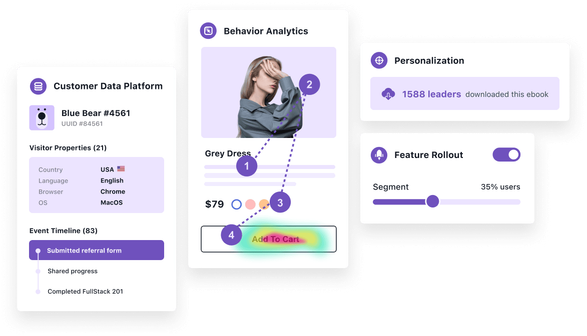 Exciting stuff? Connect with us today to discuss VWO for agencies
What is an MTU?
A Monthly Tracked User (MTU) is a visitor who becomes part of a campaign powered by VWO in a billing month. Each VWO product maintains a separate quota of MTUs. There are specific products where shared MTUs can be bought as well.
How does VWO count MTU?
Visitors are counted towards MTU on a per-product basis.
In the same billing month,
If a visitor becomes a part of multiple campaigns of the same product, VWO will count them as a single MTU for that product.
If a visitor becomes a part of campaign(s) of different VWO products, VWO will count them as a separate MTU for each product.
Example: Consider you purchased a VWO Testing - Web subscription on Oct 1st, 2022, and the following visitors (1, 2, 3, and 4) on your website interacted with testing campaigns Test 1 and Test 2.
Estimate MTU Requirement
You can estimate the no. of MTUs you will need by looking at your Monthly Active User (MAU) count (including anonymous visitors). Depending on your requirement, you can purchase MTUs for each products either for your entire MAU count or a subset of it.
If you chose to purchase a subset of your MAU count for VWO Insights, our sampling feature ensures that we sample visitors uniformly from the traffic coming to your website so that you get a representative set of your monthly traffic.
FAQs
What is a billing month?
Billing month is the period from when your contract starts to the same date in the following month. For example, if your contract starts on 27th Feb, 2022, your billing month would begin on the same date and conclude on 27th March, 2022.
Can I buy a common MTU quota for all VWO Products?
Yes, you can buy a common MTU quota for all VWO products except VWO Insights. The quota consumption logic of Insights is different from other VWO products so its quota allocation has to be done separately.
Do I get the entire MTU quota upfront or in regular intervals?
For all products except VWO Insights - Web, you get the entire MTU quota upfront. However, as per your requirement, we can also ensure that the quota is refreshed on a monthly basis.
For VWO Insights - Web, you get the MTU quota on a monthly basis.
What if I exhaust my purchased quota limit?
For all products except VWO Insights - Web, all your running tests and data capture will stop upon exhaustion of quota. Automatic extension of quota does not happen.
For VWO Insights - Web, due to our sampling feature, MTU quota is dynamically distributed across the entire month and the user sampling adjusts automatically as per your incoming traffic. So you will never run out of Insights quota. Please check this doc to understand the methodology behind quota distribution.
If I don't exhaust my VWO Testing - Web quota within this contract period, can it be carried forward to the next billing cycle?
For all products except VWO Insights - Web, unconsumed quota cannot be carried forward to the next billing cycle.
For VWO Insights - Web, MTU quota is dynamically distributed across the entire month and the user sampling adjusts automatically as per your incoming traffic. So there will never be unutilised Insights quota at the end of a month. Please check this doc to understand the methodology behind quota distribution.