Thousands of growing brands trust VWO Insights for gathering user behavioral insights.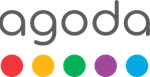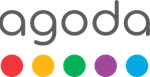 Lightweight SDK
SDK size is less than 300 KB. Extract insights without increasing your app's size.
Privacy by default
No capture or storage of your end users' personal identifiable information (PII data).
Setup in minutes
Start watching your users' sessions in minutes with just a few lines of code.
Android - iOS Support
Native Android and iOS apps are supported. Flutter & React Native support coming soon.
Unlock your app's true potential
Upgrade your users' experience and drive growth by tackling critical areas that need attention.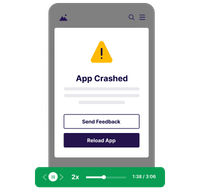 Quickly fix app crashes & freezes
Watch what led to an app crash or unresponsive moment. Power up your crash logs with valuable context.
Boost feature adoption & usage
See how your users use your app features. Uncover user struggles and discover new use cases you can enable for your users.
Make data-backed UX decisions
Get data-backed UX ideas based on actual user behavior to share with your team. Go beyond surveys & user interviews to gather 360* insights.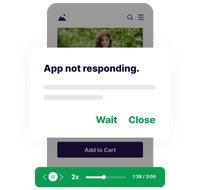 Remove purchase barriers, streamline sales
Uncover what's preventing users from making purchases or upgrading their plans. Eliminate roadblocks and streamline the buying process.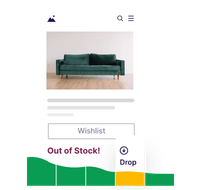 Reactivate users, reduce churn
Compare the behavior of inactive users vs. active users and identify actionable insights on the cause of app inactivity.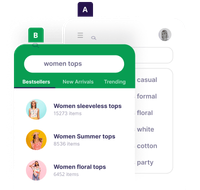 Never run out of a/b test ideas
Fuel your app optimization program with endless ideas based on your observations of user behavior.
Coming soon
One dashboard, all critical insights
Discover the most critical issues in your app that need your attention.
Spot friction points, take action
Identify recordings with high friction and easily uncover reasons. Notice the trend over time.
Identify problematic user segments
Discover which users are facing app issues like crashes, rage taps, dead taps, or app not responding errors (ANRs).
Know your most frequent issues
Get a detailed overview of issue types and their frequency, and access recordings of specific errors.
Take complete control of your analysis
Collect only the data you need without hurting your end-user privacy.
Target specific users for data collection
Record data for specific user groups based on technology, behavior, battery charge, internet speed, or custom attributes such as login status, plan, etc.
Secure your users' privacy
VWO hides all PII by default and allows for further information to be hidden based on screens, views, tags, or text. Changes can be made from the VWO dashboard without re-releasing your app.
Track all users or use smart sampling
VWO tracks unique users, unlike other platforms that track sessions. So, even with sampling, you can see the complete user journey without missing any session.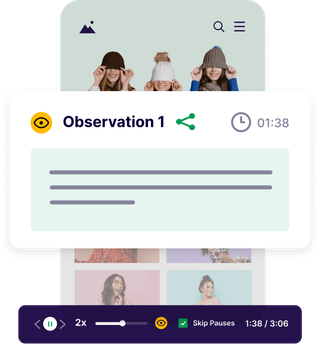 Teamwork is effortless with VWO
Add observations when you notice something while investigating recordings or heatmaps
Share observations with pinned recording timestamps to let your team see what you saw
Generate a shareable public URL for team members outside your VWO account
Seamless performance, no compromises
Sync data in small batches (50KB-200KB) based on user activity, ensuring no latency or performance issues
Run VWO seamlessly in the background, syncing data with servers only when resources are available
Support for Java, Kotlin, Swift. Coming soon - Flutter, React Native
Learn everything to get started
Elevate Your Optimization Game
Ready to accelerate your app's growth?
Still have questions?
A mobile app session is when a user opens, interacts with, and then closes or leaves an app. It's like counting a visit to an app, from when it's launched to when it's no longer active.
You can capture recordings for up to 2 hours per session. If your session runs longer than 2 hours, a new recording session will start to ensure that all subsequent moments are recorded. Even if the app goes in the background, it is still counted as session time.
VWO Insights for Mobile Apps have been built from the ground up with optimization in mind. We collect data from the user's mobile device in small batches ranging from 50KB to 200KB, depending on the user's activity load, and store it in the app's local memory. The VWO thread runs in the background and only syncs the data with VWO servers when network and memory resources are available. Once synced, we delete the data from the local app memory, freeing up space. Learn more about the performance impact on Android and iOS.
We sync user data in real-time as and when the network or memory bandwidth is available at the user's end.
We track unique users and all of their sessions without missing any session of their journey. This is different from how our competitors handle it with a session-based approach, where you may not see the complete journey of a user and miss out on sessions.