Ask your visitors about their hesitations with
On-Page Surveys
On-page surveys help you discover a goldmine of insights on why your visitors are behaving a certain way. Simply ask the right questions and get them answered by your visitors.
Power up your website surveys with generative AI
Understand your customers' voice better with VWO's new AI assistant. Effortlessly create, and analyze on-page surveys to understand & improve user experience.
Worry about your goals, not survey questions
The AI will generate relevant, engaging questions based on your survey goals. Save time by choosing from a predefined goals list or type your own. Easily edit or regenerate these questions until you craft the perfect survey.
Get survey results overview before digging deeper
Explore actionable suggestions and insightful summaries with AI-powered survey reports. Be it a tweak in your marketing strategy or feedback about the product - get crucial insights from survey responses to improve user experience.
Talk to the right visitors
Build your pool of audience for on-page surveys by selecting your preferred set of visitors.
Predefined segments
Understand the views of a select group of visitors with each survey. To segment your visitors, choose from VWO's 20 predefined visitor segments, including landing page URL, new versus returning visitors, browser, query parameter, and others.
Custom visitor segments
Build your own advanced custom segments by using complex logic conditions.
Trigger on-page surveys at the right moment
Get real, contextually relevant answers by catching your visitors at the precise moment. You can choose from VWO's 6 popular triggers or add your JavaScript code to trigger On-page Surveys.
Time spent on page
Shows the survey after the visitor spends a specific amount of time on a page.
Click an element
Shows the survey after the visitor clicks a link or any element.
Time spent in a session
Shows the survey after a visitor spends a specific amount of time in a session.

Scroll depth
Shows the survey after a visitor scrolls a specific distance on a page.
Exit intent
Shows the survey when a visitor is leaving the page.
Pages in a session
Shows the survey after a visitor browses a specific number of pages in a single session.
Custom triggers
Shows surveys through custom JavaScript calls.

Combine multiple triggers: Scroll depth > 80% + Exit Intent
Target people who are interested in what you offer but are about to leave.
Ask anything in your chosen format
Choose from VWO's 8 predefined question types to construct the most appropriate question for your audience.
Single line text box
Expecting responses in a few words? Display your question with a single-line text box.
Checkbox
Pick checkboxes for questions where visitors can select more than one response from a list.
Rating
Want to collect feedback from visitors as ratings? Use VWO's 1-5 star ratings.
Multiline text box
Choose multiline text boxes for all your open-ended questions for visitors to spill their hearts out.
Drop-down
Let your visitors pick the most appropriate response from a drop-down list.
*Net Promoter Score®
Find out how likely your visitors are to recommend your product or service to others.
Radio button
Select this question type if you want to help visitors choose only one option from a list to indicate their responses.
Multi-select list
With a multi-select list, you can display a list of multiple descriptive responses for visitors to choose from.
Record email addresses of visitors who respond
And if you find an interesting response, you can email the visitor to know more right there within VWO. You don't have to copy-paste the email or leave the platform at all.
* Net Promoter, Net Promoter System, Net Promoter Score, NPS and the NPS-related emoticons are registered trademarks of Bain & Company, Inc., Fred Reichheld and Satmetrix Systems, Inc.
View session recordings of respondents
If you want to dive deeper into why someone answered the survey the way they did, you can also view recordings of their session with just a click.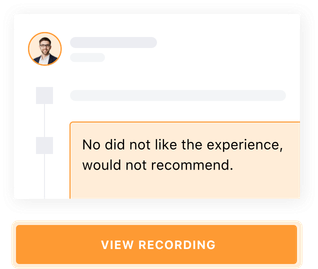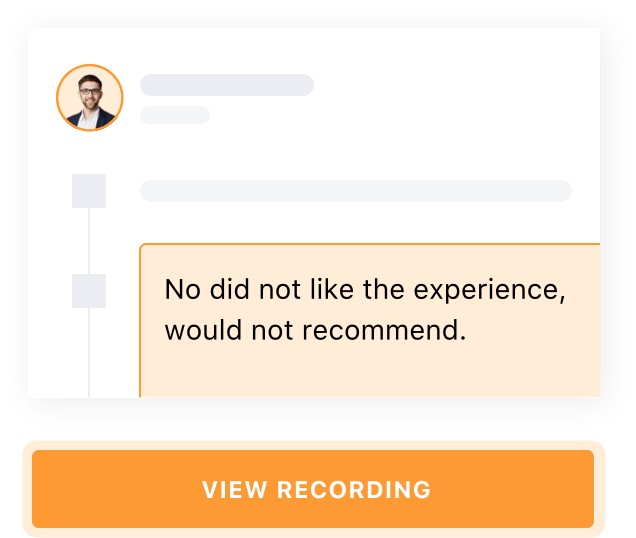 Conditional branching for deeper insights
Want more details from someone who gives you a low NPS score? With conditional branching, you can ask different follow-up questions based on what your visitor answered.
Make sense of data
VWO survey reports make it easy to find actionable insights from your visitor responses.
Bar Charts
Visualize multiple choice answers with bar graphs.
* Net Promoter Score®
Want to know how your visitors recommend your product or service? Get auto-calculated Net Promoter Score with on-page surveys.
Word Cloud
See trends in text answers with word cloud.
Ratings
See how well visitors rate you on your chosen parameters.
⁎ Net Promoter, Net Promoter System, Net Promoter Score, NPS and the NPS-related emoticons are registered trademarks of Bain & Company, Inc., Fred Reichheld and Satmetrix Systems, Inc.
Make it look like your own
On-page surveys are completely customizable to match your brand guide.
Multilingual Surveys
Easily create a survey in any language you want.
Customizable CSS
Choose from a host of prebuilt themes in VWO or create your own custom theme to match your website.
White Labeling
Add your company logo or custom branding to on-page surveys.
Add your unique touch at crucial points with Survey API
Trigger specific actions when your user sees, answers, or completes a survey. Possibilities are endless.
Prompt an action when someone views the survey
Trigger an action as soon as the user views the survey. For example, show a consent form before the survey begins or display a personalized welcome message to a visitor using available data.
Choose what happens once an answer is submitted
When a user submits an answer, push the survey response data to your CDP, or data warehouse, to give the sales team valuable insights that can help them close deals efficiently.
Trigger an action when the survey is completed
Define follow-up actions when your user completes the survey. Build your user's next step by redirecting to a relevant page or sharing exciting insights about the survey itself.
And there's a lot more to on-page surveys
Survey position
Show the survey in the lower left-hand or right-hand corner of your landing page. Pick the one that gets you the most responses.
Question vs. respondent view
In addition to viewing all responses for your survey questions, On-page surveys give you access to how individual respondents have answered different questions in a survey.
Add observations
Note down your insights from on-page surveys reports as observations. VWO will also save the exact state of the report where you create the observation.
Download and share
Download your on-page surveys results in the .csv format and share it with your team for deeper analysis.
Deliver great experiences. Grow faster, starting today.