Success Story
Contorion fostered an experimentation culture by building a 'testing circle' with VWO
About Contorion
Contorion, with more than 300,000 products and 500 top brands, is building a treasure trove for all things maintenance, repair and operations (MRO). 
Dealing with both B2B and B2C clientele, Contorion is digitizing the experience for every craftsperson out there in Europe, in a manner not seen before. And while doing so, they are also staying on the pulse of CRO and experimentation. 
In the past, despite working with multiple CRO platforms (including the likes of Optimizely), the team wasn't able to find the right mix of tools to scale experimentation. But this changed when they moved to VWO in 2017. 
Leading this move was Marc Sandifer, then, the cornerstone of the Contorion CRO team. From then, Marc has not just built a CRO 'testing circle' but has also been able to architect the holistic approach of experimentation at Contorion with VWO. While inculcating experimentation culture through VWO has been a rewarding experience, the challenges that propelled the move throw light on how CRO trumps large scale business problems.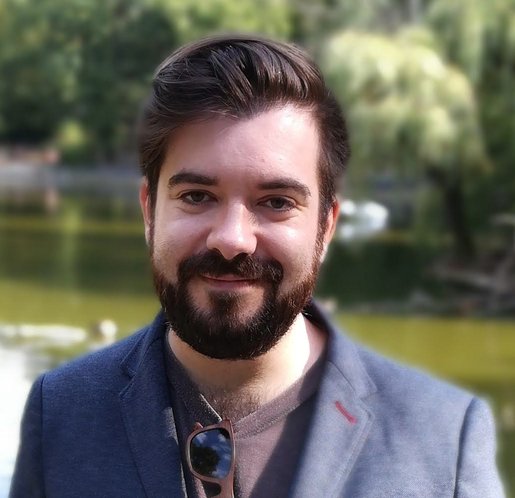 Marc Sandifer, Senior Product Manager (CRO/UX) at Contorion GmbH
Observations
1. Getting first-hand consumer insights in an unconventional industry!
Contorion's target audience ranges from institutional manufacturers to home improvement enthusiasts. Because of this vast diversity, relying on industry practices or advice from online gurus to understand consumers is not an option for them.
We sell tools to craftsmen, a lot of our users are accessing us from within their workshops, from older Windows desktops, sometimes even Windows XP! So yes we have some unique challenges there because the user behavior is so diverse and not in line with all the best practices out there – Marc
2. Building a collaborative experimentation culture 
Contorion was looking for a fluid setup that would not only increase the testing frequency but also add on experimentation cohesion across the board, having sync across teams and involving people from across the organization.
Contorion didn't just want to do CRO, but do it the right way, where people from outside product management and IT (the driving departments for experimentation at Contorion) were also involved in experiments and were a part of quantitative testing across the website.
Tests run
Understanding the vastness of consumer diversity 
The first step was understanding the magnitude of consumer persona that Contorion caters to. VWO Insights helped immensely in understanding the target audience – how they behave on the website, what their motivations are and what elements cause them to drop-off the website for Contorion. Session recordings, heatmaps, and funnel analysis massively helped Marc understand the nuanced target audience better.
Finding the right way to involve everyone in the CRO process
I really like that we can use VWO across every department. It's pretty easy to use and straightforward. Test results are easy to read also for people who don't have testing experience. Testing experience with VWO was quite intuitive for all. UX of the tool was quite accessible as well.

Marc Sandifer

Senior Product Manager
Marc realized that to develop a better strategy for experimentation, there was a need to create a culture of voluntary involvement across the organization to share their consumer learnings and participate in experimentation. This was also needed in order to achieve business goals and drivers that were far more consumer-focused.
This cross-team contribution exercise was immensely helped by VWO because of it's simple and easy to understand UI and its overarching CRO Platform. It wasn't long before Contorion was instilled with CRO best practices, right from the test setup to goal setting and finally deriving business metrics.
"The VWO tool in itself was very conducive to collaboration. Persistent guidance and brainstorming by the VWO account management team was instrumental in tying up loose ends." – Marc
Testing Circle
Contorion has now smoothly transitioned from a one-man CRO job to what they call 'Testing Circle' – a fluid setup with organic participation from across teams in all things experimentation. The move has been able to deliver synergetic involvement, remove bottlenecks, and build a collaborative setup that was earlier a gap. This testing circle has designers, developers, UX professionals, user testers, product managers all coming together and ideating hypotheses on a bi-weekly basis.
"The testing circle helped us move away from a top-down approach to a more collaborative model. We have been able to remove disconnection across the design, IT, product, and experimentation teams. A Waterfall model has been created" – Marc
After building the Testing Circle, Contorion has been able to work towards tying the loose-ends of their consumer experience in a more strategic way. Below are few tests that have reaped the rewards of a collaborative experimentation culture.

Test 1 – Site-Wide Scrolling Banner
Rationale: Based on inspiration analysis and understanding what their competitors were doing right, Contorion wanted to set up a site wide scroll banner.
Hypothesis: A site-wide scrolling banner for special promotions would increase traffic on the promotional landing pages. 
Implementation: Doing an A/B test via VWO Testing was the best way forward to analyze multiple iterations.
– Control : No site-wide element is displayed during the promotional period.
– Variation 1: A thin static banner is displayed site-wide. Clicking the banner sends the user to the promotional landing page.
– Variation 2: A thin scrolling banner is displayed site-wide. It scrolls down with the user and always remains at the top of the page. Clicking the banner sends the user to the promotional landing page.
Results: Both Variations beat the control version, Variation 2 (scrolling banner) performed best, and more than tripled the traffic to Contorion's promotional landing page. This had a significant impact on the overall funnel, improving their conversion rate (CR) during promotional periods by >5%.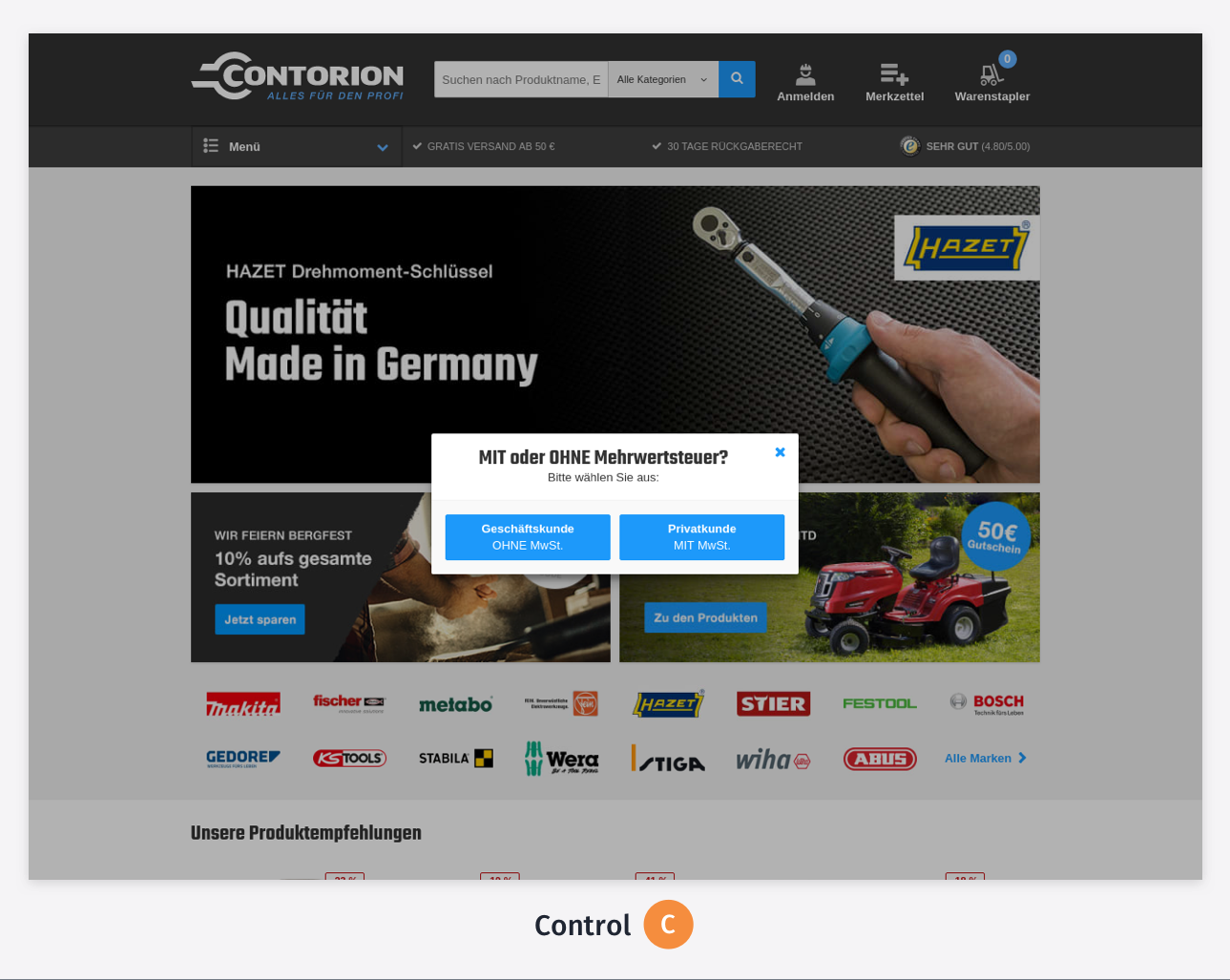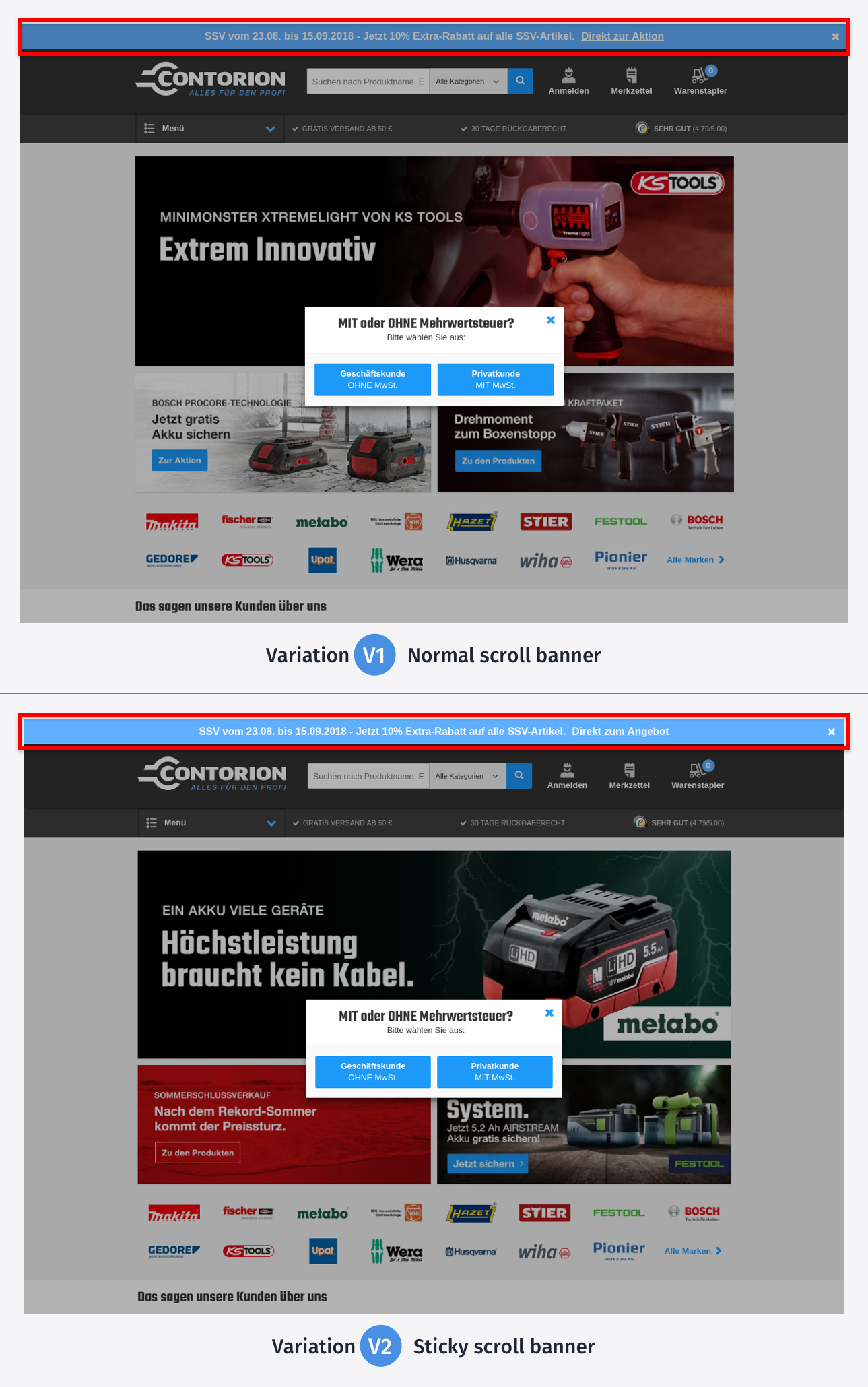 Test 2 – Product Details Page (PDP) Width Adjustment & Recommendation Placement 
Observation: Through VWO Insights' session recordings, the team learned that some of their trust elements(reviews, etc) were more distracting than beneficial to the overall user experience.
Hypothesis: Removing trust elements across the website and using the space to increase the size of product information while pulling product recommendations higher up on the product detail pages will improve the add-to-cart click rate and recommendation click rate.
Implementation: The team ran a Split URL test using VWO to compare the conversion of the existing design with the new design of the PDP
– Control: The regular PDP at the time was displayed.
– Variation: Trust elements below the buy box were removed, space was filled by stretching the product information and pulling the recommendations higher up on the page.
Results: The add-to-cart click rate increased by 2.4%, the recommendation click rate by a whopping 60%. The impact on the overall CR was clearly visible.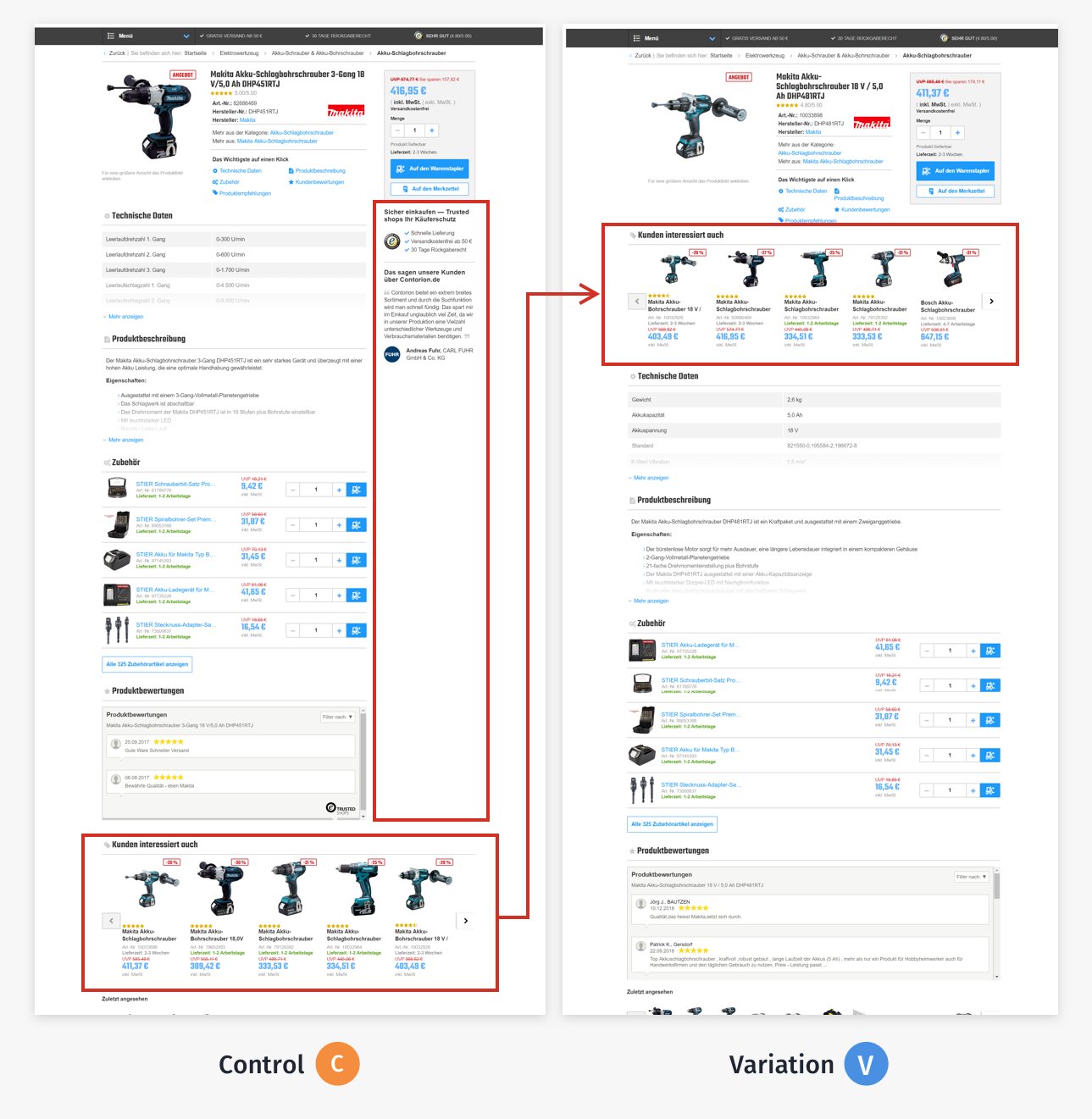 Test 3 – Streamlined Search Result Page Product Tiles
Rationale: VWO Insights helped the team notice that the click rates of add-to-cart and quantity elements on Search Result and Category Pages were very low, users preferred to visit the PDPs before making a purchase decision.
Hypothesis: Removing various purchase-related elements like so and so from the search result and category pages would increase the CTR to PDPs
Implementation:
– Control: The Search Result and Category Pages contained all purchase-related elements.
– Variation: The team removed all purchase-related elements from the Search Result Pages, only leaving the product images, titles, and prices.
Results: The click-through rate (from the search results page to the product detail page) increased by 2.3%. Thanks to the segmentation options in VWO, the team at Contorion was able to determine that the uplift on mobile devices (3.3%) was even higher than on Desktop devices (1.84%).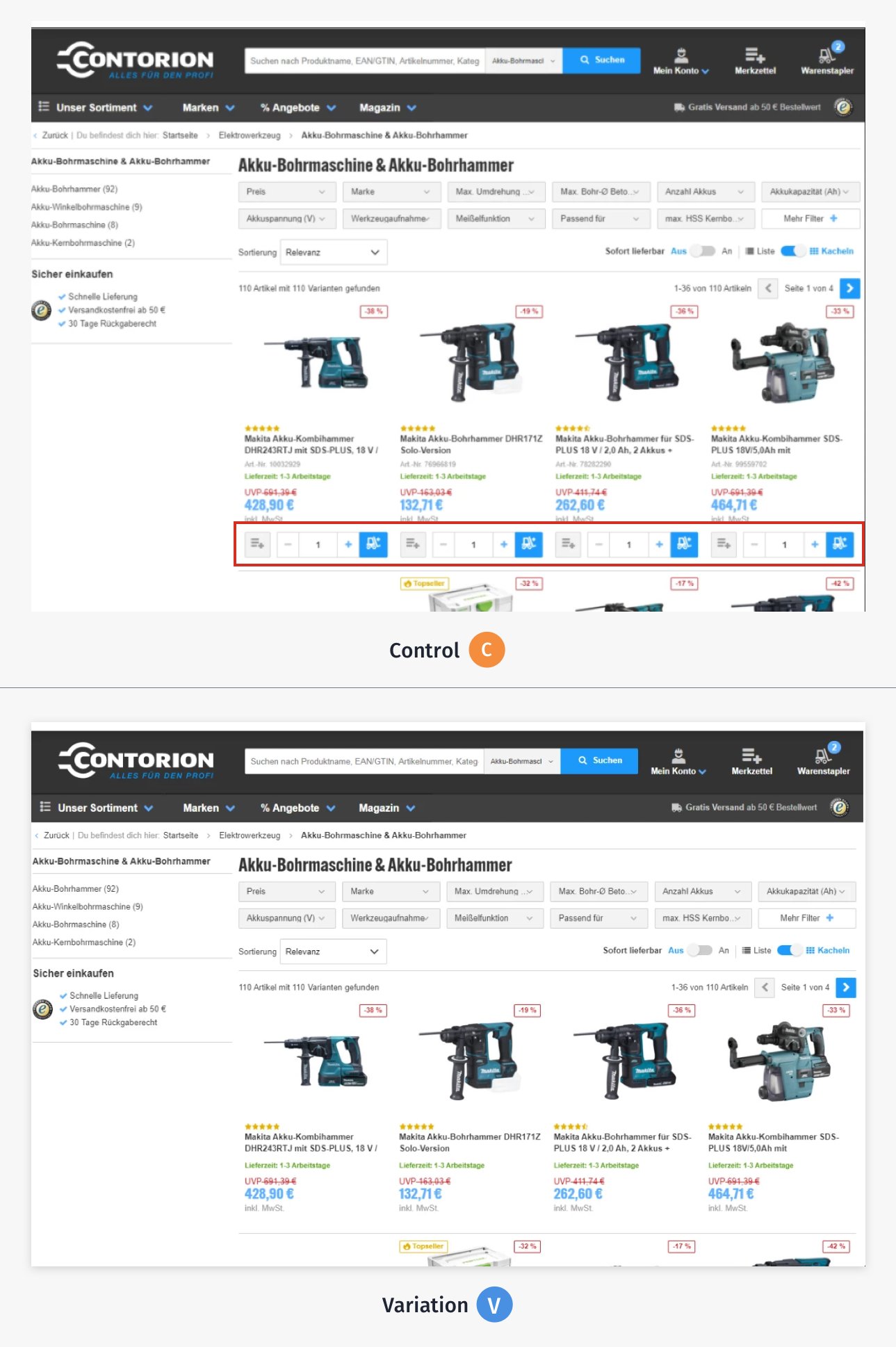 Conclusion
The conversion rate optimization program at Contorion has been reaching new heights with VWO at its side. Now the aim is to not only do quantitative testing but also go full throttle on qualitative and far more exploratory testing, powered by VWO.
Marc and the team have often toyed with the idea of building an in-house experimentation platform. But with the success of Testing Circle, he feels it's easier to build a culture of experimentation in an organization when you have a specialized third-party platform such as VWO. Start your free trial with VWO A/B testing to know more.
What's next for Contorion and VWO
Going forward, the focus for Contorion is to increase the velocity of testing and incorporate new elements in their already robust arsenal of experimentation. With plans of expanding to more territories and encountering an even more diverse customer base, VWO would be at the helm of Contorion's continuous efforts to experiment and build their own best practices rather than just rely on secondary research.

Experiment goals
Increase traffic on landing pages, Increase CTR of add-to-cart CTA
Impact
5% increase in Conversion
Explore Our Other Success Stories
Start and scale your A/B testing with VWO