Push Notifications Tool: Which One You Should Opt for to Engage Your Subscribers
Push notifications are nothing but cordial attention seekers that drive meaningful engagement from your subscribers, leading to higher conversions.
There are plenty of push notification tools in the market for both—web and app. However, selecting one out of a myriad for your specific CRO roadmap is a tricky yet crucial step. It depends on many factors, such as your use case, the kind of push notifications you need to send, etc.
We have discussed some of these factors in detail in the following sections.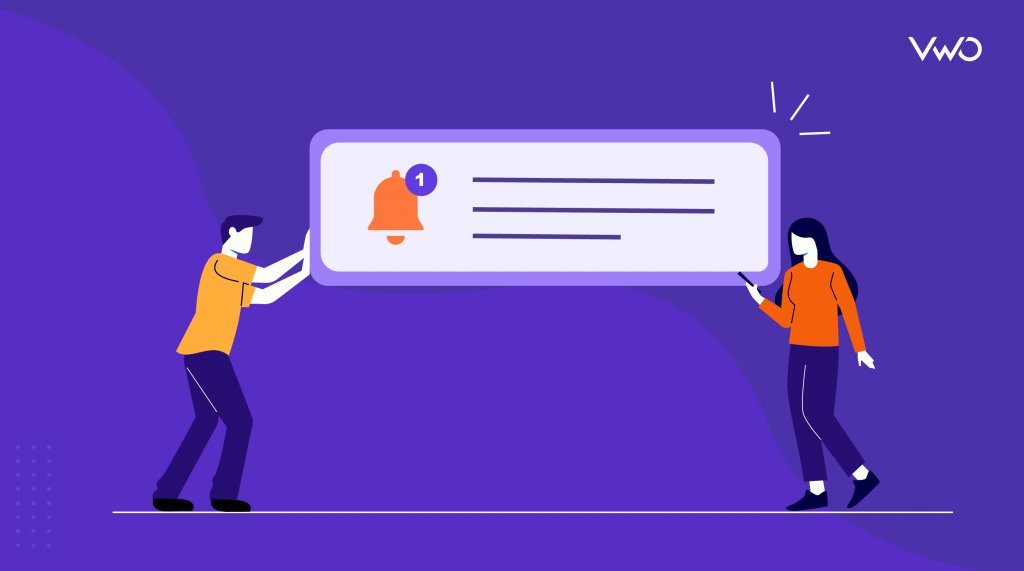 How to choose the right tool?
An ideal push notification tool primarily ensures that your message is directly delivered on your audience's device. For example, you must know that if your audience is a cross-device user (like the majority of us), they have opted-in on every device so that your message doesn't end up having a fate similar to that of a promotional email that gets buried forever in the spam folder of your mailbox.
It is a vast landscape no doubt, and therefore we've curated important considerations that you must take into account, before zeroing in on the right tool for your business.
1. Identify your use case:
What is that you want to achieve using a push notification tool? Your use case could range from gauging behavioral attributes of your audience, their purchase history, location, to alerting them for their bank transactions, etc. You can create triggers as per your use case such as a trigger for spending a certain amount of time on a landing page, creating an account, abandoning cart, etc., for your eCommerce site users, who've opted-in.
Here is a real-life example of Ubisoft, which is a leading creator, publisher, and distributor of interactive entertainment and services, with a rich portfolio of world-renowned brands in gaming. Ubisoft's research showed that the primary reason people visited their website was to find more information about particular games offered by the company.
This is when they realized that they needed to find smarter and faster ways to give quicker updates about various games to its subscribers. Using VWO Engage, Ubisoft websites get an average click rate of 17%. This is a big deal compared to the average click rate of most emails, which is between 2 to 4%.
2. Tool preference:
With a use case in place, it's easier to pick the push type among mechanical and behavioral tools. Mechanical push notifications are list-based, event-triggered, and are immediate. For example, transactional messages that banks send out to you are mechanical ones. Behavioral push notifications are personalized messages that are based on your past activity on a website.
For instance, a cart abandonment event on an eCommerce website that keeps nudging you for making a purchase.
3. Ease of use:
Push notifications are a popular channel for their ease of use. Ensure that the one you are considering is compatible with all the browsers that your target group uses. An ideal tool comes along with easy to install directions, supported by documentation to help you sail through the process seamlessly.
4. Audience segmentation:
You can target your message effectively using audience segmentation. Pick a tool that offers customized segmentation, similar to the segmentation in email, such as, demographic, location, device, campaign activities like click-rate, and other behavioral triggers.
Impegio is Italy's largest and most comprehensive search engine to find jobs. They aggregate job listings from thousands of websites, including employment boards, recruitment firms, associations, and company career pages. They sensed that there is a need to increase user retention and drive user loyalty. By employing a combination of VWO Engage's audience segmentation feature, they were able to send relevant push messages based on a user's interest.
Impegio presently gets an average click rate of 15% from their push notifications, which is astounding if you compare it with the open rate for emails which is as low as 2-3%.
5. Actionable marketing analytics:
If you don't know how the recipients of your push message are engaging with your message, you are effectively taking a leap into the abyss of nothingness. You must ensure the tool you are picking is a guide to your campaigns—which one is performing well, which one needs to be optimized, which one needs to be discarded—you should have every decision backed by insights and data.
6. Testing push notifications:
Formulating high-performing push messages is a time-intensive process that needs a lot of care and iteration. If you are an experimentation greenhorn, there is software that offers all-in-one conversion growth, ranging from insights derived out of analytics to hypothesis creation, and running an A/B test. The process facilitates optimization of your web push notification message for better performance and ensures a holistic upliftment of your CRO efforts.
VWO Engage – a push notification tool that stands apart
With VWO Engage, you can choose your target audience, define entry and exit triggers, track your campaigns with in-depth reporting, and benefit from highly personalized interaction. Additionally, it offers segmentation based on various parameters such as geolocation, elements clicked, page visits, JavaScript/API cookie.
You can use VWO Engage to send rich push notifications with image, text, and CTAs, without being dependent on a developer or even a designer.
When clubbed with other VWO capabilities, VWO Engage can make your push messages more precise and effective. You may rapidly test a winning version of a push message for sending out to your subscribers or even test/analyze different landing pages for the same push notification. It offers a free trial without any limits, so you can try it right away.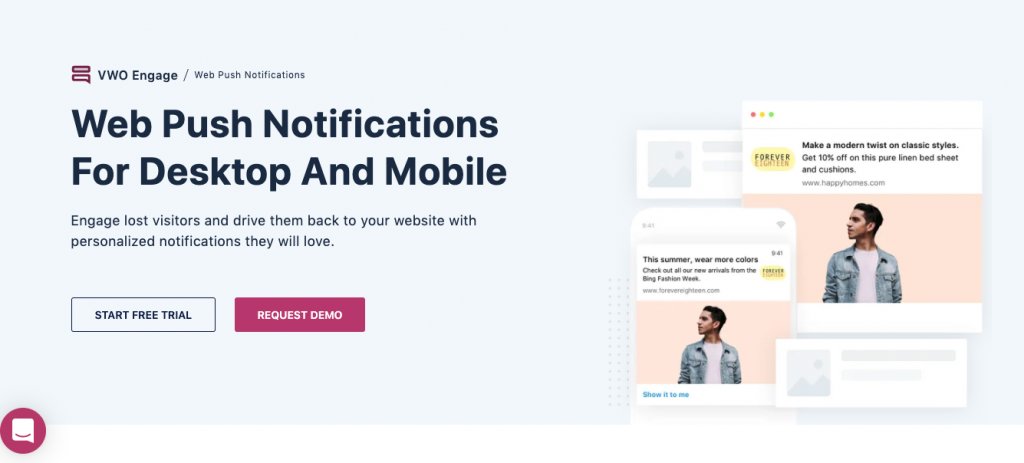 Other push notifications tools
Here is a list of other push notifications tools renowned in the market. We've included their functionality and pricing information for your consideration.
1. WebEngage
WebEngage is a mobile push notification tool that offers one-time, triggered, recurring and transactional push notifications for enhanced engagement and UX. You may add your message with CTAs and images yourself to launch a campaign, without seeking any help from a developer. It also allows you to boost your push notifications delivery. You get a free demo of WebEngage followed by monthly charges by requesting a quote.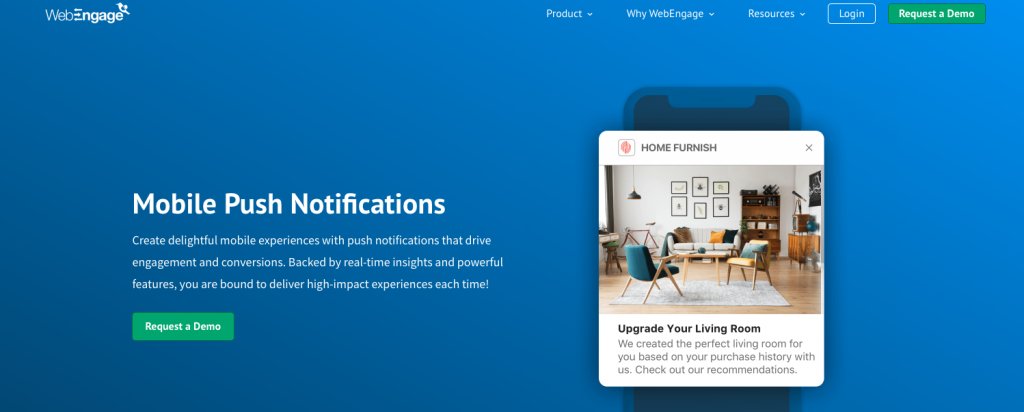 2. PushEngage
PushEngage is a web push notification tool that offers personalized web push notifications for your subscribers, using segmentation and autoresponders. They offer a free trial with a limited number of notifications, and offer unlimited messages with a monthly plan starting at USD 25.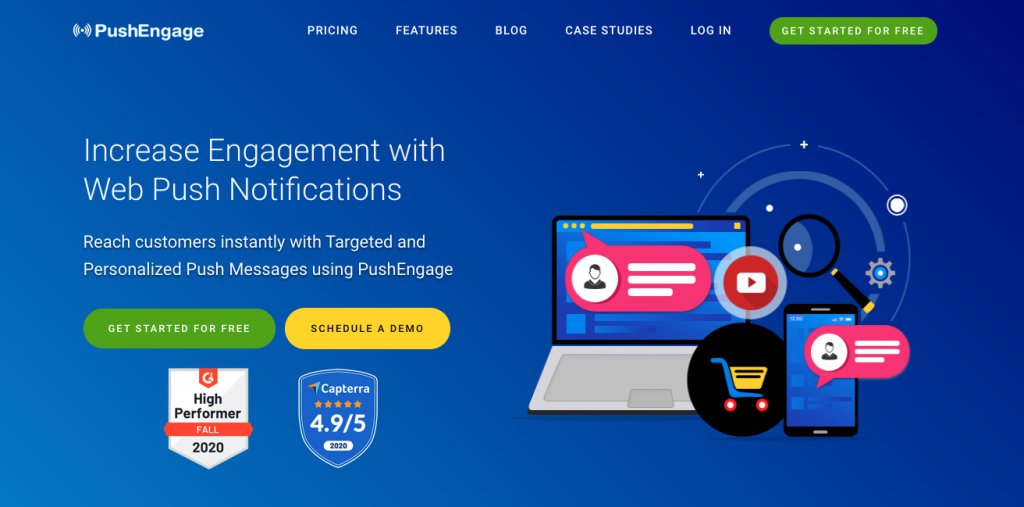 3. PushAlert
PushAlert is a web push notification tool to target users with real-time push messages for increased engagement and lead conversions. It also offers automated dynamic segmentation based on device, on-site behavior, location, etc. Their basic plan starts at a monthly USD 12 for 3000 subscribers.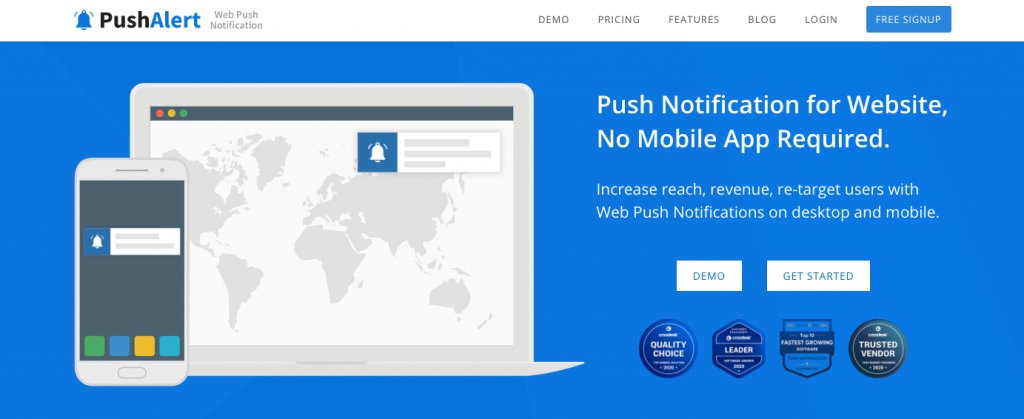 Conclusion
Choose a tool that best fits your requirements and budget. Think of this exercise similar to that of choosing a partner that understands your company's ever growing needs and helps you deliver and exceed its business objectives. But, do remember that the chosen tool doesn't guarantee a boost in your engagement unless you have invested yourself in understanding the fundamentals of effective messaging. Here are 3 tactical ways to craft effective notifications.
Besides this, monitoring your users' behavior, studying reports for insights, and optimizing for the best messages to engage and re-engage your users will lead you a long way!