3 Tactical Ways to Create Best Push Notifications
Engaging and re-engaging users on your website can be a daunting task. Sure, media channels like emails, social media platforms, and paid campaigns can do the needful, their resulting efforts are not promptly visible. This is where push notifications come in to play. They are not only easy to deploy but more effective than their counterparts. And, of course, they promise immediate results as well.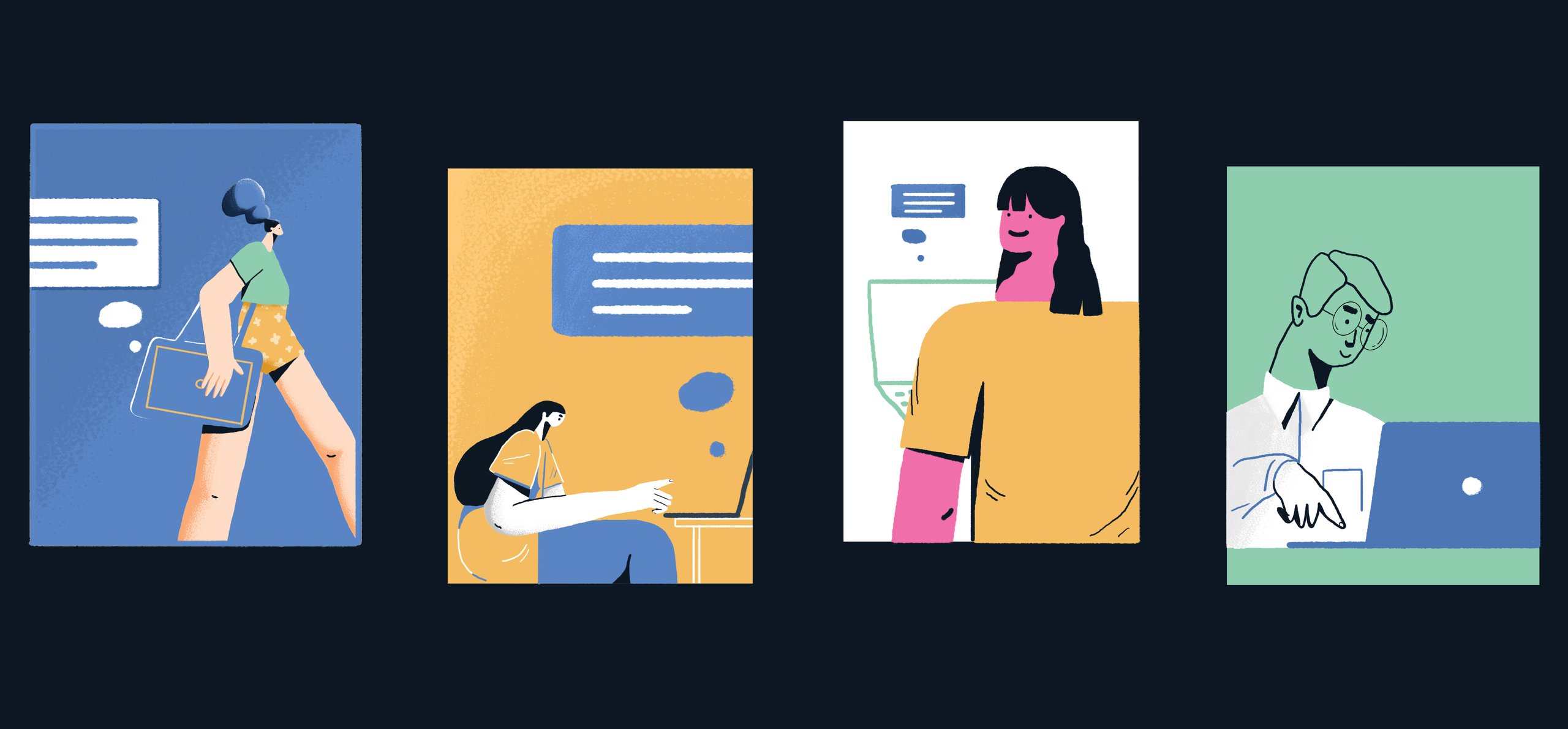 In this post, we'll dive deep into the ocean of best push notifications and learn the art and science of creating simple, effective, and engaging push messages to communicate with your users and increase subscriber base. Let's get started!
The Magic of Power Words in Push Notifications
Words may just be alphabets put together, yet they have such an immense impact. They are capable of evoking emotions and expressing your thoughts in the most magical way. But, only when you know how to use them in the right manner. This is where power words come into play.
Power words are words that have the prowess to leave a lasting impact on the mind of the readers, both emotionally or psychologically. They aren't inherently different or more special than regular words but are more effective than their counterparts. They work incredibly well to prompt action and give you the desired results. The same applies in the case of push notifications.
Push notifications have word boundations. Meaning, their title cannot exceed a character limit of about 48 characters; copy content limits to 100 characters; and a call-to-action button. Here, power words help to create compelling copies while adhering to the character limit and prompt your web and app users to turn into subscribers.
To understand this better, let's break down everything into 5 categories on the following basis:
Urgency: Use power words that create a sense of urgency. In this case, words like important, instantly, reminder, tick-tock, today, wait, fast, immediately, alert, breaking, quickly, etc. can encourage immediate actions.
Value: It's all about using the right words to add value to your content. For instance, power words like – offer, buy, free, deal, discount, save, sale, money, etc. can be used to add value and convince your readers.
Exclusivity: People love being pampered. If they feel like they are being treated specially, they are more likely to click on the notification and subscribe to your services. Words like invitation, limited, member, exclusively, especially for you, pass, reward, gift, and more help achieve the same.
Emotions: Inducing emotions in your content can do wonders. There are so many words that can single-handedly make you feel different about a sentence. For example, words like Imagine, Believe, Dream, Improve, Love, Happy, Indulge, Wish, Avoid, Warning, Epic, etc. could kindle emotions.
Personalization: We live in an age of hyper-personalization. Using words to promote personalized messaging, like you, we, our, us, I, etc. or address readers by their names can be helpful too.
But, don't go overboard with stuffing power words in your content. They may just ruin the experience of your readers. Understand the intent and draft content that's crisp, apt, and easy to comprehend.

Also, try to figure out how different types of push notification tools can help you with this process of creating the best version of your push notification.
Increase Engagement With Emojis In Push Notifications
After the emoji with "smiling face and tears of joy" was selected as the Oxford Dictionary Word of the Year 2015, it was just a matter of time before marketers figured out a way to use these digital icons to their advantage – to communicate with the millennials.
Arguably, emojis have proven to be a powerful weapon in the marketing arsenal, especially when it comes to mobile marketing platforms – portraying your brand as a fun and approachable one, and in turn helping the brands gain more leads. Let's explore the benefits of using emojis in push notifications to increase user engagement.
They Make communication Easier
The world is moving to a faster and easier form of communication. And emojis have already been found to be the fastest-growing language in Britain. With a very large number of them being sent everyday, there is no doubt that emojis have indeed become a regular way of expressing emotions and words, without having to give an elaborate description. This helps in communicating and marketing push notification campaigns effectively.
Example: "The best places to 🏂 this winter." Here, the message is easily understood. Emojis make communication smooth and fun.
1. They Evoke Emotions
Scientists have discovered that when a person looks at an emoji, some parts of their brains get activated and prompt a feel-good factor as compared to when they look at a real human face. Meaning, emojis typically have a greater impact on the minds of the viewers as they help to add a human touch to the overall conversation. As a marketer, you can use emoji push notification services to your advantage. Use them wisely to not only make your messages fun and quirky, but also built a meaningful rapport with your subscribers.
Example: When you see this notification, you are bound to crave pizza and donuts, and end up clicking on the notification.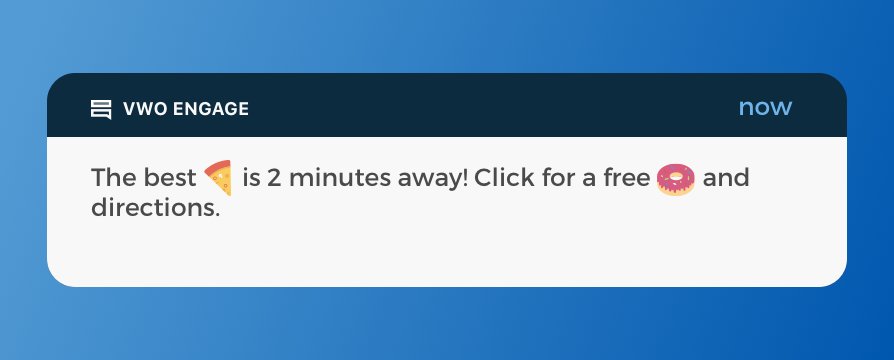 2. Increase Open Rates and Conversions
A vast amount of research has been done on emojis, and a majority of them found that using emojis in push notifications and emails can result in as much as a 45% increase in open rates. One reason behind this could be that (and as stated above) they add a positive vibe to the message. Moreover, emojis also help reduce the impact of negative messages and improve conversion rate.
3. Real-time Engagement with Customers
Push notifications are a new and trending channel of communication. They are attention-grabbing and can be used to convey your message in the real-time. When you combine them with emojis, a language spoken by 92% of the online users, you will see an increase in your user engagement and opt-in rates.
Example: "Stand a chance to 🏆🛫 tickets. Enter the contest now." Here, you can see that the message is clearly understood and that your users are, therefore, more likely to click on the CTA. It not only saves a few important microseconds to read the notification but also make them look cool and quirky.
4. Express More
All good things in life come with limitations, including the character count for push notifications. To fit in content that's meaningful and effective, within 40-120 characters, maybe hard sometimes. But, when adding emojis to your copy, you can express things better. Simultaneously, you can cut down on characters. Take the example of a weather notification below.
Remember, emojis serve as a powerful communication tool when used in the most relevant manner. Add them wherever suitable, and don't overuse them. You may just end up annoying your user database.
The Psychology of Visuals in Push Notifications
They say, "A picture speaks a thousand words." Indeed, it does! Precisely the reason why, every channel on the internet, the media apps especially, are heavily investing in this domain. As it happens, the internet has seen an increase of 9900% in the use of visual information since 2007, in the form of images, infographics, videos, vines, gifs, etc. But, how to use these visuals to send push notifications which convert? Let's find out!
1. Enrich your Push Notifications with Attractive Visuals
Make your notifications more clickable by including thumbnails and big hero images. They not only allow you to control how your audience understands your message and your brand but help to provide more context to your communication.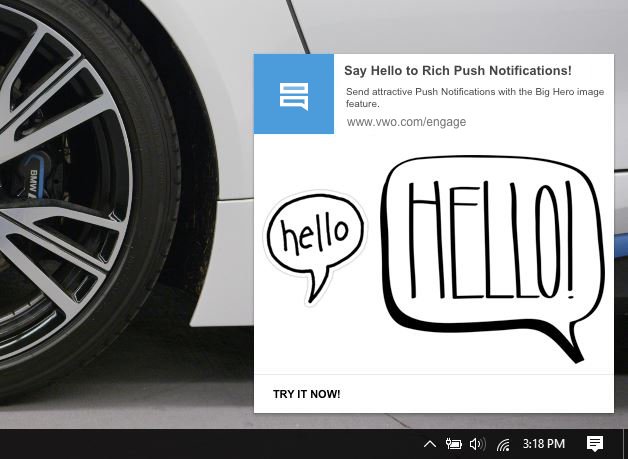 Available for Business and Enterprise users of VWO Engage, the big image feature allows you to add banners to your push notifications. This feature is currently supported by Chrome browser (version 56 onwards) for both Android and iOS. On the other hand, the thumbnail icon is available for everyone and is typically used to add a company logo.
By combining the power of big hero images and thumbnails, you can make your push notifications visually communicative. You can send attractive and explanatory push notifications to your users, experiment with graphics, understand the likes and dislikes of your subscribers, and so forth. Adding visuals to your push notifications can benefit you in several ways:
Tip: Not all notifications work well with visuals. You need to experiment first by sending notifications to a smaller audience segment and noting down their responses. Then, make the best push notification strategies accordingly.
2. Add Context and Increase Comprehension
In today's fast-paced world, you have to think twice before giving away anything. Meaning, nobody has the time or the patience to sit and read about your brand. They demand valuable content, with instant knowledge, while investing minimal efforts.
Here, images serve as the best way to convey your message quickly – create images to convey messages and prompt faster understanding easily.
Example: Have you ever noticed the road signs while driving? If they were a textual description, how long will it take for you to understand them?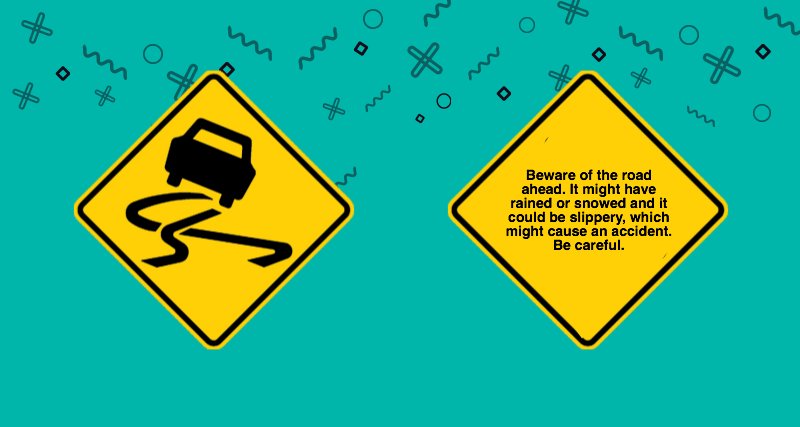 Through visuals, your audience can easily comprehend who you are, and what you are trying to convey in a single glance. Adding images to your push notifications will not only make them attractive, but will add context for the audience, increase comprehension, and the overall chances of triggering an emotion.
3. Build Emotional Connections
Did you know that your emotions compel you to take action, and they influence decision making in your everyday lives? Precisely the reason why emotions are inherent in marketing and are critical to building relationships with your audience. And since visuals prompt faster reactions as compared to words, they are far more engaging.
The visual memory is encoded in the medial temporal lobe of the brain, which is the same place where emotions are processed
What is a brand? It's merely a visual representation of a product in the customer's mind. And, brands have been associating products with emotions for a long time. Emotions drive humans, and thus, help you fuel your brand. In fact, even colors trigger emotions, and this is called Color psychology; but we shall talk about it later in this article. With visuals, the audience can associate the product with emotions, and therefore, make faster buying decisions.
4. Boost Retention
Now that it's clear that visuals affect humans on a cognitive as well as emotional level, it is safe to conclude that visuals also boost retention. When you combine textual information with a visual, it increases the possibility of remembering the said information.
Seeing a visual helps a person retain information and recreate it in their minds later. The online education industry is using more and more visuals to increase their students' retention. In fact, according to a study, after 3 days, a user retains only 10 to 20% of written or spoken information, as compared to retaining 65% of any visual information.
Since your audience can retain the communication that you are pushing out through push notifications, you can reinforce your message, and thereby encourage brand recall.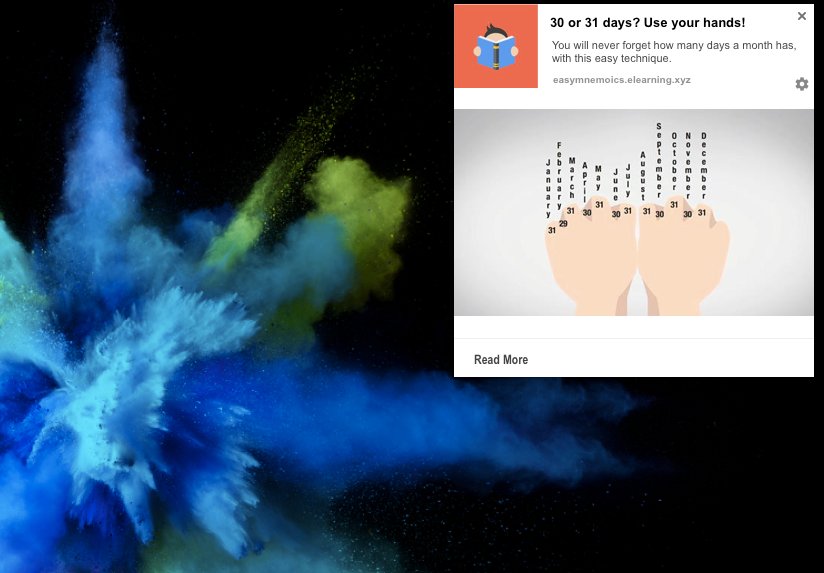 5. Influence Decision Making with Color Psychology
Attractive and relevant images can make a huge impact on your user's journey. But, to make your audience connect with you mentally, you need to know about color psychology as well. According to the psychology of color, colors can affect human cognitively and emotionally. And, it plays a huge part in the field of marketing and advertising as well.
Researchers found that 90% of the times snap judgments are made about products based on color alone. (Source)
In fact, it is paramount to think about your company logo. The color palette of your logo will also have a lasting impression of your brand. Every hue enkindles an emotion. You should use the colors which prompt emotion and make sure it resonates with your brand. With the thumbnail feature, you can send your logo with every push notification, and give them a reason to like your brand.
But how does it affect decision making exactly? Well, the virtual cortex of your brain not only interprets images but also has the power of decision making.
6. Inspire Brand Recall
When you combine content with relevant visuals, it increases brand recall. Push notification(s) is the perfect tool to achieve optimum brand recall. Put together a copy, your logo (as a thumbnail), with a smart and beautiful big hero image, and you can compel your users to remember you, consciously and subconsciously, with well-timed push notifications.
Keeping all of the above in mind, you can create an incredible visual content strategy for your push notifications. Go ahead, pick out the necessary design elements, create emotional and strong visuals, and connect with your users on a psychological level.
The human brain thinks in pictures. If you think of an apple, then you will see an image of an apple in your mind. It's simply how the brain works.