9 Best Push Notification Strategies For Marketing
Did you know, your subscriber count can inevitably enhance your brand's visibility in the online market and even drive more revenue? But, to get to that level and make your users to opt-in for push notifications, the road is often a rocky one with no clear direction sign-boards. So, how to go about it?
Here, in this post, we've compiled a list of smart opt-in push notification marketing strategies with ample examples to help you get more subscribers through push messages and increase subscriber count. Do remember to A/B test and analyze your strategy using qualitative and quantitative tools to see what's working best for your website and target audience.
For starters, cleverly time out your opt-in launches that compel visitors to stay on your site. Here's how you can do this!
A) Mapping a User's On-Site Activities and Other Actionables
To implement this smoothly, you can set unique actions to be taken before the opt-in appears. This is critical because your visitors need to realize the benefits of receiving your push notifications and the smooth experience they'll get from your platform. Here are a few instances where your visitors are likely to add to your conversion rate and turn into push notifications subscribers.
1. Viewed a Product: If you're running an e-commerce website, you can set the opt-in to trigger after a visitor has viewed an item or browsed through multiple items. This action demonstrates that the visitor finds value in the products your website is offering, and they would benefit from your notifications.
2. Read a Post or Article: A blog or a news website can pre-set the opt-ins to pop after a visitor reads an article or a post. Remember, a viewer is most likely to allow notifications to pop-up to receive updates on more such news or posts, once they've gone through your content.
3. Certain Session Count or Time Spent: You could automate the opt-ins to appear after a visitor has reached a certain session count or when they've spent a set amount of time on your website and/or mobile app. At this point, they would have an idea of what your site is about and would know the value your push notifications.
Tip: If your bounce rate is high, it's better to delay the opt-ins appearing to facilitate visitors to understand what your website is all about — experiment with setting it to 15 seconds. For best results we recommend you to experiment with different times to send notifications along with the ones mentioned above to clearly understand what works best.
B) Finding the Best Pages to Launch the Opt-ins
You'd want to analyze your buyer's or reader's journey to understand your best-performing pages that are likely to convert your website visitors into subscribers. These assortments of pages could have different push notification advertising styles when it comes to triggering the opt-ins.
Here are some use cases or push notification campaign ideas to help you understand better.
1. Order Tracking Emails or on Your Site: For an e-commerce website, your customers track their shipments either through emails, the site itself or mobile devices. Use this opportunity to ask them, either within the email or on the tracking pages, if they would like to receive your push notifications instead, to know the status of their shipments.
2. On the Checkout Page: Online retailers could also strategically set the opt-ins to trigger or give the option to enable push notifications when a customer is on the checkout page. Ensure you tell them that through push alerts they could track their order(s) quickly, get product recommendations, other relevant information, or when there's a sale going on. You might see more people subscribing to your notifications this way.
3. When a Product is Out of Stock or Sold Out: By asking for permission to send notifications when the particular product or similar products are back in stock, you could have more customers subscribe to your notifications. Amazon does this when it's about to put items like smartphone on sale.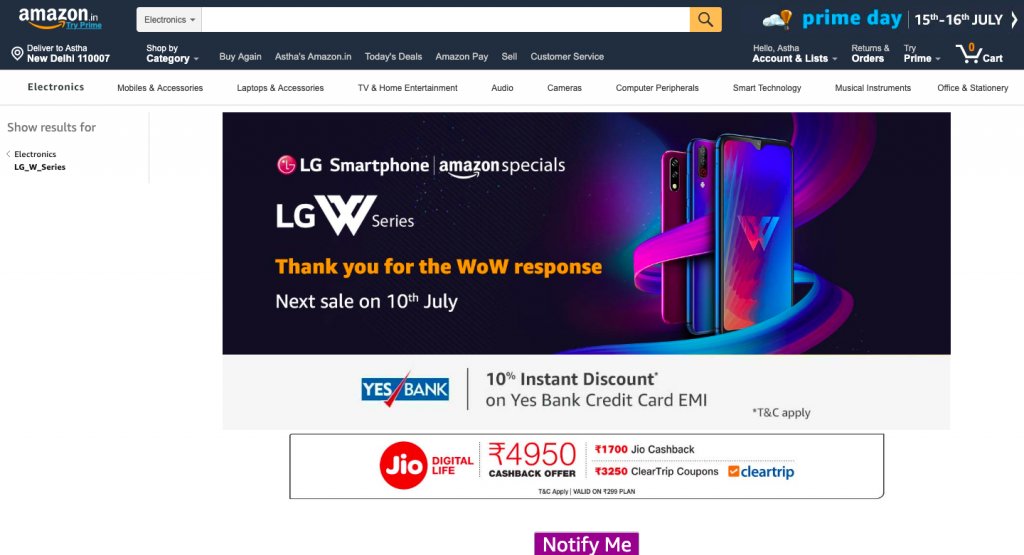 4. Breaking News Story: If you are a news or media website, have you been noticing hordes of incoming traffic on a particular piece of breaking news? Then use this to your advantage and set the opt-in permission to launch every time a new user spends a specific time on this story. Ask them if they would like to receive notifications to stay updated about trending or breaking news.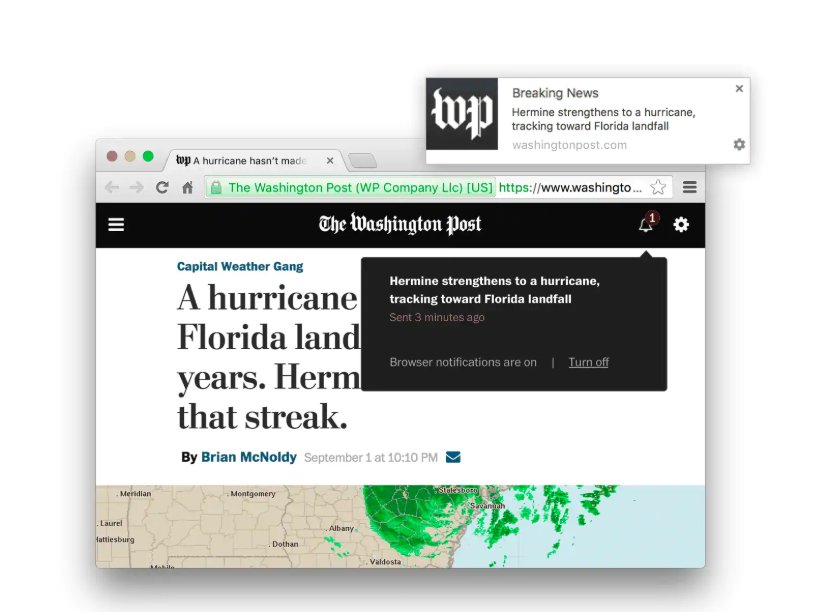 5. Chance to Win Flight Tickets or Other Goodies: On a travel blog, for instance, when there is a post on a competition or an opportunity for readers to grab special offers, like discounts flight tickets or other goodies, the odds are favorable to get more subscribers by setting the opt-in to trigger on such pages. Open rates in such cases are seen to be skyrocketing.
6. After Booking or Viewing a Flight or Hotel: If your website is a flight or hotel booking aggregator, then you could set the permission for notifications to appear after a customer has booked a flight or hotel or even browsed through a few of them. Offer them an incentive as to why they should enable notifications from you. For instance, tell them about your upcoming offers and ask them to avail exclusive discounts. EasyMyTrip.com is an excellent example to quote here!

After identifying the right timings in your push notification tool to send opt-ins, let us now understand how to frame them in a proper manner to make them more appealing and aid to your push marketing strategy.
C) Writing Succinct Permission Messages
The message in your opt-ins tells your visitors why they should subscribe to your push notifications. What this means is that the copy must clearly convey the benefits of receiving your push alerts. Here are a few things to keep in mind when composing an opt-in copy.
1. Target Audience
What kind of people are you targeting? It could be marketers, online shoppers or media professionals. Once you know who your target audience is and have the right user information, frame your message accordingly.
What kind of people are you targeting? It could be marketers, online shoppers or media professionals. Once you know who your target audience is and have the right user information, frame your message accordingly.
2. Benefits of Receiving Push Notifications: In the message copy, convey the benefits of your push notifications to the visitors. For example, online retailers, airline booking sites, hotel aggregators, or even publishers can mention, in their opt-in message, the updates on discounts and special offers that the subscribers can avail through your push notifications.
Remember to pay attention to the tone of your message. A funny or teasing tone is great. But, steer clear of anything that might be offensive or that may come on too strong.
3. Frequency: Build trust by being honest about the frequency of notifications you'll send. Make sure to tell them that you respect their privacy and that they can turn off notifications any time they want. This way, they'll be a lot more open to receiving your alerts.
4. Catchy Headline: Grab attention with a great headline. It should convince the visitors to read the permission message further. It could be funny, powerful, or creative push notifications – anything that would persuade your target audience to subscribe to your notifications.
D) Using Other Communication Channels to Encourage Subscriptions
Web push notifications are becoming omnipresent in the digital realm. And, a side effect of this is that a visitor may spontaneously refuse a website to send them notifications or worse, simply ignore it.
But, when you give the right context and build anticipation about what your web push notifications will offer, you'll see an increase in opt-in rates. Hence, we reckon that you use other channels to promote details of the benefits of subscribing to push notifications. The benefits may be quick updates, discounts, or the latest trends.
You may also add links or buttons within other communication channels for your subscribers to reach the opt-in landing page. Newsletters, social media, and email are a few channels you can use to divert traffic to this landing page.
E) Using the Right Buttons and Links for Opt-ins
There are strategic ways you can get more subscribers by using buttons and links, especially in your other channels of communication, like emails, newsletters, and reports. If you implement them wisely, you'll see a boost in your subscriber count. Take the example below to understand this clearly.
Example: If you have a SaaS website, you may be having e-books or reports for your website users. Use this to your advantage. When a visitor wants to download a copy, set the child window to appear, that asks for permission to send them push notifications. When the visitor clicks on "Allow," they get to download the report simultaneously AND become a subscriber.

Quick Tip: Once a person completes the actions from the example above, set another page to appear that asks them to schedule a demo with your sales team.
F) Adding Call-to-Action (CTA) Buttons on High Traffic Pages
Your customers/readers are likely to land on every other page on your website, be it product pages or category pages. The homepage is where the majority of your traffic is pulled to. Hence, it's recommended to have a plain header or footer opt-in on those pages.
Example: If you have an online retail website, tempt your visitors to subscribe to your push notifications by offering discounts, new category news, product updates, or when limited edition products are back in stock. This works particularly well for your first-time customers.
Quick Tip: Ensure you place your CTAs on the top of your homepage, to give the best visibility. But remember to set it in a way that doesn't cause the page to look messy or cramped.
A/B test these things specifically:
The positioning of your CTA button.
Color of your CTA button. It can make a huge difference.
G) Mastering the Exit Intent: Wait! Check This Out Before You Leave
You've worked hard to bring visitors to your website. But over 90% of them exit without performing a desired task, like subscribing or buying something. This means that they have not engaged with your website sufficiently. This, in turn, is a lost opportunity. But, when you apply an exit intent strategy and how engaging push notifications, you'll see more subscriptions and less bounce rate. Let's explore this further!
Exit-intent technology identifies the perfect moment when a visitor is about to leave your website and launches a pop-up. You can set the pop-up to contain a discount, voucher, or an enticing offer, exclusive to new subscribers.
Example: An e-commerce website may use an exit intent pop-up by offering personalized recommendations with an option to sign up. This can be combined with discounts on similar products the visitor browsed. This not only cross-sells or upsells your products but also sparks a genuine interest in your website, gives you higher online visibility and encourages the visitor to sign up for your push notifications.
Quick Tip: Sync your exit intent pop-up color with the page it launches on. Do this while ensuring that the copy in it is clear, short, and interesting. If the exit intent is about downloading an ebook or a report, then ensure that the content of the download file is informative and relevant. Lastly, A/B test various combinations of elements like color, copy, and incentive to identify which combo is giving you a unicorn of an output.
H) Making an Offer They Can't Refuse
Offering an incentive has been a proven and ethical way of having visitors convert to subscribers. Incentives not only convince people to sign up but even stay engaged with your platform.
Example: Offer incentives like free ebooks, reports, podcasts, webinar invites, exclusive discounts, and other lucrative giveaways. E-commerce platforms can offer coupons, discounts, daily deals, or a chance to win vouchers. Airline platforms may tell visitors in their opt-in message that through push notifications, they can stay updated on flight timings, sale tickets, or new destinations added to the airline list.
Quick Tip: Even after a visitor becomes your push notification subscriber, focus on offering incentives that keep them subscribed to your platform, and stay engaged.
I) Sending Welcome Messages: Help them Remember You
The last step after a visitor converts to a subscriber is to give them a rich onboarding experience with a welcome message. The message can be automated to trigger right after a visitor signs up for your push notifications. The message can be about educating the new subscriber on how to navigate about your platform, a highlight to a specific feature or simply a personalized message. This is a great way to help your new subscribers enjoy a seamless experience and for your brand to engage with a new customer aboard.
In the end, it's crucial to understand that segmenting your subscribers and customers into buckets based on their on-site activities or the messages your opt-in permission contains, is essential.
Your visitors, as well as customers, expect specific notifications to decide whether or not they'd want to subscribe to your notification services. But once you take care of all the essential things and walk on the path, as shown above, you'll see your churn rate go down and user base upscale at an exponential rate.
FAQs on Push Notification Marketing
How do you write a good push notification?
For writing a good push notifiction, create compelling content that has a clear and crisp message. A good push notification should use the principle of scarcity to entice visitors to click on the notification.
How often should you send push notifications?
The frequency of sending push notifications will vary from case-to-case and industry-to-industry, which is why you need to be more selective with what messages you are sending via push notifications.