3 Ways To Drive Visitors To Your Latest Blog Post
This is a guest post by Content Marketing and SEO Expert, Bill Widmer.
Build it and they will come.
A cliche… that's not true. At least, not in the world of content marketing.
If you want to drive thousands of visitors to your blog posts, you can't just rely on creating amazing content. That's only one piece in the puzzle.
I know because I've tried it. I've written over a thousand blog posts in my 4+ years of content marketing, and they all have one thing in common:
No matter how good a post is, it never results in traffic unless I put just as much effort into promoting it as I did creating it.
To prove my efforts, I tried the methods I'm about to teach you on my travel blog, with an email list of 0, less than 100 social media followers, and no connections.
These three strategies got me 15,000 visitors, over 30 backlinks, and over 2,000 social shares in less than a month.

The best part about these strategies is that they work no matter which industry you're in, they bring consistent and continual traffic, and they don't require a huge following or a big email list.
All it takes is a little elbow grease and a system.
So, whether you're a content promotion pro or you're just starting out, this post will give you a step-by-step system you can follow for all your new blog content to ensure every post gets maximum reach.
3 Steps to Promote Your Latest Blog Post
I'll start with a quick overview of everything we're going to cover, then we'll dive in.
The three steps include:
1) Using cold email outreach to build relationships, backlinks, and shares
2) Maximizing social media for thousands of extra visitors
3) Paying to win: Where your money makes the biggest impact
At the end of this post, I'll also include a bonus section on what to do with your newfound traffic. So stick around!
Let's get started.
Step 1: Use cold email outreach for pre- and post-publish promotion
Cold email outreach is the number one best content promotion strategy. It's always responsible for the vast majority of my shares and backlinks.
But what do I mean by "pre- and post-publish"?
I'm talking about promoting your article before and after it goes live. Email can do both.
Let me explain:
When writing an article, it's success is often determined before you even put any words down. The key elements to an article's success are the topic, the influencers involved, the overall quality, and the promotion.
The topic should be determined off what's proven to work. You can find that out using tools like BuzzSumo (to see what's socially popular), Ahrefs (to see what often gets linked to), and even Twitter (to see what people are talking about and who's involved).
It's also important that you create topics based off what your industry's influencers care about. You can find that out by visiting their websites and seeing what they link to and share often.
Next up, quality means how valuable the article is – it should be actionable, easy to digest, well-formatted, and include great imagery and designs[1]. But this post isn't about all that, so I'll leave off there – let's move on.
How to do email outreach promotion:
Using cold email outreach for promotion starts with finding a list of influencers you want to reach out to.
You can accomplish this using an influencer discovery tool[2], by searching for your topic on BuzzSumo, or by simply Googling "Top [keyword] blogs/influencers".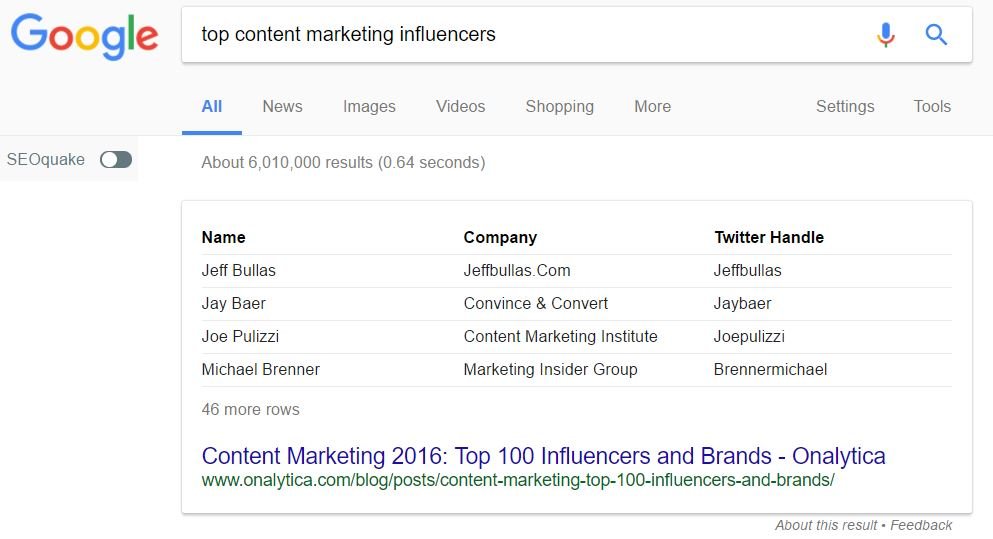 Create a spreadsheet to keep track of their name, email, and website URL. This will all come in handy when you begin your outreach.
If you haven't written a post yet, do this:
Reach out to the influencers and ask for one of the following, depending on the type of article you're writing:
– Quotes to include in your post
– Answers to a question for an expert roundup
– Feedback when the post goes live
If you asked for a quote or an answer, be sure to include their response in your article. For maximum effectiveness, include an image of them and a link to their website. The better you make them look, the greater the chance they'll share the post.
Depending on which thing you asked for, follow up when the post goes live to let them know you're live or to get their feedback.
If you're promoting a piece you've already published, do this:
While it may not be quite as effective as pre-promotion, it still works – Simply write them an email with the subject "New content on [topic]".
In the body, tell them how you found them and why you love their work (with specific takeaways to show you're being genuine). Finally, tell them you wrote a post on XYZ topic that they care about, and that you'd love to get their feedback. But don't include the URL – ask if it's OK to send it to them first. That way, you're getting permission and don't come across as pushy.
Here's an example, using a template I got from Brian Dean[3].

You can read more about pre- and post-promotion email tactics, including templates to use and what to say, in this guide.
Pro Tip: Want to make email outreach super easy? Use MailShake to automatically send dozens, or even hundreds, of outreach emails. You can track the open rate, see who replied, and even respond, all from within the platform. It's easy to set up and really inexpensive.
Step 2: Use social media the right way to drive thousands of raving fans
Social media is always talked about as a way to market your business. Facebook alone has nearly 2 billion active accounts. It's one of the best marketing channels for your business.
And yet, very few people actually do it right, despite all the good advice out there. They're still using it as a push marketing channel, rather than for pull marketing.
Well I've got news for you- push marketing rarely works anymore.
It's expensive, inefficient, and downright annoying. No one wants to follow a Facebook page that's constantly pushing products and sales at them.
Instead, you want to pull people in. And you do that by getting involved with the community and by constantly providing value to your fans.
And to do that, there are a few simple and easy things you can do:
– Only post things that are clearly valuable. If you write high-quality blog posts, that makes this process easier.
– Get influencers involved in your posts, and tag them whenever you share them.
– Go further and tag some of your fans or followers who you know would enjoy the post. Ask them to tag their friends.
– Get involved in a cause – something bigger than yourself. For example, my RV lifestyle blog's bigger cause is helping other people find the freedom to do it themselves. I share that cause with the influencers and my followers, and they join it, often promoting my work without my even asking.
– Join relevant Facebook groups. Become a helpful member of their community by answering questions and participating. Once you've built their trust, share your post.
Yes, these things take time. But the results can be massive. Let me give you an example.
A post I recently wrote had 25 people share their stories of how and why they decided RV living was right for them. It was easy for me to turn around and ask those people to share the post and even link to it on their blog because they were emotionally invested in it – And sharing the post was part of our combined mission to make it easier for others to make the jump to live in an RV.
When I shared that post, I tagged all of the contributors in it. The post went viral – getting over 66 shares and reaching over 13,000 people, despite having fewer than 100 followers. (Note: I did do a little $5 ad spend to test it, but that only accounted for 1 share and 1,000 impressions.)
But Facebook isn't the only place to drive massive traffic. Pinterest was responsible for 4,628 out of the 15,000 site visits that month.

But here's the kicker…
I started that Pinterest page about a week into the month, with 0 followers and 0 boards! In just 3 weeks, I was able to use Pinterest to drive that many pins and clicks from scratch.
And you can too. How?
Easy – just follow the steps outlined in Side Hustle Nation's Pinterest traffic growth guide[4]. It's stupid easy, free, and fairly quick to set up.
Enough about social media and free methods. What if you have some marketing dollars to play with?
Step 3: Paid content promotion strategies actually worth your money
Let's be real:
Paid promotion is the fastest and easiest way to get more traffic to your website. You can get on the first page of Google or show up in people's newsfeeds without all the time-consuming work to get there.
And, if you can afford it, I recommend using paid promotion strategies alongside organic methods. That way, you get the best of both worlds – and they feed off one another.
There are tons of ways to spend your money to get eyeballs, but not all are created equal. Here are the two I recommend looking at:
1) Quuu Promote
2) Facebook ads
Let's quickly break each one down.
Quuu Promote
Quuu Promote[5] is one of the most efficient and affordable ways to get lots of social shares. I've used it on over a dozen articles now, and I've got some data to share: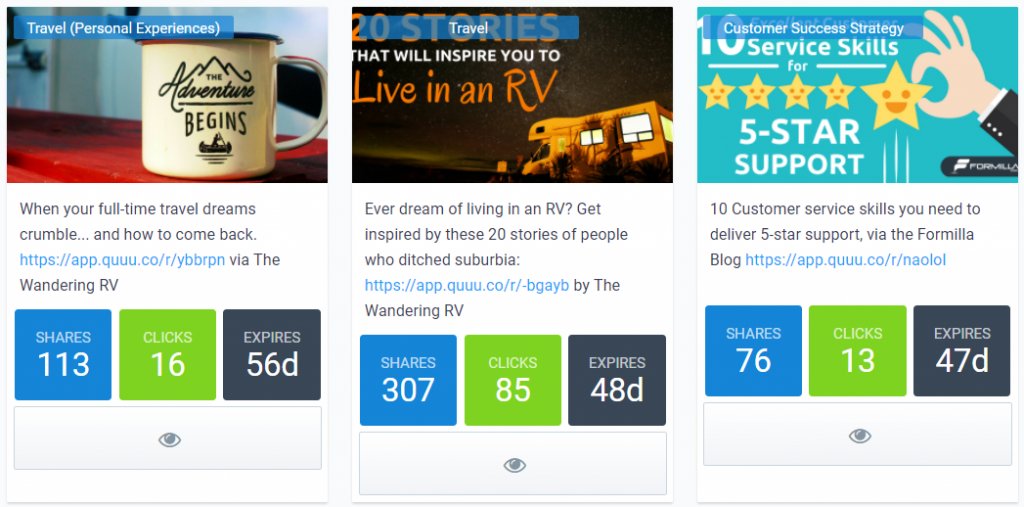 The article on the left only cost $20 to promote. In the 4 days since it went live (Quuu runs for 60 days), it's received 113 shares and 16 clicks. If that's any indication of future performance, we can expect to see at least 1,200 shares and 150 clicks (on the low end).
That's roughly $0.13 per click. Considering the average cost per click from Google is over $2, that's pretty damn good. Even if I'm wrong and you only get half those clicks, that's still just $0.26 per click.
BUT that's also not accounting for all the shares of the people who clicked – which drives up your share count, produces more clicks (which could lead to more shares) and so on.
(By the way, the higher the share count of an article, the easier it is to get backlinks and additional shares.)
TLDR: Use Quuu Promote. (Especially if you can get a nice deal on AppSumo, like their occasional promotion of $1,200 worth of credits for $39.)
Facebook Ads
Everyone and their brother is talking about Facebook ads these days. It's because they freaking work. They're affordable compared to traditional PPC, and the targeting is out of this world.
Plus, Facebook's pixel actually has some minor AI that learns who your best audience is. As your advertising pixel matures, it becomes more efficient and less expensive[6].
Why Facebook ads? Well, remember how I mentioned I ran a $5 ad test on a previous post? I did that for another post as well, with pretty promising results.
For $5 I got 1 share and 47 clicks. That's about $0.11 cost per click (CPC). The post I promoted led to affiliate links, which resulted in $11.47 in revenue. So all-in-all a $6.47 profit.
I know – nothing to write home about. But the point is I made money on the ad, which means I can scale it up almost indefinitely to grow my revenue (and I will, once I run a few more tests!).
But if you want something more impressive, check out this case study by State Bicycle. They were able to drive 12% of their total site traffic from Facebook, resulting in over $500k extra revenue.
So, how do you do it for yourself?
Check out Buffer's guide to Facebook ads[7]. They run you through every step and give lots of pointers.
Here are a few extra pointers of my own:
– Boost the posts that are already performing well organically. Putting ad dollars behind these posts results in a lower CPC and a higher reach. Plus, boosting the post seems to also boost its organic reach.
– Don't forget regular social media etiquette, like we discussed in step 2. Share (and boost) good content, tag people, and respond to comments.
– Write "tag a friend" in the post description to increase reach even further.
And that's all I have to say about that!
Pro Tip: If you want some help making your PPC efforts as effective as possible, check out KlientBoost's Facebook advertising services. The guys over there are awesome and can help you get the most out of every dollar you spend.
Bonus: What to do with your new traffic
Driving thousands of visitors to your send is great, but it doesn't mean anything if they leave and never come back. You need to find a way to keep them around.
Of course, you could always get them on your email list with a content upgrade or lead magnet. Email has long been a staple in online marketing.
However, while email isn't dead, it's certainly not getting the kind of engagement it used to. The average email click rate is hovering around 2–3%. Not great.
So what can you do instead to keep new visitors coming back?
Set up push notifications.
Push notifications have an interesting history. They started as a way for apps to update you on new alerts. They've quickly grown to become a major retention driver for blogs and websites of all kinds.
And get this: Roughly 52% of users enable segmented push notifications. That's huge!
Of course, that's for a segmented list – meaning they were sent certain notifications based on past interests they've shown. But even without segmentation, push notifications receive around a 15% conversion rate.
I've begun using push notifications, in combination with email, on my own site. I managed to get 48 sign ups to receive push notifications in the last two weeks, compared to just 28 who signed up for my email list.
I don't yet have stats for how well they work in comparison, but I can tell you one thing…
Not having push notifications is only hurting you. They're not invasive, and give the reader options to stay up to date with you. Plus, you can use them to increase sales.
Ready to add push to your site? Here are some guides to help you get the most from them:
Conclusion
Getting traffic to your blog posts is not easy…
Unless you have a step-by-step system to follow.
The three steps outlined in this guide will help you drive massive traffic to your site, even if you have no followers and no current traffic.
It doesn't matter if your site is brand spankin' new or as old as the internet – these strategies work like a charm every time. Find the influencers, find your fans, and engage. It really is that simple.
If you found this article helpful, please give it a share so we can help business owners across the world create and promote better content. And if you have any questions, drop a comment and I'll answer you personally.
Good luck!