Creating A Content Strategy for the Generation of Skimmers
You have a shorter attention span than a Goldfish!
You might have come across similar statements in the past. As per Statistic Brain, the average attention span has been declining every year. It has gone down from 12 seconds in 2000, to 8.25 seconds in 2015, and is apparently less than the attention span of a goldfish, which is 9 seconds. The new generation's attention span seems to be getting worse every year.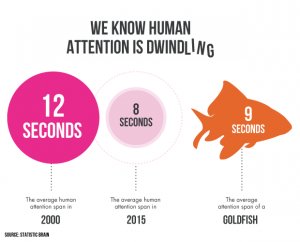 But, this 'fact' is not a fact at all. There is no plausible study on the internet, stating that a Goldfish has a 9-second attention span. Neither is there any universal definition of 'attention spans'. It's all a myth.
Think about it. How can it be true? Don't you watch hour long Game of Thrones episodes in one sitting? Don't you binge on television series all the time? We don't have an attention span of 8 seconds, and our focus is not worse than that of a goldfish. In fact, the current generation is getting better at consuming and processing information. Our focus is not diminishing; it is becoming more demanding.
How does your Brain react to Content?
Every time you read something that enlightens you or rewards you with any valuable information, your brain releases Dopamine.
Dopamine is a neurotransmitter that gets activated when something good happens unexpectedly. So, whenever you come across an article that has any new information, you get a hit of dopamine. If you decide to share the same on social media, then with every like, comment, share that you receive, you get a series of dopamine kicks.
But, since dopamine gets triggered due to a rewarding stimulus, your expectations increase. And every time you read content that doesn't add any value, the anticipation is met with disappointment, and your brain learns to reject the content. Since the writer created a bad impression, they lost a reader (you).
Dopamine codes a prediction error whenever a reward is better or worse than expected. Due to the overabundance of content available at our fingertips, humans are becoming very particular about their consumption. Precisely why we call today's generation – the skimmers.
Writing for a Generation that Skims
We are very selective about the content we read; about whether they are worth giving our attention to. If I come across a dull 2000 word article, I will bounce off within seconds (and you can continue comparing my focus to that of a goldfish). We are choosy about the people we follow, the blogs we subscribe, the books we invest time in, etc.
We live in a virtual world of information (the world wide web), and skim through hundreds of thousands of words to find valuable content. This is precisely why 'Listicles' are popular; because they are easier to scan through and are more comprehensive. So, the question is, how to create valuable content for the generation that scans through everything?
To know how to create the perfect content strategy, let's first classify content as Long-form Content and Short-form content.
What is Long-form Content?
For the sake of understanding, long-form content can be defined as content that is more than 1000 words. It includes in-depth content which gives the audience a lot of information and clarity, and is represented as blogs, white papers, ebooks, etc.
With this kind of content, you can delve deeper into relevant topics and build authority. By investing time in writing and researching, you establish your expertise, which creates a level of trust. Writing long-form content demonstrates your knowledge on the respective topic, and helps in building trust amongst readers.
It also performs much better in terms of Google rankings. However, the Google algorithm takes a lot of other things into consideration, for instance – time on site, bounce rate, etc. So, to get a better rank, you need to drive people to your page first, and this is where you can leverage short-form content.
What is Short-form Content?
In contrast, short-form content is one which is lesser than 1000 words. It is a snackable form of content, which is known to drive higher engagement. This can be achieved using short articles, tweets, Facebook posts, memes, infographics, push notifications, and more.
This kind of content barely requires putting in too much time, but the downside is that the reader also doesn't invest much. Although short-form content is ideal for driving traffic to your pages, the returns are short-term. It is the innate nature of short-form content to have a high turnover rate and a limited virtual life.
The average lifespan of a tweet is 18 minutes.
So, to keep the audience's attention, short-form content needs to be regularly produced. It might seem that it is not that important, but people are increasingly shifting to mobile devices for consuming information, and the tiny screens are not ideal for reading long-form content. Thus, short-form content is equally important in your content strategy.
Steps to create the perfect Content Strategy
You can't just throw content at your readers and expect them to subscribe. You can't just decide whether you should use Long-form Content, or Short-form Content, or both, without thinking of the objectives that you want to fulfil with the content. Here are 9 steps to the ideal content strategy.
STEP 1: ESTABLISH THE GOALS AND PRIORITIZE.
Before you start churning out words, you need to know why. What's the objective of your content strategy? There could be multiple goals, for instance – building trust, brand awareness, lead nurturing, growing your email subscribers, increasing retention rates, and more. Jot your goals on a piece of paper, to begin with.
Now, prioritize which objectives are more important to you than the others. You can't just work towards 10 goals at once. Your goals will help you create the blueprint for your strategy, and setting priorities will establish what sort of content is more important than the others in the long run.
STEP 2: KNOW YOUR AUDIENCE.
Describe the target audience which will be reading your content. For this, you need to create reader personas, which are avatars of your readers. Categorize your readers on the basis of their characteristics, and learn about their interests and requirements. See what they are searching for, and figure out whether they will even value the content you write.
For every reader persona, ask yourself questions like – what sort of content do they read? What channels do they use for consuming content? Would they want to share whatever you write? Try being as thorough about the persona as you can be.
STEP 3: LOOK INTO YOUR COMPETITOR'S CONTENT
You can't come up with new and creative ideas all by yourself, and know for sure that they will work for you. Make a list of all your competitors and look into the content that they are writing. Now, you have enough information to know what's working for them, and try to apply the same to your content strategy.
STEP 4: ANALYSE YOUR PREVIOUS CONTENT (IF ANY)
I would suggest that you use Google Analytics to keep a track on your content's performance. This way, you can find out which kind of content has worked the best for you, on the basis of important metrics, like pageviews. Now, you can try writing about topics that people are more interested in reading, or write for channels that people use more to read your content.
For example, Long-form content works for metrics like pageviews, average time on page, shares, etc. With this information, you can decide on the topics your audience prefers. Now, you can use short-form content to multiply your reach. You can use short-copy ads on facebook or google and acquire new visitors/readers. On the other hand, you can retain the existing users by updating them using push notifications, Facebook posts, tweets, etc.
STEP 5: CREATE A CHANNEL PLAN, AND DECIDE ON THE CONTENT TYPE.
Using your analysis and judgement, you need to decide which platform to use to tell the story. Now, you need to make a more elaborate plan on the objectives of each platform or channel. For Long-form content, you can create blog posts, ebooks, guides, case studies, product updates, reports, industry news etc., and post the same on medium, LinkedIn, etc. as it is. For Short-form content, you can create infographics, blog posts with less content, and more, and publish social posts to share your long-form content.
This particular step is also called 'creating a Content Marketing Strategy'. With this, you can make sure that your time and energy is focussed on reaching an objective, and prevent you from creating content which isn't relevant. You can concentrate on your primary goals.
SUGGESTION: Keep experimenting with new kinds of formats. The content trends are changing now and then. Don't stick to the same formats.
STEP 6: START WRITING
Now, you know everything that you need to know before writing. Consider all the information you collected, and you can get to the writing bit.
STEP 7: MAKE A CONTENT DISTRIBUTION PLAN
As the name suggests, a Content Distribution plan is a strategy of how you decide on distributing your content. The founder of 'Audience Bloom' – Jayson DeMers believed that 
The real value of content marketing is in the distribution channels.
If you post something and it gets lost in the deep web of the internet, does it even exist? What's the point of writing if it is never going to reach your audience? You need to spend a lot of time distributing your content through influencer marketing, email marketing, social media, paid distribution (Ads), guest blogging, and more. Without a content distribution plan, the most well-written and creative content may never be found.
STEP 8: RUN CONTENT AUDITS
It is necessary for you to know if your efforts are even paying off. You need to review your content efforts regularly, and figure out what you can do differently to do better.
STEP 9: AND REPEAT
Your strategy cannot be permanent. With the evolution of technology, our ways of consuming content are changing, and it's imperative for you to be up-to-date with the changes.
For an effective content strategy, you need to use both short-form and long-form content. Stop worrying about attention spans; worry about quality instead. Research your content well. With the perfect content plan, you can build a lasting relationship with your readers and the goldfish alike.