The Secret Weapon To Getting Higher Conversions: Triggered Push Notification Campaigns
A campaign aimed at everyone strikes a chord with no one.
Promotional content that is generic or worse, irrelevant to your subscribers, will only annoy them and they're likely to unsubscribe. And they'd call it spam. But, when they receive promotional communication that resonates, you'll see them intrigued.
The easiest way to send automated yet personalized notifications to reach the right people, at the right time, in the right place (their devices) is here and it's called Triggered Push Notification Campaigns. This VWO Engage feature is available for the Enterprise Plan Customers.
Deciphering Triggered Push Notification Campaigns
Triggered push notification campaigns is a must-use tool in every marketer's arsenal. This feature is the backbone upon which subscribers can be nudged to convert into (loyal) customers.
What makes this feature powerful is the level of sophistication that the elements contain. In a nutshell, you can set triggers and goals based on actions (like page visits) or URLs. You can also choose your audience based on their attributes like location, devices, etc.
The advanced settings in this feature let you automate tailor-made messages that are relevant, timely and encourage high conversions. Keep reading if you'd like to know more about the benefits of using triggered push notification campaigns.
Perks of implementing triggered push notification campaigns that unlock high conversions
1. Stage grand entries and elegant exits
"Strike when the iron is hot!"
No one wants to be looped into something they aren't looking for, or exited from something that interests them. Triggered push notification campaigns fill the gap by allowing entry and exit triggers or goals, based on conditions you've chosen. This means that when your subscribers perform a certain action or visit a certain page that fulfills a preset condition, they enter a certain campaign and start receiving your notifications. Upon completing the goals you've set (like making a purchase), they exit the campaign.
You can also create audience segments to whom these campaigns are sent based on subscriber properties such as the operating system a subscriber is using, the subscriber's location, the browser, etc. These things ensure minimum friction between what subscribers want and what you want them to do.

For Example: For your eCommerce platform, suppose you've set the following:
Custom Segment: Operating System is Equal to Mac OS and Location is Equal to United States
Entry Trigger – URL contains stilettos
Goal – Thank You page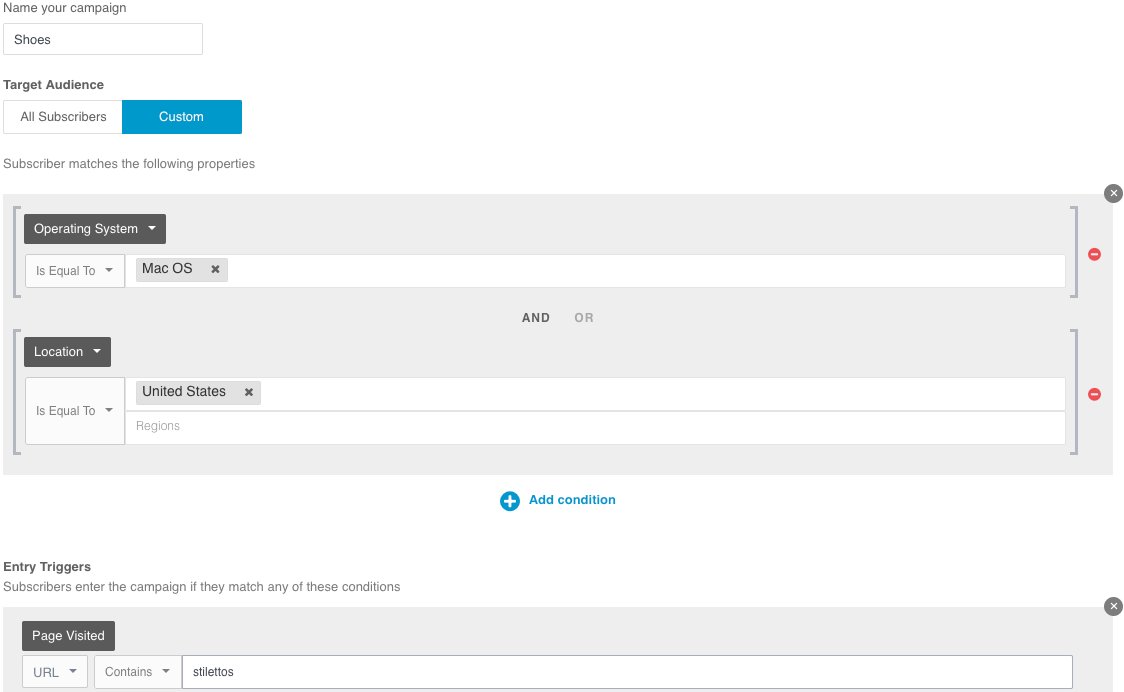 Now, when a subscriber visits your page and is on the URL that contains "stilettos" from their MAC OS devices in the United States enters this triggered push campaign and will start receiving a series of push notifications that you've crafted beforehand. This subscriber will receive your notifications till they finally hit the "Thank You" page, which means that your triggered campaign has successfully converted the subscriber into making a purchase from your portal.
2. Re-engage inactive subscribers to move ahead in the buyer's journey
Push notifications, as it is, are popular for grabbing attention immediately. Triggered push campaigns go a couple of notches above in nudging subscribers to hit the goal (conversion) that you've set. When they receive a series of well-timed and relevant notifications at specific intervals, they are highly re-engaged into making a purchase or performing an action that you want them to take. Here's an example of a scenario to help you understand better.
Example: Let's suppose, you've created a series of triggered notifications that are about hand-picked recommendations in the shoes category, the latest trend in shoes, wardrobe essentials, and discounts. This mix of interesting and relevant push notifications re-engages the subscribers in that segment, piquing their interest into buying shoes from you (given the helpful and interesting information they got from you).
Added benefit: Triggered campaigns can help you walk the extra mile and re-engage a converted customer into re-engaging further and buying more from you. How? Many people have a tendency to buy more related products. So if you've not set an exit trigger for the campaign, you can further fancy the subscriber's' interests with related products or evergreen styles.
3. Power up your brand value and win loyal customers
By responding to subscribers quickly, the brand is powering up its own value in the subscribers' eyes. When you respond to their interests (when they are searching for something on your website), by sending them relevant triggered push notifications, the brand value increases multifolds!
Triggered push notification campaigns form an essential part of wonderful customer service. How so? Customers feel heard and special because of the intuitive triggers you've set for the campaign.
The subscribers in triggered campaigns would be impressed when they start receiving swift recommendations or information about what they were searching for. This leads to a higher conversion rate. These campaigns automate your route to earning brand value brownie points and make your customers your greatest strength!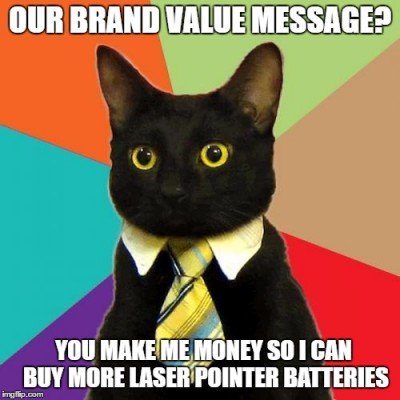 Don't be like this cat.
Image Template Source: Imgflip
Related:  8 Powerful Ideas To Boost Your eCommerce Marketing Strategy
4. Track metrics that actually matter
Triggered push campaigns unlock the potential of marketing automation to its fullest, while you can focus on tracking the campaign performance. While tracking your triggered push notification campaign's performance, it's important to track metrics that matter. Here are the 3 important metrics you should be tracking to understand the campaign performance. Accordingly, chart out strategies for your future campaigns.
Subscribers Entered – This tells you the number of subscribers that qualified the Entry Trigger you set. This matters because you'll get to know the number of subscribers interested in that particular product range, from a specific location. You can further leverage this information for this segment with related products, events or deals.
Subscribers Converted – These are the subscribers that completed the goal you set. This could have been a purchase or another action. This number tells you subscribers' interests, popularity of the product or service you were promoting and the elements of the notifications that worked well with it (like tone of the message copy, timing, frequency, etc.)
Conversion Rate – This metric tells you in percentage the subscribers that completed the goal and quantifies the success of your campaign
Triggered push notification campaigns provide you with a playground that has opportunities galore. You can now guide the movement of your subscribers along your conversion funnel, boosting engagement, re-engagement and more. With the right triggers in place, relevancy and the right timing, you're going to love what you see in the metrics and how your push notification marketing efforts are bearing fruit. If you like what you read, and want to receive more such posts, then subscribe to The Marketer's Last Mile.