B2B Customer Engagement – Strategies, Importance, and Ideas
Talking to customers when they have a problem is NOT customer engagement.
At least not in the current times.
Customer engagement, in its truest sense, is more about anticipating the needs of your customers and encouraging two-way interactions throughout their journey with you.
This is what people expect, especially in the B2B world. Today, companies are not looking for one-time transactions but are more interested in building long-lasting relationships that are not just healthy but also mutually beneficial.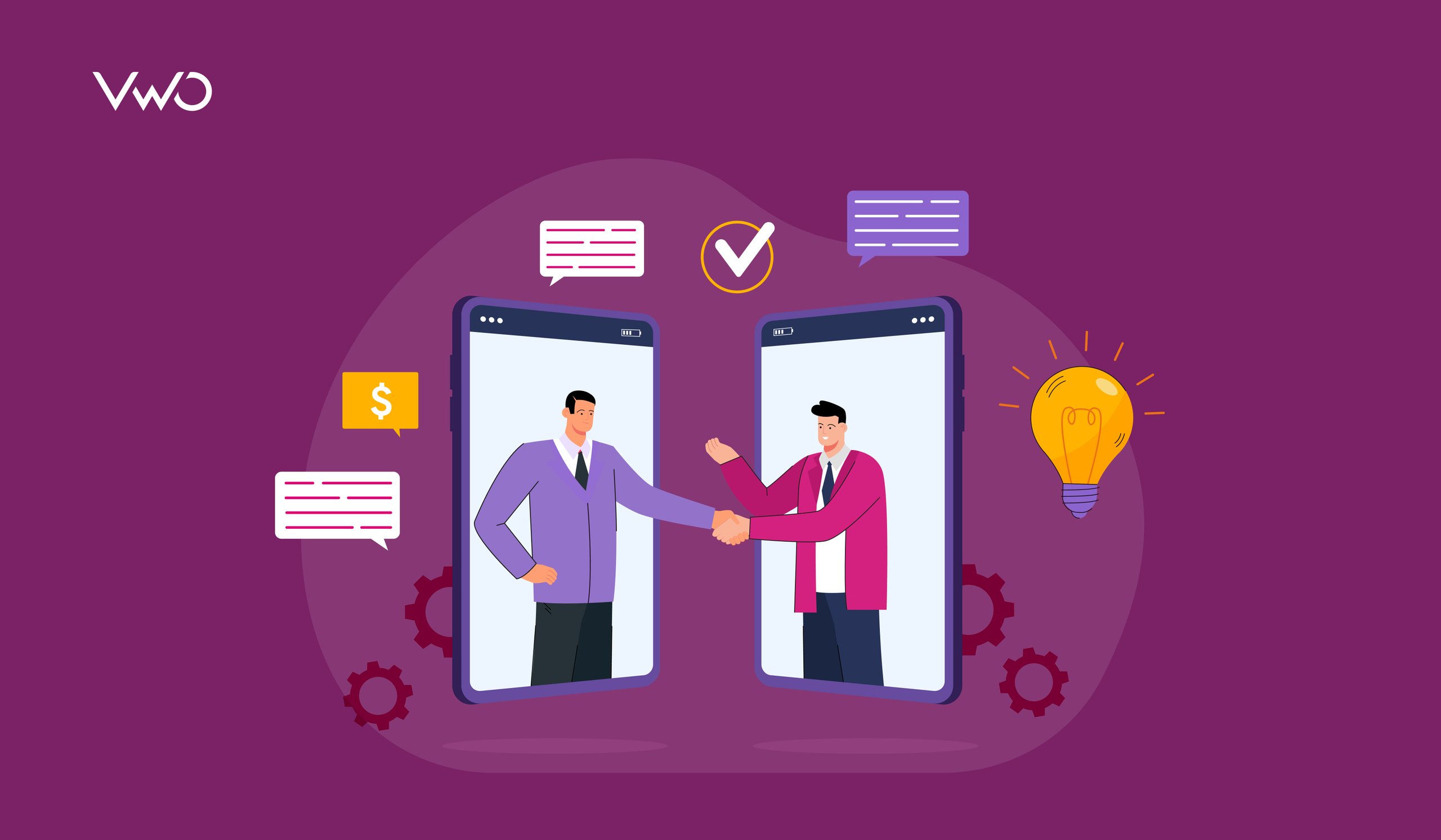 Why is customer engagement important to B2B companies?
Over the years, we've witnessed a tremendous shift in the way companies, especially the B2B ones, communicate with their audience.
But, despite all the changes and trends, customer engagement remains a crucial factor that can make or break a company's success.
In this section, we'll take a closer look at why customer engagement is important and why B2B companies need to focus on creating better customer engagement strategies.
Establish a stronger connection
Unlike most B2C transactions, where customer relationships are relatively short-lived, B2B relationships tend to be long-term and multi-dimensional.
Here, the idea of customer engagement is more about building strong, deeper connections with the customers.
Having a robust customer engagement process is key if you wish to build trust, loyalty, and a long-lasting relationship with the customer.
Boost customer retention
It's more cost-effective to keep existing clients than to acquire new customers.
Therefore, a B2B enterprise is always focused on customer retention. And one of the best ways to do this is through effective engagement and communication.
When you continue to engage and build meaningful interactions with customers, you make it easier for them to choose your brand over any competitor.
Understand customer needs
Active customer engagement gives you a chance to gain deeper insights into your customers' needs, pain points, and preferences.
Having this kind of information gives you a better understanding of your customers, thus enabling you to tailor your products or services to meet their specific requirements.
Moreover, implementing this approach also allows you to deliver value to your customers consistently.
Increase cross-sell or upsell opportunities
While long-term relationships and brand loyalty are key benefits of effective customer engagement, some B2B brands often ignore another crucial benefit of this marketing strategy – cross-selling and upselling their products.
When your customers feel engaged, they are more receptive to upselling and cross-selling efforts. This strengthens customer relationships and also improves overall customer retention.
By cross-selling or upselling, you not only increase revenue but also get an opportunity to demonstrate the true value of your offerings.
Maximize customer lifetime value (CLV)
A large majority of your customers are probably not looking for a single transaction. Instead, they want smart solutions that can help them and offer multiple benefits for a long time.
So, to ensure that their lifetime value to your organization increases steadily, you need to build engagement and interactions across multiple touchpoints.
Additionally, these customer engagement strategies also mean that your customers will most likely refer new customers and provide genuine feedback for your overall improvement.
Top 5 B2B customer engagement ideas
Now that we've understood the importance of B2B customer engagement, let's have a look at some innovative strategies that can set your business apart from the competition and help you create lasting relationships with your clients.
1. Personalized content and communication
Personalization is king in the B2B world. Tailoring your content and messaging to match the specific needs and preferences of your users is the best way to grab their attention and build stronger connections.
2. Interactive webinars and workshops
One of the most widely practiced customer engagement strategies is webinars and workshops. These events are a great way for brands to build a community and establish their presence among their target audience.
While webinars provide valuable insights, they also allow brands to interact with users and build strong customer relationships.
3. Seamless omnichannel experiences
Your B2B customers don't engage with your brand in isolation. They interact with you across various touchpoints—website, social media, email, and more.
Therefore, you need to build a seamless customer engagement plan that covers multiple channels without compromising on customer experience. Content mapping is an excellent way to do this as it involves building experiences for different stages of the customer's journey.
This helps you to create personalized experiences that are meaningful and relevant for the visitor at every touchpoint.
4. Proactive customer support
The cornerstone of any B2B customer engagement strategy is having a robust customer support team. This does not just mean that you solve queries or problems, but it is more about offering constant support at every stage of the user's journey.
For example, with a behavior analytics tool like VWO Insights, you can track and analyze visitor behavior across multiple touchpoints. This gives you a deeper understanding of your users and helps you understand their preferences, pain points, and suggestions.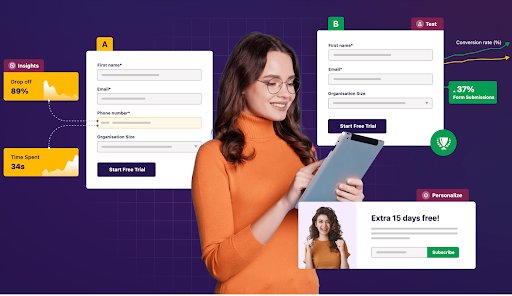 Based on these insights and reports, you can then fine-tune your engagement strategy and focus on solving problems before your customers even point them out.
5. Thought leadership and educational content
Using educational content is a great way to position your brand as a thought leader. This is a powerful engagement strategy as users are always on the lookout for solutions to their specific challenges.
By creating a section on your website for educational and thought leadership content, you can attract potential customers and start providing value even before they turn into customers.
Some examples of educational content are whitepapers, ebooks, case studies, and articles that give the user a deeper understanding of industry trends, best practices, and innovative solutions.
While there are many more B2B customer engagement ideas, these five ideas will help you prepare a roadmap according to your overall business goals.
6. Use a customer engagement model
A customer engagement model provides a structured framework and strategy for consistently and effectively interacting with customers.
These engagement models are mainly designed with the customer in mind. They prioritize understanding customer needs, preferences, and pain points, which allows for more personalized and customer-focused interactions.
Moreover, engagement models help you to provide a seamless and positive customer experience, leading to high customer satisfaction.
As the needs of customers evolve, you must choose the right engagement model to adapt and remain relevant. This flexibility helps businesses stay responsive to evolving customer expectations.
B2B customer engagement best practices
Once you implement these B2B customer engagement ideas, you will notice a shift in how customers interact with your brand. However, to truly, take your customer engagement strategies to the next level, there are some effective best practices that you must follow.
Understand your audience inside out
To engage effectively with your customers, you must first try and understand their preferences, challenges, pain points, behaviors, etc.
Creating buyer personas for different segments of your visitors is crucial. These personas should outline the key attributes, challenges, and motivations of your target audience.
This allows you to tailor your customer engagement strategies to match each persona's specific needs, giving you a better chance of connecting with them and creating memorable experiences.
Also, regularly collect customer feedback through surveys, forms, and data analysis. You can use these valuable insights to shape your products, services, and engagement strategies to better align with customer expectations.
Deliver value at every touchpoint
Every interaction that a customer has with your brand should provide value. Whether it's a blog post, email, landing page, or webinar, your customers should walk away with valuable insights or solutions. Effective content marketing is a great way to do this, especially for B2B brands, as it gives you a chance to address your audience's challenges and interests.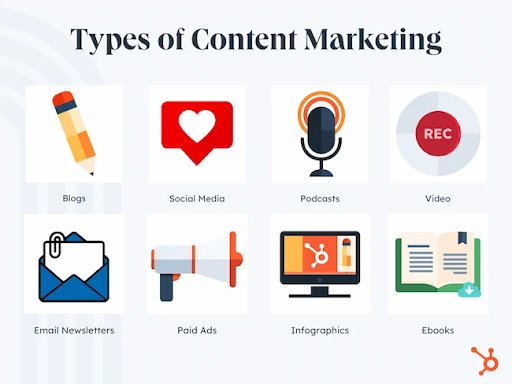 Moreover, it also helps you to establish your expertise and position your brand as a leader in the industry. Ebooks, webinars, detailed guides, and in-depth blogs can empower your customers to overcome unique challenges.
Establish trust and credibility
Trust is the cornerstone of any relationship, including the one you share with your customers. Building and maintaining this trust requires consistent and transparent communication.
No matter what customer engagement strategy you implement, ensure that you are building trust and maintaining transparency about your products and services.
A great way to build trust among your customers is through testimonials and case studies. These real-life examples go a long way in building confidence and showing how you helped customers achieve their goals.
Implement a multichannel approach
As mentioned before, a multichannel approach is important for any customer success strategy.
Instead of relying on a single channel, you can diversify your approach across email, social media, website, and even offline channels, without compromising on the messaging and experience.
Additionally, you should also focus on personalizing your content and messages according to the channel. Tools like VWO Personalize collect customer data from various sources to help you understand and deliver personalized experiences at each stage of the buyer's journey.
Choose the right customer engagement model
Having an effective customer engagement model is a great idea as it provides a strategic approach to engaging with customers. But, choosing the right customer engagement model is key to delivering consistent, personalized interactions.
There are several types of engagement models such as retention models, high-touch models, low-touch engagement models, etc. You can either pick one or choose a combination of different models based on your customers and business goals.
Foster customer loyalty
Customer retention is the backbone of any business. There's nothing better than customers who provide repeat business and also refer you to others.
Prioritizing customer loyalty is key to the long-term growth and success of any brand. You can do this by implementing different programs that focus on the ongoing value you provide, not just the initial sale.
These programs ensure your customers are satisfied and help in building a loyal customer base. You should also work on creating a customer feedback loop to actively seek input from your customers and use it to enhance your services regularly.
B2B customer engagement examples
Let's take a look at some interesting examples of B2B companies successfully implementing different customer engagement strategies.
Human Interest improves conversions on lead forms
Human Interest is a San Francisco-based company that aims to solve America's retirement crisis. The company helps small and medium-sized businesses (SMBs) offer affordable and high-quality 401(k) plans to their employees.
The company had a few landing pages where visitors were asked to fill out forms to contact the sales team. They wanted to increase the number of calls scheduled via the contact form.
The team at Human Interest wanted to run server-side experiments to test changes to their landing pages. For this, they chose VWO since it is known for its server-side capabilities, native integrations, and low latency experience.
The original landing page (control) had a simple headline, a short description of the product, and a CTA button. The team created another version of the page (variation) where the description was replaced with a contact form.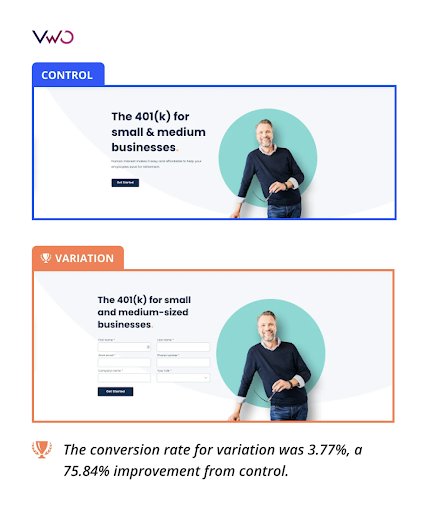 The test results showed that the variation had an expected conversion rate of 3.77%, a huge jump of 75.84% from the control's conversion rate.

Thus, Human Interest was able to increase conversions by engaging with its customers at the right place and at the right time.
EZ Texting boosts sign-ups with a chat widget
EZ Texting is a B2B brand that helps businesses execute marketing campaigns, promote events, and provide customer service.
The company wanted to introduce a new chat widget on their sign-up page. The idea was that the widget would offer instant support and guidance to users who were about to make a successful sign-up.
EZ Texting ran an A/B test with VWO to test the impact of the new chat widget. You can see the original page (control) below.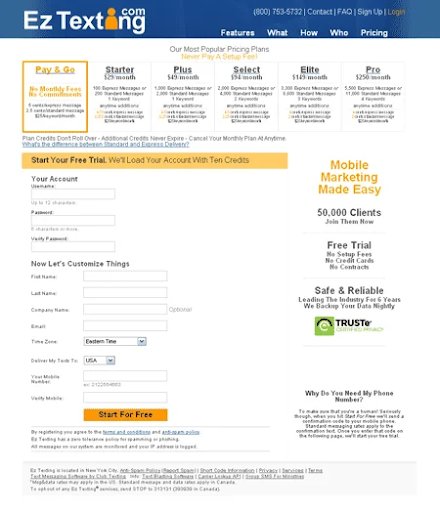 The new version of the page (variation) had the same form and layout along with the new addition of a live chat widget.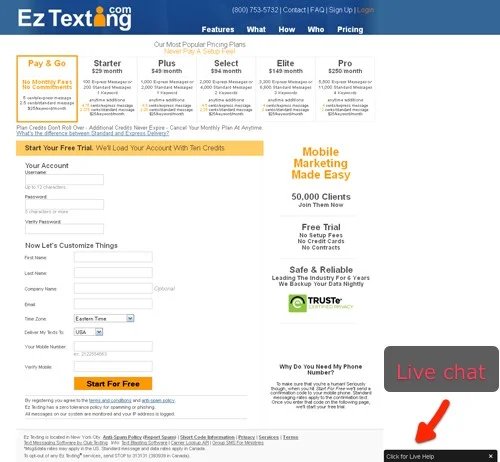 After the conclusion of this test, EZ Texting saw a 31% increase in sign-ups. The chat widget was placed strategically on the page so that users could get instant solutions to their queries.
Hubstaff increased visitor-to-trial conversions with a homepage redesign
Hubstaff is a popular workforce management platform that provides time tracking and project management software for different companies.
They wanted to redesign their homepage to showcase the company's growth and drive attention towards their relevant features. The team spent a considerable amount of time creating and redesigning the new homepage.
Once the designs were ready, Hubstaff launched a Split URL test. One section of visitors was shown the original homepage (control), while the other section was shown the new version (variation).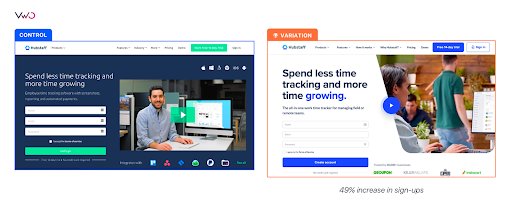 After running the test for three months, the variation launched by Hubstaff witnessed a 49% increase in visitor-to-trial conversions along with a 34% increase in visitors sharing their emails.
Hubstaff was able to effectively engage with their customers and even optimized their website experience with the help of experimentation.
Conclusion
As we saw in the B2B customer engagement examples above, brands need to focus on the preferences, challenges, and behaviors of their customers. By doing so, they can improve their strategies and build long-term relationships with their customers.
Frequently Asked Questions (FAQs)
How do you engage customers in B2B?
Building strong, long-lasting relationships with your customers is crucial for repeat business and customer loyalty. Here are some effective strategies for B2B customer engagement.
Understand their needs
Start by thoroughly understanding your customers' business needs, challenges, and goals. Conduct research and gather data to gain insights into their industry and specific pain points.
Personalize communication
Tailor your communication to each customer's unique needs. Use tools like VWO Personalize to understand what your customers want and deliver experiences they love. 
Provide Value
Offer insights, information, and solutions that can help your customers achieve their goals or overcome specific challenges. Showcase your expertise by sharing industry knowledge, and best practices.
Build Trust
Deliver on your promises consistently and maintain transparency about your product. Highlight case studies and testimonials that show how other brands were able to benefit from your services.
Use customer engagement models
A customer engagement model is a framework that outlines your plans to engage and interact with your customers throughout their entire journey.
Customer engagement models offer a structured approach to building and maintaining positive relationships with customers and maximizing their value to the business. 

What is B2B customer engagement?
B2B customer engagement is an ongoing practice where brands understand their customer's needs and use this knowledge to build loyalty, trust, and long-term growth. 
Also, customer engagement involves interacting with your customers consistently and encouraging positive, two-way conversations to help and educate them in their journey. 
In other words, B2B customer engagement refers to the strategies and activities that businesses use to build and maintain relationships with other businesses as their customers.

How can a B2B business increase engagement?
To truly increase engagement, brands need to focus on building connections at every stage of the customer's journey. 
Understand your target audience
Effective B2B engagement begins with a comprehensive understanding of the customer's challenges, preferences, and goals. This will help you to incorporate messaging and communication that addresses their needs and objectives, thus increasing customer engagement.
Analyze customer behavior 
With a tool like VWO Insights, you can use heatmaps, session recordings, surveys, and many more powerful features to track and analyze how visitors are interacting with your website.
Moreover, the tool also analyzes customer behavior to provide in-depth reports and insights, which you can then use to improve user experience and address customer pain points.
Provide customized solutions
B2B customer engagement involves providing tailored solutions that address the unique requirements and pain points of each customer. VWO Personalize helps you deliver tailored experiences to different visitor segments based on specific goals and actions. 
Leverage customer engagement models
A well-executed customer engagement model will help you create meaningful relationships with your customers. This results in increased customer satisfaction, loyalty, and business growth.
Customer engagement models offer a dynamic framework that evolves according to customer expectations and market conditions. These engagement models also provide insights into what customers want and need, which you can then use to align your product with customer expectations.

What is the B2B customer success process?
The B2B customer success process is a systematic approach that you can use to ensure that your customers achieve their goals and remain satisfied throughout their entire journey with your brand. 
To drive customer success, you need to implement this process right from the first interaction, through the onboarding process, and continue even after they become a customer. The main goal is to ensure that customers derive value and enjoy a long-lasting relationship.

What is the B2B customer journey strategy?
A B2B customer journey strategy mainly deals with the way you engage, nurture, and guide potential and existing customers through various stages of their interaction with your business. 
The goal is to create a seamless and positive experience that eventually results in customer acquisition, satisfaction, retention, and, ideally, referral.