Learn How To Use Personas To Optimize eCommerce Website
State Of Buyer Personas 2016 established that approximately 60% of the survey respondents took their first-ever buyer persona development initiative within the last 2 years—a result similar to the previous year survey on personas.
It has been almost two decades since the term "persona" was first coined and used by Alan Cooper in his book The Inmates Are Running The Asylum. However, organizations still struggle to develop personas effectively. As a result, the gap between what the consumer wants and what companies provide has widened.
Look at this survey graph for a quick look into the mistakes that can taint customer-business relations, when the latter does not know its ideal customer well: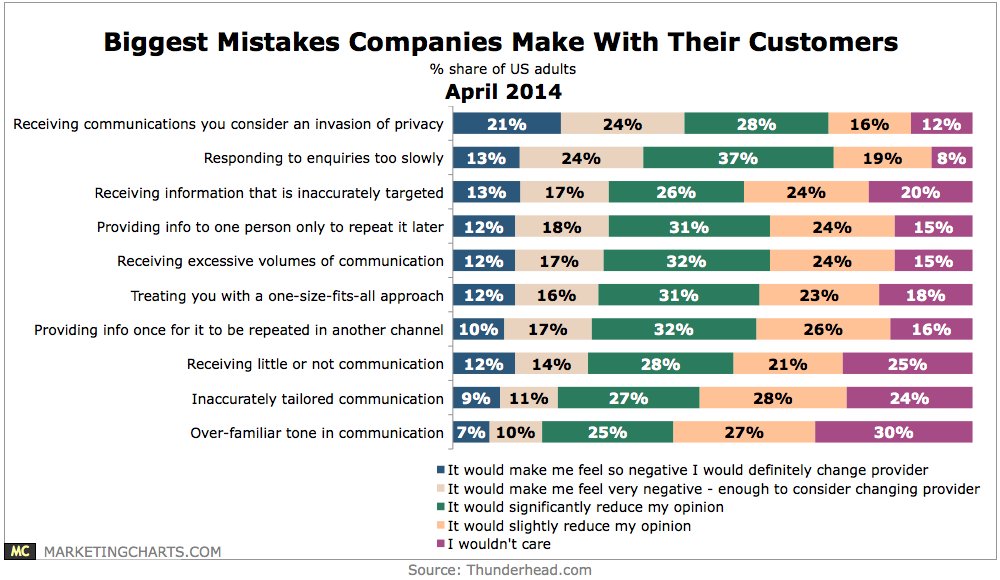 In this blog post, we walk you through the process of creating effective personas, how your business can benefit from these, and why these should be a part of your conversion optimization strategy. Let's begin:
How to Create Effective User Personas
To create personas that are effective, it is important to first understand what personas should not be:
A demographic profile
A market segment
A documentation of behavior based on a research that lacks data
Having listed the "nots" of personas, let's deep-dive into what effective personas comprise and how to develop these. Research, qualitative and quantitative, is the foundation of personas. When based on research, personas unveil:
User Motivation
What your users want to accomplish?
What drives your users' behaviors?
User Mindset
What do your users think?
What are their expectations?
What will make them buy?
Friction
What could be their reasons for hesitation?
What could be their hindrances?
To develop personas that can give you insights as deep as finding answers to the above questions, and a few more tough ones, we advise you to:
Use Qualitative Research.
Use A/B Testing.
Perform Competitor Analysis.
Using Qualitative Research
Qualitative research tools such as on-page surveys, in-person interviews, and so on can help you uncover the expectations and motivation of a user.
We list some use cases for on-page surveys to help you understand how these can be wisely used for gathering information that is required for developing effective personas:
Use Case 1. Understanding Purchase Decision
Understanding customer motivation for buying a product plays a significant role in replicating the buying behavior. If you knew precisely what motivated a visitor to buy from you, it is the next step to motivate other visitors in the same direction.
What you could ask?
Did you find what you were looking for?
What motivated you to complete your purchase?
What triggers to use?
Goal Completion: As soon as a user completes a signup form or makes payment for items in the cart, this survey should pop up to understand the true motivation behind the purchase.
Use Case 2. Determining Purchase Satisfaction
It is important to know the purchase satisfaction level to determine if there are reasons that can stop them from buying or make them buy from elsewhere. It can also help you categorize people who have high or low purchase satisfaction levels, if you are able to observe a pattern.
What you could ask?
On a scale of 0–10, 0 being the lowest and 10 being the highest, how satisfied are you with your last purchase?
The reason behind your rating. What do you think is good/bad about buying from us?
Analyzing the information that you have from your survey:
With regard to the question on purchase satisfaction levels, the information that your users reveal can be smartly analyzed to create user personas. Let's say that you have an online apparel business. Running such surveys can help you:
Identify users who are not at all interested in your product (those who rate you between 0–3), users who do not have a firm opinion on your product (4-7), and users who have purchase satisfaction levels (8–10).
Understand the reasons behind high and low purchase satisfaction levels for all categories of users mentioned in the previous point.
Identify patterns, if any, in those rating your product high/low. For example, do those who rate the product on a scale of 8–10 buy the product because of "fresh styles and patterns," do most of these people fall in the age group (20–25), and so on.
Build user personas based on this information.
What triggers to use?
Time spent on a page: Show the survey after visitors spend "X" seconds on the first webpage they visit. Target the survey using custom targeting to those who have made an online purchase earlier from you.
Asking these questions at the right time can help you fetch actionable information, uncover user motivations, as well as apprehensions.
Similarly, exit intent pop-ups and in-phone surveys also help you find out if your product/service is providing the value that your users and/or customers expect out of it.
Your qualitative research findings can then be dissected to create personas. Consider an example:
You are an eCommerce business selling antiallergic bedding. Your in-phone customer interview and on-page surveys help you determine one of your persona "Jane" with the following attributes:
Aged 32, she has very sensitive skin, which is prone to allergies.
She is willing to pay a little more if the product quality is good.
She also cares about the product being eco-friendly.
Your qualitative research would further help establish:
Jane's motivation to buy your product: The bedding suits her needs, is priced just what she thinks is right, and can be found easily online.
Jane's mindset while making a buying decision: She cares about her health and skin. She will not risk investing in any product that can cause allergies. She is also quality-conscious.
Jane's bottlenecks to buying: She might return the product if she does not find it comfortable and per the quality that she expects. Style and comfort go hand in hand for her.
When you have conducted qualitative research and listed down motivations, bottlenecks, and mindset, you need to gather insights on what your user/customer is doing online. So the next logical step is to unveil Jane's onsite behavior.
Running visitor recordings, heatmaps, and form analysis will give you different insights into your buyer's or user's onsite motivations, constraints, hesitations, and restraints.
For example, using form analysis can help you identify the form fields that lead to customer hesitation or customers abandoning the form.

Using A/B Testing
Let's say that you have listed a few findings about your personas, after conducting an in-depth research. However, you want to be as sure as possible. The following attributes can be put to test:
Comfort vs. Style
Discount vs. Buy One, Get One Free
Value of free shipping and free returns
A/B testing can help you narrow down to attributes as close as true to your real users. Whatever assumptions, observations, and opinions you have about your users, you can A/B test them to find out what your ideal users associate more with.
Performing Competitor Research
Digital intelligence tools can help you dig deeper into competitor data to analyze their traffic. Using such tools, you can find out where your competitors are putting their effort into—social media, mobile, content, email marketing, and so on.
After you have an idea of where your competitors' major efforts go into, you can work backward to identify the audience they are targeting for creating user personas. This elaborate and well-researched post on medium will tell you how you can crack competitor research to create user personas for your business.
Benefits of Personas for Your Business
Mathilde Boyer, Customer Experience Director at the House of Kaizen, lists 5 ways in which every business can benefit by using personas.
"Personas shouldn't only be created to trigger user empathy within an organization. They should be built with a practical application in mind so that they can be instrumental in a Conversion Optimization Strategy. Validating personas through actual user data and connecting them to target audiences increases their ability to drive business strategies.
Creating and leveraging user personas brings 5 key benefits to Marketers and Product Owners.
Connect research insights
Develop a unified view of your customers and prospects by identifying commonalities and unique attributes to provide a deep understanding of motivations, anxieties, decision making styles and moments when users find inspiration.
Strategically manage marketing budget
User personas allow you to prioritize target audiences and shift spend based on channel performance for individual audiences. Maximize your marketing investment by focusing your efforts and budget on the profitable leads.
Develop powerful brand and product storytelling
User personas can be leveraged to tailor storylines and bring your value proposition to life. They are key to understand aspirations, desires and perceptions of your customers. They are also crucial to strike the right note with unique content created to move buyers from interests to purchase.
Go beyond marketing silos
User personas allow you to ensure continuity and complementarity of messaging and creative across all user touchpoints (ads, website, emails, offline campaigns, customer service script, sales pitch, etc.).
Prioritize product roadmap
User personas should be a valuable levier to inform your product development cycles and ensure that new features are developed to solve evolving prospects' problems and needs."
Other than the benefits that Mathilde talks about, personas are also helpful in bringing uniformity to every department of the business regarding who their customer is. From customer service representatives to sales to marketing to the administrators, everyone is aligned to consumer goals. This helps everyone across the business keep their ideal customers happy, and thus increase overall satisfaction as well as retention.
Why Should Personas Be a Part of Your CRO Program
Protocol80 compiles some interesting facts on why personas are awesome. We list 2 of these here as evidence on why personas should be a part of your conversion optimization program.
"In the case of Intel, buyer personas surpassed campaign benchmarks by 75%. They were more cost efficient than the average campaign by 48% DemandGen Report.
In the case of Thomson Reuter, buyer personas contributed to a 175% increase in revenue attributed to marketing, 10% increase in leads sent to sales, and a 72% reduction in lead conversion time."
Personas can help you improve conversions by:
Improving your personalization efforts.
Helping enhance product user experience.
Improving Personalization – Content
Personas help bring in more clarity on crafting tailored content that appeals to the target audience of the business. Consider an example:
You are an eCommerce business. One of your user persona is say, Mary – The Loyal, with some of the following characteristics:
Visits your website frequently
Makes a purchase every month or two
Shares reviews
Does not purchase expensive products
Does not buy more than 2 or 3 products in a single visit
Is fashion-conscious, but does not compromise with quality
As you understand the buying behavior of this user persona, you can run campaigns with content specifically focussed at converting these users. For example, when Mary-the loyal visits your website again, you can personalize recommendations based on her last purchase, which might interest her into making a purchase.
Here are 11 examples of personalization that you can read about. We simply love how Netflix serves content based on past user views.
Enhancing User Experience – Design and Development
At the design and development level, personas work as a research tool for businesses intending to enhance browsing/buying experience for their online users. These personas that are based on usage goals, browsing and exploring behavior, as well as pain points, tell the why behind the actions that users take on a website.
Such information is critical for designing any product or service. Understand, relate to, and remember the ideal user Mary-The Loyal throughout the entire product development process. The following design and development problems can be sorted by making user personas a part of the process.
When design teams do not have an understanding of which design elements on the website to prioritize. In this case, design and development teams end up wasting time on either developing or optimizing features that their ideal customer, Mary-The Loyal, does not use.
When design teams are finding it difficult to pitch their proposal to the management. This is where they can use actual data to enhance their idea and show the actual problem they are trying to solve by making the proposed changes.
Mathilde adds to how personas help enhance user experience.
"From a UX perspective, user personas are crucial to prevent self-referential design as they allow to focus the efforts on the needs of the customers and help be mindful of designing experiences as if we, marketers, were the end users.
Data-driven personas are also the foundation to map out customer journeys and ensure full alignment between user needs or perceived needs and the relevancy and length of the experience they have to go through to achieve them.
Personas become extremely powerful when they are taken beyond their naturally descriptive focus and provide a predictive view on how your product or service improves your ideal customers' lives once they've used it for a certain time. The predictive side of personas is a key asset to design future-proof products and experiences."
To Wrap It Up
When you make personas a part of your strategy, you are trying to maximize value for your ideal users. Here's how Alan Cooper explains this concept in The Inmates Are Running The Asylum:
"The broader a target you aim for, the more certainty you have of missing the bull's-eye. If you want to achieve a product-satisfaction level of 50%, you cannot do it by making a large population 50% happy with your products. You can only accomplish it by singling out 50% of the people and striving to make them 100% happy. It goes further than that. You can create an even bigger success by targeting 10% of your market and working to make them 100% ecstatic. It might seem counterintuitive, but designing for a single user is the most effective way to satisfy a broad population."
Ultimately, filling the gap between the product value as perceived by your ideal user and the actual value that your product provides, will help you convince and convert your users into buyers.