Top 6 Ways To Recycle Content That You Can Practice Right Away
As a content marketer, you work hard to keep your content engine running. You are constantly curating ideas, creating compelling content and looking for ways to promote it.
But while you're putting all these efforts in creating new content, what about the content stocked up in your archives? The content on which you had spent long hours earlier?
Your good quality content over time tends to get shared, linked to, and clicked on, boosting its search engine rankings and continues to generate traffic long after it was originally published. But, this content doesn't have to be left to the search engines to be discovered. It is smart to recycle your old content by optimizing it for improved visibility and conversions, without spending additional hours on new content creation.
The power of recycling content was tested in an experiment conducted by Buffer. The content creators behind the experiment wanted to see what would happen if, instead of publishing any new content, they focused on reworking old content for the entire month of July 2015.
They carefully tracked their analytics and found that while the traffic remained almost the same, the organic traffic surged. Have a look:

In this post, we're going to look at four ways to recycle content. But before we delve deeper into it, let's first look at the premise for choosing content for recycling that is still generating traffic to increase lead generation potential.
Prioritizing which content to recycle
Before adapting your content to be used again, you should first evaluate which content is most worthy of your time.
You could zero in on the best contenders by considering the following questions:
Is the content evergreen?
Look into the contemporaneity of the topic you are planning to rework. You should plan to invest on content that's evergreen in nature, i.e. content that continues to be valuable and relevant over months (or ideally years).
For instance, a survey report published a few years back wouldn't be fit for recycling as the facts and opinions presented in it most likely would have changed. You should look for topics in your old content which may still be trending or are being talked about in your industry. You could use these tools to help you find the trending topics.
How is the content performing?
Next, gathering insights on content performance can help you prioritize recycling.
For blog posts, you could dig into your Google Analytics and see which posts are attracting most readers. You could measure metrics like page views, average time on page and bounce rate and prioritize accordingly. For instance, if you find that the page views of a particular post is high, but average time on page is low then probably the readers are not finding the content relevant and can be reworked, and republished. Content with high time on page but with low pageviews could mean that the content is effective, and repurposing it into a different content type might reap benefits.
After you've shortlisted the content pieces that you want to rework on, you can begin with applying one or more of these recycling strategies to your content:
Content repurposing
The first way to recycle your old content is to repurpose it across different channels.
People consume information in different ways. What one person might like to see as a video tutorial, another might like to see as a downloadable slide deck. Or, a podcast that one person wants to hear on their commute to work might also work as an eBook for avid readers.
Repurposing gives content a new makeover — along with exposure to new audiences and less time spent on content creation.
Blog posts are arguably the easiest content type to be repurposed. Here are a few ways you can do that:
1. Repurposing blog posts into eBooks
You could turn your best blog post or blog post series into eBooks to gain credibility and scale audience reach. Studies suggest that nearly 57% consumers consider companies that publish industry specific eBooks more trustworthy, even if they don't read them.
Further, lack of in-house design resources shouldn't worry you. You could use tools like Papyrus or Beacon to make the layout process a breeze.
2. Repurposing blog posts into infographics
According to the CMO Council Report, 65% of senior marketing executives believe that visual assets (photos, video, illustrations, and infographics) are core to how their brand story is communicated.
Infographics are visually appealing and give a new engaging way to consume content. You can create infographics using free online tools such as Easel.ly, Piktochart, and Infogram.
3. Repurposing blog posts into video series
Sites like Skillshare allow you to host a video course. Consider the possibility of converting a recent blog series into an engaging video. Also, you can create and post How-to videos on Youtube to drive more traffic.
Here's is an example how VWO created 'How-to Set Up Goals' as a video:
4. Repurposing blog posts into slide decks or presentations
You can turn your blog posts into a Keynote or PowerPoint presentation that could be shared online via SlideShare. This makes it easy for other blogs/websites to embed your slide deck within their own content. You could also use the same slide deck as a lead magnet in one of your web forms.

5. Repurposing blog posts into podcast episode
You can consider creating a dedicated podcast of your blog series. As a content marketer, this will help you continue adding value to your viewers in a hands free experience.
Audiences can easily find you on platforms like Spotify and iTunes and tune into your podcast even while commuting.
6. Repurposing blog post into newsletters
As an outreach strategy, newsletters can help you target specific people that may add value to your existing blog pieces. You can consider featuring your best performing blogs in an email newsletter. This will help you bring traffic back to older content you have refreshed with new information.
These are some more ideas to repurpose your visual or text content by scoop.it: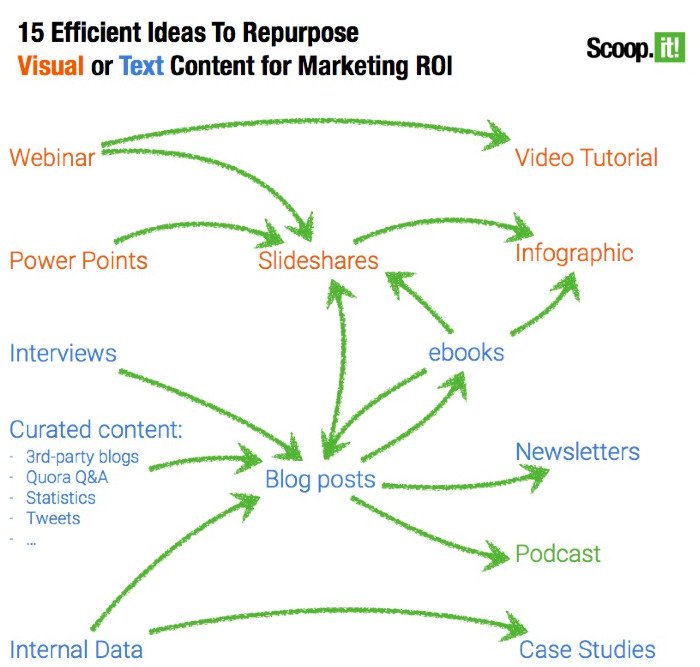 Republishing blog posts
Hubspot analysis of their blog traffic revealed that a majority of their traffic and leads were coming from old content.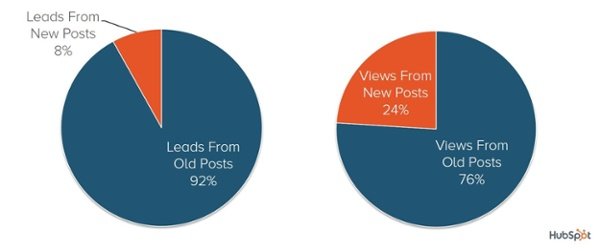 Over time, there are quite a lot of things that can go stale and out of date over time, like the research and facts quoted, images used and more. For the content doing well on search, this outdated information can affect it negatively and should be updated.
Republishing can not only help boost SEO, but also provides an opportunity to improve the content quality and increase lead generation.
To begin with republishing, first evaluate the post for accuracy and determine what needs to be modified, added, or removed. You could edit the meta description of the post to make it more enticing for users browsing SERPs. Also, re-check any CTA attached on the post and check if that is still relevant and working.
It would also be a great idea to add an editor's note in your updated post or display the last updated date. This could build credibility as the readers would know that the content is regularly revised. Backlinko regularly updates its content and displays the date of the last update.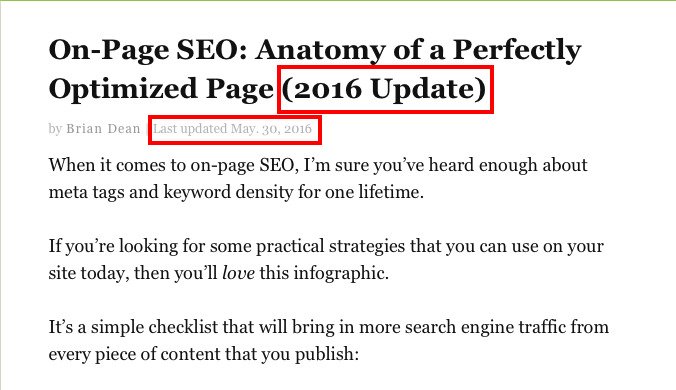 Content syndication
Syndication is taking content that you've already published on your own site and posting it on third party websites. This strategy is useful because it's a great way to get exposure to other websites' audiences. Getresponse illustrates how republishing impacts pageviews (+80%) and reshares (+65%).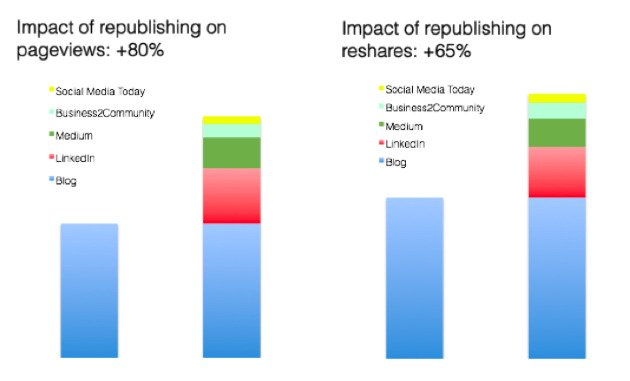 To avoid penalizing due to duplication, you could place a rel=canonical tag on the page with your article, and have that tag point back to the original article on your site. This tells the search engines that the syndicated copy is in fact just a copy, and that you are the original publisher.
LinkedIn, Reddit, Mix, and Medium, are amongst the popular free syndication websites. CoSchedule offers a nice roundup of good syndication sites.
Re-posting on social media
Re-promoting old content on social media brings your old content back into vicinity. Research shows that re-posting content can bring in 75% of the engagement reaped in the first posting.
You could actively include the old and relevant posts in your social media sharing schedule.
To retain freshness, you could create multiple unique social media updates that link back to the same content piece. Schedule these updates for multiple times, and keep track of which ones get the most user engagement.
For the VWO eCommerce report 2016, these are some of the updates we shared: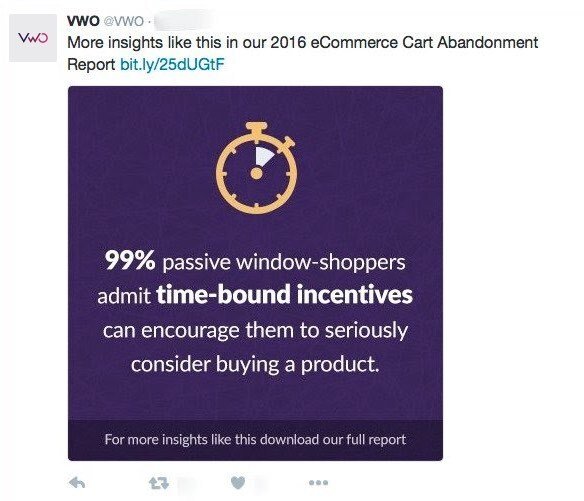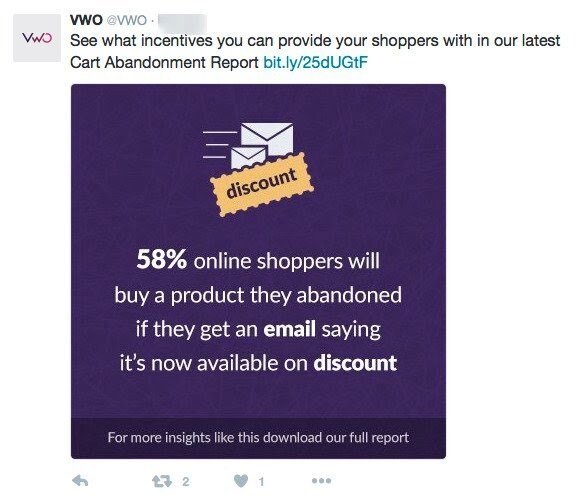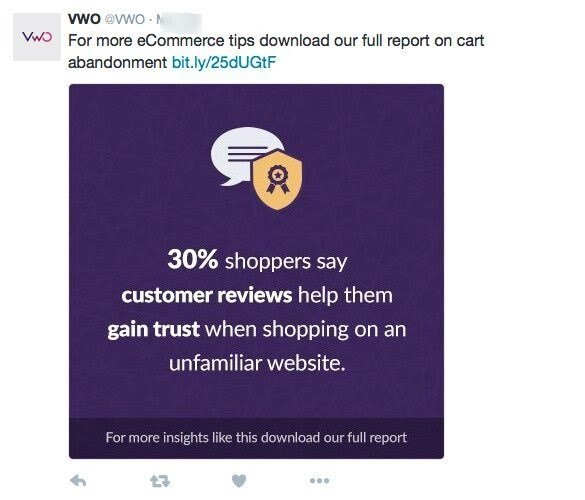 Conclusion
All in all, content recycling can bring a wealth of resources to content marketers. Your time is precious, and content recycling can maximize your efforts. Instead of investing long hours into new content creation, content recycling lets you return to your existing content and magnify its achievements.
You can always A/B test to find out what piece of content is working the best for you!