What is a lead?
A lead is any person who is considering a company's goods or services but isn't quite ready to make a purchase. In other words, they are prospective consumers who have not yet made a purchase from a firm but have shown a desire to do so in the future.
Types of leads
The infographic below shows different types of leads divided into various categories.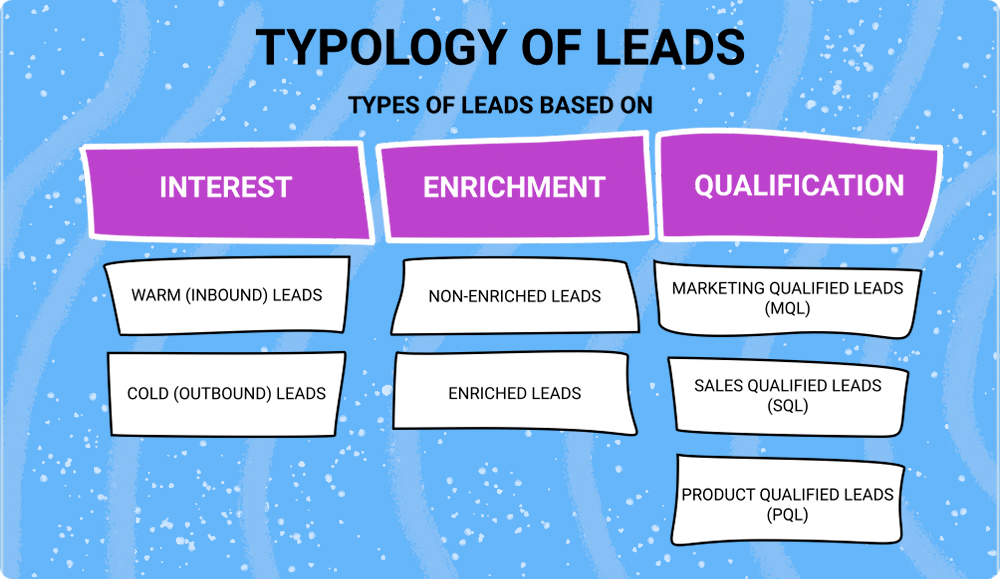 What is lead generation?
Lead generation is a marketing technique that entails piquing consumer interest in a particular product or solution and nurturing that interest to build a sales funnel with the ultimate objective of turning them into paying customers. It includes every marketing technique that sparks customer interest. It corresponds with the "awareness stage", which is the initial step in the customer journey.
Job applications, blog posts, discounts, in-person events, and online content are a few methods to create leads, however, some consumers still associate lead generation with massive email campaigns and aggressive salesmen.
Benefits of lead generation
The majority of businesses nowadays largely rely on lead generation since it is the only method to get people to their website and convert those visitors into potential customers, which in turn helps the company dramatically raise its earnings. The company teams would find it extremely challenging to determine what their customers desire or are intrigued in without lead generating.
With the help of lead generation, organizations can adjust their emphasis from seeking consumers to having customers discover them.
Lead generation helps:
Choose the right audience to pursue
Raise brand awareness
Data gathering to develop enticing goods and services adapted to client requirements and preferences
Increase brand commitment
Boost earnings
Types of lead generation
Typically, there are two basic types of lead generation:
Inbound lead generation
Inbound lead generation refers to drawing web users using content marketing strategies and transforming them into leads. An inbound lead is generated when a visitor decides how, when, and if to engage with your content and submit their information. It consists of the following process steps:
Step 1: Finding a business
The numerous marketing platforms that a brand uses, such as blogs, social media accounts, or commercial websites, provide information about a brand to visitors.
Step 2: Response to CTA
As a response to your call-to-action (CTA), the visitor clicks on a button or a link that carries a message urging them to perform a specific action.
Step 3: Access to a landing page
By tapping the CTA, the visitor is directed to a landing page where they may opt-in to receive a tempting offer in return for valuable data about the lead (by filling out forms).
Implementing a variety of inbound marketing strategies, such as those listed below, consistently is the greatest approach to turning strangers into customers for a business
Attractive and relevant landing page
Quality content – articles and guides
Blog
SEO
Social media marketing
Product videos and webinars
Effective and impactful CTAs
Podcasts
Outbound lead generation
One of the most economical ways to reach potential clients who may not yet be aware of the company's goods or services is through outbound lead generation. It consists of the following process steps:
Step 1: Lead identification
You choose your leads (individuals who fit your desired customer profile), decide what they need, and consider how you might assist them.
Step 2: Leads research
You conduct research, looking for, gathering, and maintaining prospects' relevant contact information.
Step 3: Contact potential leads
You contact your leads by making cold calls, sending out cold emails, or using social media.
Usually, the sales staff contacts the leads via outbound strategies such as
Sales calls
Pay-per-click advertising
An email marketing campaign
The below infographic sums up the types of lead generation and their process: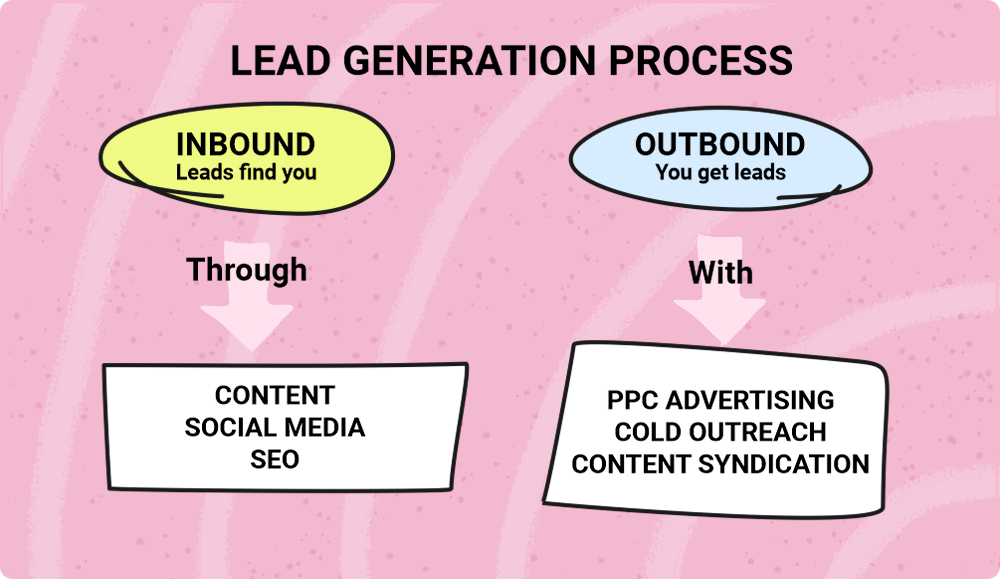 Lead generation sources
Multiple sources are available for gathering leads. Your techniques can be more effectively tailored if you are aware of the sources the lead might use. Some of the sources are mentioned below
Organic search traffic
When visitors find your website through organic search, you might gain traffic from that.
You may attract organic visitors to your website by posting regularly:

Blog posts
General updates
Feature announcements
Product details

SEO may aid in increasing website traffic.
Incorporate particular keywords into your material so that they appear in searches for those words or phrases.
Affiliate marketing
You may source leads by using affiliate marketing techniques. Your items will be promoted on a website run by an affiliate marketer. Choose websites with comparable objectives that prefer to produce more high-quality leads when utilizing affiliate marketing as a method.
Social media channels
Marketers must provide material that is helpful to their target market and plan tactics to get traffic and engage leads from social media platforms to their websites. Various social media platforms that can be used are mentioned below
Facebook pages and related communities
Twitter
Quora
Linkedin
Referrals
A fantastic technique to find quality leads is through referrals. All you need to do is encourage current customers to recommend the product to others who might be interested. Additionally, you may reward those who recommend people by giving them free or discounted goods.
Email promotion
Given that customers use email for communication, email marketing might be one of the best sources of leads. The marketing team may search the database to determine which contacts have the most chance of developing into high-quality prospects, and it can then pass those leads along to the sales team for further investigation.
Reviews
Word-of-mouth advertising is a tried-and-tested strategy for generating leads and is regarded as one of the most valuable kinds of advertising. It can help build up trust among buyers and motivate them to try out the products and services. This form of lead generation can take the form of:
Positive client feedback
Reviews
Testimonials
Blogs
When searching for more pertinent information, many individuals turn to blogs initially. You must make sure that the information you offer is clear and comprehensive. A lead could visit your website more frequently if they believe your blogs to be reliable.
Lead generation techniques
The process of generating sales leads requires much research and effort. However, there are a few lead-generating techniques that might make it simpler and more effective!
Incorporate a compelling CTA
Even though the entire landing page should always look stunning, your CTA needs to be especially attractive to encourage leads to sign up. When creating the CTA, take into account the needs and concerns of the potential customer.
Mobile-friendly landing pages and website
The majority of consumers would never advocate for a website that isn't mobile-friendly. Ensure that everything is shown correctly and that your lead can sign up on their mobile device.
Publish timeless content
Great content will survive longer and pay off faster than content based on passing trends, even if it may require more work to produce.
Benefit from email marketing
Use email marketing to nurture leads, welcome new members, communicate updates, and, of course, make sales.
Be constant and dependable
People who subscribe anticipate receiving more than one email. To stay at the forefront of your leads' thoughts, create an email flow plan with informative content and select the ideal email frequency.
Establish a referral program
Any business may benefit greatly from word of mouth. In exchange for a little incentive or reward, allow your customers to post a referral link that will bring you fresh, qualified prospects.
Integrate multiple lead-generating techniques
Aim to keep leads flowing into your sales funnel. Try outbound lead creation tactics and rely on lead generation solutions if you see that inbound marketing isn't generating as many leads as you require.
Lead generation best practices
A sales team's ability to generate quality leads is vital. Make sure your sales team invests its time and resources in pursuing leads that are most likely to result in sales by adhering to these best practices
Decide about your final objective
Explicitly indicating your final objective can help you generate leads more effectively. Your chances of turning the appropriate kind of leads into paying clients increase when you have a well-defined goal.
Identify the target market
By identifying your target market, you can focus your lead-generation efforts on suitable campaigns, platforms, and audience profiles.
Develop and publish captivating content
Making leads aware of pertinent items and services and maintaining their interest in meaningful ways are necessary to turn them into customers. By providing your leads, prospects, and customers with fresh insights or knowledge, you may add value to their lives.
Provide accessible communication avenues
Ensure that your contact information is displayed clearly and is simple to discover by your leads. The more accessible you are to them, the more likely it is that they will do business with you.
Keep providing rewards
Offers, discount coupons, and other incentives can be quite effective in generating leads (contact information collection) and converting (making purchases) those leads.
Quality Ads
Creating and displaying effective ads will increase your click-through rate beyond the anticipated percentage hence boosting the lead ratings.
Track and make improvements
To make sure you produce the right amount and quality of leads, it's crucial to continuously review and modify your lead generation plan. It is imperative to monitor key indicators like the cost per lead, lead conversion rate, and lead conversion time.
Continuous testing
On your website, you must continually test and retest various components. You should do split tests frequently for the headlines, button text, relevance, conciseness, and background graphics. The outcomes will be pretty astounding as a result of your knowledgeable optimizations. Take a free trial with VWO for quick and easy testing!
Conclusion
Customers are more selective and knowledgeable about the material they want to consume nowadays. Businesses nowadays must engage in lead generation processes that will eventually result in new customers and enhance conversion rates if they are to reach out to them.