How To Boost Lead Generation Using Content Marketing
Any successful lead generation program, even when backed by the most advanced marketing technologies, can be ineffective if its content strategy doesn't align with the buyer's needs and feeds into their entire buying journey.
Crafting content is not just about filling up web pages to rank high on search engines.
As a content marketer, you should focus on giving your audiences and prospects valuable, relevant information and insights to develop trust.
Throughout this blog, we'll shed some light on different ways content marketing can be an effective part of your lead generation function, driving quality leads and conversions and creating a continuous flow of revenue into your business.
What is content marketing lead generation?
In the purest of terms, lead generation through content marketing is a strategic marketing effort that focuses on creating and distributing interesting, engaging, and relevant content to attract and generate leads from a predefined visitor persona.
The lead magnets attached to this marketing activity are quite high stakes in nature as content has the power to make or break a deal for your business.
In essence, the better your content marketing strategy, the more leads you will capture.
The matured age of content marketing
Needless to say, the way we generate leads through content marketing has changed rapidly in the past decade.
As digital experiences have now become a key driver of expectations, the idea of content marketing has also seen a tremendous shift.
You no longer have to speculate on the whys and hows of creating content because there is now enough data to know what does and does not work. The fundamentals of marketing still apply but in new ways.
It's all about placing the needs of your audience above your promotional agenda; truly maturing content to put users as your main focus.
Successful content engines document a reader's trials and tribulations while also helping them discover answers to key questions that will help them succeed.
How to generate leads through content marketing?
Marketers today are in a constant race to come up with new, interesting, and interactive content that will cut through and win the audience's attention.
Let's now unravel strategies for successful lead generation through content marketing and learn how you can leverage them to your advantage.
1. Understand your target audience
Understanding the fundamentals of your audience's needs stands as the key way to create relevant, effective, and high-quality content. There isn't a shortcut, but it doesn't have to be time-consuming.
Each element of your website such as the landing pages, the home page, or even a regular blog post should be curated for your target audience.
The best way to go about this is to talk and engage with your existing customers as well as potential customers.
Understand the customer journey, ask questions, research online, explore various social media channels, and look at your competitors to see how they're trying to solve the customer's needs.
The more you capitalize on this, the more you'll be able to improve your content marketing strategies and boost lead generation.
2. Content promotion along with creation
Creating brilliant, in-depth content is important for lead generation, but promoting it across various content channels is paramount. The reason is that your content doesn't promote itself.
All successful content marketing campaigns have a solid, well-researched distribution strategy in place.
You need to ensure that every blog post or case study of yours reaches the right audience so that potential customers can read and share it with their peers.
To accelerate content discovery and generate more leads, collaborating with companies like Outbrain, PR Newswire, GrowthHackers, and Zest can help. Such platforms allow you to place your content pieces in relevant places on tens of thousands of partner sites and create exposure.
You can also plan distribution using content calendars. Apart from distributing and marketing your content to target audiences across the globe, this allows you to create valuable backlinks as well.
3. Choose the right channels
The choice of channels is another thing that can make or break your content marketing strategy.
For instance, if LinkedIn is one social media platform where your target audience engages with your brand most, then bite-sized content should be your focus area.
On the other hand, if Twitter or any other platform works best for your blog post, then focus your energies there.
Remember, the more you understand your target audience's psyche and reading habits, the better you can create and market content, and drive lead generation.
4. Data-backed content pieces
At its core, content is purposed to gain the trust of the audience. And trust is the key to customer lifetime value. The way to establish trust is by ensuring your content is accurate and backed by facts and data.
Even better if you can leverage an industry leader and their existing respect and authority.
Consider content published and distributed by Gartner. Along with picking content topics that are trending, they're also backed by facts and statistics which make them credible.
Similarly, when you consistently create content that is well-researched and backed by data, you build trust among potential customers which further helps in optimizing your lead-generation efforts as well.
5. Widen your content sourcing horizons
Having your writers do most of the heavy lifting is to be expected. But it's short-sighted to stop there. It's time to widen your horizon!
Inviting industry experts to write a guest post is an old, yet effective, tactic. Plus, guest blogging also improves your chances of building credibility.
Also, ask your colleagues from the sales team or customer support team to pitch in, or at least have input into content. For example, through regular discussions with the sales team, you can discover some of the lesser-known problems that customers are facing.
Based on this information, you can improve your lead generation content and also optimize various elements of the website such as the landing page or the checkout page.
The reason this technique is great is because it serves as a two-way street to generate leads. It not only helps increase volume but gets fresh minds and ideas into your content.
Many organizations, including VWO, have realized that some of these lead-generation efforts have more merit than others, especially in the long run.
6. Personalize your content marketing
Using the same pieces of content to cater to every audience segment is an old-school approach.
Today, personalization is the key to attracting potential customers and boosting the effectiveness of every marketing tactic you use.
It appeals to the minds of individuals, making them feel cared for and unique. It ultimately compels them to take action and enter your conversion funnel.
Personalization can be as simple or as complex as you decide. It may be just the reader's first name in the email or the whole website experience – right from the first time they see your landing page to the time when they are ready to make a purchase.
Online giants such as Uberflip help businesses centralize their content to create personalized experiences for all their marketing programs. And don't hard sell your products at the wrong moment.
Instead, be more tactical about it. Enjoy this great example!
7. Make it visual
Copywriting may be the backbone of effective content but don't underestimate the power of images to impact the reader.
Whether still or moving, imagery boosts the power of your message and helps it to cut through. But what forms of visual content are best for lead generation? Let's dig a little deeper here!
Educational videos: Product or service video content with talking heads may be a dime a dozen. But educating the viewer serves as the gold standard of great videos, especially when embedded on landing pages. They do demand some extra effort, but when done well, videos can make even the most complex of topics interesting and engaging.
Interactive infographics: The value of infographics is far more than just visual snacking. They condense a lot of information into an easily digestible format that is useful and shareable by the reader. They also add credibility to your brand and when tagged correctly can help your website to rank highly in image search engines.
Illustrated summaries: Another great visual content marketing format is the illustrated summary. The basic idea behind illustrated summaries is to convey impressions or ideas from a lengthy document, for instance, a white paper, and turn the main points into a visual summary. Marketo used an illustrated summary to describe its' Dreamforce event back in 2012. Here's a glimpse.
Why is content an essential element of the lead generation strategy?
Lead generation is all about building trust with your audience and helping them overcome their challenges.
Today, customers are much more aware of their needs and are more likely to respond to something genuine, valuable, and more importantly, focused on solving their problems. This is where content marketing comes to your rescue.
Not only does it allow you to provide information that helps your target audience, but it also gives you the opportunity to build a strong connection with them while helping you nurture qualified leads as well.
By combining all these factors, you give yourself a better chance of generating high-quality leads that will stay with you and also speak highly of your brand for a long time.
Let's look at a few important reasons why you should focus on generating leads through content marketing.
Attract the right audience
When you create content based on the specific needs and problems of your target audience, you are in a better position to attract prospects and engage the right kind of visitors.
Moreover, this allows you to position yourself as a trusted brand in the industry. Additionally, it gives you the opportunity to filter out qualified leads from unqualified ones, which again improves your lead-generation campaign and maximizes your return on investments.
The right kind of content marketing also involves creating buyer personas and delivering content for every step of the customer's journey.
Boost SEO efforts
Driving organic traffic is the most important component of any content marketing strategy. Search engines like Google love high-quality content that perfectly matches the user's requirements.
Apart from optimizing your landing pages and providing valuable content in the form of blog posts, you need to ensure that every content piece is based on market research and is also capable of answering the queries of prospective customers.
This way you can leverage the power of organic search to improve your website's visibility and rankings.
Another great way to improve lead generation through SEO is by targeting long-tail keywords that your customers are using frequently.
By optimizing your blog posts for these long-tail keywords, you can boost your ranking, improve user engagement and create more types of lead-generating content.
Build trust and awareness
While content marketing is usually seen as a strategy that generates leads and improves rankings, one of the lesser-known advantages is that it helps build brand awareness.
When your campaign is consistently delivering relevant, helpful content, it improves recall value and also encourages more people to consider your product or service.
Moreover, lead generation through content marketing allows you to convey thought leadership and helps build trust and credibility among your audience.
Nurture leads through various stages
From the moment a potential lead sees your ad or visits one of your landing pages, you need to ensure that the content is tailored to address their specific needs, interests, and pain points.
An effective campaign understands each stage of the customer journey and delivers content that is most relevant to the user at that particular stage.
For example, when people visit any of your landing pages, the content present on the page should showcase you as a trusted brand and should also position your product or service as the ideal solution for their challenges.
Moreover, during the final stages of the customer's journey, your content should provide all the necessary information that will help them make an informed decision.
By nurturing leads throughout their entire journey, you establish credibility, build trust, and more importantly, you make it easier for them to choose you over your competitors.
Watch the webinar to learn about 12 copywriting conversion triggers:
Conclusion
When it comes to generating leads through content marketing, you should always align your content strategy with your ultimate goals and your target audience's needs.
This way, every piece of content will return value to your business, add to your ROI and deliver you the leads your brand needs.
Further, always keep testing and optimizing the lead generation tactics you use to maximize the effectiveness of your CRO efforts.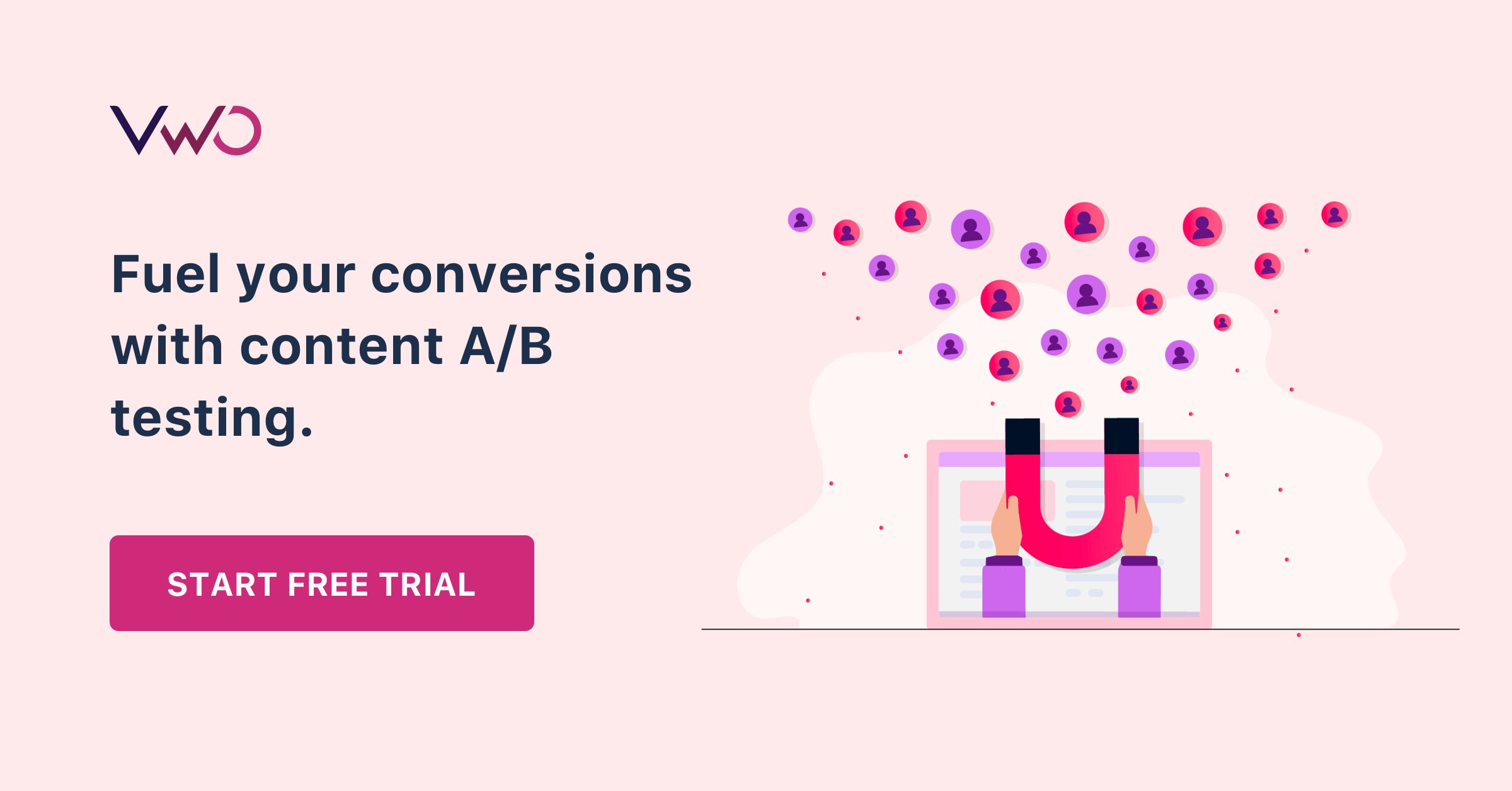 Frequently asked questions (FAQs)
How does content marketing generate leads?
One of the best ways to generate leads through content marketing is by creating high-value content such as ebooks, guides, or whitepapers. Each of these content pieces is commonly known as gated content which means that users need to provide personal details such as their email address or contact number to access them.
Moreover, the primary goal of content marketing is to share valuable, relevant content that can attract the right kind of audience. This helps in filtering qualified leads and also allows brands to build trust and credibility, which again improves their lead-generation efforts.
What are the 3 ways to generate leads?
The most common way of lead generation through content marketing is creating gated content. This includes in-depth, high-value content like whitepapers and ebooks that users can access by sharing their basic contact information.
Another great way of lead generation is creating a compelling call-to-action (CTA) and placing it strategically at important places within your content. By doing so, you can match user intent and encourage readers to take relevant action.
Leveraging social media is a smart way to boost lead generation as it gives you greater visibility and allows you to reach a wider audience. Rather than distributing your content on all social platforms, you should instead choose one or two channels and focus on building a strong relationship with your audience.
What is your #1 tip to generate leads as a content marketer?
Content distribution is one of the most important aspects of lead generation. With the rise of ChatGPT and other AI tools, content marketers are finding it difficult to cut through the noise and grab the attention of their target audience.
This is why you should take a closer look at your content distribution strategy and identify how it can be improved.
Instead of posting your content on every available platform, focus on a few important ones and identify the right format for these channels. Perform in-depth research on what kind of content is preferred by your audience and build an effective distribution strategy based on it.

Which type of content is most effective for lead generation? 
Ebooks, in-depth guides, case studies, whitepapers, and webinars are quite popular in B2B lead generation. However, the key here is to create high-value content that is tailored to the needs, challenges, and pain points of your target audience.

What is B2B lead generation?
B2B lead generation is all about identifying potential brands and businesses that can become customers. Here, the target audience generally includes key decision-makers within a business while the focus is on building relationships and delivering content that matches the brand's needs and interests.