How To Boost Lead Generation Using Content Marketing?
Any successful demand generation program, even when backed by the most advanced marketing technologies, can cripple down if its content strategy doesn't align with a buyer's profile or feeds into their entire buying journey. Crafting content is not just about vomiting words and merely filling up web pages to rank high on search engines; it's about giving your web swimmers a delicacy to drool and binge upon.
While marketers across the globe recognize this as a universal truth, unwarranted self-satisfaction usually makes them take suboptimal decisions, further suppressing conversion rates and significantly affecting the later stages of a prospect's buying cycle.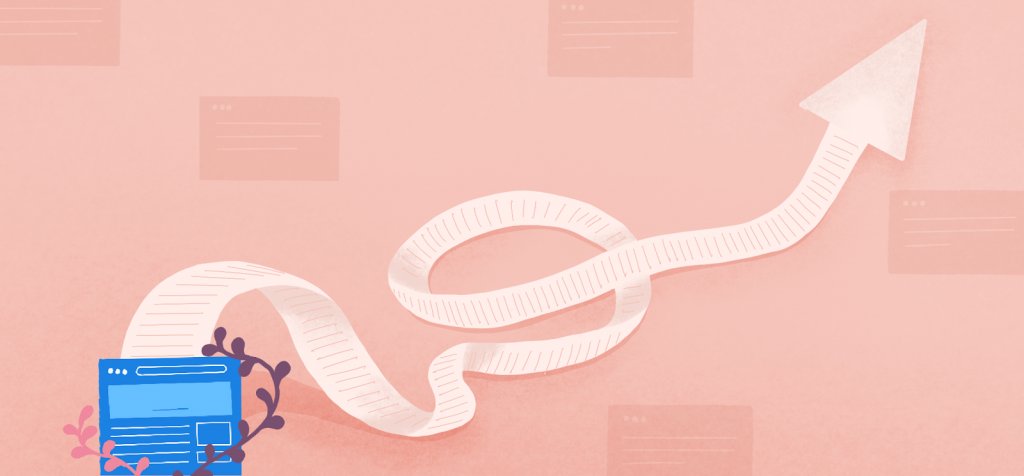 Through this blog, we aim to shed some light on different types of content marketing lead generation strategies that are sure to drive more quality leads and conversions, and create a steady path for the continuous flow of revenue into your business.
What is Lead Generating Content Marketing?
In the purest of terms, lead-generating content marketing is a strategic marketing effort that typically focuses towards creating and distributing interesting, engaging, and relevant content across a versatility of domains to attract and retain a predefined visitor persona. The lead magnets attached to this marketing activity are quite high stake in nature as content has the prowess or persuasive power to make or break a deal for your business. The better your content marketing strategy, the more potential leads it will capture.
The Matured Age of Content Marketing
Needless to say that content marketing has transitioned into a mature adult in the past decade leaving behind the speculative tips and tricks (or its teenage years, to say) on the whys and how to create, disseminate, and use content to one's leverage. It's entered the age where content creators and marketers have understood that content marketing isn't about going back to the same Mother Discipline of marketing that existed a thousand years ago (metaphorically speaking). It's about spreading your horizons – placing needs of your audience above your promotional agenda; truly mature content pits users as your center of gravity. Successful content engines document a reader's trials and tribulations along with helping them discover answers to poignant questions that will help them succeed in their jobs.
Let's now embark on our journey to unravel different types of successful lead generation content marketing strategies and how to leverage them to your advantage.
How to Generate Leads through Content Marketing?
The content arms race is constantly pushing us, marketers to come up with something new, interesting, and interactive to cut through the chase and stand atop. With this in mind, we've curated a list of smart strategies (backed by examples) that are on the cutting edge.
1. Personalized Content Targeting
Personalization is overpowering every marketing tactic you've used till date to get prospects aboard. A tint of personalized touch (when added to your content) has the potential to get you enough leads to keep your sales team busy for months. For the reason that personalization plays with the minds of the individuals. It soothes them, makes them feel wanted, ultimately compels them to take action – enter your conversion funnel.
The amount of extremities you can touch through personalized content targeting is beyond a gauge. Online giants like Uberflip helps businesses centralize their content to create personalized experiences for all their marketing programs and encash humongous opportunities.
Additionally, artificial Intelligence and machine learning are two hot technologies, which when applied to content can help you connect and engage with your target audience in a much more enhanced manner basis customization and personalization. So, as a marketer if you're trying to keep pace with the modern world and build an audience base, use these latest innovations to your advantage.
2. Content Promotion along with Creation
Creating a brilliant piece of content is important. Promoting it across various content channels is paramount. For the reason that content doesn't discover itself. It needs to be put out there in the open for potential customers to read, get enlightened, and share amid peers. So, much of your job is not just to get great content created from your writers, it's to ensure it gets to the right audience. Intercom is one such business that invests much into this domain.
On the other hand, media crossover is another area to explore amid the content marketing realm. To accelerate content discovery, collaborating with companies like Outbrain, PR Newswire, GrowthHackers, Zest, etc can help a lot. Such platforms, allow you to place your content pieces in relevant places on tens of thousands of partner sites and increase their exposure. This is not only a great way to distribute, target, monitor, and market your content and connect and engage with target audiences across the globe, but get good backlinks as well.
3. Crack the Creation Code
Besides making your content prominently visible, the choice of channels is another thing that can make or break your SaaS content marketing strategy. For instance, if Twitter is one social media platform where your target audience engages with your brand in maximity, then bite-sized content should be your area focus. On the other hand, if Pinterest works best for you, then focus your energies there. Remember, the more you understand your target audience's psyche and reading habits, the better you can create and market content, and drive maximum RoI.
4. Data-backed Content Pieces
At its core, most of these pieces of content are more like surveys or polls, but much thanks to several social tools and online efficiencies they gain the reputation they deserve. Meaning, socially-informed and data-backed content pieces aren't just supported by facts and figures gathered directly from the horse's mouth but something that's got the depth they deserve for people to take an interest in and drool over your efforts. This is a much-needed tactic to inculcate into your content strategies and marketing efforts. Look at content published and distributed by Gartner. Along with picking content topics that are trending, they're also backed by facts and statistics which make them worth your read.
5. Widen your Content Horizon
Having your writers do all the heavy lifting is what's most expected. But what if they're unable to match the high-quality content frequency much needed for your organization to thrive amid the content arms race? It's time to widen your horizon!
Getting guest bloggers aboard is one tactic to use (also a pretty old one, yet works a lot), asking your own employees from various departments to pitch in is another way to scale up. While most organizations do use this method, not many have still cashed this front.
The reason we're stressing on using this technique is because it serves as a two-way street. It not only helps increase content creation (and distribution) velocity but gets fresh minds and ideas to float through your blog post section. Many organizations, including VWO, have realized that some of these efforts have more merits than others, especially in the long run.
6. Audience Segmentation is the Key
Using the same pieces of content to cater to every audience segment is an old school. Understanding the fundamentals of your audience's needs stands as the differentiator here. Meaning, don't hard sell your content. Instead, be more tactical about it. The more you capitalize on this, the more you'll succeed. Enjoy this great example!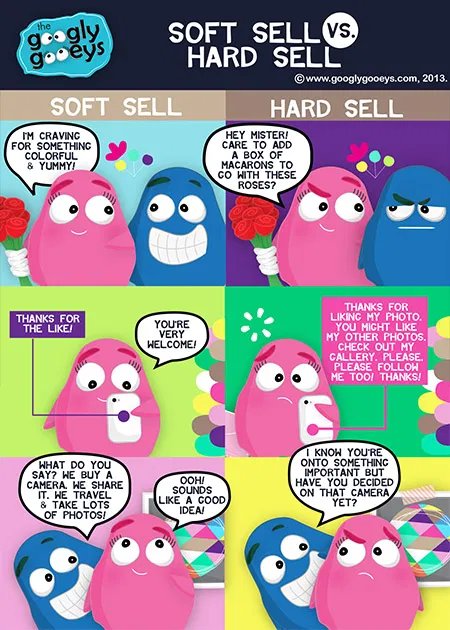 7. Visual Snacking
Content marketing was once heavily synonymized with word vomiting. However, since the past decade, trends have massively changed. A web tourer today is most interested in wedding a piece of content that's crisp, more story-formic, and imaginatively engaging with knowledge. That's why 51% of marketing professionals worldwide use video engagement as a content weapon[1] to boost their RoI than other traditional marketing mediums.
Let's dig a little deeper here!
Educational Videos and Mini-documentary: Product or service video content with talking heads may be a dime a dozen. But these serve as the gold standard of great video work, especially when embedded on landing pages. They do demand some extra effort, when done well, they can make even the most complex of topics interesting and engaging. 
Interactive infographics: The value addition of infographics[2] is far more in the visual snacking race than its counterparts. Their beauty isn't just restricted to their creative ornamentation, but the crisp and on-point information they contain is what makes them stand out. Moreso, as per Demand Gen Report, infographics have the prowess to increase web traffic by almost 12%[3].  
Illustrated summaries: Another superstructure that rests amid the visual content marketing realm is illustrated summary. The basic idea behind using illustrated summaries is to absorb impressions or ideas from a lengthy document, for instance, a white paper published on conversion rate optimization, and turn the main points into a visual summary. Marketo used an illustrated summary to describe its' Dreamforce event back in 2012. Here's a glimpse.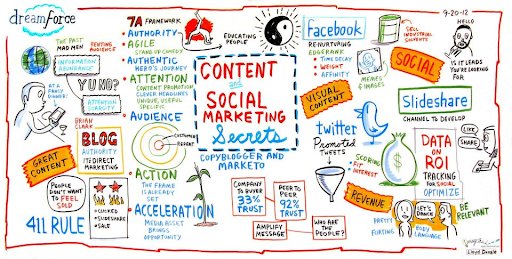 Conclusion
As a content marketer, one thing you must keep in mind is to always align your content strategies with your brand's ultimate goal(s). Approach them in the same manner as you'd do in case of your product — with a deep level of seriousness and gravity. Treat every piece as something that adds to your RoI and gives you the lead your brand needs.