What is a sales funnel?
A sales funnel is a marketing tactic that captures and outlines the journey a consumer takes while completing any form of transaction. The method incorporates a funnel as an example to demonstrate that every transaction starts with a large number of potential consumers and concludes with a lot fewer people who make a deal.
A sales funnel begins at the top with a large number of potential customers. This pool of prospective purchasers is narrowed down to minimal prospects based on specific criteria.
Around the midpoint of the customer journey, the pool of prospects drops to a small number of possibilities. Further, post-decision-making stage, the sales process concludes with a won or lost transaction.
Businesses may be able to guide prospective consumers through the purchasing process and towards a successful transaction by creating solid sales funnels sans interruptions. The opposite is true about the funnels with gaps, which causes potential consumers to abandon the sales cycle like water through a sieve.
Importance of sales funnel implementation
The most beneficial aspect of implementing a sales funnel is that it provides an understanding of a customer's purchase journey and the current stage may be determined using a sales funnel. With the help of such data, businesses can direct additional leads toward becoming paying customers, by investing in the most effective marketing initiatives and distribution methods, and developing the most appropriate content for each step.
Benefits of a sales funnel
A business can get various advantages from a clearly defined sales funnel some of which are mentioned below.
Sales and marketing coordination
Whether they are in the early stages of research or late in the decision-making process, a prospect can wish to contact you at any point. To ensure that consumers receive the details they want even when a salesperson is unable to provide them directly, it is crucial to align your marketing and sales activities. You may make the right offer to your prospects without engaging in sales discussions if you have a solid operational sales funnel.
The right message at the right moment
A good sales funnel enables marketers to comprehend the customer's purchase process and foresee the queries and uncertainties they could have at various points. This information may be applied to develop and send customers timely and appropriate marketing communications.
Saves time and effort
A strong sales funnel enables marketers to weed out substandard sales leads at an early stage and concentrate valuable marketing resources exclusively on prospects that have the best chance of becoming paying clients.
Boost in sales
An effective sales funnel makes sure that all possible issues are resolved, and leads are motivated and prepared to make purchases by the time they reach the bottom of the funnel.
Highly accurate forecasts
Sales funnels can forecast how much money your company will make in the future. The proportion of leads you anticipate converting may be calculated using KPIs like the conversion rate through the funnel stages, and the result can then be multiplied by the entire expected deal size in the funnel. You will receive a sales prediction as a result.
Generates customers
The goal of the sales funnel is to take a company's target market and lead the participants through a sequence of actions that might ultimately lead to their conversion to customers.
Produces referrals
A sales funnel encourages happy customers to recommend new prospects who may not have previously fit into the initial target audience, in addition to helping to acquire a primary target audience and group of clients.
Monitors and keeps tabs
Businesses may use a sales funnel to assess how each stage of the sales process is performing and make necessary improvements. With this, time and sales resources are used more effectively. Customers' input is enlightening when they are moved through the sales process.
Stages of the sales funnel
Although each company's sales funnel stages could be different, they are often divided into the following categories: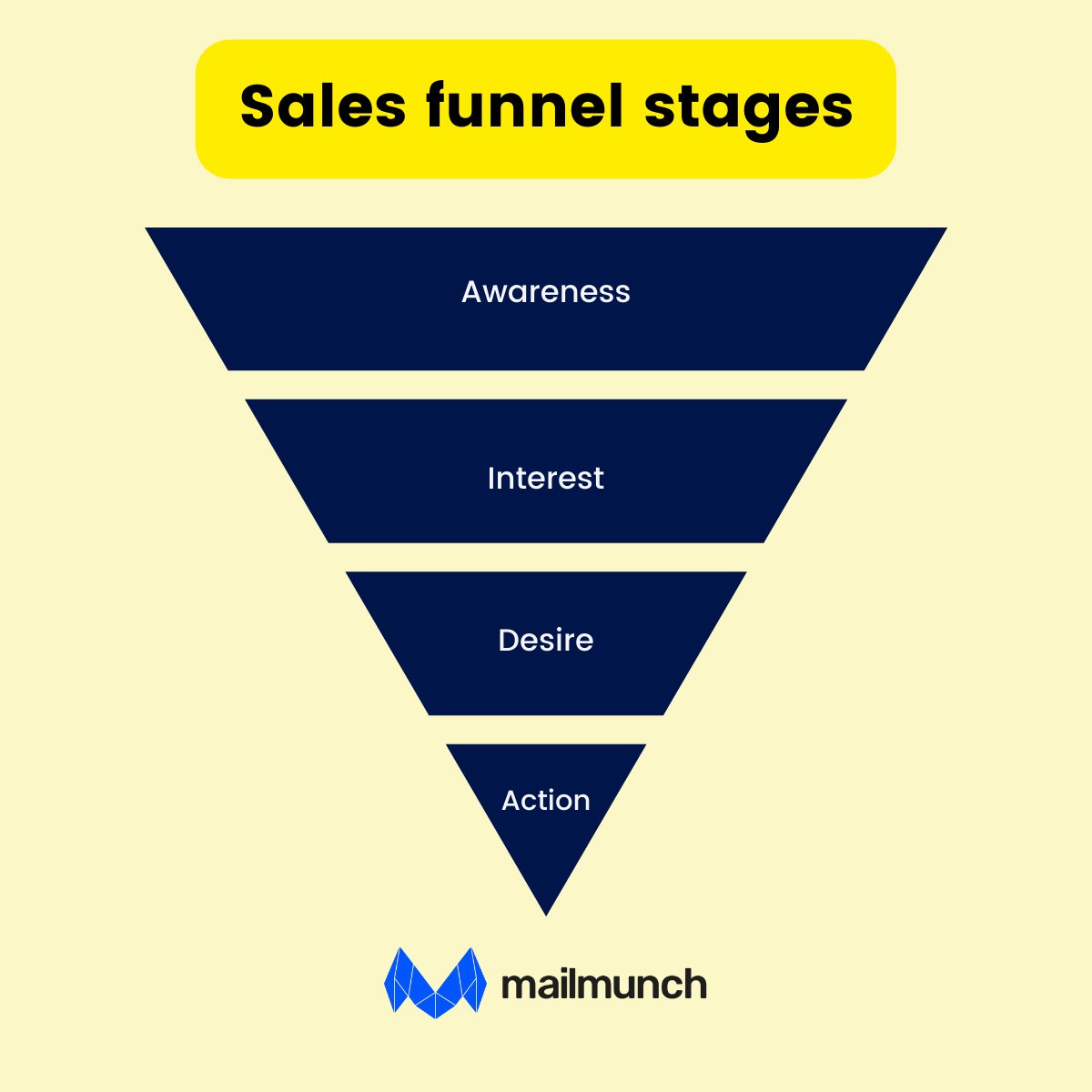 Awareness
The first stage is known as the "awareness" level since it is at this time, customers initially learn about your goods or services while looking for a fix to their issues. They could learn about you through word of mouth, social media, advertising, or content marketing. The majority of potential customers are present at this stage.
Interest
The volume of potential customers starts to decline at this stage, but the likelihood of a sale conversion rises. Customer engagement and requests for further information typically occur at this point. The prospect will also investigate other products to see if the company's offering can best fulfill their demands.
Desire
The prospect will delve further now that they are aware of your business and the solutions it offers for their problems. The potential customer will show purchase intention by investigating details like pricing and packaging alternatives.
To assist the prospects in deciding this level, sales sites, webinars, and calls are quite beneficial.
Action
This last stage of the funnel is when all the previous stages come together. The consumer has already made up their mind about whether or not to buy the product at this stage. The business may employ additional marketing strategies to make sure its product remains top-of-mind even if the potential customer decides not to buy.
Type of content for each stage of the sales funnel
Each stage of the sales funnel caters to customers at different levels in their journey that requires the relevant type of content to engage them. The below infographic provides the breakup for the same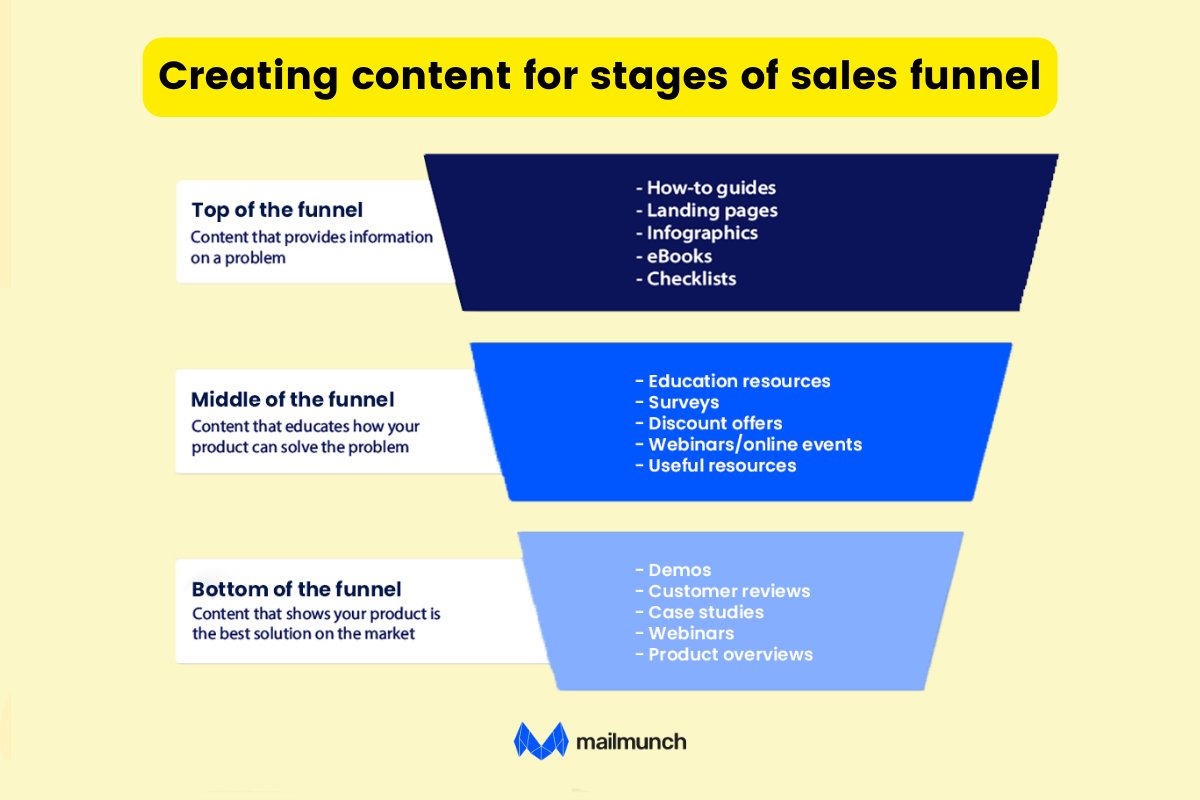 Steps to create a sales funnel
To create an efficient sales funnel the below steps should be kept in mind
Take into account your audience
To make your sales funnel effective, you must comprehend your target market and specify the issue you hope to resolve for them. The simplest method to achieve this is to collect information on their:
Problem areas
Goals and objectives
Interests and passions
Your ability to position your items and come up with engaging offers will improve as your level of insight increases.
Grab your viewer's attention
No sales funnel exists without leads and potential customers. Only if you can entice prospects into it will your sales funnel function. This requires presenting your content to your intended market.
Make the most of multiple channels to publish a plethora of content in various formats such as infographics, flipbooks, movies, social media content, and others.
Be open to A/B tests to experiment with various content formats on different platforms to reach the maximum audience.
Develop a landing page
Your ads and other material must lead potential customers somewhere. Here's where a landing page with an irresistible offer can help. Your landing page needs to explain your brand's identity and distinguishing qualities. Depending on how well you do, this may be your sole chance to win over potential customers.
With the primary goal of acquiring leads rather than driving sales, ensure the landing page features a form for the potential buyers to provide their details.
Whether downloading a free eBook or reading a blog, your landing page should also contain a prominent CTA (call to action) that clearly states what action they should take.
Give something worthwhile
Instead of just requesting that they buy your goods when they arrive on the landing page, the prospect should be given a compelling reason to perform the required action.
Offer discounts, a promo code, or access to certain restricted content to encourage your leads to take action. However, limit the duration of your incentives because creating a sense of urgency can increase sales.
Prospects must be nurtured
A successful sales funnel requires a high number of prospects to reach the end. To achieve it, however, nurturing must take place at the top of the funnel (at the awareness and interest stages).
An easy way to encourage and develop prospects is to provide them with content that will allow them to understand your brand better, such as how-to guides, eBooks, checklists, surveys, and case studies.
Customers can be nurtured and guided on how to use your products and services by your customer support team.
Maintain the communication
Try to keep connected to and in contact with your prospects even after they become paying clients. This can be done by sending:
Regular updates about new promotions
Useful and informative content
Gratitude for making purchases
Track and analyze the final results.
Your funnel can fail to capture even the most qualified leads. Avoiding this is as simple as identifying blind spots, missed opportunities, and opportunities for improvement. Always remember that sales funnels are not permanent. They need constant optimization.
Best practices for creating a sales funnel
The below infographic displays the practices that can be followed to create an effective sales funnel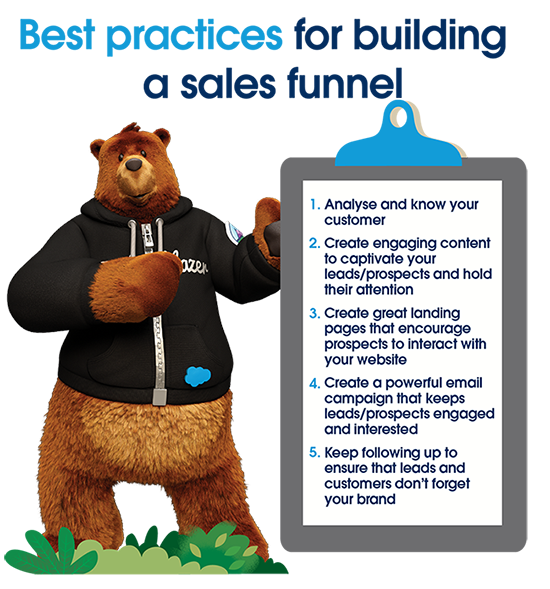 Metrics to measure the success of a sales funnel
As your company expands, your sales funnel could need some alterations. You may better understand your clients and broaden your product and service offerings by gathering more information about your target demographic.
Tracking the below metrics is an excellent approach to gauging the effectiveness of your sales funnel
Customer lifetime value
Total sales
Conclusion
Being structured is only one aspect of managing a sales funnel. The primary goal is to give each prospective client the individualized attention they desire. It's important to always follow up at the appropriate moments. This will free up more time for you to focus on closing deals, which is the most lucrative activity of all.