What is organic traffic?
Organic traffic, or free traffic, refers to website users who arrive through unpaid channels. It is generated when a person clicks on a link on a website that appears in the search results of a search engine like Google, Yahoo, or Bing. The fact that organic traffic is free makes it the kind of traffic that website owners desire most.
Importance of organic traffic
Below are the reasons why organic traffic is essential for any brand:
Improved functionality
Organic traffic may boost the website's reputation and assist in its effective functioning. If you sell a variety of items on that website, organic visitors can increase your revenue.
Targeted search
As a result of its targeting, organic traffic is valuable. Visitors who come from organic search results have a specific objective, and they are more likely to convert if you can answer their questions or provide a solution.
Raised trust
Organic traffic raises the level of website trust. Users believe Google to be trustworthy, and prefer websites that appear in the top organic ranks of Google. This indicates that an organic visitor has a higher chance of becoming a customer than one who arrived via Facebook or another source.
Benefits of organic search traffic
Online marketing that relies on organic traffic is quite effective. The best part is that it's free, scalable, and helps to establish consumer confidence in your business.
Some of the main benefits of organic traffic include the following:
Leads to highly qualified prospects
Increases consumer faith
It is motivated by consumer intention.
You may connect with those who have never known of your company previously.
It is economical.
Attracts extremely relevant clients
Strengthens brand loyalty
Lasting competitive advantage in the marketplace
ROI influenced by customer intent
More successful conversions
Organic traffic vs. other search traffic sources
You may also encounter the following types of traffic in addition to organic traffic:
Paid search traffic
The primary distinction between paid search traffic and organic search traffic is that paid search traffic derives from clicks on pay-per-click (PPC) adverts on the results page, whereas organic search traffic is free.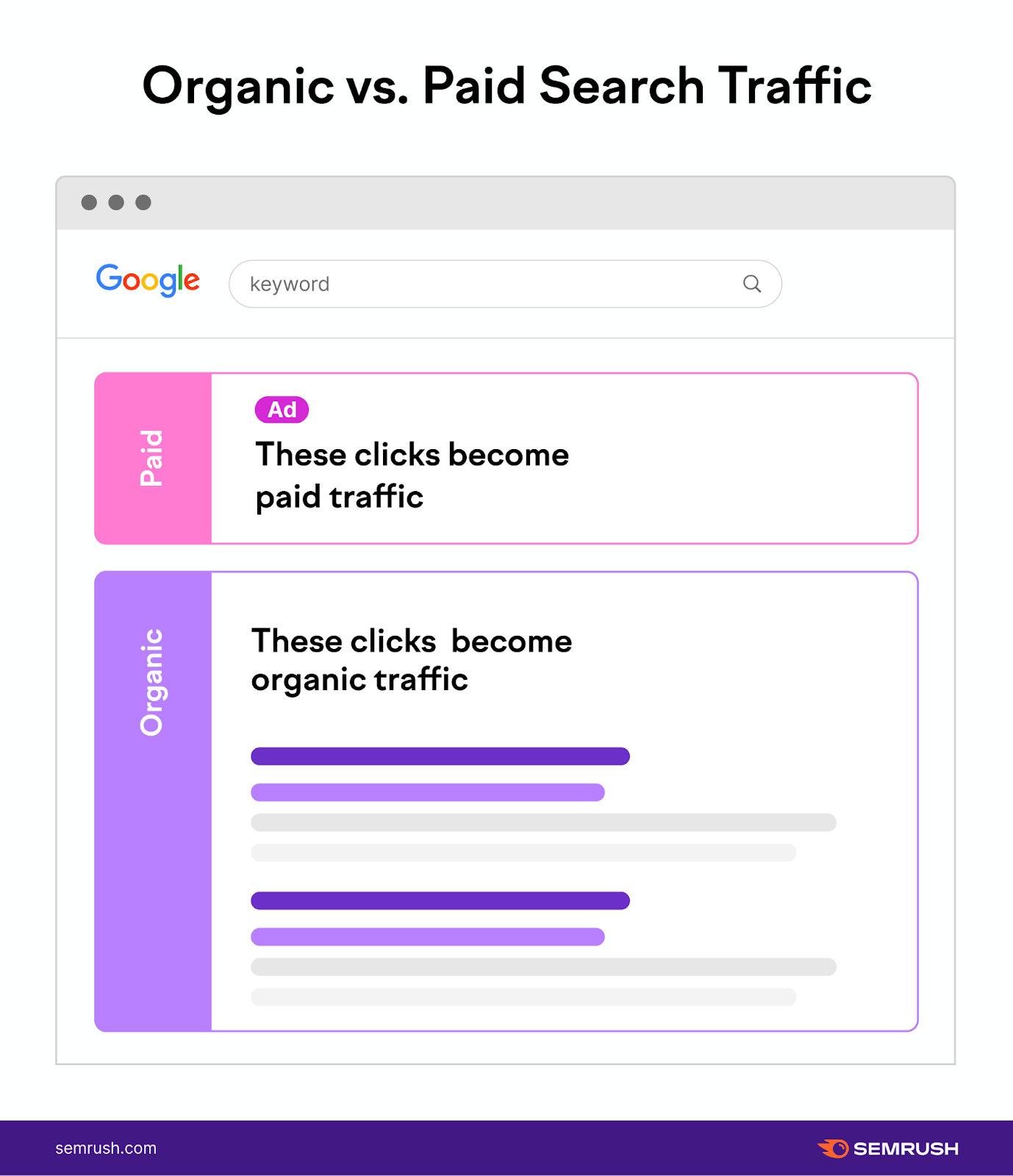 Websites can get visitors besides those that come through organic and sponsored search:
Direct traffic
Traffic is generated directly, such as when users type a domain name into their browser's search box.
Referral traffic
Traffic that originates from links on other web pages.
Organic social media traffic
Traffic generated by unpaid posts on social media platforms.
Paid social media traffic
Traffic is received through advertisements on social networking platforms.
Ways to check the organic traffic to your website
Website owners may obtain free information on organic traffic to their sites with a Google Analytics or Google Search Console account.
SEO strategies for boosting organic traffic
Following tried and tested SEO best practices is the ideal approach to boosting organic traffic and attracting more search engine visitors.
Search engine optimization, or SEO, is the procedure to improve your website to appear higher on search engine result pages (SERPS).
SEO best practices aim to make it simpler for search engines to crawl, index, and comprehend information.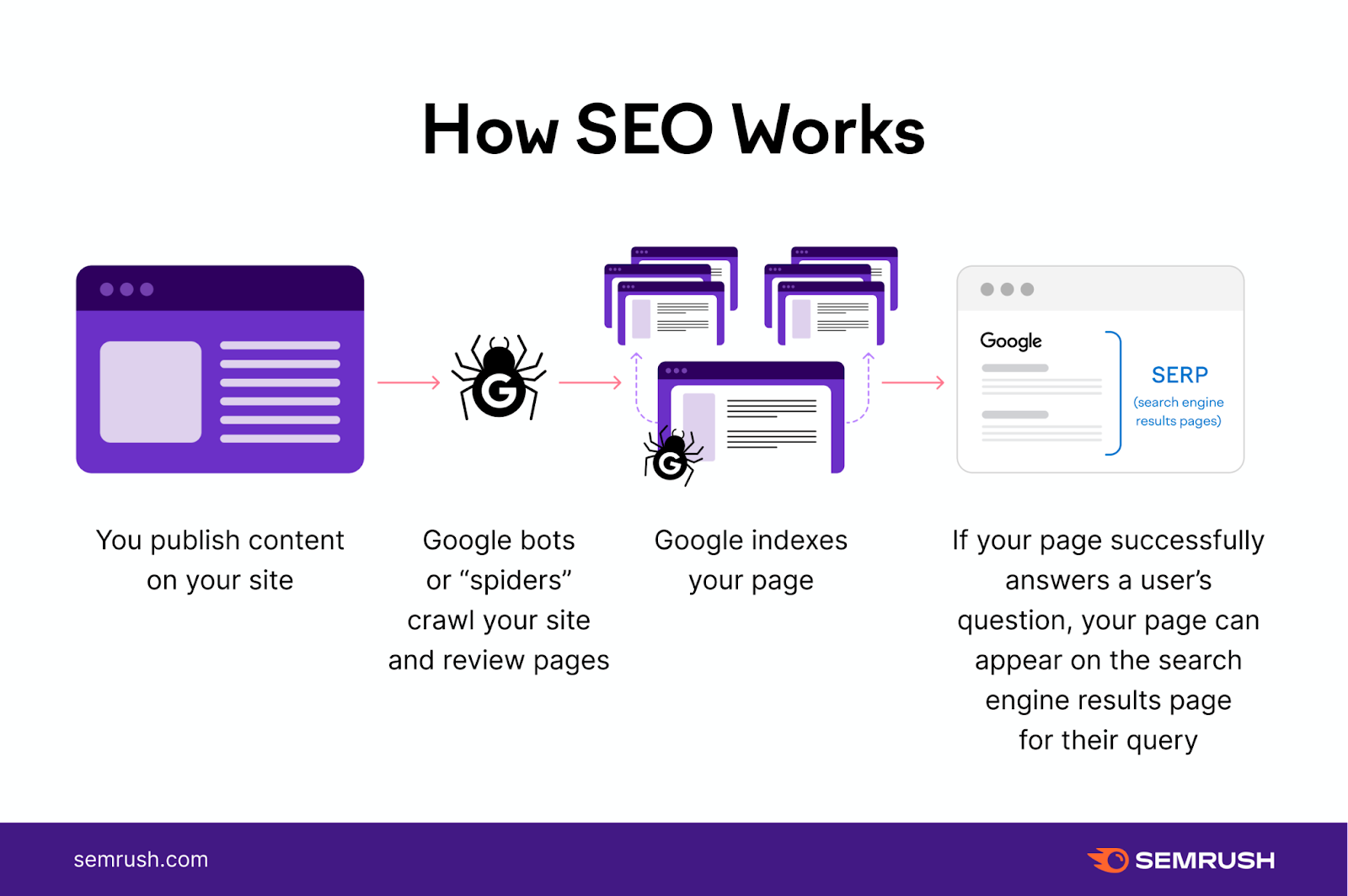 Your website must comply with these requirements to get organic traffic:
Exhibit quality content
Receive a Google crawl and index.
Be noticeable in the search results so that people will click on your page.
But step 3 is actually where your SEO strategy comes into play. You must discover a means to outrank what is currently ranking on search engines if you want to be seen. The strategies listed below can help you achieve this goal:
Discover the most effective pages of the competitors
Your own website's performance will improve the more you are aware of your rivals' SEO tactics. Finding the best-performing pages of your rivals' websites might be a good place to start if you want to have a better understanding of the sources and motivators of their organic traffic. You may learn about items as below by examining the top pages of your rivals
A weak connection between the content and the keywords
A missing link
A chance to enhance the existing content
Instead of targeting a single keyword, it enables you to identify prospective page-level regions to concentrate your efforts.
This technique might also aid in identifying rival websites that you may not have previously considered.
Provide relevant content
It is the brand's responsibility to offer appropriate information to fulfill the visitors' specific search needs. To accomplish this, it is imperative to perform keyword research to choose keywords that will enhance the chances of ranking organically in search engines.
Include relevant keywords in the page title
One of the most important SEO variables is the page title, which search engines use to determine the topic of a page and is displayed in the search results.
An excellent page title contains relevant search phrases that visitors would recognize and is compelling to persuade readers to click on it and navigate to your site.
Obtain backlinks from other websites
A website's organic ranks are boosted by backlinks from other pertinent websites, which serve as "votes of trust."
Build user-friendly webpages
The aspect of website usability will increase your chances of receiving organic traffic from any search engine. You must create websites that
Load quickly
Are optimized for mobile devices
Are devoid of technical SEO issues
Focus on the "people also ask" section
Answer boxes that display beneath the top result in Google's search results are also known as "people also ask" sections. If you're not appearing in the top results for a search, focusing on this area can assist. Doing so will provide you the opportunity to attract organic visitors that you otherwise wouldn't.
Update obsolete content
As time passes, some of the material will become outdated as you continue to write fresh website content. Ensure the material in your content library is still (a) correct and (b) relevant by going over it all at least once a year. Update the post with any required adjustments.
Optimized search images
Visual search is indeed essential. If your website isn't optimized for image search, there's a large risk that you're losing out on chances to attract visitors from a source that your rivals are probably not taking into account.
You have a good possibility of ranking well on the image search engine results pages (SERPs) if you correctly optimize the photos on your website. It's smart to consider the following for images
Relevant names of files
Image resizing to the required proportions
Smaller file sizes
Making a sitemap for images
Using a CDN to host your photos
Title and Meta Descriptions
Both the title and meta description are vital. It's the way your link will appear in search engine results and defines the page that the user will see after clicking it.
The title and meta description of the page must include the keywords you want it to rank for while maintaining concise and persuasive content. You will see an increase in website traffic as well as the CTR. The ideal way to choose the title tags and meta descriptions to apply for optimal gain is to test several variations of them.
Conclusion
Learning how to boost organic traffic to a website is not a secret. It all boils down to conducting the research, selecting the subjects for your articles, and maintaining a regular publishing schedule. An effective content strategy will ultimately pay off and generate steady organic traffic.
You must go beyond the fundamentals and delve deeper into SEO strategies that will elevate your site if you want to keep seeing organic traffic to your site rise.