What is a backlink?
Backlinks refer to clickable links on one website pointing to another website. If a website links to your site, then you have got a backlink from them. If you link to another website, then that website has a backlink from you.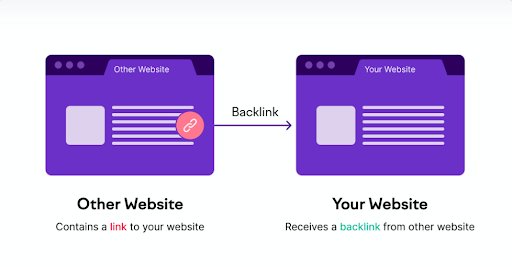 In simple words, "backlinks are conversations among websites".
Backlinks are also known as:
Inbound links
Incoming links
One way links
Types of backlinks
Primarily, there are two types of backlinks, with one more valuable than the other. Let's take a look at each one and how they affect your site.
A Nofollow tag informs search engines to ignore a link. As they don't pass any value from one site to another, typically, they aren't helpful in improving your search rank or visibility.
A Dofollow link is the type of backlink that everyone wants in order to improve search engine rankings. It is important to keep in mind that links coming from respected/trusted sites hold the most value. However, Google can penalize links coming from suspicious sites, which can make a difference in rankings.
Importance of backlinks
Backlinks are equally important for both, search engines and users.
From a user's context, backlinks provide a means for people to find alternative sources of information on the same or related topics.
Backlinks are typically votes of confidence from other websites. Each of these votes informs the search engines: "This content is important, valuable, reliable, and useful".
Thus, the more of these "votes" you have, the higher your site will rank in Google and other search engines.
Backlinks & SEO
Backlinks have a big impact and are a critical component of SEO. Earning quality backlinks from a trustworthy website is one of the most important signals that Google considers for ranking any content.
As Google considers external links as popularity votes for a webpage or website, there is a strong correlation between sites with more quality backlinks and their SEO (higher rankings and search visibility).
Qualities of good backlinks
To achieve higher rankings, it is important to focus on quality backlinks. Some of the key traits in all quality backlinks are as follows:
Authority – They appear from trusted/authoritative websites
Relevance – The link's anchor text includes your target keyword.
Placement – It is essential to keep the link placement in mind, as it is more likely for users to click prominently-placed links rather than the ones in the site's footer or a crowded sidebar.
The site/page backlinking to you should be related to your site.
The link should be a "Dofollow" link
The link is from a site that hasn't been linked to you before – it is better to receive 100 backlinks from 100 different sites rather than getting 1000 backlinks from a single site.
Best practices to build quality backlinks
Building quality backlinks to your site takes time and effort. Here are simple ways you can start building quality backlinks for your website.
Create linkable assets – For visitors to like your website, you need to provide an amazing piece of content – a " how-to" post, a "why" post, a blog post, a video, a piece of software, a quiz, a survey, an infographic, etc worth linking to.
Build backlinks from link roundups – Link roundups are daily, weekly, or monthly blogs with the main purpose of linking to some wonderful content.
The moving man method – This is a process of first looking for sites linking to outdated or redundant resources and then nudging those sites to use your updated content.
Writing incredible guest posts for quality sites can provide some good backlinks for your website.
It is a good practice to add your website links to your social media profiles.
Write ultimate guideposts that cover every angle of a topic.
Encourage industry-specific influencers to link back to relevant posts/pages on your website.
Site owners should follow Google Webmaster Guidelines on links to ensure they attract excellent quality links that are not part of a link-building plan.