2022 B2B Marketing Landscape: What's Changing
2022 marks the start of an exciting decade for B2B marketing.
Developments in AI and machine learning have allowed B2B marketers to leverage advanced marketing and advertising automation solutions, such as programmatic advertising, chatbots, and personalization.
With time, further advancements in these technologies will help decrease marketers' time spent on tedious, repetitive tasks, allowing them to focus on devising effective strategies for generating more revenue and boosting ROI.
With estimates that video will comprise 82% of the overall Internet traffic by 2022, B2B marketers will also be putting in more effort into producing video content.
Let's look at how these trends will affect the B2B marketing landscape.
AI will enable next-level marketing automation and advertising
B2C marketers have been leveraging AI for a while now. B2B marketers, on the other hand, have been slower in adopting the technology.
However, Salesforce research shows that AI tops the list of technologies B2B marketers are looking to implement in 2020.
As more AI-powered marketing automation solutions pop up, AI will become even more prevalent in the B2B marketer's toolbox.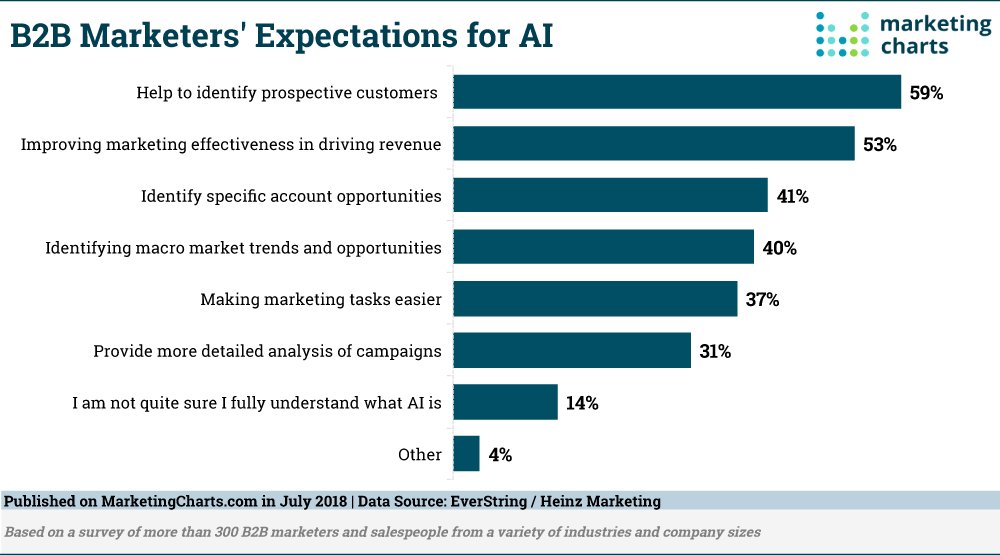 Advertisers are starting to focus more on taking advantage of AI as well, using programmatic advertising to automate the bidding process.
This is further backed up by Forrester Research, which predicts that the majority of digital advertising spend will be used on programmatic advertising in the next few years.
Using AI to automate advertising spend minimizes the chances of errors during bidding, as well as reduces advertising costs. Therefore, in most cases, making programmatic advertising a no-brainer for advertisers in 2022.
Using GPT-3, VWO now enables you to generate recommendations for your existing website copy. We believe this is a huge step in the direction of conducting experiments using AI.
Chatbots will become crucial for lead generation
B2B marketers are still experimenting with chatbots and trying to gauge their usefulness. A lot of them are seeing success with chatbots for both generating and nurturing leads.
Around 58% of B2B companies currently use a chatbot on their website
.It's estimated that businesses will invest $4.5 billion in chatbot technology by next year.
By allowing you to engage with your leads 24/7, chatbots help you make sure that you don't miss out on any just because they were at your website outside of your office hours.
Chatbots are also highly useful in finding out more about your leads, scheduling calls, educating your audience, and engaging visitors who try to abandon lead capture forms.
Having response rates ranging from 35% to 90%, they've shown to be very effective in engaging leads.
Buyers are on board with chatbots, too. As much as 35% would use a chatbot to get a detailed answer on a question they have, while 34% would use it to connect to a human.
13% would even use it to make a purchase straight away.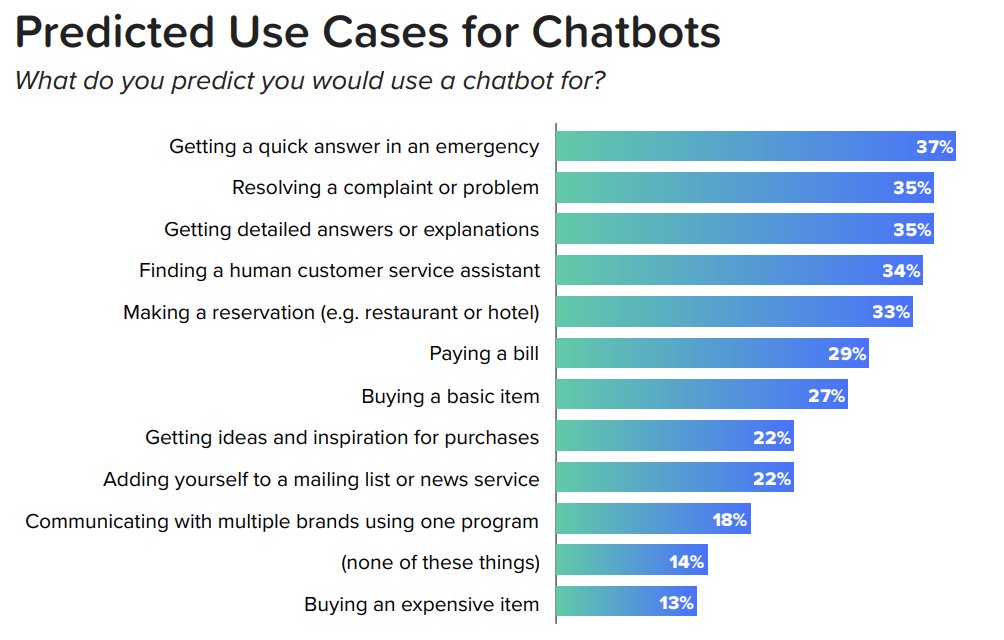 As more and more marketers experience the effectiveness of chatbots first-hand, the usage of chatbots for lead generation and nurturing will increase significantly.
Content marketing will be focused on video
Social media platforms have helped firmly cemented video as the most popular content format around.
Live video streams, webinars, and educational videos are increasingly being used by B2B marketers to reach their target audience.
As much as 73% of them state that video content has a positive impact on their ROI, while 93% claim to have generated new customers, thanks to video content posted on social media.
It's also been shown that marketers who use video content generate 66% more leads compared to those that don't.
Finally, 41% of marketers state that they plan to increase their video marketing budget soon.
These stats come as no surprise when you take into account all the benefits of video marketing.
B2B businesses can use videos to improve brand awareness, develop authority, build meaningful relationships with their target audience, and generate leads.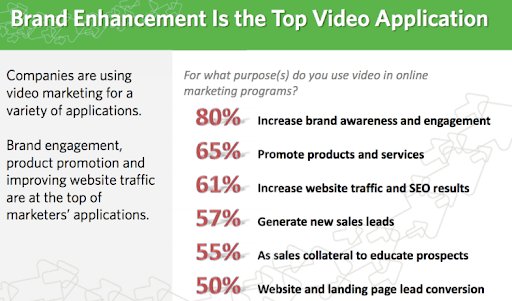 Videos are popular with buyers, as well. As many as 59% of them state that if they can choose between consuming content in text or video format, they're more likely to choose video.
65% claim to have visited a company's website after watching one of its videos, while 39% even contacted the business by phone.
It's estimated that online videos will account for 82% of all Internet traffic by 2022, which makes it crucial for B2B marketers to make videos a part of their content strategy.
Businesses will double down on personalization
78% of B2B buyers will only engage with an offer if it's personalized to their previous interactions with a company, while 72% expect businesses to provide them with personalized experiences.
According to 83% B2B buyers, treating them as real people (instead of just numbers), is essential for winning their business.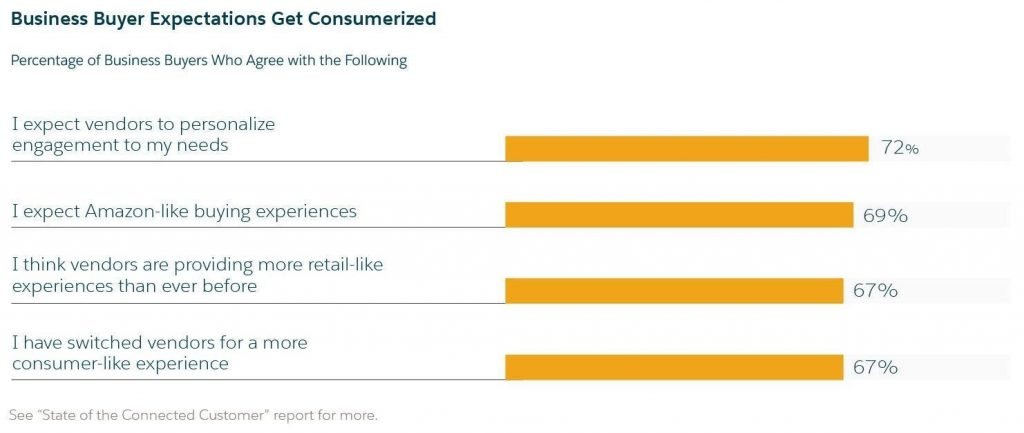 This makes it crucial for B2B businesses to put a greater focus on personalizing their marketing efforts.
B2B marketers understand this, with 66% stating that they're working on securing additional internal resources in order to execute personalized marketing campaigns.
74% of them claim that personalization improves engagement, with 71% personalizing their content based on decision-makers' profiles.
It's been shown that personalization has a significant impact on ROI, with 79% of businesses that have a documented personalization strategy managing to surpass their revenue goals.
Personalization is also helpful in shortening the B2B sales cycle, which can last for months or even years otherwise.
Email is one of the most personalized marketing channels among B2B marketers. Here's why:
Email personalization has been shown to improve open and conversion rates, for businesses that leverage personalized email marketing generating 7.6x more revenue compared to businesses that don't.
You can even personalize the links you create and share online with a tool like Rebrandly. Using branded links over generic links will enhance brand visibility and trust, and can increase click-through rates by up to 39%.
The B2B marketing landscape in 2022
For B2B marketers, 2022 is going to be the year of AI.
This year, B2B marketers will be focusing on AI-powered marketing and advertising solutions, such as chatbots and programmatic advertising. Chatbots, in particular, will become crucial for lead generation and nurturing.
When it comes to content marketing, most B2B marketers will be focusing on video and using live video streams, webinars, and educational videos to reach buyers.
They'll also be increasing their personalization efforts in order to meet the demands of their audience.