Mobile App Heatmap – Not All Taps Are The Same
Mobile has been overtaking desktop visits consistently in the latter half of the decade. And according to multiple studies, the number of smartphone users will stand somewhere around a staggering 6.3 billion by the end of 2021.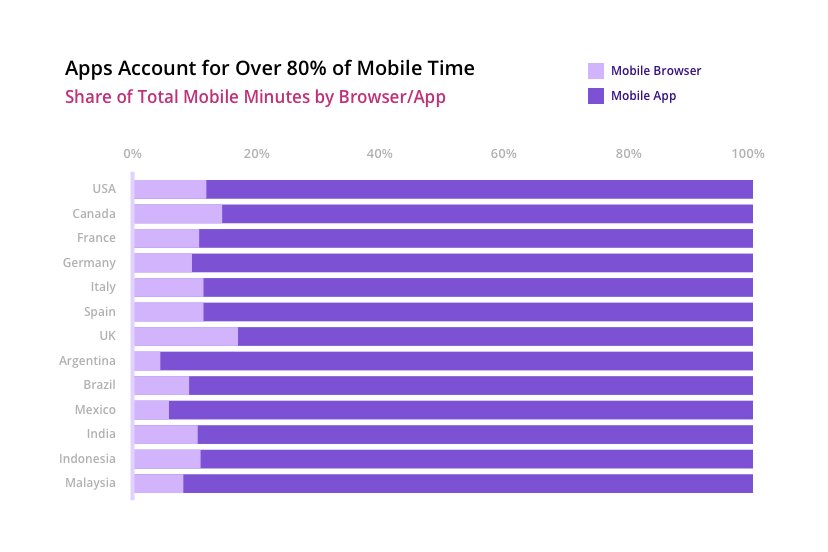 Together Android and iOS offer close to 6 million mobile applications today. Given the unprecedented speed at which mobile apps are taking over the digital space, it is imperative to understand the nuances of user behavior to deliver converting mobile experiences.While taps underline mobile usage, desktop visits are driven by clicks. Consequently, experiences need to differ.
For example, one of the derived inferences from the tap versus click difference is the fact that mobile app screens do not have the luxury of combining multiple elements on a single page as their desktop counterparts. The page would be prone to erroneous taps because of a high density of elements resulting in a categorically horrible experience.
This is just one of the many examples of how user experience designers might want to factor in innate differences between devices and incorporate these in the prototyping stage.
One of the most powerful mechanisms to identify if your mobile experiences are optimized for delight (and hence conversions!) is to study mobile heatmaps.
Mobile app vs. browser heatmaps: the what and how
Mobile app heatmaps capture users' in-app interaction and engagement and visually present the data using an overlay of colors. Red (warm) areas indicate high user engagement, whereas blue (cool) areas indicate low engagement.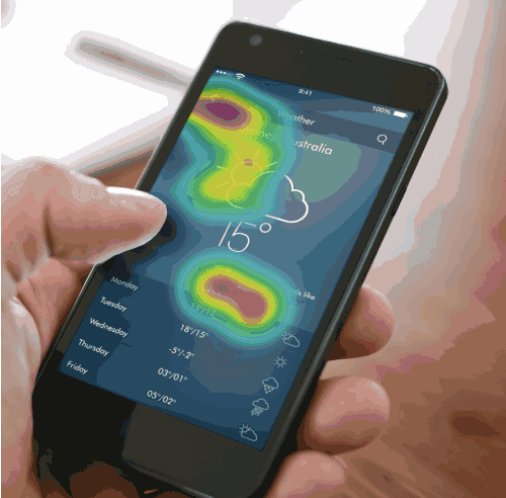 This color-based projection of interaction and engagement data onto the app screen allows you to comprehend exactly where your app users are focusing simply by looking at the overlaid aggregated data. This aggregation helps businesses in two ways:
Abstract a large amount of engagement data and concentrate them in hot vs. cold zones for quick interpretations.
Identify UX improvement opportunities by identifying areas of traction (or lack of.)
Unlike website or browser heatmaps that gather data based on mouse interaction like clicks and scrolls, mobile app heatmap collects users' touch data. It makes mobile app heatmaps much more complex than website heatmaps as the captured data is gesture-based—the SDK of the heatmap tool you select captures every micro-interaction on the app, with all gestures saved on respective screens, which gets aggregated to generate heatmaps.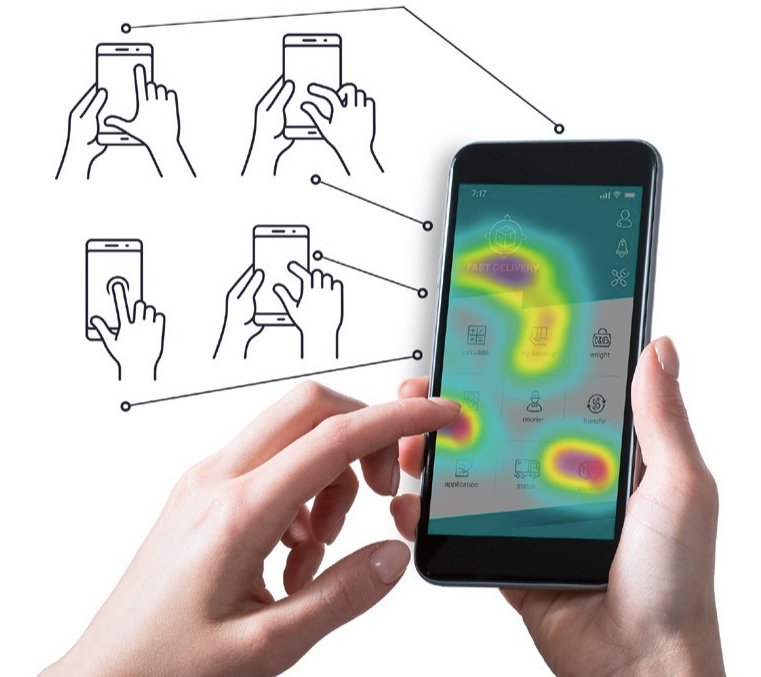 Even though both the heatmap types serve the same purpose, i.e., increasing conversions, the way these heatmaps function and the nature of the collected data are highly contrasting.
Another significant difference between the two is that while for website heatmaps, a website's HTML code serves as the base and websites appear the same across all operating systems (like Android, iOS), in the case of mobile app heatmap, it is much more complex. Mobile app heatmaps have to consider their respective development platforms (like IONIC, Native, etc). The complexity magnifies because the same app could be different for different operating systems. In simpler terms, the number of variables impacting mobile app render is multifold compared to desktop render, making them prone to UI/UX inconsistencies.
Leveraging mobile app heatmaps to improve key conversion KPIs
The benefits that app owners can reap from using mobile app heatmaps are endless. Every industry can have its own unique set of use cases and pain points they solve using heatmaps. But one theme runs common across all industries for using heatmaps, and it is the unrelenting quest for increasing conversions. In mobile apps, the path to increase engagement, and thereby conversions, is using heatmaps mainly involving optimization of User Interface and User Experience.
UI and UX are very closely knit—the UI of an app is optimized to improve its UX.
Everything that an app user sees on their screen comprises the app's user interface, i.e., UI or mobile app interface. It can be broadly divided into content, images, layout, color schema, CTA buttons, and navigation. Mobile app heatmap's gesture tracking captures each tap, swipe, and zoom on every single page of the app, thereby providing user behavior insights to optimize each element of the mobile app interface.
For instance, an eCommerce app's analyst or interface designer can identify distractions and confusing content or discover broken links that keep preventing visitors from signing up and becoming loyal users, simply by looking at the touch heatmap of the app's log-in page.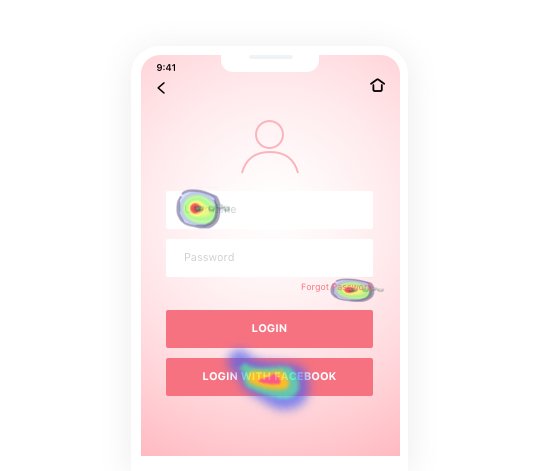 Or, the marketing team of a travel app can apprehend if the icon they added to take users directly to the app's home screen from anywhere on the app is discoverable enough or not. If users keep tapping on other elements and areas on the screen before finding the right button, it can indicate a navigational flaw in the app that needs optimization.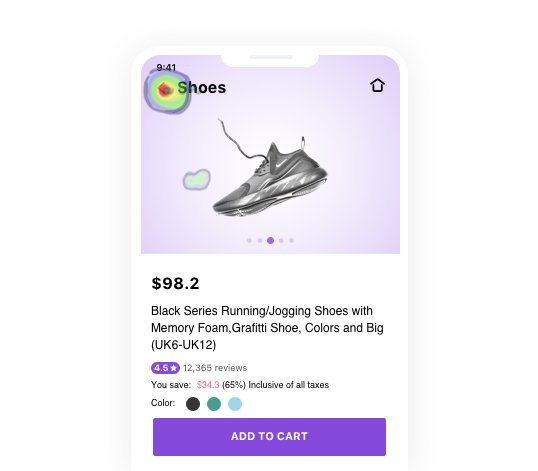 Analysts, interface designers, and marketers across industries can use mobile app heatmaps to iteratively optimize all the elements comprising an app's UI, thereby improving its UX.
User Experience is what the app users experience on your app—the better the experience, the higher the engagement. The more intuitive and optimized the elements of the app interface, the better the experience, hence, the higher the engagement.


There is a 88% chance for online consumers to be less likely to return to a site after a bad experience. If 88% of the opportunities are lost, your app's core conversion metrics will take a sizable hit.
Mobile heatmaps shed powerful insights on improving engagement KPIs. Two ways in which you can use heatmaps is to improve:
Time on-page
A mobile heatmap can throw light on the most significant elements getting traction so that you can rearrange content order, directly increasing your time on-page.
The number of interaction events
Most mobile heatmaps will point you towards areas that drive taps but are not supposed to. These areas can be anything—text elements that are high on emotion ("Latest and greatest handset!"), visual elements that are meant to serve as cues but do not, a down arrow that does not do anything, etc.
Through heatmaps, you can make a note of these and trigger an action corresponding to these events. For example, clicking on your down arrow can make the user jump down the page.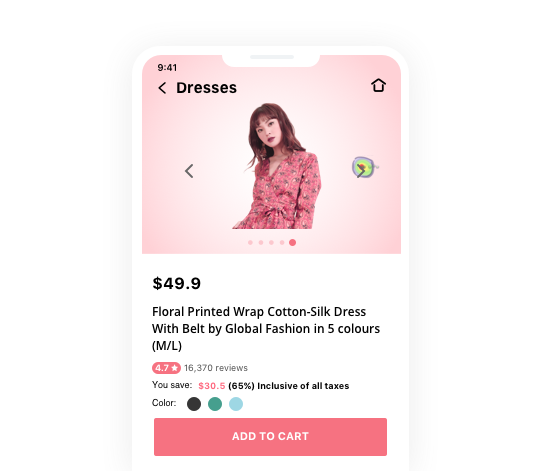 Mobile app heatmaps help to improve user experience
If there is one certainty in the dynamic landscape of devices, it is that smartphone penetration is only going to increase.
For UI/UX professionals looking to hone their skills towards producing mobile screens that drive engagement and profits (conversions!), mobile heatmaps offer a ton of actionable insights behind a visitor's usage. Make mobile heatmaps a part of your workflows so that you can marvel at your user's stroll (or crawl) around your masterpiece.
FAQs on mobile app heatmap
How do mobile app heatmaps work?
Mobile app heatmaps work on the data gathered from the mobile app users' touch. Some examples of the type of touch data collected are swiping, tapping, or zooming. Based on the data collected, a mobile app heatmap shows the different areas of engagement of the user with the mobile app.
How can Mobile app heatmaps influence UX/UI of the app?
UI and UX for a Mobile app are very closely bound. Mobile App heatmaps help to track every gesture of the user on the mobile app interface, i.e. UI of the mobile app. The insights derived from tracking the elements, can be used to optimize those elements, thereby improving the experience for the users, i.e., UX.