Top 6 WordPress Heatmap Plugins for 2023 (Along with Features)
A cursory search for the term "WordPress Heatmap" or "benefits of using WordPress heatmaps" will reveal that most high ranking articles do a great job of listing plugins or tools.
This article is not for readers who are versed in the advantages of analyzing heatmaps for their WordPress websites. This post addresses the nuances of heatmaps for uninformed readers who chanced upon the term casually and were curious to know more.
This blog will try and take you through what WordPress is, some benefits of using heatmaps for your WordPress website, and concludes with some of the most popular tools to start your WordPress heatmap campaign with.
What is WordPress? How do WordPress Websites Function?
WordPress is a free, PHP based, open-source tool that helps create business websites, blogs, portfolio websites, and more. It is arguably the easiest, most powerful, and widely used content management system (CMS), with almost 43% of all the websites on the internet being powered by it.
All that is needed of you is to go to either WordPress.org or WordPress.com and download it.
By definition then, a WordPress website is any website that is hosted on or powered by WordPress. And, when we talk about the optimization of WordPress website, two components are involved: first is backend optimization of WordPress so that the website hosted on it performs well. This can include tracking plugins, optimizing images by maintaining a suitable standard size or file type, and so on.
Second is the frontend or 'client-side' optimization of your WordPress website, and this is where heatmaps come in. It entails the optimization of that part of the website that visitors see and the webpages that determine whether or not a visitor completes the journey and becomes a customer. 
For a website to deliver stellar digital experiences, both of these components have to be kept in check.
Leveraging Heatmaps for WordPress Website Optimization
Optimization of a website entails the use of both quantitative and qualitative data on its visitors' on-page behavior. Where on the one hand, quantitative research tools like Google Analytics (GA) quip you by giving you numerical data on how your website is performing, on the other hand, qualitative research tools like website heatmaps help you fill in the data-gap by telling you the exact reason behind your numbers being the way they are. GA can give you the numbers like bounce rate, page views, and so on, but cannot help you visually analyze visitor behavior. To fill this gap, heatmaps help you gather and visualize visitor behavior trends on your website by stepping into your visitors' shoes. Some of the key contributions that heatmaps can make in the optimization of your WordPress site are:
Tracking WordPress website visitor clicks:
By using clickmaps (or click heatmaps), you can track where visitors are clicking most, dead clicks and rage clicks, missing/redundant/broken links, etc., and then analyze the gathered click data to identify visitor expectations in terms of navigation, page structure, when browsing through your website.
Identify hot & cold attention spots:
By using website heatmaps, you can identify the most and least popular sections of any given webpage. The hot and cold areas on a heatmap indicate sections or elements of a webpage that visitors find most informative or engaging. Such insights are uncovered by tracking where visitors spend their time, where they click, where their cursors hover around, where their gaze is drawn toward, where they abandon your website, and so on.

These insights help you identify if all the necessary information is on the page, place high-value content in the most easily discoverable and popular sections, and so on, thereby increasing your WordPress website's conversion rates.
Leverage scroll behavior data:
Website heatmap offers scrollmaps that can be specifically used to gauge the optimum length that a page should be. Scrollmaps gather data on visitors' scrolling behavior by tracking how far visitors scroll through a page, the number of visitors who scrolled through half of the page, but not till the last fold, at what length the page witnesses maximum drop-off, and so on. All these insights help in identifying the best length for your pages, ascertaining the most suitable and attention-drawing areas where critical assets like CTA should be placed, discovering false bottoms or false floor, and so on.
Heatmaps. clickmaps, scrollmaps, mouse tracking heatmaps, and eye tracking heatmaps together form a loaded arsenal of visitor behavior analysis weapons capable of tracking every possible kind of action that a visitor can take on your website. The above mentioned are only some of the most common benefits that WordPress websites can reap out of heatmaps. Once put into action, heatmaps act as nothing less than a Pandora's box when it comes to providing actionable insights on visitors' on-page behavior that can help move your north-star metric drastically.
Top 6 WordPress Heatmap Plugins and Tools for Your Website – Free & Premium
As competition in the online turf gets stiffer, the demand for qualitative research using heatmaps, whether it is a third-party tool or a heatmap plugin for WordPress, is also increasing. This is because the wonders that heatmaps can do for your conversions are barely unknown today – the internet is swamped with success stories and testimonials verifying the same. On the flip side, the internet is also getting swamped with a plethora of sources claiming to provide world-class heatmap tools and plugins that can help optimize your WordPress website. To make the decision a little less daunting, below is a list of some of the best WordPress heatmap plugins and third-party tools that you can keep under consideration:
Clicky
Clicky by Yoast gathers visitor behavior on all the pages of your website and also gives you data on each user's session duration.

With 20,000+ active installations, Clicky is one of the most popular WordPress heatmaps and can be installed in 3 easy steps:
Upload the Clicky folder to /wp-content/plugins/ directory

Go to the 'Plugins' menu in WordPress and activate the plugin

Input your Site ID, Key, and Admin Key.
ExtraWatch Pro
Once known as the 'swiss army knife' by virtue of offering a plethora of features like tracking clicks on links, gauging mobile-friendliness, and so on, ExtraWatch Pro WordPress heatmap plugin now stands amongst the top plugins that can be used to track visitor behavior trends.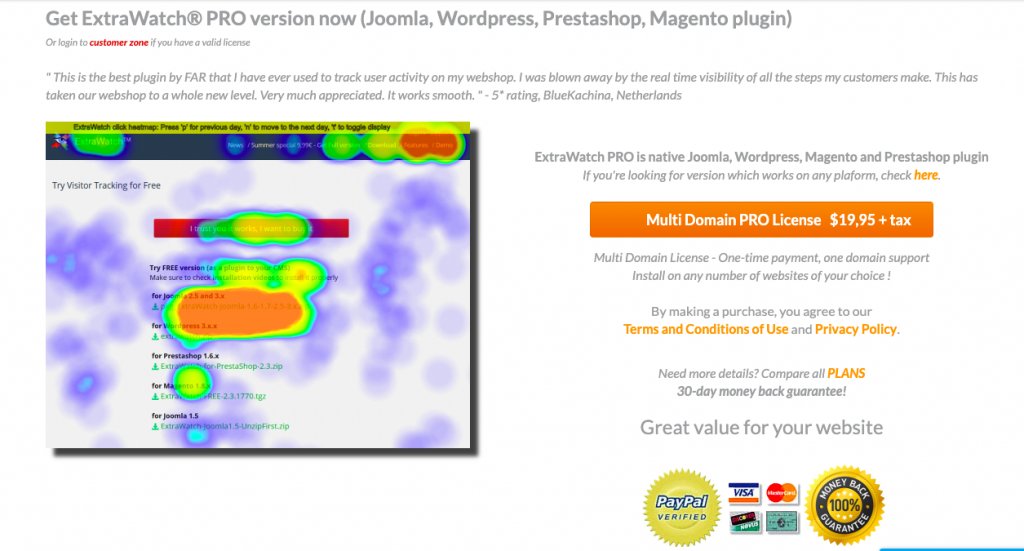 Apart from helping you find the hot and cold areas of your webpage with its heatmap plugin, ExtraWatch also helps analyze traffic being diverted from social media platforms like Twitter, Facebook, and YouTube, etc., access data across devices in a single click, as well as target keywords that bring the most traffic to your website.
Heatmap
Heatmap is a real-time visitor behavior analysis tool that offers the capability to not only track user activities on static elements but also helps collate data around dynamic elements like drop-down menus, pop-up forms, cart page, and so on.
Additionally, it is also adaptable and responsive to changes like change in the webpage's design, in an ad's layout, and so on.
UXWizz
UXWizz WordPress heatmap plugin offers click heatmaps, mouse movement heatmaps, and scroll heatmaps so you can track exactly how a visitor went from point A to Point B on a webpage. Some of the main USPs of userTrack plugin is that it comes in a 1MB file size, and does not slow the website it is installed on.
Hotspots Analytics
When we talk about free WordPress heatmap plugins, the best player in the market is Hotspots Analytics offering heatmaps, as well as insights on user activity and custom event tracking.

To accommodate responsive web design and touchscreen devices, Hotspots Analytics allows you to overlay heatmaps of mouse clicks, and touch screen taps on the webpage and offers a range of heatmaps with each page on your website having its own heatmap. And because all the data is stored on your website's WordPress database, it eliminates the need to invest in any third-party tool. To use this plugin, make sure your WordPress theme is HTML5 compliant, and your browser supports HTML5 canvas.
VWO Insights' Heatmap
VWO's heatmap tool for WordPress comes with a suite of visitor behavior and data analytics tools that include session recording, form analytics, on-page surveys, usability review, and funnels. And only one plugin works for all of these capabilities after which, you can create and run any campaigns without writing another line of code.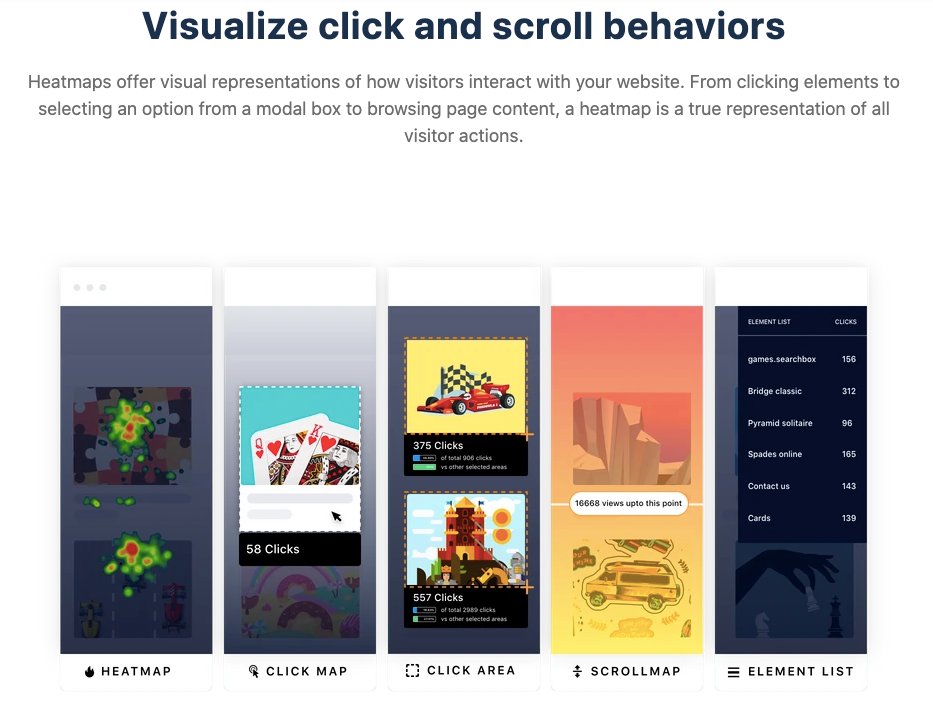 Install the VWO Insights' WordPress heatmap plugin once and start creating heatmaps.
Conclusion
As mentioned earlier, this blog attempted to navigate your way through what WordPress and WordPress websites are, the benefits of using heatmaps, and a list of the 6 best WordPress heatmap plugins based on popularity and functionality. Now that you have all the necessary information on WordPress heatmap, you can hop on the visitor behavior analytics bandwagon and start mining for insights for the optimization of your WordPress website.
FAQs on Heatmaps for WordPress
How do heatmaps help optimize WordPress site?
Heatmaps can help you optimize your WordPress website through clickmaps. Using clickmaps, one can easily track where visitors are clicking and identify areas of dead/rage clicks. This clickmap data can help you identify visitor expectation from your WordPress websites.
Are there any heatmap plugins available for WordPress?
Yes! There are a couple of plugins that enable you to create heatmaps for your WordPress website. In this post, we have rounded up the top wordpress plugins along with the details on their features.