Eye Tracking Heatmap: Front Row Seats To Your Visitor's Worldview
Before we dive into the fascinating nuances of eye tracking and its many applications, it would be prudent to take a step back and mull over the utility of the larger family it is a part of – heatmaps.
Heatmaps are ostensibly the quirkiest analysis toolkits at your disposal: their color bombs fascinate conversion researchers, academicians write scientific papers touting its breakthrough AR/VR applications, and meteorologists have a field day slicing a continent apart in hot & cool zones.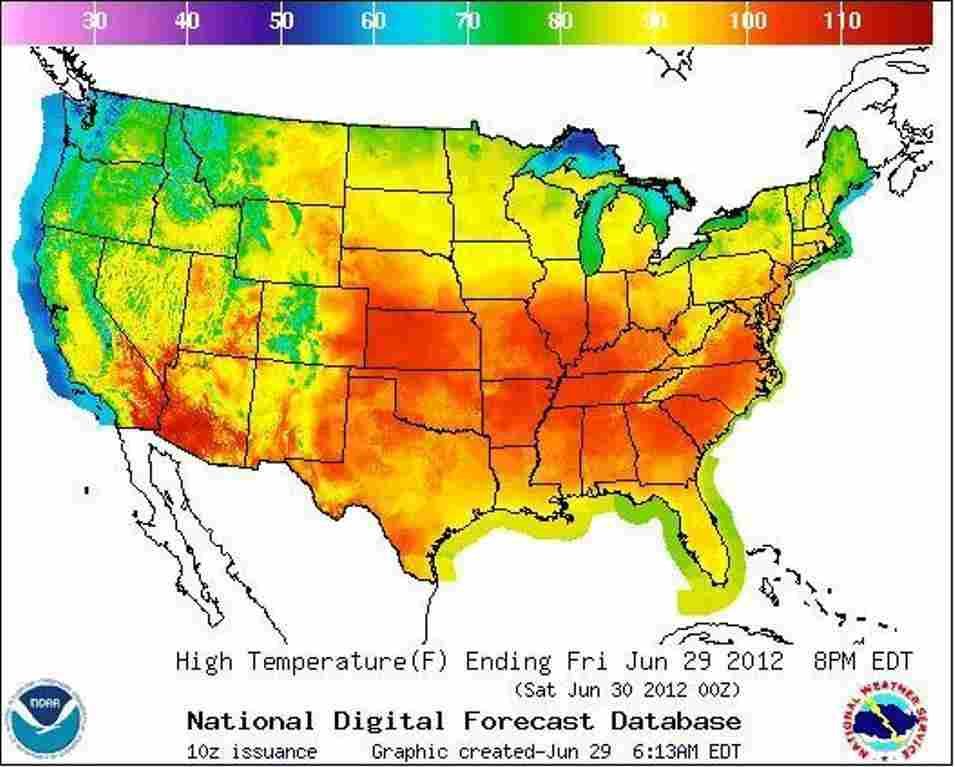 What is Eye tracking Heatmap?
Website heatmaps have a peculiar duality to them – on the one hand, they abstract large swathes of clickstream data for you to visualize it quickly and draw rapid conclusions around visitor behavior; one the other, they allow you to unpack this abstract data and dive into the nitty-gritty. For data visualization of overall webpage performance, it offers the classic heatmap; if you want to analyze if readers are truly engrossed in your content, you can opt for a scrollmap; or you can choose clickmaps for click data and mouse movement heatmap when you want insights around the portions of your website that are drawing clicks (and thereby interest). This literature dives into another fascinating data visualization method: eye tracking heatmaps.
Eye tracking heatmap gathers and visualizes data about the most and least attention capturing sections and elements of a web page. Data is gathered on how many times a visitor looks at individual elements and on visitors' fixation length, which is then plotted in the form of an eye tracking heatmap. By helping unearth such insights on visitors' eye movement, eye tracking heatmap helps UX designers, CRO practitioners, and marketers uncover information on the former's attentional processes to identify elements of a webpage that they find the most and least interesting or engaging, and which elements they think are redundant or confusing.
How can You Make the Most Out of On-Page Behavioral Data Using Eye tracking Heatmaps?
Before eye tracking heatmaps were made, researchers conducted eye tracking studies or tests to identify issues in the user interface. As time passed, this test took on many forms of which, eye tracking heatmaps became the most popular visitor behavior analysis tool amongst UX & CRO professional circles.
Eye tracking heatmaps have helped businesses optimize their websites and increase conversions.
You may be wondering how data on eye-movement results in increased conversions. The answer is simple: it adds immense value to any CRO program or experience optimization program by providing uncomparable insights on website visitors' on-page behavior.
Eye tracking Heatmap & CRO
Have you ever noticed how some websites' navigation wherein one element or page flows from the preceding one without much cognitive load on the user, whereas others require a lot of effort on the part of the users? Well, from amongst an array of tools and methods that help business owners achieve the former, eye tracking heatmaps play a major role.

Coming to CRO, if we look at its crudest and simplest definition, it is essentially a method whereby user feedback and analytics (both qualitative and quantitative) are used to improve overall website performance. The true essence of CRO lies in the fact that it empowers business owners to capitalize on their existing website traffic rather than investing in acquiring new traffic. The former is much more cost-effective and profitable than the latter, which demands huge investments.

And how, you may ask, does CRO ensure that its essence remains intact? – by leveraging visitor behavior analysis tools like eye tracking heatmaps.
Eye tracking heatmaps are a valuable asset for your website's conversion and experience optimization program because they capture your visitors' eye movement and uncovers insights as elucidated in the following examples:

The general belief is that images are more effective than text. This eye tracking heatmap suggests otherwise: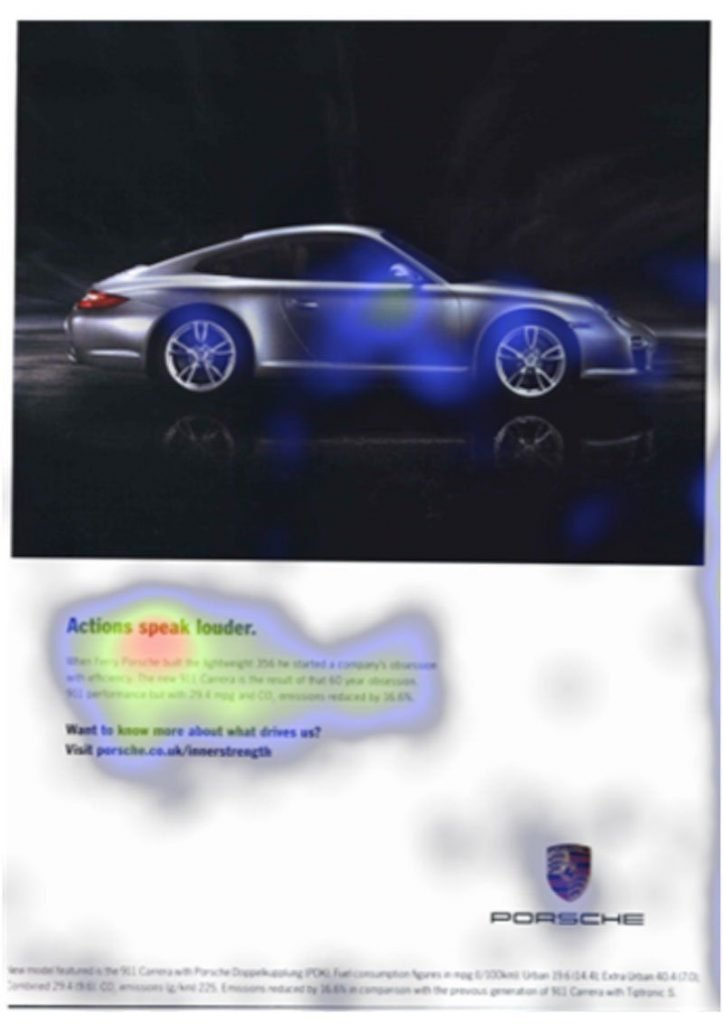 Eye tracking heatmap indicates that too much information may confuse visitors and also sometimes turns out to be distracting:
Maintaining a balance while highlighting a product and the model endorsing the product is extremely important. Notice the attention areas in the eye tracking heatmaps of 2 different brands' advertisements. The first is a perfume ad while the second image is about a new can size of a drink: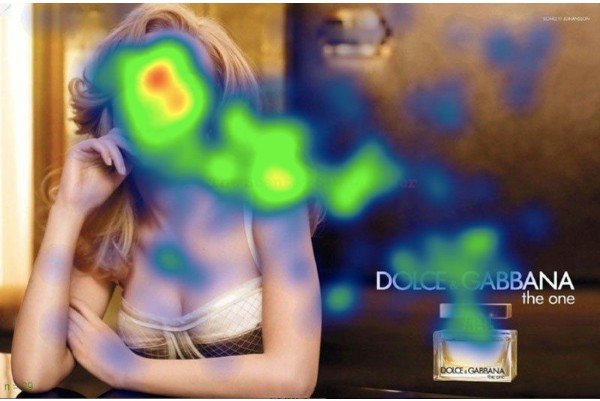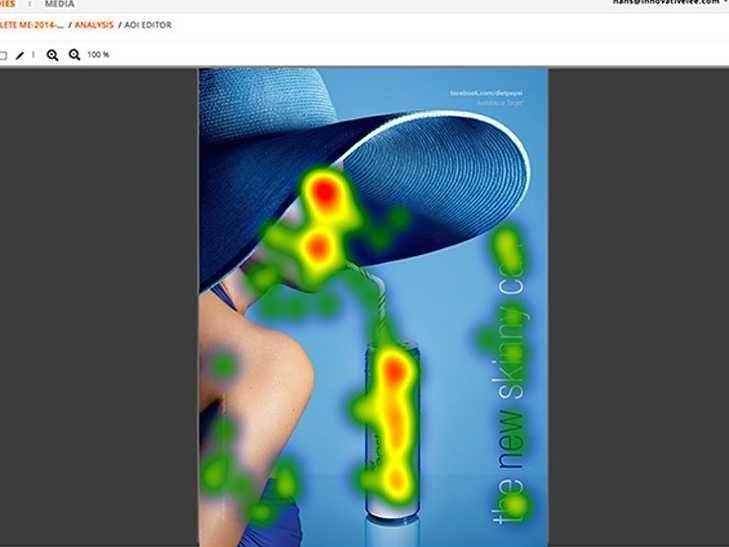 In both of the advertisement campaigns, visitors' visual attention seems to be more drawn towards the human subject more (as can be seen in the first heatmap) than on the product itself. This then becomes an insight to act upon, to optimize the advertisements further, so attention is drawn more towards that main protagonist, i.e., the product and less towards supporting elements.
Ads and sponsorship through ads have become an industry in its own entirety today. You may also, at some point in time, consider buying some banner space and promoting your products, services, or content through them. But this eye tracking heatmap has something else to say about on-page banners and banner ads: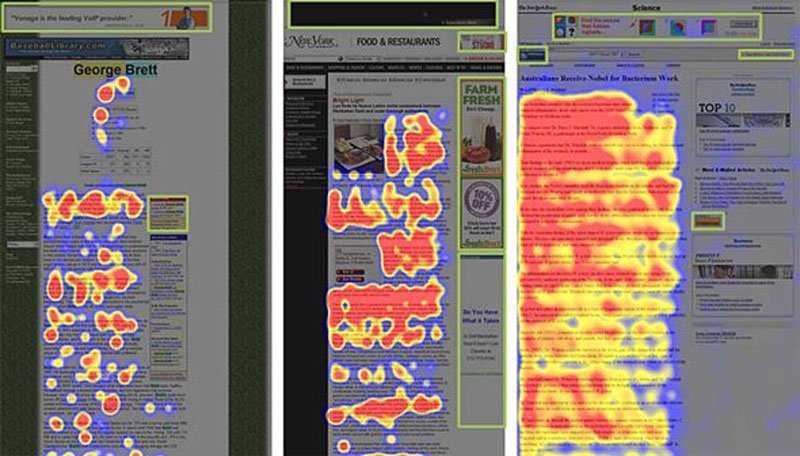 The banners, as you can see above, are spotless. And if an element on your webpage does not have even one heatmap watermark, either the element has some underlying issues, or its placement does. Eye tracking heatmaps give you these insights so you can test multiple ideas and hone-in on the root cause of the experience breakage.
We all know that personalization is the key to driving successful campaigns, be it marketing, sales, or promotional campaigns. Eye tracking heatmaps can help you uncover segment-based behavioral traits and patterns so you can deliver personalized content to specific segments. Look at the heatmap below that highlights the gaze pattern of male and female visitors: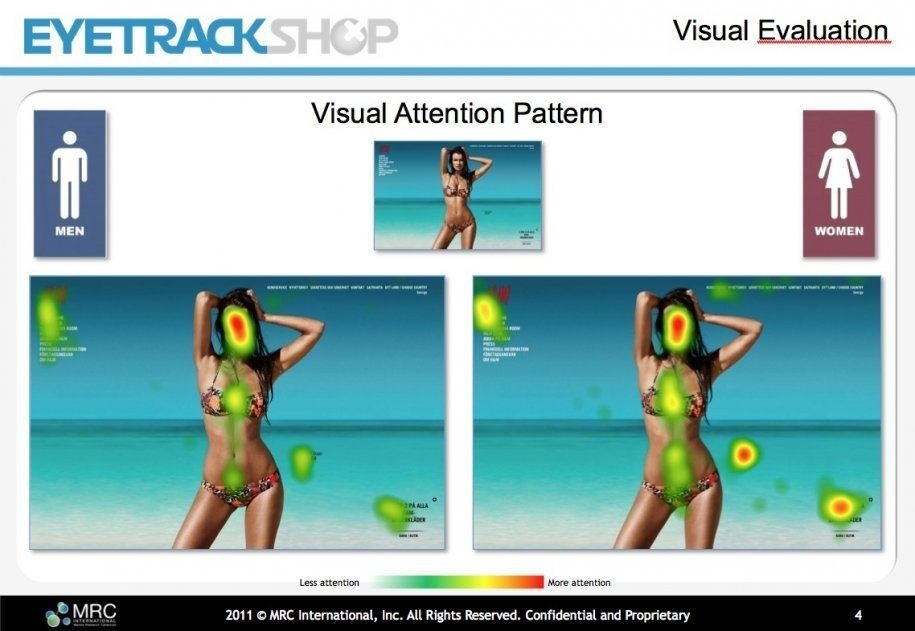 All of these insights make up a huge repository of ideas to be tested so that your marketing campaigns, your landing pages, your home page, your product pages, and even your push notifications can be optimized to their best. The kind of user experience your website delivers depends on how well you understand your visitors and their needs.

For instance, you can use these insights to figure out if texts or images draw in more attention, if the CTA is placed correctly or not based on visitors' gaze pattern, and optimize your campaign-specific landing pages. Or, you can figure out if visitors are convinced by the product images and descriptions on your product pages and can optimize then depending on the eye-movement data gathered.
The possibilities for data-backed optimization are endless with such actionable insights at your disposal, and that is why eye tracking heatmaps have come to assume a pivotal role in existing CRO programs.
Eye tracking & Visitor Behavior Pattern
Use eye tracking heatmaps to gather data on underlying visitor behavior trends and patterns:
– Which image or which content form visitors' are looking at most
– How long is their gaze caught on any given image or copy
– Which route do most visitors take to get from one stage of your purchase funnel or from one webpage to another
– What triggers visitors to act on a call-to-action (e.g., which image or content section were visitors looking at before clicking on the CTA.)
– What triggers visitors to look away from one element on a webpage to look at another element; what route they take while browsing a web page
– Which elements on the user interface receive the least attention
– Compare the attention span and frequency between larger and smaller elements to figure out which one works best
– Compare the attention span and frequency to identify the best placement for different elements
Conclusion
Using eye tracking heatmaps to identify "blind spots" and uncover bottlenecks that lead to customer confusion and a bad UX should not be a one-off project, and neither should CRO. The practice of regularly tracking visitors' behavior on websites, identifying patterns and trends in them, and then using these insights to optimize your website and webpages, thereby increasing conversions should be installed as an iterative process that is religiously followed. Then, and only then will you be able to reap the full benefit of both these monumental instruments.
FAQs on Eye Tracking Heatmap
What is an eye-tracking heatmap?
In an eye tracking heatmap, a heatmap is plotted from the data collected by tracking the movement of a visitor's eyeballs at an individual element as well as the fixation length on that individual element.
How can eye tracking heatmaps help you understand visitor behavior?
Eye tracking heatmaps help you to understand visitor behavior by tracking various visitor habits such as their attention span, the route taken by the visitors and the triggers that caused visitors to take a specific action.