VWO Engage
Mobile Push Notifications For Web Browser
Connect with your Android users on Chrome, Firefox, and Opera Browser without building a mobile app.
What is web push notifications on Android?
It is a clickable pop-up message appearing on your android device browser. With VWO Engage mobile push notification you can send SMS like text messages and mobile alerts directly to users android browser working on -- Chrome, Firefox or Opera, directly from your website. Generally, you can reach your mobile audience only with a mobile app. But, not anymore. We help you send these messages without investing in building an app and deliver them even when they are not on your website.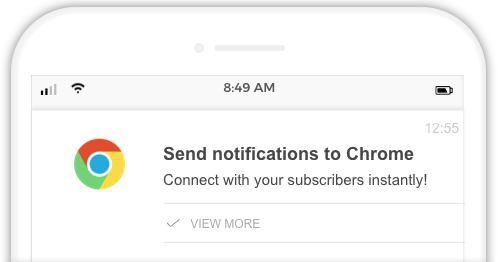 How VWO Engage Android mobile push notification works
Add code to your website
Either copy-paste the code before the head tag on your website page, or send it to your developer, if you aren't handy with HTML.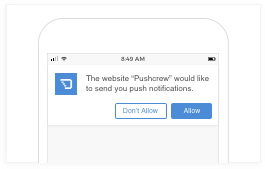 Enable opt-in
The visitors receive an opt-in request on your web page seeking permission to send push notifications from your website. Clicking on 'Allow' will get them added as a subscriber.
Send push notifications
Craft an appealing notification, and send them with the link, directing them to your specified landing page. Simple isn't it.
VWO Engage Android mobile push notifications for your web browser offers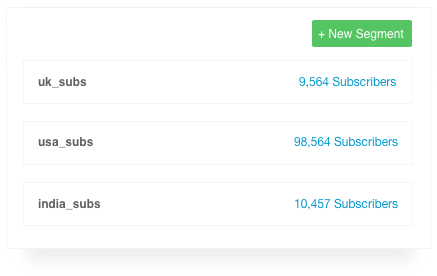 Easy segmentation
Segment and start sending notifications to your subscribers based on different properties. Categorize them based on different devices, browser, countries, and much more.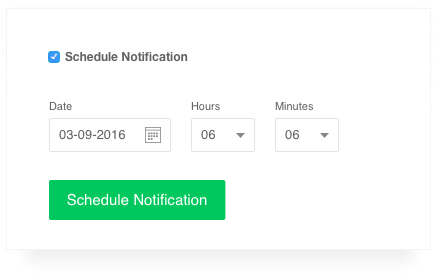 Schedule and expiry
Schedule your notifications based on different time zones, set an expiry date and time while sending time-sensitive messages. Automate sending notifications on a particular day of the week or on the basis of different segments.
Know More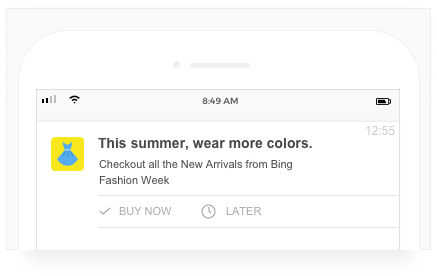 Enhanced notification
Add more meaning to your push notifications with the big images and the right emojis. Use call-to-action buttons directing your subscribers to the desired links, and increase your traffic and engagement.
Know More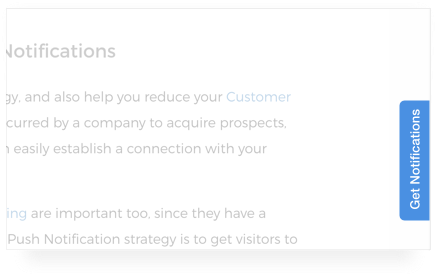 Customize and automate
Write engaging copy for the opt-in as well as the notification messages. Add in the Chicklet, giving them the option to opt-in later with a button placed at the desired corner of the website of your mobile browser. Customize the color and text to fit with your logo.
Deliver great experiences. Grow faster, starting today.
Let's talk
Talk to a sales representative
Australia
+61 1-800-614-417 (Toll free)
Awesome! Your meeting is confirmed for at
Thank you, for sharing your details.
, you're all set to experience the VWO demo.
I can't wait to meet you on at
, thank you for sharing the details. Your dedicated VWO representative, will be in touch shortly to set up a time for this demo.
We're satisfied and glad we picked VWO. We're getting the ROI from our experiments.

Christoffer Kjellberg

CRO Manager
VWO has been so helpful in our optimization efforts. Testing opportunities are endless and it has allowed us to easily identify, set up, and run multiple tests at a time.

Elizabeth Levitan

Digital Optimization Specialist
As the project manager for our experimentation process, I love how the functionality of VWO allows us to get up and going quickly but also gives us the flexibility to be more complex with our testing.

Tara Rowe

Marketing Technology Manager
You don't need a website development background to make VWO work for you. The VWO support team is amazing

Elizabeth Romanski

Consumer Marketing & Analytics Manager
Trusted by thousands of leading brands






Awesome! Your meeting is confirmed for at
Thank you, for sharing your details.