This was a part of the
blog earlier which is now
VWO Engage
Learn more here
.
An Uncomplicated Guide To Push Notifications For Home Décor Websites
The home décor industry is forecasted to clock $664 billion revenue by 2020. If you have a home furnishing ecommerce website and are looking to make sure that you don't miss out on the action, read on.
Creating a loyal user base for your business is as important as taking your brand to a new audience. According to a study of small and medium eCommerce sites, return traffic outperforms new traffic in terms of both time spent on the site as well as number of pages viewed per visit.
In this post, we give you eight ways to bring users back to your website using push notifications.
1. Identify the role of Push Notifications in your marketing strategy
While implementing push notifications, it's crucial to understand how this channel fits into your marketing strategy.
An effective way to do this is by looking at your target audience among your subscribers. What kind of income bracket are you targeting? Is age or profession an important factor? Based on your analysis, we recommend you to split your audience into different segments. You can segment based on their on-site behavior or location, for instance. You can even chalk out a buyer's journey to get a clearer picture.
Why should you segment?
Once your segments are in place, you can send notifications with relevant content or offers (personalize for best results). For instance, a person who likes experimenting with wall accents wouldn't be necessarily interested in receiving updates about a sale on kitchen organizers.
Example: You could use push notifications to send updates about a new sale on living room furniture, a heads up on the status of an order or even a new blog post of living room ideas.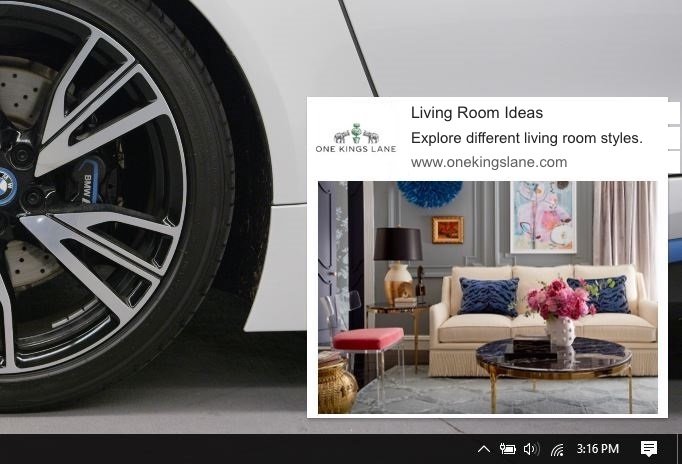 Image Source
Ponder over the types of pushes you'd be sending and the value they would add to your business and to your customers.
2. Write succinct copy
Grab your customers' attention with creative push notification message copy. You can do this by crafting a crisp message that clearly tells your customers what the notification is about and what action is to be taken. It's important to use powerful words and punctuate properly to add an impact and clarity to your message.
Pay close attention to your message and title length to ensure that your notification isn't truncated. If the character limit is your concern, consider adding emojis to shorten the text, yet, make the message clear.
Example: Have a Valentine's Day offer? Then send your customers (the target segment) a push notification that may say, Make her ❤️ you more. Use code LOVE and get 50% off. With the heart emoji, you've shrunk your message length and your customers will easily understand what the notification is about. You'll see them shopping more!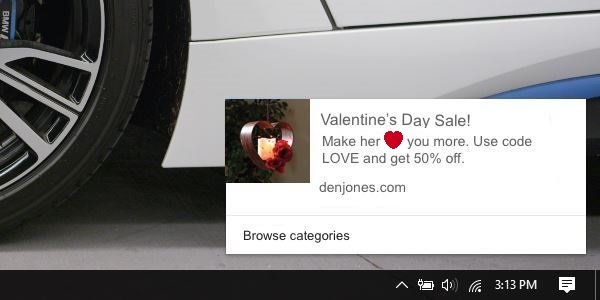 Image Source
A/B test to find out what kind of messages work well for your target group to get better results. You can read more about this here.
3. Strategize your opt-in request
It's important to have an opt-in strategy in place in order to increase your push notification subscriber list. When the permission box appears, your customers/website visitors will have the option of allowing or blocking push messages from you. To ensure that you get maximum opt-ins, these are the recommended pages to trigger it on:
– Checkout page
– When a product is out of stock or sold out
– After viewing a product
The more number of subscribers you have, the more clicks you'll receive on your push notifications, which means more people will be aware of your product range and various offers. You'll see your return traffic increasing. Experiment with different opt-in styles and pages to see what's working best for you.
4. Stay in their minds with Welcome Message
Once a person becomes your subscriber, you'd want them to think of you when looking out for home furnishing items. You don't want them to subscribe and then forget about your website. And, to be in their minds is to stay in their sight.
A great way to do this is by sending them a welcome message, after they subscribe. You can automate the welcome message to appear right after a visitor signs up or as per how you want it. Your welcome message can be about giving your subscriber a website tour to help them find what they are looking for without much fuss. You can even highlight a certain product range or just talk about the latest sale going on on your website. Or, you can offer them a coupon code for subscribing to your notifications.
This way, your subscribers will have a smooth experience on your website and will stay engaged.
5. Use images for visual appeal
Images add a great deal of value to notifications and drive a higher engagement. And it's all the more important for home furnishings websites because aesthetics matter in this domain.
So, add tempting and contextual images to your push notifications. You have the option of doing this two ways. You can use Big Image (supported by Chrome 56 and onward) or you can use the usual thumbnail image for your notification.
Example: Send notifications about your new line of luxurious curtains with a product image that highlights their elegance.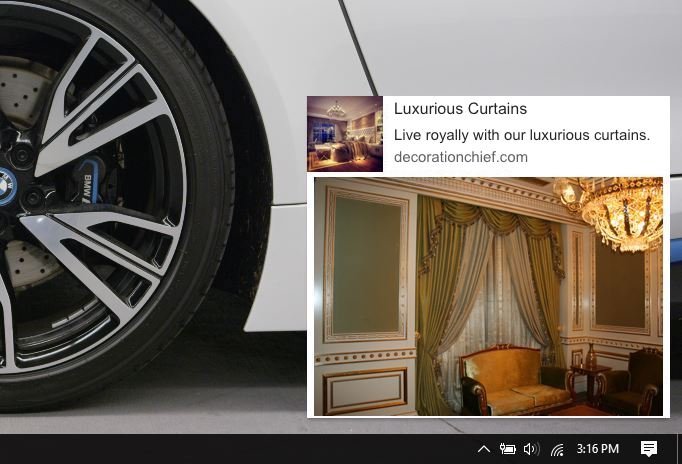 Image Source
6. Send special offers
Special offers or discounts will drive customers to your website. But how do you inform them instantly? Through push notifications, of course!
It's absolutely important to ensure that push notifications about an expired offer aren't sent after the time lapses. Hence, we recommend that you set an expiry time to your push notification for your time-bound offers. This way, you won't have to worry about subscribers receiving obsolete messages.
7. Mind your frequency and timing
Push notifications are a great way to up your marketing communication game. But, every coin has two sides. If you send too many notifications or send them at the wrong time, you'll see a spike in unsubscribes. Hence, it's essential to chalk out the number of notifications you send in a week and their timing.
Based on our report, The State of Web Push Notifications, avoid sending notifications on Mondays (Monday blues is real!). Whereas, Tuesdays and Fridays are great to send notifications. The best day? Wednesday! Our study shows that Wednesdays can fetch you an average click rate of 6.21%.
Best times of the day to send a notification is between 1PM to 2PM local time. (I too open push notifications while having lunch and sometimes even after lunch). 5PM to 7PM is also a great time to send notifications (most of us are packing up and browsing before leaving our offices). To ensure that you don't send a notification about great lighting ideas when a certain segment of your subscriber base is asleep, schedule your notifications as per their local time zones.
But please remember, do not send too many push notifications as that would just end up annoying your subscribers. We recommend that you send one notification a week. But then again, you should A/B test to see what combination gives your website a crazy click rate.
8. Use CTA buttons
Give your subscribers the luxury of taking an action they want, by using Calls-to-Action buttons. Your subscribers can click on the notification itself or the CTA buttons.
Using a CTA button will help in getting higher conversions, better engagement, increase revenue and lead the subscribers to take different actions based on their needs.
Example: Take a look at this notification. Here, the notification itself and Shop Now button can both lead the customers to the same page, where they can grab the offer. In this case, having a CTA and the notification that lead customers to the same page will place emphasis on the "Home Décor Offer" page. The CTA with All Offers button can take your customers to a page with all your offers.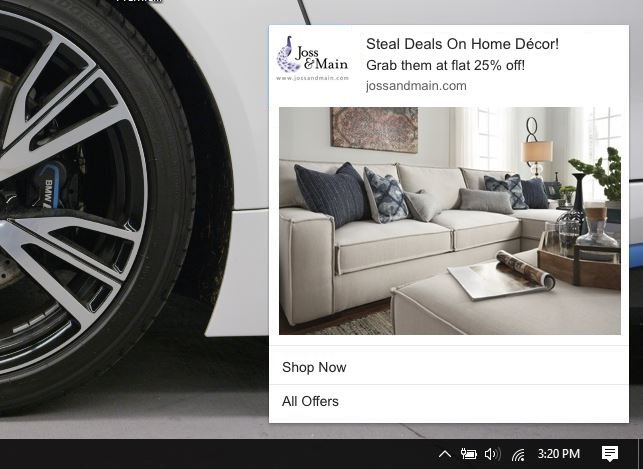 Image Source
You might be very busy catering to your customers' furnishing needs, but with these guidelines on push notifications you can easily keep your subscribers engaged and retained in no time. Remember to understand your subscribers, their preferences and their geographies. This way, you'll see a higher engagement with personalized pushes on your website. And lastly, mix and match the above guidelines with various strategies to figure out the most suitable method for your website and subscribers. Subscribe to The Marketer's Last Mile to keep reading about the best push notification practices.