This was a part of the
blog earlier which is now
VWO Engage
Learn more here
.
An Uncomplicated Guide To Push Notifications For Makeup & Beauty Websites
The cosmetic industry, which includes makeup and beauty products is at its peak with annual revenue hitting $62.46 billion in 2016 and is forecasted to amass $429.8 billion by 2022. While a few like long romantic walks to the makeup and beauty products' aisle, many of us love browsing and shopping from makeup and beauty websites. While there are many of us who love staying informed and learning about how to use these products. So, if you have a makeup and beauty online store or a blog related to this space, and are looking to stay in the creme de la creme, then continue reading.
So your subscriber list for your makeup and beauty website is growing, you're publishing new content often or adding new products and have discounts for some. You're also sending email newsletters about the same. But, think about how many of them open their inboxes and read those posts, among all the other emails lying unread in their inboxes. It is a daunting task.
This is why push notifications, as a channel of communication, effectively help you bring your subscribers to visit your site instantly.
In this post, we give you eight ways to keep your subscribers engaged with your website using push notifications.
1. Identify the role of Push Notifications in your marketing strategy
Push notifications give your website a higher visibility in the beauty and makeup space. But it's important to arm yourself with a plan in mind. This means you must reflect upon how this medium fits snugly into your marketing strategy.
Here's a heads up on how you can smoothly go about it. Think about your target subscribers. Analyze their age brackets, where they are typically located and if they are mostly young professionals or students.
Based on your analysis, we suggest that you group your subscribers into various segments. You can segment them based on their on-site activity, for example. A certain number of them may like posts about matte foundations (because they might be from tropical areas or simply have oily skin), whereas a certain bunch loves oil based foundations for their dry skin. You can create different user personas based on your analysis.
This is why you should segment
With your various segments in order, you can send personalized push notifications that will be relevant to their needs or interests.
Example 1: When you send push notifications about mattifying products to the segment with oily or combination skin, you'll see a positive response and a better engagement rate as compared to sending that notification to all your subscribers.
Example 2: You could use push notifications to a segment to send a review update on a new range of sun care products to those segments residing in tropical climates or geographies witnessing summer.
Ponder over the types of pushes you'd be sending and the value they would add to your website and your loyal subscribers.
2. Write a concise notification copy (as perfect as you'd wear your makeup)
Since your website talks about achieving that near perfect red carpet face, so should your notification copy reflect that precision. Impress your subscribers with creatively crafted push messages. Write a succinct message that clearly describes what the notification is about and what action is to be taken. When you write authoritatively, with the right punctuation and grammar, you'll be able to influence the actions your subscribers will take.
Keep a close eye on your message, its tone and the length of the title to ensure that your notification isn't left incomplete (There's a character limit of 48 for the title and 100 for the message). And if the character limit unsettles you, opt for adding emojis to shorten the text. Add the relevant emojis that'll add context to your message.
Example: Have a new nail paint review published? Then send your subscribers a push notification like the one below. With the nail paint emoji, you've saved character count and added a spark of fun in your message.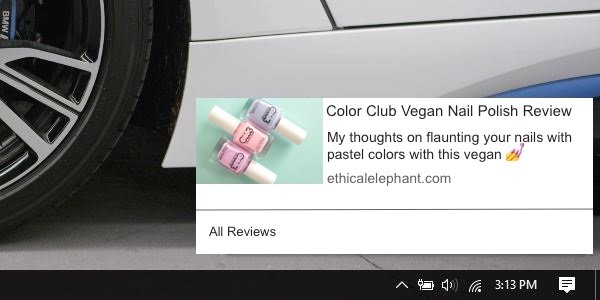 A/B test to find out what kinds of message your audience loves. One way to do this is by using Google Analytics and UTM parameters. Another simpler way would be to look at Click Rates.
3. Plan your opt-in request
Just like how we like to plan and execute the kind of look we want, it's just as crucial to have an opt-in strategy chalked out in order to grow your push notification subscriber list manifold. When the permission box triggers on your visitors' screens, they'll be given an option of allowing or blocking push messages from your website. There's a brilliant way to get them to allow your website to send them notifications. Trigger the opt-ins AFTER the below mentioned tasks have been performed:
– Reading a post
– Checking out your product categories
– Watching a makeup tutorial
– Browsing through your website for 20 seconds
– Landing on the checkout page (if you have one)
For optimum results, we recommend that you experiment with different opt-in styles and pages to see where your traffic is attracted to the most.
4. Get visibility with some lipstick and a Welcome Message
After a visitor becomes a subscriber, make them remember you and what your website offers. You can do this by automating a welcome message after they subscribe. The welcome message could be about your website tour or an exclusive coupon code. This is a clever way to stay in their sight, apart from bold shades of red lipstick, of course.
A sweet welcome message goes a long way in building a strong and loyal subscriber base, that'll make them feel special and thus, keeping them engaged on your website.
Example: In the example below, this welcome message will warm up your new subscribers' heart and make them proud for choosing to go for products that are cruelty-free. The tone itself is personal, which will help you in building a good rapport with your new subscribers.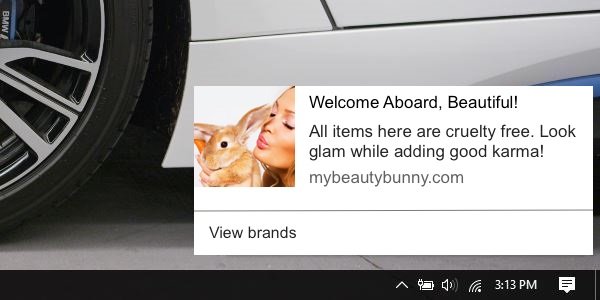 5. Use images for visual appeal
Makeup and beauty industry is such that we need image validation to reassure ourselves of the choices we have made (or will make). Images add a persuading appeal to your notifications and lead to a higher engagement rate.
So, go ahead and add that image of your daily routine makeup kit to your push notification. There are two ways of doing this. You can use Big Image (supported by Chrome 56 and onward) or you can use the thumbnail image for your notification.
Example: Send a notification about your new post on how to get peach eyes look. Add an image to emphasize your notification message.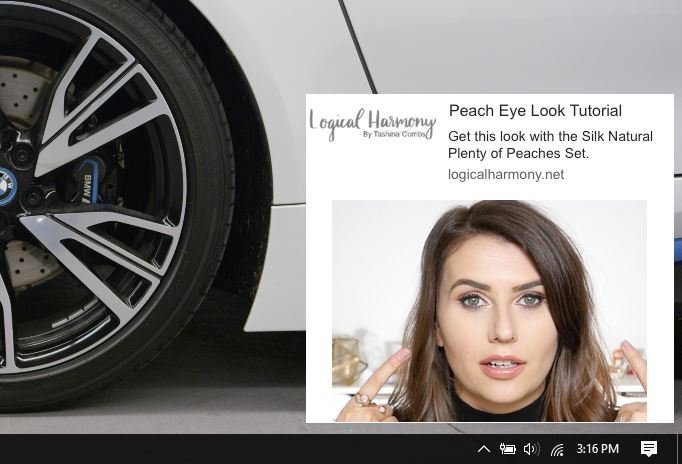 6. Send special offers
We all love products at a discount, and yet, the same superior quality. Special offers or discounts is what brings a larger chunk of traffic to your website. So, if you are running a contest on your website, send a push notification about it to your subscribers to stand a chance to win that skin care hamper. The best part is, your subscribers will be notified instantly and will participate in big numbers!
In such scenarios, where you have time bound offers, it's important that push notifications aren't sent any further after the offer has expired. You can tackle this effortlessly by setting an expiry time to your push notification for your time-bound offers.
7. Mind your frequency and timing
It's true, that there's no such thing as having too many lipsticks. But this isn't the case with the frequency of sending push notifications for your makeup and beauty websites. If you send too many notifications in a day or week, you'll notice your unsubscriptions snowballing. Also, sending notifications at ungodly hours, for instance, will give the same effect. Therefore, you'd want to plan out the frequency of your notifications and sync them with apt timings.
Best days to send notifications
Based on our report, The State of Web Push Notifications, avoid sending notifications on Mondays. Tuesdays and Fridays are great to send notifications. The best day? Wednesday! Our study shows that Wednesdays can fetch you an average click rate of 6.21%. We recommend that you experiment with the best days and times to send notifications. For instance, send a notification on Friday about Date Night makeup ideas for those looking for such inspiration (segmentation is the key!)
Best times to send notifications
Our study points out that a notification sent between 1 PM to 2 PM local time delivers good results. 5 PM to 7 PM is also a great time to send notifications (most of us are packing up and waiting to leave our offices). Please remember not to send an inappropriate notification at the wrong time for a segment that might be asleep. For instance, you wouldn't want to disturb a segment's slumber by sending a notification about how to get sun-kissed cheeks (They've already removed their makeup and are fast asleep).
To perfect your notification timing and frequency, schedule your notifications as per specific segments' local time zones. Importantly, do not send too many push notifications as that'll simply annoy your subscribers. Instead, we reckon that you send one notification a week. To play safe, you must test and find out which days and what timings boost click rate.
8. Use Call To Action buttons
Persuade your subscribers to take the actions that you want, on your website by using Call-to-Action buttons. These actions can be for participating in a contest, submitting a favorite product review or reading your new blog post. Your subscribers can click on the notification itself or the CTA buttons. These actions can redirect them to the same or different pages on your website.
Using a CTA button will help in getting higher conversions, better engagement, better online visibility, increase in shares and likes across social media platforms and increase in revenue (be it from clicks or purchasing products from your website). CTA buttons give your audience the choice to take an action according to their requirements.
Example: Take a look at this notification. Here, clicking on the notification itself and Grab it now button can both lead the audience to the same page, where they can buy the eyeshadow. In this case, having a CTA and the notification that lead customers to the same page will place emphasis on the purchase page of the eyeshadow. The CTA with All items button can take your audience to a page with all your categories listed.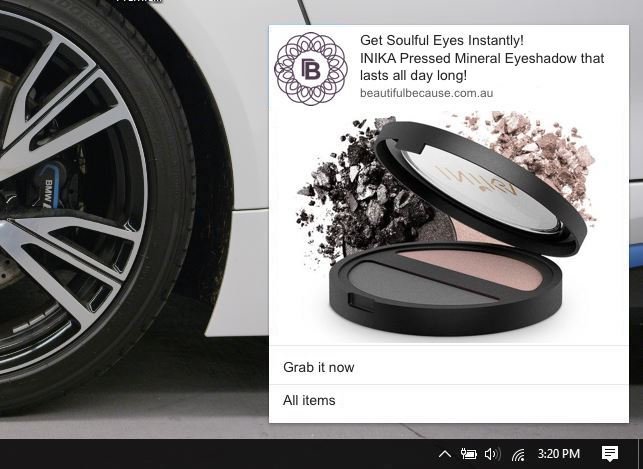 Keep these guidelines handy when you're sending push notifications to your makeup and beauty website subscribers. These guidelines will help your website get more traffic while keeping your subscribers engaged. Please ensure that you understand your subscribers, their needs, and interests to effectively personalize your push notifications. Because one size doesn't fit all, experiment with these guidelines to decide and implement the best possible strategy for your website and its subscribers. To stay updated with the best push notification strategies, subscribe to The Marketer's Last Mile.