This was a part of the
blog earlier which is now
VWO Engage
Learn more here
.
4 Ways To Increase Sales From Existing Users Using Web Push Notifications
Don't we, marketers, have those days when we are stuck in traffic and wish that our websites were as swamped as our daily commute? More traffic on our website means more pageviews, and consequently, more conversions. At least, that's what we hope for! We go out with all guns blazing to guide new audience to our website-   AdWords, social media campaigns, making our content SEO-friendly, and other ways to boost our website traffic resulting in successful sales.
However, the question is: How significant is the impact made by new users on our bottom line? According to an analysis of 18000+ small and medium eCommerce sites, return traffic dramatically outperforms new traffic in terms of both time spent on the site (2.52 minutes for new visitors vs. 5.52 minutes for returning visitors) as well as number of pages viewed per visit (3.88 pages for new visitors vs. 5.55 pages for returning visitors). The research also says that return visitors are more likely to make a purchase or recommend your website to others. So, while putting effort into attracting new traffic, websites should also develop strategies to keep existing users engaged and excited.
Here are 4 ways eCommerce websites can get more sales from existing customers using the new user engagement channel everyone's talking about — web push notifications. Web push notifications are clickable messages that websites can send to their subscribers. These work on Desktop, Tablet, and Mobile browsers. The notifications arrive in real-time, even if the website isn't open on users' browsers.
1. Notify existing users of a special discount or sale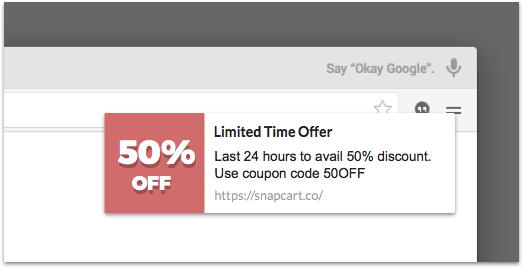 All eCommerce websites have discount and sale campaigns. But how do you get your customers excited about these offers? Some of the means that marketers typically employ are email, social media, paid campaigns, on-site advertising etc. However, these are not enough if you want all eyes on your shiny new deal. For one, most of them require the user to take the first step- checking their email, browsing social media, or running a search on Google. For time-bound offers, such as "50% off for the next 2 days", where it is critical that people get to know this information in real-time, using these channels often means that a large part of your audience gets to know about the deal only after it has expired.
In such cases, browser push notification is your savior. These messages are delivered in real-time and require no initial effort on the user's part (all it needs is an internet connection). Furthermore, it encourages an instant response from the user. This gives it a leg up when it comes to promoting instant deals. Take a look at how an eCommerce website got an average click rate of 10.12% by promoting deals through web push notifications, here.
2. Deliver personalized offers based on on-site behavior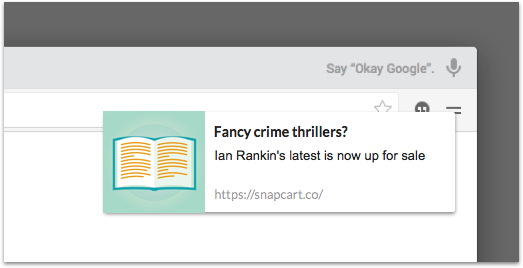 Delivering personalized offers based on website behavior is a great way to bring customers back. For example, if a user spends some time on a particular product page, send a push notification saying that a 20% discount is available on the product for the next 60 minutes. Or, if the user has bounced off after browsing some latest award-winning movies, direct him via a notification to the Academy Award-winning movie from last year.
This is one of the best use cases for browser push notifications since notifications can be set up in such a way that they are sent immediately after the user drops off a page. This makes it more useful than other channels, since there is no delay between the bounce and the message.
3. Send a reminder to recover abandoned carts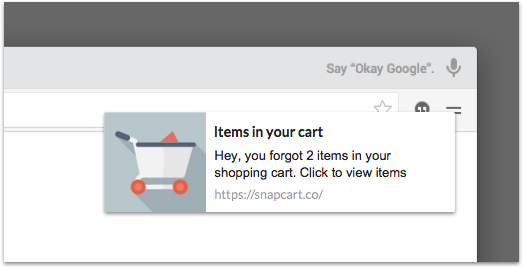 An abandoned cart is the bane of the eCommerce world. This is something all eCommerce websites are familiar with. According to a study done by the Baymard Institute, 2 out of 3 carts are abandoned on average.
One way eCommerce players can recover abandoned carts is by sending a push notification to the user. There are a couple of reasons why this is likely to work better than other channels. Firstly, if the customer has bounced off the checkout page to compare the price on other websites, he/she may actually forget about the cart once they are done comparing. A push notification, say, 15 minutes after the abandonment will remind the customer of the cart and lead to an actual purchase (if the price is better on your website, of course). Secondly, the customer may have abandoned the cart due to getting distracted by something during the checkout process. In this case, a push notification circumvents the distraction and leads to the purchase going through.
4. Suggest additional products to get repeat purchases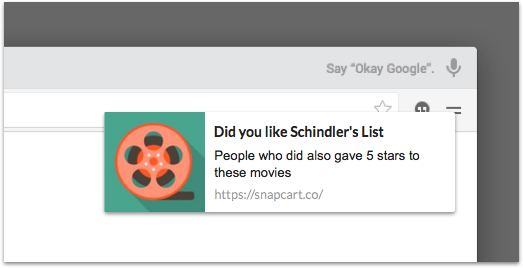 Suggesting additional products based on a customer's past purchases is a great way to get repeat purchases from your customers. You can segment your subscribers based on their past purchases and send them very relevant, very targeted recommendations through web push notifications. Using push notifications like this requires high degree of segmentation (the narrower your segments are, the more targeted your message will be). If done smartly, you will be able to collect a ton of loyalty from your existing customers who will start trusting you to curate products for them and then send them notifications about those products without them having to do anything. You can also go further and collect feedback about your products on this basis (if you have a low click rate on the recommendations notification, maybe the user wasn't all that satisfied with the original purchase).
Of course, you can use any marketing channel in these scenarios. However, web push notifications are instant and a simpler way to get more sales from your existing customers.