This was a part of the
blog earlier which is now
VWO Engage
Learn more here
.
An Uncomplicated Guide to Push Notifications For Online Learning Websites
The conception of online learning goes back to the late 1990s. In the past, any kind of learning would require enrolling in a brick-and-mortar school or institution, and physically attending classes. But now, with the headway in technology, backed by UNESCO's global mandate of 'Education for all', the online learning, training, and education market is growing at an unprecedented rate.
From about $35.6 billion in 2011, online learning became a $107 billion industry in 2015. At this pace, the global eLearning industry is expected to reach approximately $325 billion by 2025. And it will continue growing because learning is never going out of fashion.
In association with over 700 universities and 58 million students, the MOOC (Massive Open Online Course) market is booming. And the eLearning industry is not limited to just schools or colleges. More and more companies are pushing their employees towards corporate learning. In fact, the corporate online learning market has mushroomed at a rate of 900% in the last 16 years itself.
42% of the companies surveyed worldwide, believed that Corporate eLearning has led to an increase in revenue.
The Pain Point
Despite being easily accessible, only about 15% of the learners complete their online courses. Most online learning websites regardless of hosting invaluable resources, are simply not engaging enough. Customer Engagement and User Retention are critical for any brand, and marketing tools like emails, social media, and advertisements make it easier, but are not enough anymore.
Website engagement is significant to get to know the user, since every learner on your website is leaving behind a digital trace. Analysing their activities, help you understand the visitor, and deliver the right message to the right person, at the right time. By using relevant content with perfect timing, you can generate quality leads and efficiently control your churn rate.
What if I told you that you could send little clickable messages to your users in real-time, irrespective of which website they are on. With Web Push Notifications, you can notify learners about course information, schedules, new courses, guides, blogs, tutorials, etc., and keep your customers engaged throughout the funnel.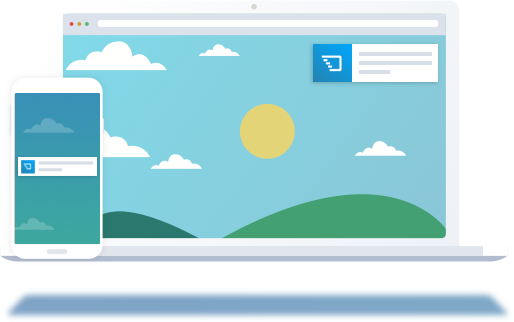 In this post, we will discuss ways to propel your website engagement and reduce churn using push notifications.
Plan Out Your Push Notification Marketing Strategy
First of all, you need to create a marketing strategy. This plan of action should answer four questions – Who?, Why, What, and When?
WHO? – Figuring Out Your Target Audience
Before shooting out messages, you need to know who you are communicating with, and hence, be able to create a unique experience for all your subscribers.
In the online learning industry, the target audience is perpetually growing. Start with analyzing your audience, and filtering them on the basis of demographics (age group, gender, location, browsing history, behaviour, etc.). You need to categorize them by their digital trace, and build marketing personas. With this information, you can send a more effective and personalized communication to your users.
WHY? – Deciding the Objective of Your Strategy
Why are you sending the push notifications? Answering this will help you know what to communicate. Here, you think about exactly what response are you trying to trigger. Do you want the subscriber to apply for courses, or read your blogs?
WHAT? – Determine What you are Trying to Communicate
Based on the reaction you are expecting, you need to decide on the subject matter of the push notification (or campaign). The tone and content of the message can be determined later, but you need a rough idea of what you will be communicating.
TIP: This is necessary to make sure that you aren't sending the same content to the same person again. Don't spam them!
WHEN? – The Time and Day to send the Push Notification(s)
Which time of the day works well with your audience? As per our report – The State of Push Notifications – 1-2 PM local time is considered the most popular to send push notifications. On the other hand, the highest click rates are of notifications which are sent between 5-7 PM. But these are not hard-and-fast rules for every industry, so go on and experiment with push notifications. Try different copies, track different metrics, and keep improving your strategy.
Set the Opt-in Trigger, and Craft the First Message
An Opt-in trigger helps you increase your subscriber base. It's a trigger that should communicate your value proposition, and persuade the reader to 'Allow' notifications. Once they permit you to notify them, you get a new subscriber.
The crucial part is finding the perfect trigger(s). You can't trigger an opt-in prompt as soon as the visitor lands on your page – it can annoy a new user who has no context, hence no reason to subscribe to your notifications. You have to wait for them to browse through your page, but you can't delay it too much, or else they will close the tab. It's all about timing.
TIP – Try to trigger the opt-in prompt on the basis of session counts and time spent. For instance, you can try setting up a trigger for a visitor who has either been on your page 4 times, or maybe trigger it after they spend over 15 seconds on the page.
Some of the best places to trigger an opt-in are:
> Pages which get the most traffic
> Blog pages
> Sign up forms, or online application forms
> Pages which offer something valuable – download links, discount pages, ebook downloads, guides, etc.
> Checkout page (if you have one)
TIP – make it clear in the opt-in prompt that the reader can unsubscribe from receiving any more push notifications very easily, and at any time.
The Welcome Message
It is the first message that goes out to the subscriber. This message is a stepping stone to building a rapport with your new subscribers. You can set up an automated welcome message, and give them a reason to remember your brand. In fact, you can even set up a welcome drip push notification campaign to have a stronger impact.
Write Crisp Notification Copies and Choose CTAs wisely
You can send updates to  the existing students in real time, or you can nudge potential users to learn and engage. You decided the subject matter of your campaigns and notifications, and now is the time to write crisp and clear communication.
TIPS:
With push notifications you could:
> Encourage a revisit to your page with mock tests or interesting facts
> Re-engage with online learners by giving them valuable information and course updates
> You can enhance their experience by delivering information like key strategies, tips, interviews etc.
> Once someone has completed a course, they won't visit again. You could promote other courses to get them back
Within a limit of 150 characters, you need to learn how to craft a persuasive push notification. Personalisation is key; you could also re-engage your users by asking questions.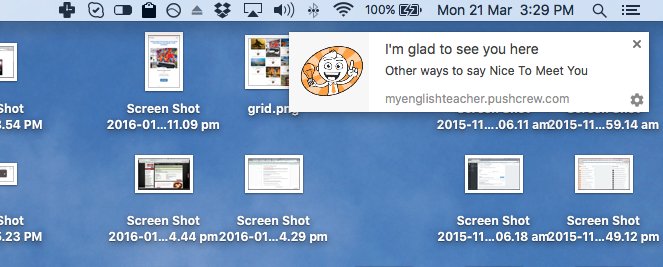 CTA or Call-to-Action buttons
It's not necessary that you expect only one response to a notification. You can achieve other desired user-actions beyond just clicking on the push notification. With VWO Engage push notifications, you can guide the subscriber to three different landing pages using one notification, by adding CTA buttons.
You can add up to two CTA buttons, and redirect your subscribers to more than one page. Limited to 12 characters, these CTA buttons can help you boost user engagement.
Grab more Attention with Good Visuals
A picture is worth a thousand words
And you can add context to your communication by using images and emojis. The more visually appealing and explanatory it is, the more clicks you will get. If your brand follows a particular colour theme, you can create images with that palette and increase brand recognition. When you combine your communication with meaningful images, it increases recall. And the learner will be able to remember things better.
Additional Tip: Segment your Audience and Gamify
Segmentation plays a critical role in all your marketing strategies. With the help of PushCrew's segment creator, you can categorize your subscribers on the basis of their actions or attributes, and send them relevant communication.
The global revenue for gamified learning reached $2.6 billion in 2016. Revenues are expected to touch $7.3 billion by 2021. (Source)
Gamification is applying gaming techniques and elements to make a customer journey more fun, and thus increase user engagement. Learners can recall just 10% of the content they read, and 20% of what they hear. But they remember about 90% if they complete the task themselves (even if as a simulation).
With gamification, you can create a clear learning pathway, and arrange your content in a level-structure. If the learner has to complete a level in order to unlock more content, they will be more driven. With Push Notifications, you can automate your User Engagement and Customer Retention completely. You can send them communication on every step of the learning pathway, and subconsciously urge the user to complete their course.
Now, you know everything that you need to create the perfect push notification strategy for your online learning or education website. Go on, give them a try, and increase your subscribers and engagement using push notifications. Remember….
Education is the most powerful weapon we can use to change the world – Nelson Mandela.