This was a part of the
blog earlier which is now
VWO Engage
Learn more here
.
6 Browser Push Notifications Every eCommerce Website Should Use
Almost all of us will have notifications from an eCommerce app on our mobile phones, waiting to be read, announcing a big sale or a new product. App notifications continue to be extremely popular with eCommerce retailers when it comes to reaching out to customers. Now, with Browser Push Notifications, online stores have yet another effective communication channel to drive customer engagement and revenue.
Browser or web push notifications are real-time messages that allow you to talk to your subscribers in a succinct manner. These are clickable messages that appear directly in your subscribers' browsers, even if they are not on your website. They work on both desktops and mobiles.
Here are 6 kinds of browser push notifications that any eCommerce website should send. They play vital roles at different stages of the buyer's journey through a site. Some are useful to bring the buyer to your website while others provide important information like delivery date, shipping details of the product etc. Let's jump right in and take a look!
1. Announce new products to a relevant audience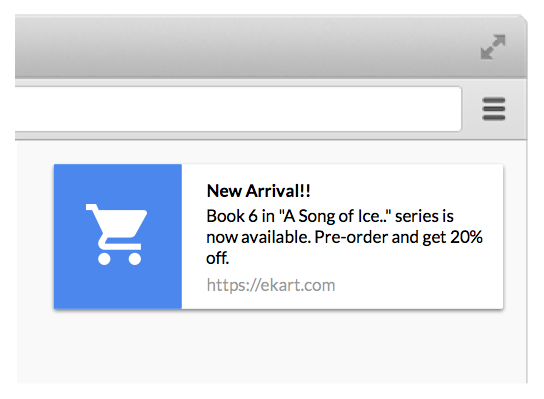 Buyers would love to know when products on their wishlist are available for purchase. It might be the latest book from an author whose work they've bought earlier, or the newest collection from a fashion brand whose products they've been browsing for the last few weeks. To begin with, eCommerce websites can create segments among subscribers based on their previous purchases and on-site activity. The next step is to send targeted push notifications to these segments which direct the user to new and relevant products. It may also be useful to add in a discount with an expiry date to create an urgency factor in the user.
Freeflys.com, a free sample directory, did something similar when they sent out a push notification whenever a new sample became available. The 23 notifications they sent got an average click rate of 12.55%. Here's what one of their best performing notifications looked like:

2. Announce a sale

These notifications work similar to the previous one, difference being that the urgency factor has to be driven in more strongly. Urgency can be created by setting up an expiry time for the sale or if only select products are part of the sale. Most eCommerce websites use a combination of the two.
You can also further drive urgency by using notifications to periodically remind users of much longer the sale is open (eg. "sale ends in another 3 hours") or how many products are still up for sale (eg. "150 watches already sold. 50 left to go. Don't miss out!")
3. Get authentication from anonymous users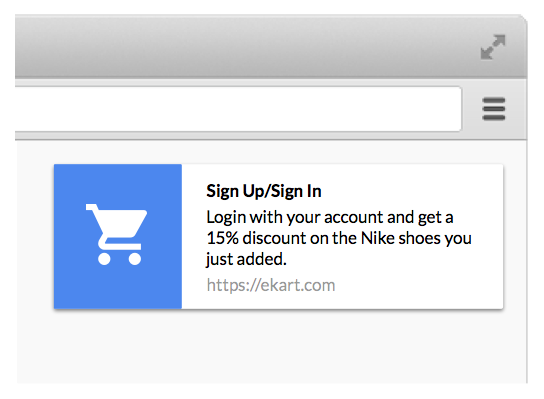 eCommerce websites get authentication from anonymous users by encouraging them to login by giving them incentives like discounts. Web push notifications are a great way to get this message across.
Authentication is important to eCommerce websites because it helps in better analysing user behaviour. With a user's authentication, the website has a history of all actions they are taking on the website – browsing, adding to cart, purchasing etc. It helps in setting up more targeted marketing efforts. Login also helps in tracking a single user's activity across multiple devices, be it desktop, mobile, or tablet.
4. Deliver personalized offers and promotions based on on-site behaviour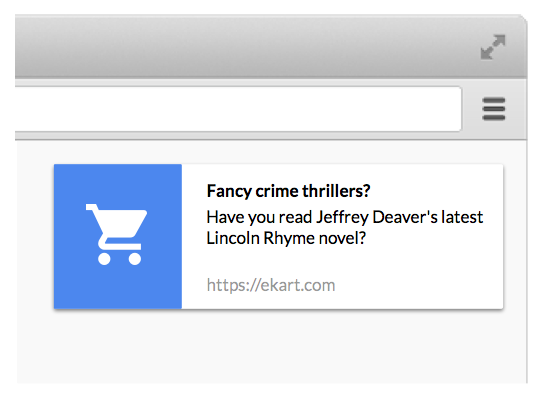 This type of notification comes in various forms. For example, if a user has spent a few minutes on a particular product page, send him an instant push notification saying that a 10% discount is available on the product if he buys it in the next 15 minutes. Or, if the user is looking at different novels in the crime thriller category, direct him via notification to the latest bestseller in the genre.
Irrespective of the actual user behaviour that triggers this notification and the offer displayed, the purpose of these notifications is to analyze user activity in real-time and then send an instant offer which acts as a "digital nudge" encouraging the user towards a purchase.
5. Recover abandoned carts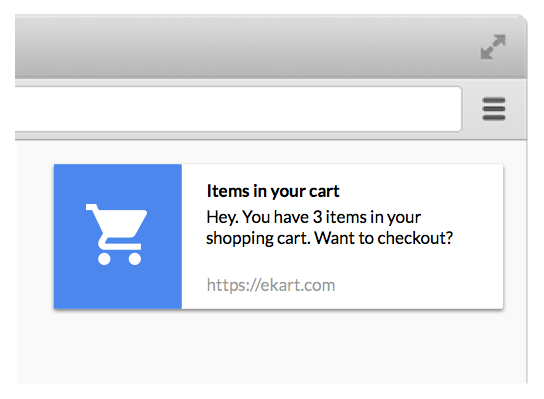 This is something most eCommerce websites are familiar with. A user arrives on the website, spends time browsing various products, adds a few items to the cart but doesn't complete the purchase. In fact, 2 out of 3 carts are abandoned, according to a study done by the Baymard Institute.
One very effective way of recovering abandoned carts is to send a push notification to the user who has abandoned the cart. Sometimes, customers want to compare the price on other websites before making a purchase. Depending on the time this takes, the user may forget about an item. Another reason for cart abandonment may be that the user was distracted by something during the checkout process. In any case, adding an item to cart demonstrates high intent to purchase. By sending a notification reminding the user of the items in the cart, eCommerce websites have an opportunity to recover lost revenue from cart abandonment.
6. Inform buyer of shipment of purchase, and delivery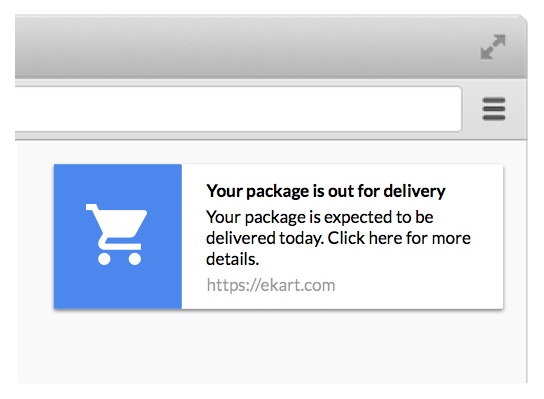 These are informational messages which help the buyer keep track of the products they've ordered and make for a smooth delivery experience.
That's it for now! I hope you got an idea of the different push notifications you can send to drive business for your eCommerce site. Of course, this is not an exhaustive list. More and more use cases will emerge as the browser push technology catches on in the eCommerce world.