7 Freshly Brewed Conversion Rate Optimization Tips for 2016
Nitin Deshdeep
Nitin is a traveler, a cinephile, and a webaholic. (He just can't get enough of cat videos!) Professionally, Nitin is a marketer at VWO, who loves to write about Conversion Optimization.
Conversion Rate Optimization (CRO) has greatly risen in popularity across various online industries, in recent years. And in all probability, it's going to receive even more attention in 2016.
However, with the increased recognition and acceptance of CRO, and the ever-changing consumer behavior on the internet, conversion rate optimization has to evolve.
As reported in 2015, the usage of the mobile medium soared, new CRO technologies established their presence, and promotion channels diversified, among other trends.
It is, therefore, imperative that you track these developments, and accordingly shape your optimization strategies to remain ahead of your competition.
Here, we present you seven conversion rate optimization tips that will help you convert a greater number of customers in 2016.
1) Obsess About Your Website Traffic Data
One of the first steps of your conversion optimization strategy should be studying your website traffic data for performance insights. You can do that by using any of the popular website analytics tools, such as Google Analytics.
This data reveals who your website visitors are.
Metrics such as "mobile traffic," "screen resolution," "geography," etc., can tell you where and how most of your visitors are using your website. With this information at hand, you'll be able to guide your optimization efforts effectively.
In 2016, such segmentation is going to be more critical than previous years because cross-device activity is on the rise and with more disparate user behavior, better tracking and targeting is essential.
For instance, if you have a low-converting landing page, and most of your visitors use a mobile device to visit your website, your CRO strategy should aim at optimizing the landing page for mobile.
Moreover, your website traffic data lets you evaluate your website performance, too.
You can analyze the data for your website's conversion funnel, and recognize web pages that are leaking out customers. You can do that by finding pages in the funnel that have a high exit rate. A high exit rate for a page means people are reaching that page but are dropping off. For instance, a high exit rate on a checkout page is a good indicator that something's broken with the user experience on the page.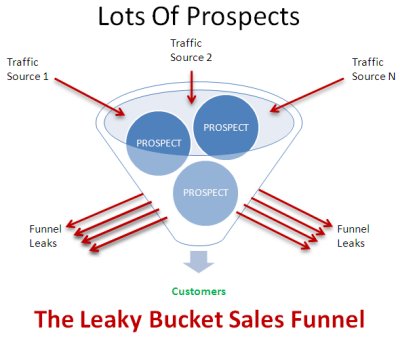 You can look for landing pages on your website that attract a lot of traffic (users) but have a high bounce rate. A high bounce rate for an indexed page for a business website can mean that people are not finding it relevant enough. So, it's either a case of attracting the wrong traffic or a case of bad copy and design that users are not able to make sense of real quick. It's a critical indicator for a home page or features page (as an example).
You can, additionally, use metrics like the number of "pageviews" and "average time on page" to delve deeper, and find poorly performing pages.
These web pages are the ones that need to optimized first.
Remember: To fix what's broken, you need to first identify what's broken.Tweet
Related Post: A Guide to Using Google Analytics Metrics and Dimensions for Conversion Optimization
2) Analyze Your Visitors' Behavior
Once you've identified the pain areas of your website, your next step should be to seek ways through which you can optimize the website. This involves finding areas or elements on your web pages that obstruct visitors in completing a conversion.
Thanks to visitor behavior analysis tools, this task becomes convenient.
By employing heatmaps, scrollmaps, form analyzer and other such tools on your website, you can identify exactly where visitors are losing interest.
2015 was the year when these tools gained proper recognition. However, many businesses are yet to use these tools to their full effect. Mastering these tools in 2016 will help you identify and rectify your website's shortcomings better, and gain an edge over your competitors.
With behavior analysis tools, you can reap critical insights like:
Discovering key elements on specific web pages that are getting ignored by your visitors.
Finding elements that are distracting users away from the main content (forms, CTAs, etc.)
Observing the depth of fold across different pages, using scrollmaps.
Comparing click and scroll behavior between different segments of your visitors.
Identifying form-fields that contribute to drop-offs on your web forms.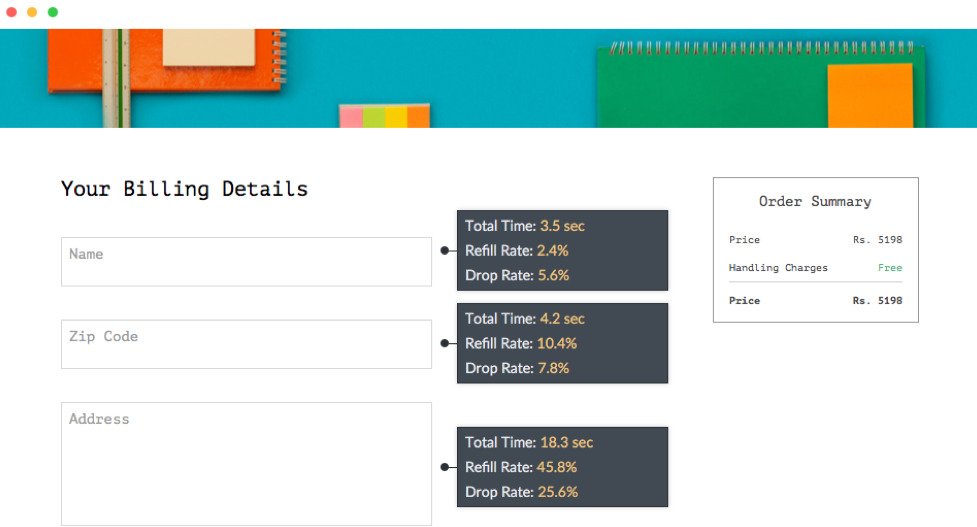 Below is an example of visitor recording done on vwo.com:
Related Post: 5 Ways Visual Analytics and Heatmaps Help You Read Visitors' Minds
3) Use Real-time Surveys
Using analytics tools is an effective way to locate areas of improvement on your website. What's even better is getting critical feedback about your website from your visitors themselves.
So, how can you do it?
Using real-time surveys on your website.
Real-time surveys help you capture visitors' responses right when they're on your website. At this moment, visitors have the highest level of context about you, which helps you receive more reliable responses.
The unique thing about surveys is that they can give you quantitative as well as qualitative feedback. The feedback can help you improve the user experience on your website and, ultimately, your conversion rate.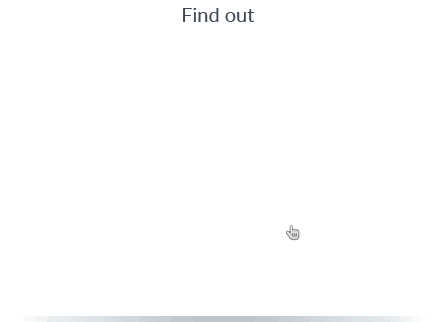 You can further optimize your surveys by setting up triggers that determine when a survey is displayed to a certain segment of your visitors. For example, right after a visitor abandons a shopping cart on your website, you can present them with a survey asking what stopped them from completing the purchase. Another example can be displaying a survey to users when they've spent more than a specific amount of time on a web page (say, your pricing page).
You can, especially, optimize your landing pages that visitors reach through search engine ads. For low performing landing pages of your search ads, the information submitted by visitors using surveys can prove to be immensely helpful.
4) Make Website Personalization Your Priority
Even though "website personalization" has become quite a buzzword across the internet, it is still being ignored by a majority of marketers. A report by Exact Target mentions that only 29% of marketers are investing in website personalization.
Whether you have an eCommerce store, a SaaS website, or just a blog, offering personalized content to your visitors will improve the user experience and, hence, the conversions. Businesses offering website personalization report a 14% uplift in their sales.
In order to offer website personalization effectively, you must be aware of all the types of users that visit your website. For instance, the Hubspot Blog offers content specifically catered to three major segments of its visitors: marketers, sales professionals, and agencies.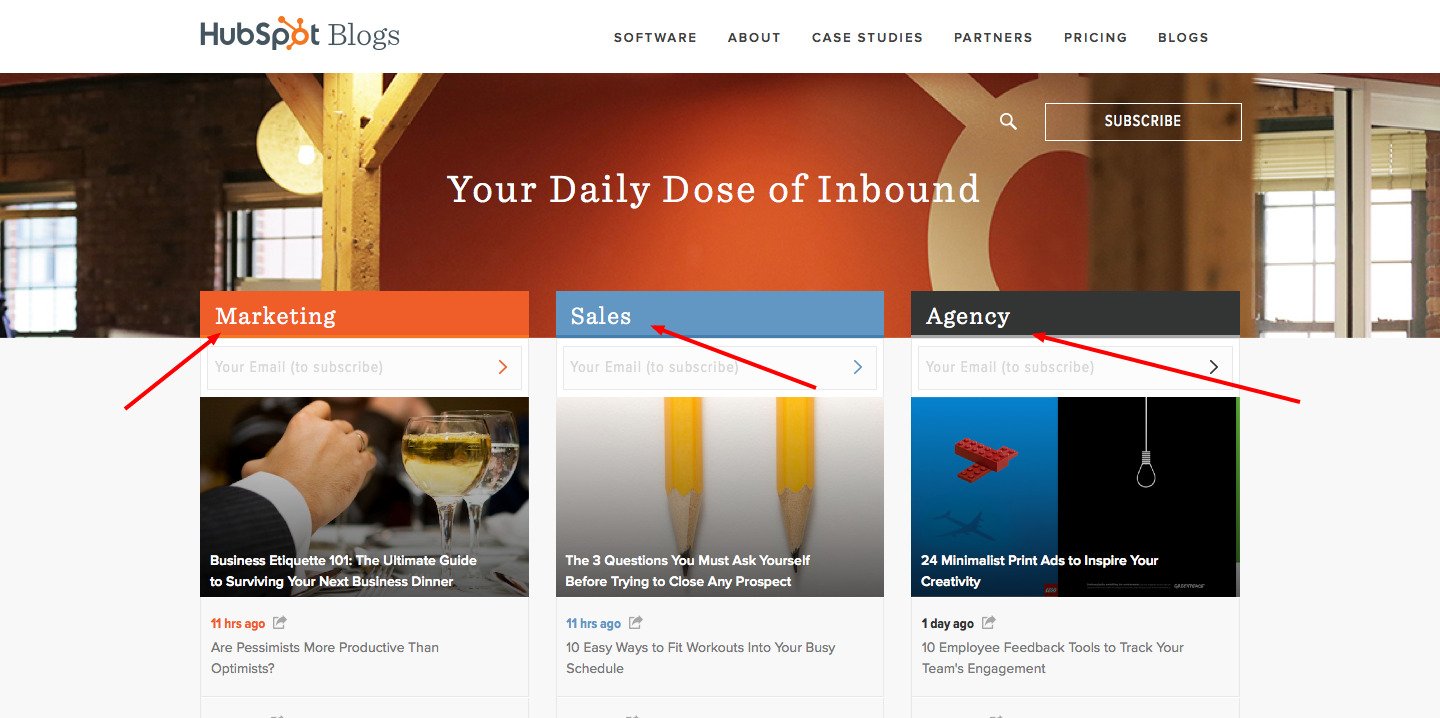 The Sales Benchmark Index Blog takes website personalization a step further. It asks its visitors to choose a persona that suits them the best, and then displays relevant content to them.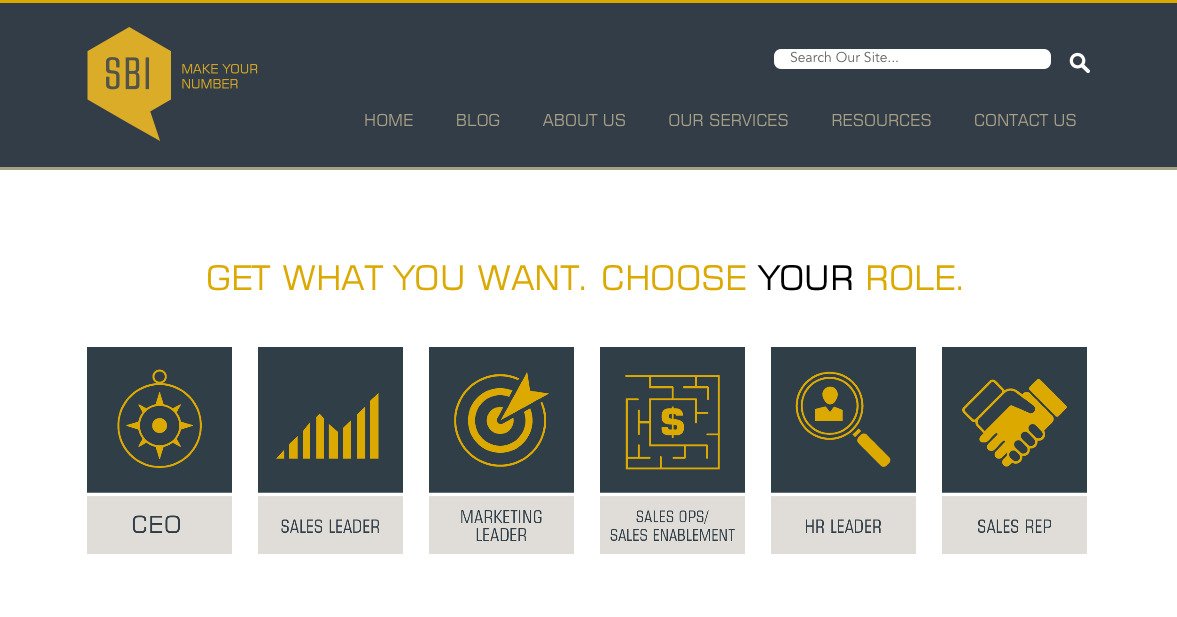 Similarly, you can offer personalized content to your visitors based on the industries they belong to, or where they lie in your conversion funnel.
Website personalization is, especially, effective for eCommerce websites. According to Adobe, almost 90% consumers say that their purchase decisions are impacted by personalization.
eCommerce websites can use personalization to offer highly relevant product suggestions and recommendations to their visitors. Additionally, they can upsell or cross-sell relevant products to them.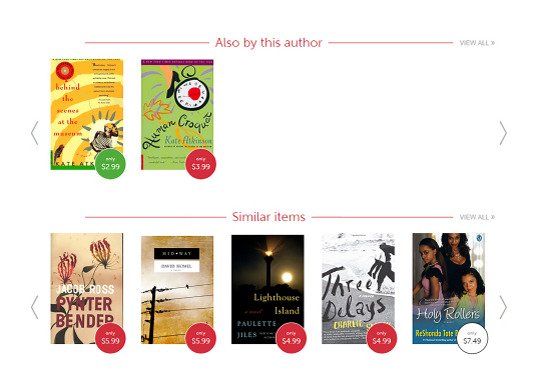 5) Track All Your Conversions
The goal of your conversion rate optimization strategy should be boosting both macro conversions and micro conversions.
Sure, improving macro conversions (e.g., a product sale, a subscription confirmation, etc.) will always be your end goal. But, that shouldn't keep you from tracking the performance of your micro conversions (e.g., an eBook download, a product demo request, etc.).
One might think, "Why do micro conversions matter?"
The answer is, simply, multiple micro conversions together make up a macro conversion.
When visitors come to your website for the first time, there is a slim chance that they'll make a macro conversion. On the other hand, micro conversions are relatively easier to acquire. (Consider getting a visitor to download an eBook versus getting them to sign up for a free trial.) By tracking micro conversions over time, you can do the following:
Optimize and create even more convincing offers for improving micro conversions.
Understand the correlation between micro and macro conversions and gun for the ones that positively correlate.
Here's an easy-to-understand representation by Advice Media: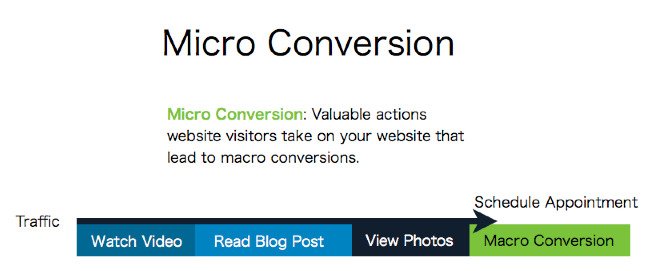 Moreover, your micro conversions are not just limited to your website. You can even track micro conversions such as social media interactions, email responses, blog interactions, etc.
Each one of your micro conversions gives you an opportunity to influence visitors, and convince them for a macro conversion.
6) Embrace New Design Trends
Visitors don't take much time in forming an impression about your website. Some studies have concluded that visitors take as less as 50 milliseconds to form an opinion about a web page's visual appeal.
Now, of course, you want to create a good impression on your visitors. And, for that to happen, you must offer top-notch design and user experience. You must be aware of the current design trends, and the expectations that users have with today's websites.
For instance, Google rolled out an update to its search algorithm on 21 April, 2015. Subsequently, mobile-friendly pages got a rank boost. The trend seems clearly in favor of responsive web design. This indicates that embracing a responsive design can help you receive more website traffic.
Additionally, you need to review your website from a user's perspective, and determine which design changes can help you improve your conversion rate.
You might go for flat design illustrations in place of stock images, or a long scroll web page instead of multiple pages. Some other trends include using sans serif typography, rich animations, minimalism, iconography, etc. Here's an article that lists more of such design trends.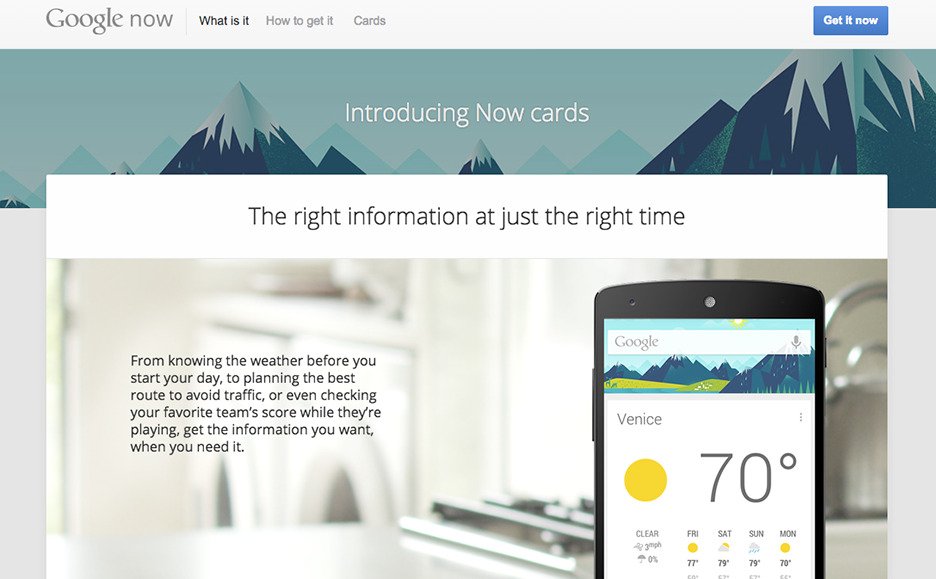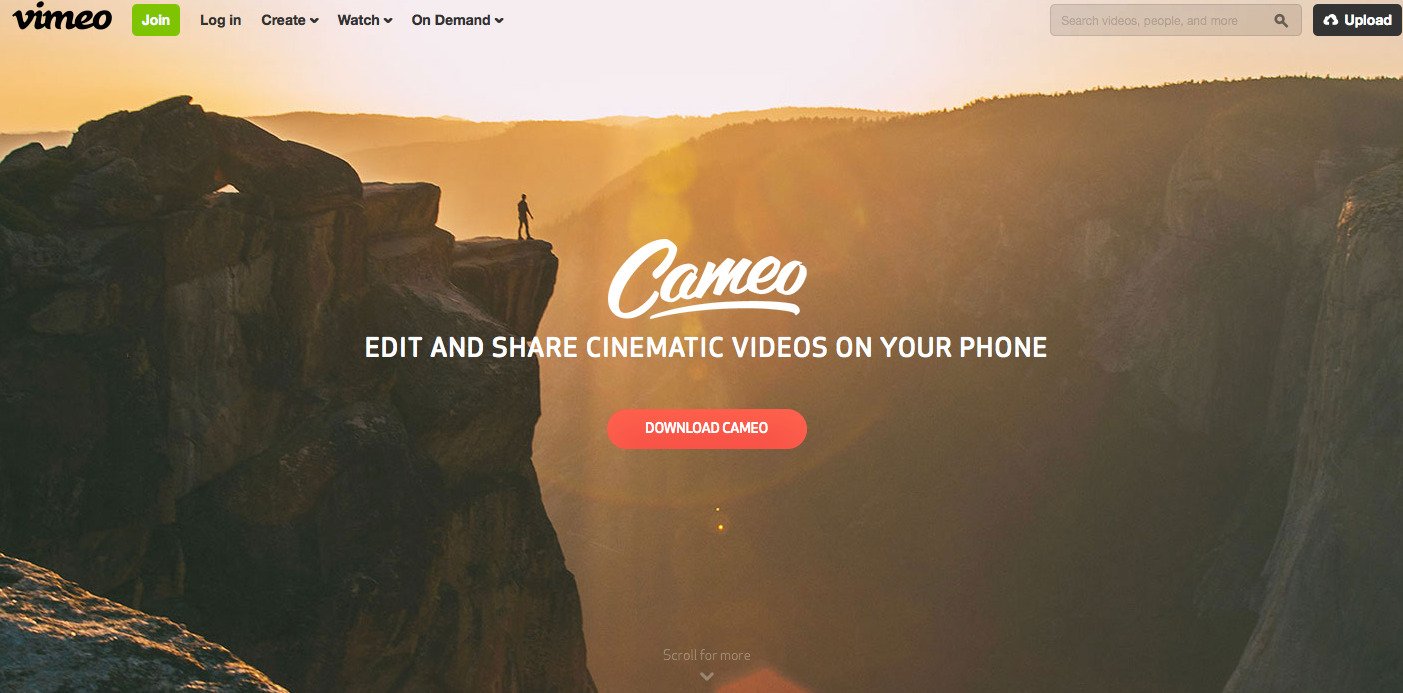 It's important to note that you don't have to follow design trends just because they're "in". Well, design trends are only popular because they work. But, you have to identify where these trends fit into your overall website optimization strategy.
Once you zero in on the design change that you can make on your website, A/B test it. Use the hypothesis that a "design change will impact your website's conversions," and find if it's actually true. Only when it passes the A/B test, implement it.
Related Post: 5 Reasons Why You Shouldn't Ignore Flat Design for Epic Conversions
Related Post: Is Above-The-Fold Really Dead?
7) Employ Video Marketing
Incorporating videos on your website and other connected platforms can help you convince your users better, and, hence, boost conversions. Video marketing helps you educate your visitors about your product or service, without forcing them to go through tons of text.
Videos are generally short in duration, but still capable of providing valuable, interactive, and visually appealing content to users.
The best part about video marketing is, arguably, its versatility. You can create and display videos for a wide range of content types: product videos, demo videos, how-to videos, testimonial videos, and more.
Interestingly, with the availability of numerous video-making tools, video marketing has become feasible for a lot of businesses.
Video marketing is a perfect fit for many social media channels, too. Video as a medium is really popular with Instagram and Facebook users. Now, Twitter also allows video publishing on its platform, giving video marketing a push in addition.
However, as a marketer, you must ensure that your videos contain a clear call-to-action (CTA). With an absence of CTA, your visitors won't know what step to take next. In fact, when your visitors are already enjoying your video, they'll be happy to follow your CTA, and possibly convert to a customer.
You can check out our new series on CRO Pro Tips here.
Related Post: 6 Types of Marketing Videos to Increase Your eCommerce Conversions
What Will Your CRO Strategy Include in 2016?
So which of these tips did you find the most valuable? Have any of your own tips to add to this post? Let us know in the comments section below.
[And if you're a CRO beginner, go through this handy list of conversion rate optimization best practices that will help you get started.]