What are on-page surveys?
An on-page survey is a tool that allows you to gather feedback on a particular page of your website from visitors by conducting a survey and asking them questions about it. These surveys are usually embedded within the page for which feedback is required and are simple, straightforward, and quick to complete. A survey typically slides in from the edge of the page to avoid interfering with a visitor's journey.
On-page surveys may pose open-ended or closed-ended questions, such as "What do you feel about this page?" or "Is this effective for you?" Additionally, they could ask users to rate the website's overall quality.
Since you receive feedback in real-time as users interact with your website, on-page surveys are extremely beneficial.
Benefits of on-page surveys
On-page surveys are one of the most straightforward methods to get precise, carefully compiled, and relevant data you need to enhance and optimize your website and your business. It's easy to gather specialized feedback by triggering questions on specific pages and/or after specific actions, so you'll be able to see how your users think. Below is a list of a few benefits:
Identify your website's visitors and the motivations behind the visits: You may improve your approach and implement significant improvements by learning who your visitors are and the demands and reasons that draw them to your website. These surveys enable you to create user personas that are accurate for your company and develop products and services that are more beneficial to your customer base by gathering responses to questions like:
How did you hear about us?
In a single statement, how would you describe yourself?
What is the primary objective of your visit?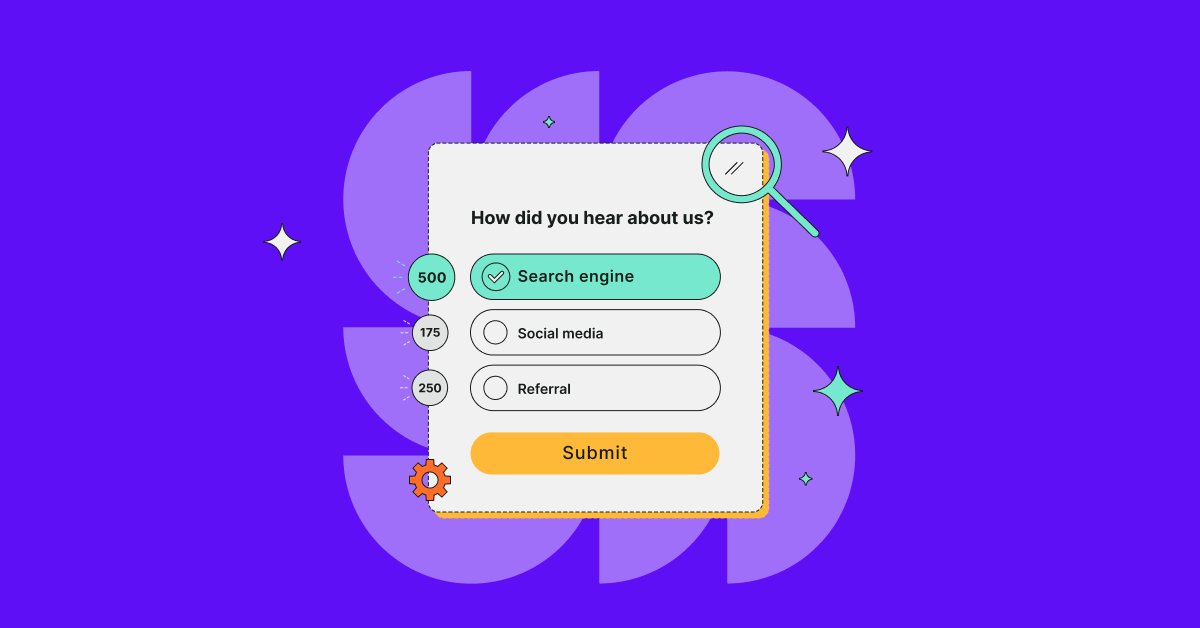 Recognize website user preferences (likes and dislikes): On-page polls are a fantastic method to get quick likes and dislikes information from visitors. You may assess satisfaction on certain pages and set up follow-up questions to determine what components of a page the user wasn't pleased with.

Detect problematic pages that need to be fixed: You can determine which pages need to be updated by testing user and customer satisfaction on all of your website's pages. Pages receiving an average of 3/10 or a significant number of thumbs-downs may require more attention. Following up with further inquiries can help in figuring out factors that may be causing the lower rating. Some issues may be:
The page contains a technical error
Text that's hard to grasp
The page's title gives the material a false impression
The user is unable to locate the solution to their query
Whatever the issue, it provides a fantastic chance to fix it and boost consumer happiness as a whole.
Track client satisfaction levels: Self-reported data from on-site surveys may be a valuable tool for measuring customer experience (CX). To obtain better and more pertinent insights, you may utilize close-ended, question logic to formulate follow-up inquiries based on the initial responses of your visitors.

Boost eCommerce conversion rates: A great and effective eCommerce website revolves around the customer's buying experience and improving it should be one of the primary objectives. Conducting a brief on-page survey shortly after they make a purchase allows you to understand how to significantly enhance the shopping experience. You might enquire about how they felt about the purchasing process and what you could do to make it better.
Learn insightful details from consumers and website visitors: On-site surveys offer a chance to collect data beyond straightforward yes/no or metric questions. Users are allowed to express themselves more completely when open-ended questions are asked or when preferences are encouraged.
Show your consumers that you care: It might be challenging to persuade your visitors and clients that they are truly respected and heard in the absence of an in-person relationship. One approach to show that you care about user feedback and how well your website is functioning for them is to implement on-page surveys across your whole website.
Keys to a successful on-page survey
On-page surveys should be concise and direct; if they aren't, consumers may feel that their experience is being interfered with and may not want to respond. Therefore, it is important to keep in mind the below steps to come up with an effective and successful on-page survey:
Clear business goal: Your on-site survey strategy's success depends on having clearly stated corporate goals. If not, your time will merely be wasted. Think carefully about the objectives you want to achieve and the appropriate location to ask your questions before you begin selecting survey questions:
Ask the right questions: Determine the type of data you are interested in gathering and what you plan to do with it before you can formulate the correct questions. It is usually preferable to ask a question neutrally so that website visitors may establish their ideas and honestly share them. Typically, there are two categories of questions:
Close-ended questions: These are questions that can be answered by choosing from the options provided. Even though they are simple to respond to, these questions may only offer limited insights. These can be in the form of:

Yes/No
Multiple choice
Rating
Drop-down
Radio button
List
Open-ended questions: In contrast to closed-ended questions, open-ended questions allow for individual responses on the user's terms and do not restrict the answers that may be provided. Even though they provide more explanation and perspectives, open-ended questions necessitate a longer and more involved review and analysis process. Some examples are:
What can we do better?
How and where did you hear about us?
What do you want to know about the product?
Test your survey: It is imperative to keep testing different versions of on-page surveys to achieve the best-performing copy. This should be a continuous process.
Analyze data: Because submissions are instantaneous, you can start evaluating your data as it comes in and make relevant changes to provide a better user experience.
On-page survey tools
VWO On-page surveys enable you to find a plethora of information on the motivations behind your visitors' actions. Simply ask the correct questions to elicit responses from your audience.
Some other tools are:
On-page surveys are an essential component of conversion research. They assist you in identifying difficulties in the purchase process, removing them, and improving the conversion rate. Read this in-depth guide to have a better knowledge of on-page surveys.