eCommerce Conversion Rate Benchmarks – Quick Glance At How They Stack Up
As the eCommerce sector continues to grow at a steady pace, becoming an integral part of our lives, both personally and professionally, it's pushing businesses operating in the very space to become more digital of their offerings and activities. Right from formulating effective marketing and sales strategies to increase website traffic and engage more customers, to present offerings that leave customers spoilt for choices, backing your plans with accurate and authentic data is paramount. The information in the following paragraphs aims to shed some light on the latest eCommerce statistics, roundups, and benchmarks to help reinforce your existing eCommerce conversion rate knowledge as well as upend your notions regarding other industrial trends no matter which eCommerce platform[1] you use.
To start with, let's begin by defining (eCommerce) conversion rate, later peeping into the latest industrial statistics and benchmarks!
What is eCommerce Conversion Rate?
The eCommerce conversion rate is the ratio of transactions to sessions, expressed in the form of a percentage. For instance, a ratio of one transaction against every ten sessions would make for an eCommerce Conversion Rate of 10%." [2]
When used in conjunction with other critical metrics, conversion rate serves as an excellent barometer to measure the health, performance, and competitiveness of your online store. The higher the conversion rate, the better the customer value proposition and lower customer acquisition cost.
What is the Mean Conversion Rate for eCommerce Websites?
As per Littledata, the average eCommerce conversion rate ranges between 1% and 4%, with global figures standing at 2.58%[3] across devices (as of Q2, 2019). But, considering all plausible variables and nuances, significant conversion rate disparities exist between sectors, countries, devices, seasons, marketing strategies, and the like. For instance, the average conversion rate for the health and wellbeing market was 3.44% in Feb 2020 as compared to 2.70% for kitchen and home appliances. Meanwhile, where the US eCommerce sector hovers around the global average at 1.4%, the United Kingdom pens down an average conversion rate of 1.8%.[4]
Therefore, it's important to develop your own key ecommerce performance indicators (KPIs) as well as take into account individual nuances while analyzing the average eCommerce conversion rate of your industry.
At the same time, if you're comparing the conversion rate of your company with competitors, be mindful that no two businesses can have the same conversion rate. This is because, a number of factors come into play – your targeted audience, geographic areas of business, products or services sold, penetration in the market, and more. For instance, industry giants like Amazon boast a 13% conversion rate, which is nearly 7x the average industry standard.[5]  
How to Calculate eCommerce Conversion Rate?
Calculating the eCommerce conversion rate is quite simple. Just divide the total number of store transactions by the total website visits, and multiply by 100. You have a conversion rate!
eCommerce conversion rate = Total Number of Store Transactions/Total Visits to the Website x 100
For instance, if your website gets 50,000 visitors and witnesses 2500 transactions in a month, this means your conversion rate for the month is 5%.
2500 transactions / 50000 visits x 100 = 5% Conversion Rate
Calculating conversion rate not only helps you map the performance of your overall business, but it silently aids in formulating strategic plans to increase website traffic, customers, and business revenue. 
Let's now dive into eCommerce conversion rate benchmarks and draw learnings from a future growth perspective! 
eCommerce Conversion Rate by Industry
When drafting in-house goals and benchmarks, referring to market-specific conversion rate standards can prove to be highly valuable, especially to gauge the general and overall performance of your eCommerce store.
IRP Commerce is one of the best sites to study market data.
The graph below shows the average conversion rate of various eCommerce industries as of September 2019.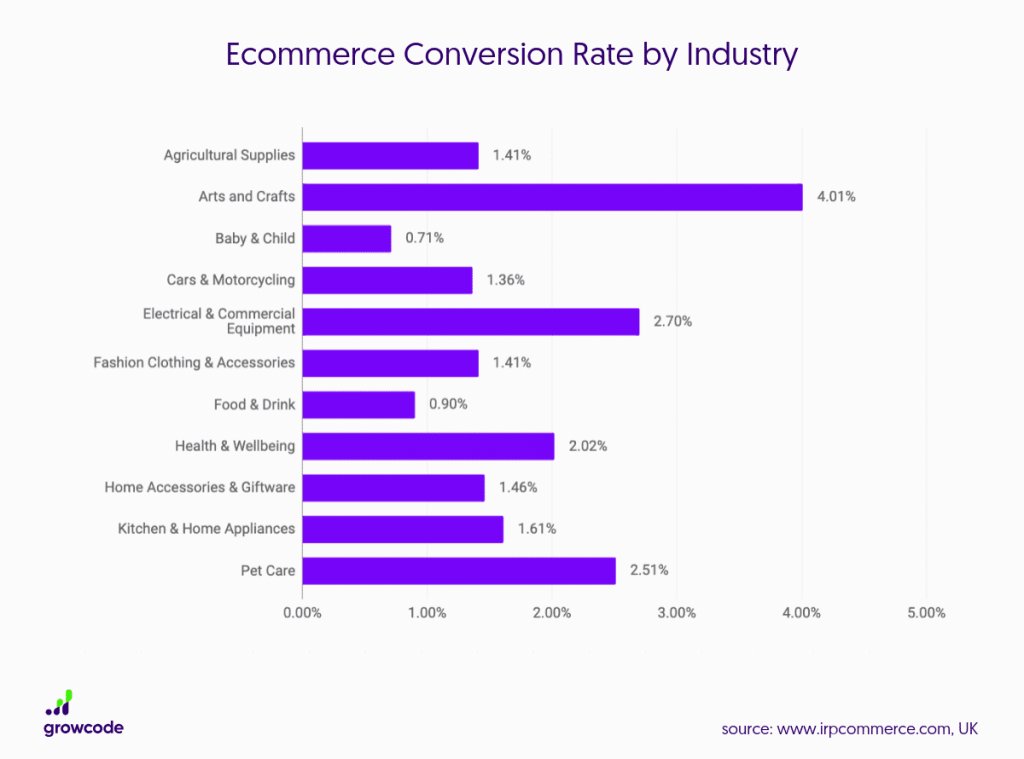 Ecommerce Conversion Rate by Country
When formulating your KPI's, it's essential to consider benchmark conversion rates of leading commerce countries. The conversion rate you'd expect from the Netherlands, for instance, will be quite different from that of the UK. Many reasons stand behind such disparate conversion rates. Some reasons that have seen widespread acceptance are:
Mature Markets: Mature markets with established online brands have the prowess to produce higher conversion rates, while those where eCommerce is still trying to penetrate the online market economics and facing stiff competition from bricks-and-mortar stores will naturally churn a lower conversion rate.
Purchasing Power Parity (PPP): Also stands as one of the primary differentiating factors. Besides a country's inflation rate, it's economic growth rates, consumption behavior, and demographic changes also significantly affect conversion rate.  
Credit Card Penetration (CCP): The global dynamics behind Credit Card Penetration (CCP) has been quite haphazard. For instance, Czechia marks credit card penetration of about 25% only (as in 2019) against a relatively high penetration in two of the non-EU regions – Russia and Ukraine. Hence, eCommerce conversion rate here ought to be different.[6]
Logistics and Distribution: Not all countries across the globe have the leverage to enjoy a robust logistics and distribution network and hence, modern eCommerce businesses in many countries are unable to meet high velocity demands. This again accounts for a low conversion rate in many countries as compared to others.

Furthermore, knowing the country-wise conversion rate also serves beneficial, especially when you're planning to expand your market base and cater to a broader customer segment. Such information helps make necessary amendments to your KPIs and prepare foolproof business strategies for sureshot winnings.
Ecommerce Conversion Rate by Channel/Source
Besides eyeing upon the industry and country-specific conversion rates, knowing the total number of conversions coming from various traffic sources is important. The figures here help define channel-specific goals while also hone in on the best-performing and most promising traffic sources. As per the latest stats we could gather from industry-acclaimed statistical sources, referral traffic is by far the best performer, getting maximum conversions, followed by emails, and social media. The reason is quite simple. Every company, including eCommerce stores run a series of initiatives to highlight their offerings – either through featured product roundups, guest posting on authoritative sites, social media campaigns, implementing SEO strategies, or running Google Ads. Each activity helps lure visitors to your site, further increasing engagement. Besides, give it a hard look and you'll realize that every channel works towards increasing referrals, in turn boosting ecommerce conversions.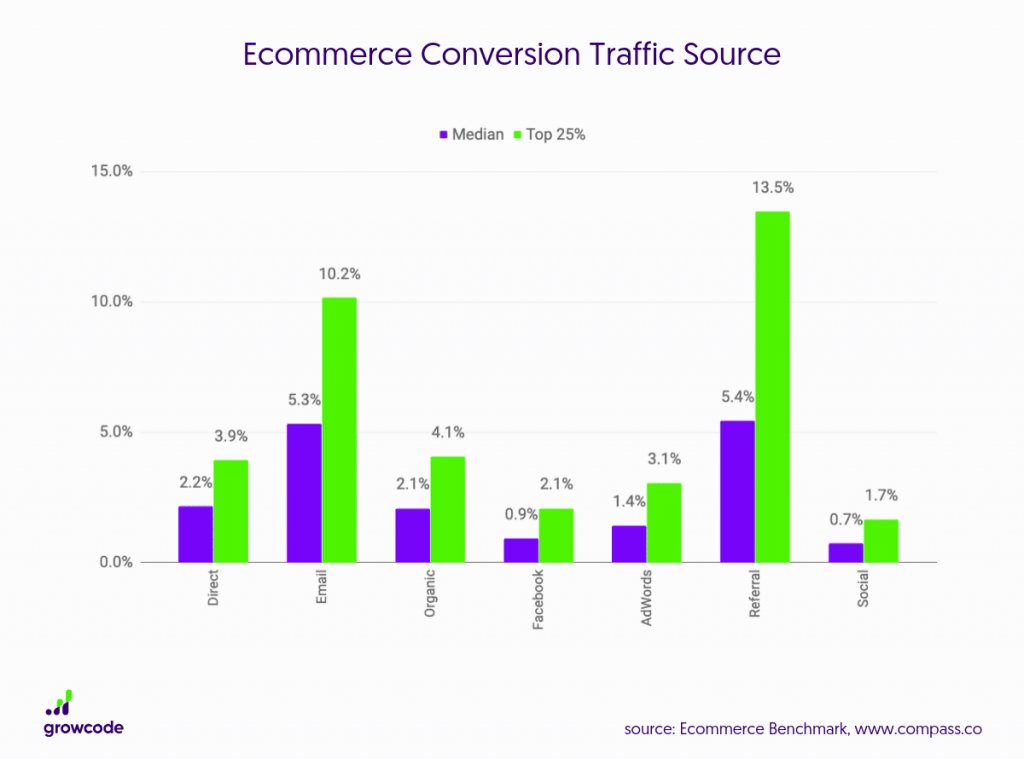 As is evident from the graph given below, the performance of each of these traffic sources remains fairly consistent as best and worst, regardless of the industry. However, in the case of some specific sectors, the acquisition channels can serve as better mediums than others, such as emails in the case of the Food & Drinks sector.
Meanwhile, Facebook remains as one of the favored social media channels to drive high traffic as well as conversions across industries like Fashion, Beauty & Wellness, Electronics, and Food & Drinks. Besides being a home to billions of people, the medium's visual component (images plus videos) and communication feature makes Facebook the go-to channel for product promotion for the above mentioned sectors.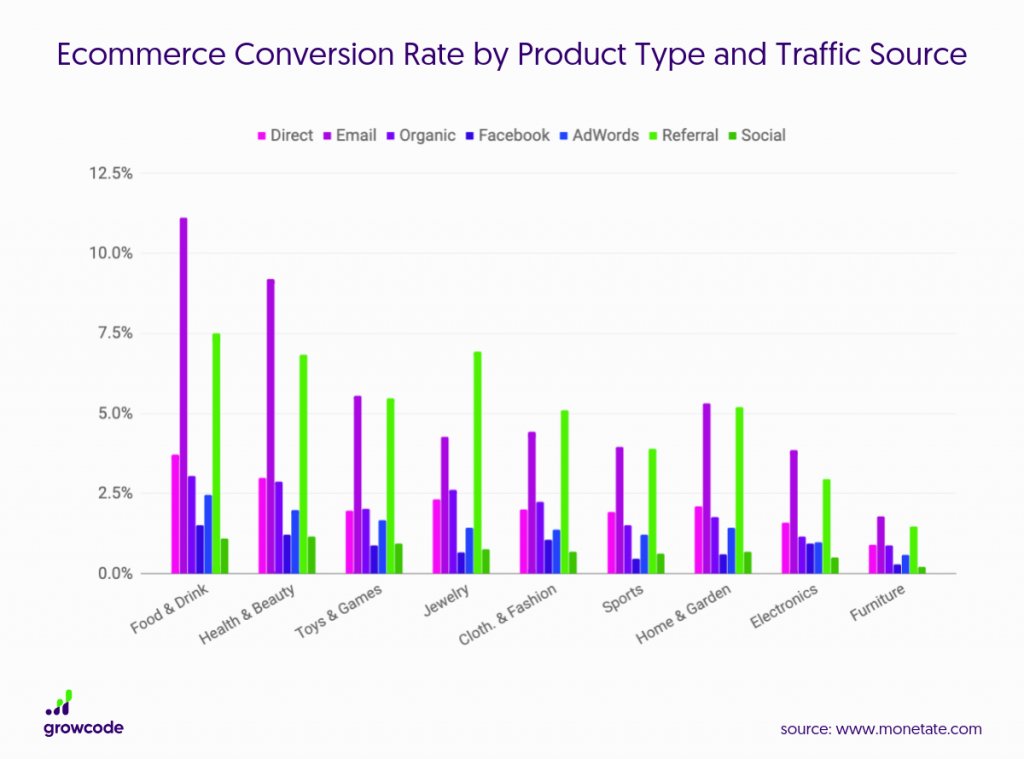 Average Ecommerce Conversion Rate by Device
Benchmarks related to specific devices, typically desktop, smartphones, and tablets, are also worth considering when formulating specific KPIs for generating high conversions. As can be interpreted from the data below, conversion rates for large-screen devices such as desktops and tablets are approximately 2x as compared to ones recorded from mobile devices. Such information helps paint an accurate picture of how your business is performing across various devices, and the percentage increase/decrease it is witnessing.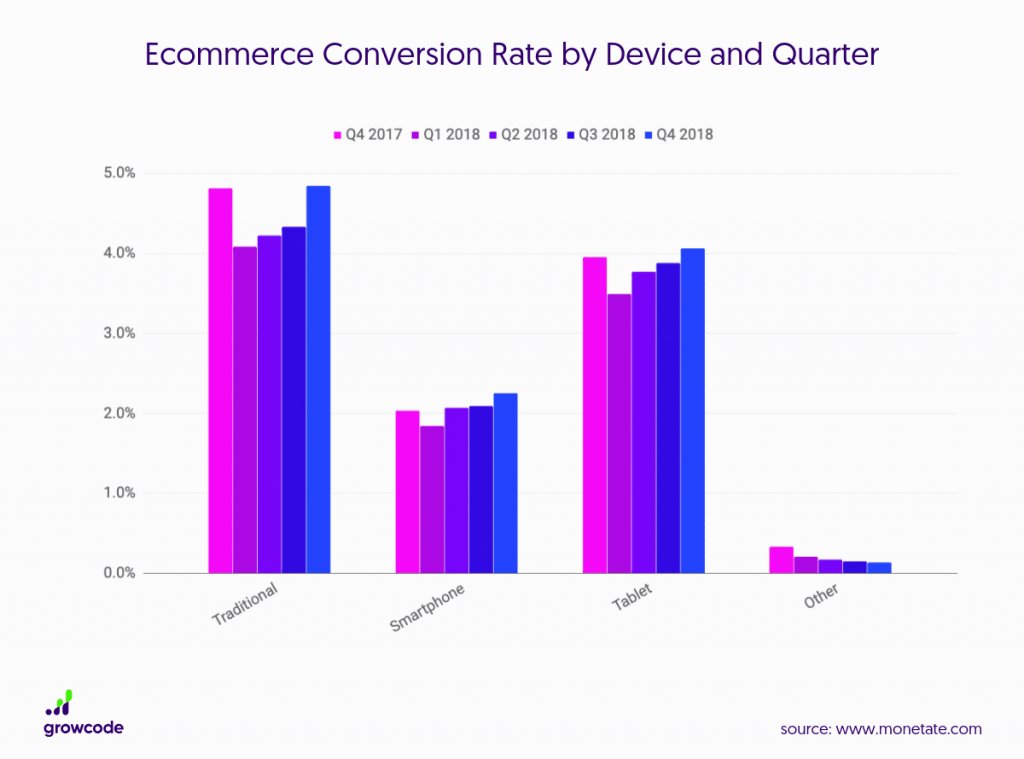 eCommerce Conversion Rate Statistics in 2020
Conclusion
Exploring the world of online data is quite taxing. Hundreds and thousands of new studies, covering a broad spectrum of metrics and talking about new set benchmarks, are published every year. But where should you start or draw a line?
At VWO, we believe it's best to adopt a focused approach to ecommerce conversion optimization. Rely on well-research studies and sources, including Statista and Baymard, or conduct your primary research to define your website conversion rate benchmarks and KPIs.
Remember, the role of benchmarks is simply to help you to understand the current performance of your online store and shape optimization strategies accordingly. They're not gold standards that must be replicated. Rather, run conversion optimization A/B tests and learn what works best for your online store. Sign up here for a trial.